When you shop through retailer links on our site, we may earn affiliate commissions. 100% of the fees we collect are used to support our nonprofit mission.
Learn more.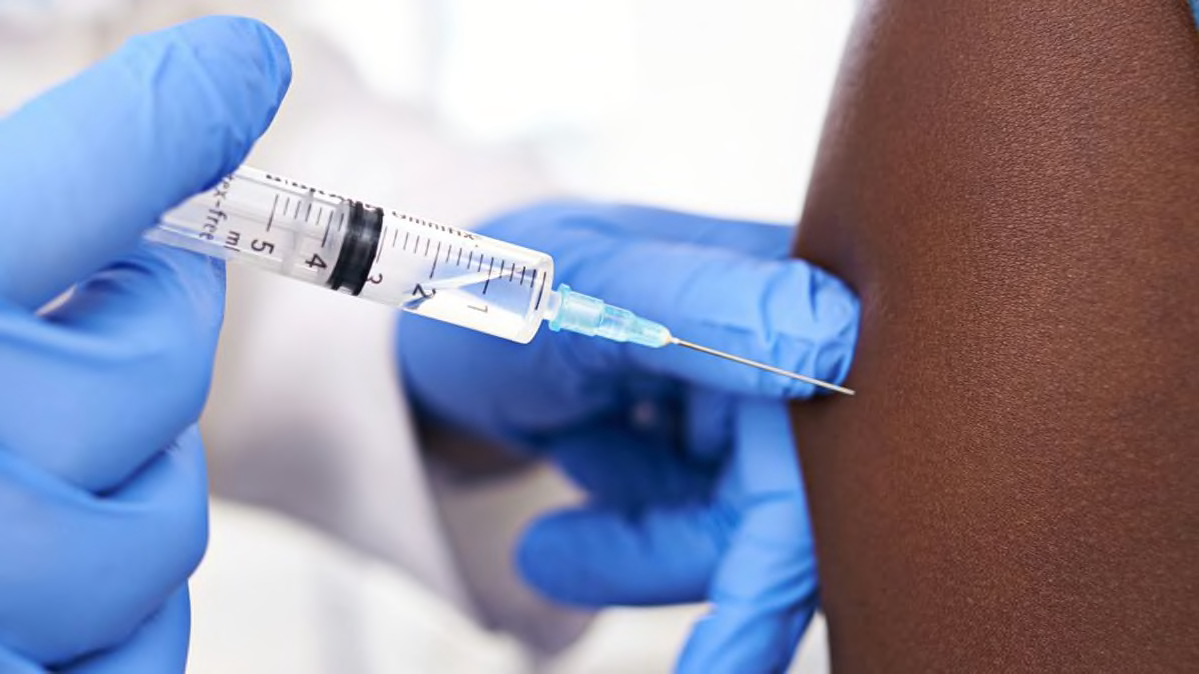 Even in late winter and early spring, it's still worth getting a flu shot.
That's because the flu remains widespread in several states and is even increasing in some areas, according to Brendan Flannery, Ph.D., an epidemiologist in the influenza division at the Centers for Disease Control and Prevention (CDC).
This year's flu shot has been about 45 percent effective at protecting people from the viral illness so far this season, according to initial data from the CDC.
That's a reasonable improvement over last season's vaccine, which the CDC says was about 29 percent effective at preventing flu overall.
For children ages 6 months to 17 years, this year's shot has worked even better, blocking 55 percent of flu illnesses.
"It's encouraging in that we have slightly better protection in children," Flannery says. He notes that although it's too early to classify the overall severity of this year's flu season, it has caused more childhood hospitalizations and deaths than usual.
As of last week, the CDC had reports of 92 children who have died from the flu this season. At the same time last year, the agency had received reports of just 34 deaths of kids. And while overall flu hospitalization rates are similar to those of past seasons, those for very young children are high—about 66 kids for every 100,000 between ages 0 and 4, a jump from about 37 children for every 100,000 at the same time last year.
Here's why it's still important to get a flu shot, and what you need to know about the effectiveness of this season's vaccine.
Why You Should Get the Vaccine
There's still a lot of flu season left to get through, Flannery says. The virus can continue circulating into April and May. And because the vaccine takes about two weeks to become fully effective, it's best to get it as soon as you can.
In addition, if you get the shot and still come down with the flu, you're less likely to become very ill or need to be hospitalized.
Getting a flu shot is especially wise right now in light of the coronavirus (COVID-19) outbreak, Flannery says. The two viruses aren't linked, but the fewer people who get sick or need hospitalization right now, the better, according to the CDC.
"Regular measures to prevent and treat flu when it's severe are more important than ever," Flannery says. (That includes other infection prevention strategies, such as diligent hand-washing, covering your mouth when you cough or sneeze, and staying home if you get sick.)
Another benefit is that immunity from this season's shot may provide some protection against flu strains in future years, according to Graham Snyder, M.D., medical director of infection prevention and hospital epidemiology at UPMC in Pittsburgh.
Given the high number of hospitalizations and deaths of children from the flu this year, it's especially important for unvaccinated ones to get their shot. In past seasons, most children who died from the flu never received a vaccination.
What to Know About the Numbers
The new CDC data suggest that the shot can reduce your risk of getting sick by close to half. But the numbers vary a bit between type A and type B, the two major forms of influenza.
The flu vaccine has so far been 50 percent effective against flu type B viruses, which have predominated for most of the season. That's better than expected, Flannery says, because the B viruses infecting people this year have turned out to be slightly different from those included in the vaccine.
However, CDC data show that the flu shot has been just 37 percent effective at preventing cases of H1N1 (a subtype of flu A) overall, and 51 percent effective at doing so in children. Currently, the rate of B viruses infecting people is falling, while H1N1 viruses are beginning to rise.
Also keep in mind that the new numbers about effectiveness are preliminary and could change between now and when the CDC publishes its final study on this season's shot. One possible factor is that new strains of virus could begin to circulate that may not be as well-matched to the current vaccine, Flannery notes.
Last season, for instance, a strain of H3N2 (a form of influenza A) that wasn't a match for the H3N2 strain in the vaccine arose late in the season. A result: Last February's preliminary estimate of the shot's efficacy was 47 percent, which the agency revised down to 29 percent in October 2019.
Editor's note: Julia Calderone contributed reporting to this article.