That Food You Ordered for Delivery? A Ghost Kitchen Might Be Cooking It Up.
Meals delivered by Uber Eats and other food delivery services might not come from an actual restaurant. What you need to know before your next order.
I came up with the idea for Uber Eats.
One midnight during my sophomore year in college, my carless friends and I thought to ask the livery service in town to pick up food we'd ordered from McDonald's and bring it to us. Twenty-five minutes later and bah-da-bop-dah-dah, we were lovin' it.
Back then, aside from the Big Macs we finessed with the livery service, pizza was the only food that showed up at your door hot and ready. Our options were limited, but at least we knew where our food was coming from. 
Things are different today, when one scroll through restaurant delivery apps returns everything from sushi to souvlaki, but also a wealth of questions if you've noticed that many of the eateries on offer are ones you've never seen, much less stepped foot in before. 
In fact, many of them don't exist, at least not in the traditional restaurant sense. They are virtual brands that can be found only on the delivery apps. Many are new, born when pandemic-prompted stay-at-home orders spiked demand for delivered food. Their offerings are prepared in what have come to be known as ghost kitchens. And if that sounds spooky, so might the fact that some virtual restaurants try pretty hard to mask their identities.
A number of ghost kitchens run their businesses out of commercial kitchen spaces without storefronts, places that used to be the domain of caterers and the like. 

For example, ChefReady in Denver is a facility with 10 separate professional kitchen spaces and a roster of tenants that include purveyors of everything from Mexican paletas, to hero sandwiches, artisanal pizza, and Thai food. Each proprietor has between 215 and 320 square feet and their own operating permit. "In the world of digital dining, it's all about your food, not your address," says ChefReady founder Nili Malach Poynter.

Other ghost kitchens operate out of regular restaurant kitchens but under a different name with a different menu. On one end of the spectrum, this could be your local breakfast-only greasy-spoon that shuts its doors after the morning rush but comes alive in the afternoon preparing grilled cheese sandwiches and tomato soup for delivery only. 
Are Ghost Kitchens Regulated?
Ghost kitchens should not be confused with the cottage food industry, where cooks sell cupcakes, homemade jam, and the like direct from their kitchens. You won't find cottage cooks on delivery apps like DoorDash and Grubhub, which only contract with licensed and permitted food preparers. 
Health and safety inspections of brick-and-mortar restaurants are tough, and establishments are monitored to make sure they keep food at correct temperatures, sanitize properly, and prevent vermin, among other hygiene requirements. If they break the rules, they can be fined or shut down fairly publicly.
And while customers might not be able to physically find a ghost kitchen, much less step foot into one, local health department regulators know where they are and monitor them just as they do traditional restaurants. 
The ChefReady facility in Denver, for example, operates with a commissary food license, and each of its tenants has its own retail food establishment license, so "both entities are held to the same standards and rules as a brick-and-mortar," Poynter says.
While the Food and Drug Administration does not regulate restaurants or ghost kitchens—that responsibility falls to local inspectors—the agency is preparing to address potential safety issues in the food delivery business, from supermarket delivery to ghost kitchens and services like Uber Eats and DoorDash. The goal: to identify potential safety vulnerabilities of foods sold and delivered directly to consumers, according to Laura Wiley, a food safety senior analyst at the National Environmental Health Association, an advocacy and credentialing organization for health inspection personnel. 
Meantime, consumers are encouraged to get into the conversation about their experiences or concerns about ghost kitchens and food delivery by contributing comments to the FDA through Nov. 20. The NEHA also urges consumers to contact their local health departments with any questions or concerns about ghost kitchens or virtual brands in their area.
A Move Toward Transparency
Even if food from ghost kitchens poses no inherent health risks, you may simply want to know where your food comes from. According to the National Restaurant Association, 72 percent of adults say it's important that their delivery orders come from a location that they can go to in person. 
"I was annoyed," says Brian Bowles of the Bronx, N.Y., when he found out the burger he thought he'd ordered from a new burger spot via Seamless turned out to be from a local diner he'd sworn off 10 years ago. The tip-off? When it came, "It looked like a typical diner burger," says Bowles, who was inspired to do an internet search of the location. "Same address, same menu, same kitchen. I got duped." 
While you might not be able to do a drop-in on your takeout, being able to identify a ghost kitchen in the first place may also be getting a little easier.

In the spring of this year, San Francisco-based DoorDash took the guesswork out of ordering when it began identifying the virtual brands on its platform with an explainer (shown below).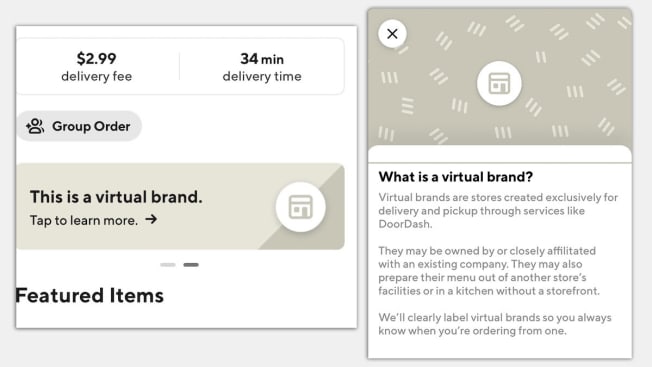 And in September, the crowdsourced reviews platform Yelp began to make it possible for virtual restaurants to clearly identify themselves as delivery-only with no dine-in option, to eliminate "customer confusion around their delivery experience," according to a company news release. 
However, Uber Eats does not flag the 10,000 virtual brands on its app, nor does Grubhub. Grubhub told CR there are thousands of virtual restaurants among its 300,000 restaurant partners that "are marketed the same as traditional brick-and-mortar restaurant locations on the Grubhub marketplace." 
For the consumer who wants to get what they want when they want it—and to know where it's from—a little digging may still be in order. There are two main things you can do.
Ask the Internet
At the search engine of your choice, type in the name of the restaurant you ordered from, and the address, if it appears in the food-delivery app you are using. Then see whether other restaurants operate from the same location. The search may yield a street photo of the building where orders are prepared. In this way, you may be able to tell if your so-called artisanal pizza is actually coming from a national chain.

Ask an Insider
Namely, your deliverer. Virtual brands have to provide exact pickup information for delivery drivers. As the direct link between a kitchen and a hungry customer, a little conversation with your delivery person may go a long way toward getting information about the kind of outfit you're ordering from. You may want to ask whether they had any trouble finding the pickup location, how far it is from your place, and whether it's an actual restaurant. Even with contactless delivery, a question via text message could yield answers.