Beech-Nut Stage 1 Single Grain Rice Cereal Recalled Due to High Arsenic Level
The company is permanently withdrawing the product from the market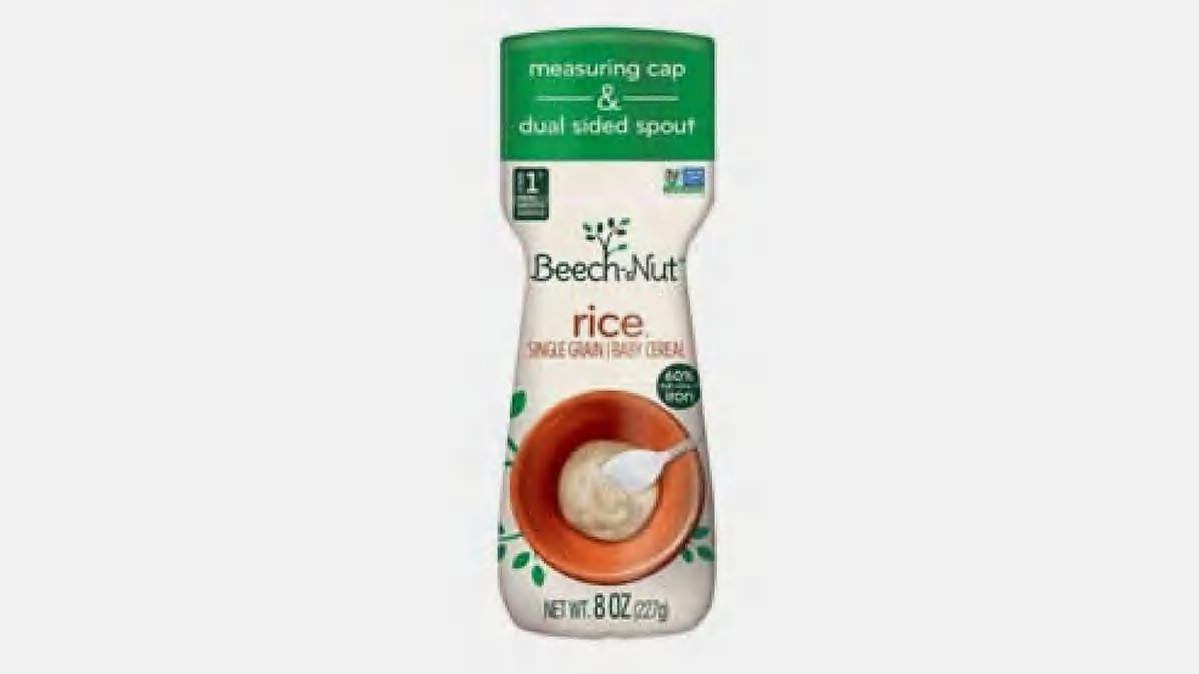 Beech Nut Nutrition issued a nationwide recall of its Stage 1 Single Grain Rice Cereal after a routine test of samples by the state of Alaska found arsenic levels above federal limits.
The item has product codes of 103470XXXX and 093470XXXX, which can be found at the bottom of the Beech-Nut Single Grain Rice Cereal canister, and an expiration date of May 1, 2022. The UPC code is #52200034705.
No illnesses have been reported. But the amount of inorganic arsenic found was above the 100 parts per billion limit set by the Food and Drug Administration last August.
Stronger Protections Still Needed
In 2018, Consumer Reports tested 50 packaged foods for babies and toddlers and found concerning levels of various heavy metals in about two-thirds of the products. Those made with rice fared the worst, mainly because they had worrisome amounts of inorganic arsenic. Many also had lead or cadmium.
Based on those and previous tests, CR urged the FDA to set limits for how much arsenic is allowed in infant food.
And last August, the agency did take some action, by setting limits of arsenic in infant rice cereal. But the FDA has still not set similar limits for other baby foods or other heavy metals, including cadmium, lead, and mercury, despite the potential health risk to young children.
"As the FDA continues to delay action on establishing limits on arsenic in other rice-based products and on heavy metals in baby food, the more problematic the situation will become," says Brian Ronholm, director of food policy at CR. "The agency should be moving expeditiously to set science-based limits on these heavy metals that protect infants and toddlers."
Rice Alternatives for Infants
While parents often give babies rice cereal as their first food, other infant cereals made from other whole grains, such as oats, offer similar nutritional benefits and are lower in inorganic arsenic.
In addition, look for alternatives to packaged snacks that contain rice, including rice cakes, crackers, and chips. Good options include apples, unsweetened applesauce avocados, bananas, barley with diced vegetables, beans, cheese, grapes, hard-boiled eggs, peaches, strawberries, and yogurt.
When you do eat rice or feed it to your family, note that CR's tests have found that white basmati rice from California, India, and Pakistan, and sushi rice from the U.S. had, on average, half as much inorganic arsenic as most other types.
Products recalled: Beech-Nut Stage 1 Single Grain Rice Cereal with an expiration date of May 1, 2022, and with product codes 103470XXXX and 093470XXXX. These are on the bottom of the Beech-Nut Single Grain Rice Cereal container.
The problem: The product tested above the guidance level for naturally occurring inorganic arsenic set by the FDA.
The fix: Check your pantry for these products, and if found, discard the product. A company spokesperson told CR to contact the company for refund information.
How to contact the manufacturer: Go to the recall page on Beech-Nut's website or call 866-272-9417 between 8 a.m. and 8 p.m. ET Monday through Friday for further information on obtaining an exchange or refund.