When you shop through retailer links on our site, we may earn affiliate commissions. 100% of the fees we collect are used to support our nonprofit mission.
Learn more.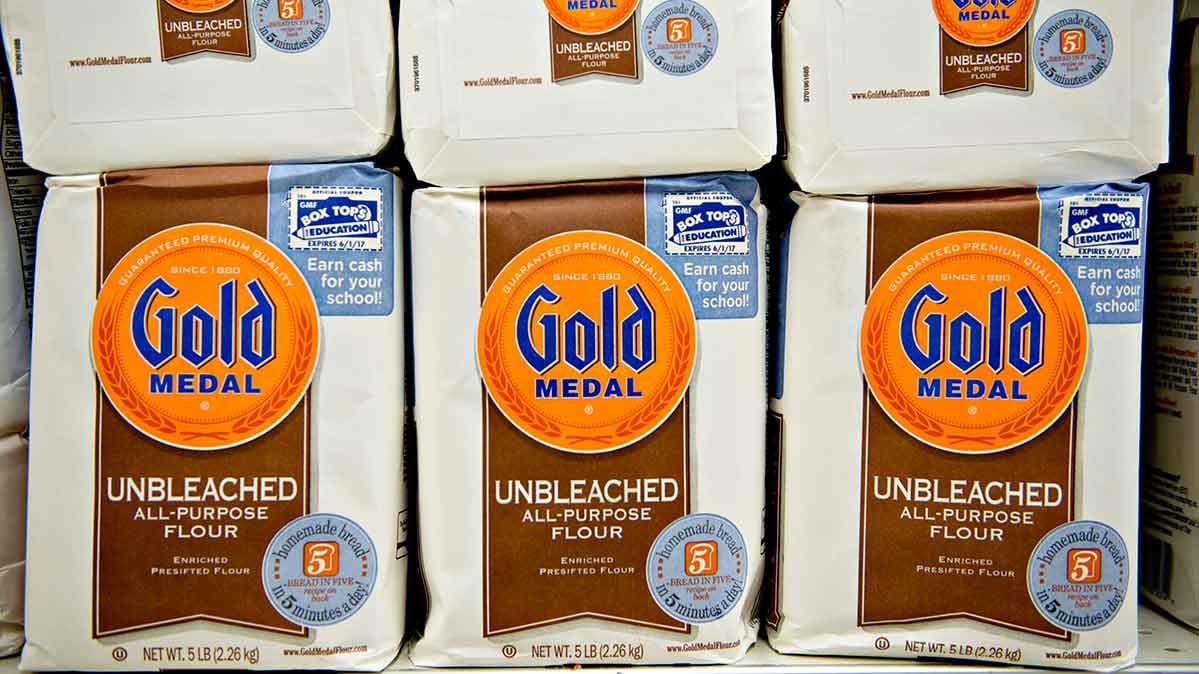 General Mills announced a voluntary recall of five pound bags of Gold Medal All Purpose Unbleached Flour because it may be contaminated with E. coli O26, a type of bacteria that can cause illness.
This is the sixth time this year flour has been recalled due to the possible presence of potentially dangerous bacteria, and the second time Gold Medal has been recalled. The current recall represents approximately 300 tons, or 600,000 pounds of flour, according to General Mills' spokesman Mike Siemienas.
The company discovered the problem during routine sampling of the flour. The packages have a "better if used by" date of September 6, 2020. Only bags of flour with this date code are affected, and the Food and Drug Administration says that General Mills has not received any reports of illness.
"We issued this recall as a precaution," Siemienas said. "Even though these natural occurrences of contamination are not something that we can prevent completely, if we have reason to believe due to random testing that a particular batch may have E. coli, we will recall the product."
How Does E.Coli Get Into Flour?
When wheat is growing in the fields, it may come into contact with animal waste, and that's frequently where contamination with E. coli or other dangerous bacteria can occur, said James E. Rogers, director of food safety research and testing at Consumer Reports. "Many people don't think of flour as an 'uncooked' food they need to be careful with," he says. "Recalls like this can raise awareness, but even in the absence of a recall, consumers need to know that all flour has the potential to be contaminated with pathogens."
Some companies, like Gold Medal, conduct sampling to test flour for bacteria, but consumers have no way of knowing which companies test and how often. "It's hard to determine what the industry standard for sampling and testing is because they usually do not share that information publicly and it's specific to each company," Rogers says.
Nor is sampling foolproof. In a report on flour safety, flour-producer Ardent Mills noted: "Production lots are usually very large, so only a fraction of a lot can be tested. Pathogens generally are not homogeneously distributed throughout the lot; they tend to clump together in groups." So the task may be much like looking for the proverbial needle in the haystack.
To protect yourself, Rogers says, all flour you consume should be cooked. "Cooking kills E. coli, and other bacteria, but it's important not to eat raw cookie dough or other foods that contain raw flour," he says. "In addition, be sure to thoroughly clean surfaces that come into contact with raw dough or batter, and wash your hands after handling it."
Spotting E.Coli Symptoms
According to the Centers for Disease Control and Prevention, people who eat food contaminated with a Shiga-toxin producing E. coli, such as O26, become sick three to four days later, on average. Symptoms include stomach cramps, vomiting, and diarrhea (which may be bloody). Most people recover within seven days or so, but E. coli 026 is a Shiga toxin-producing bacterium. Such strains have the potential to cause hemolytic uremic syndrome, a serious condition affecting the blood vessels that can lead to kidney failure and death. Those at highest risk are seniors, infants, and people with compromised immune systems. If you experience the symptoms of E. coli poisoning, especially if you've consumed uncooked flour, call your doctor. If you're diagnosed with an E. coli 026 infection, Rogers recommends that you contact your state or local public health authorities so that they can be aware of potential outbreaks.
The Details
Products recalled: 5-pound bags of Gold Medal unbleached all-purpose flour with UPC 000-16000-19610-0 and Better if Used by Date of 06SEP2020KC on the package.
The problem: The flour may be contaminated with E. coli O26.
The fix: Check any unbleached all-purpose flour from Gold Medal you have at home for the code and date listed above. If you have any, throw it out. Before buying new flour, check to make sure it isn't labeled with the above code or date.
How to contact the manufacturer: Call General Mills Consumer Relations (800-230-8103) or to visit www.generalmills.com/flour for more information.
Bake the Safe Way
The kitchen is one of the busiest hubs in the house, but it also harbors hidden dangers. On the "Consumer 101" TV show, Consumer Reports' experts explain how you can stay safe from E. coli and other contaminants.