When you shop through retailer links on our site, we may earn affiliate commissions. 100% of the fees we collect are used to support our nonprofit mission.
Learn more.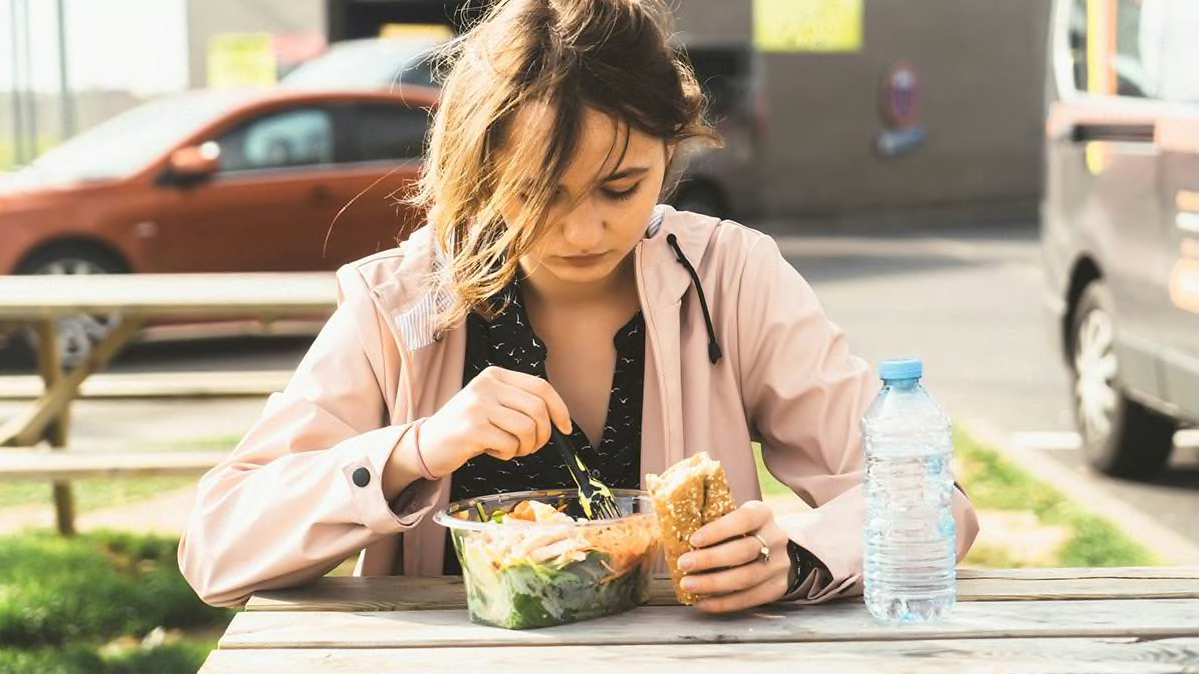 Since Oct. 16, there have been at least 13 recalls of ready-made foods, such as salads, sandwiches, wraps, pizza, and burritos, due to potential salmonella and listeria contamination. All of these foods have been traced back to a single plant owned by McCain Foods, in Colton, Calif., which processes, cooks, and freezes vegetables for distribution to other food producers.
To date, almost 4 million pounds of food sold under many different brand names have been recalled, and the Food and Drug Administration says more recalled products may still be announced.
According to Donald Schaffner, Ph.D., professor of food science at Rutgers University, one plant can cause such a widespread problem because "it's the nature of our complex food system today. If a potentially contaminated bit of onion gets used in a burrito," he explains, "you have to recall the whole burrito."
So far no one has been reported sick from exposure to these contaminated foods. But CR has put together a guide for what you should know so that you and your family can stay safe.
What Exactly Is Being Recalled?
The McCain processing plant at the root of these recalls produces "fire-roasted, caramelized, or sautéed frozen fruit and vegetables," most of which are not sold directly to consumers. Instead, they're sold to other food companies for use in their products.
After testing from McCain detected contamination in the Colton plant, the first related recall was issued by Prime Deli Corporation on Oct. 16—it involved 217 pounds of salad with corn that was possibly contaminated with listeria or salmonella.
Over the next few days, other foods, such as burritos, wraps, pork carnitas bowls, stuffed baked potatoes, pizza, and premade burgers with vegetables, were recalled by various food producers because they also contained possibly contaminated ingredients—caramelized mushrooms, fire-roasted tomatoes, onions, tomatillos, and more. Schaffner says this may have happened when different vegetables were being processed at that one McCain plant with the same equipment.
These products were sold at many different retailers, including 7-Eleven, Hy-Vee, Kroger, Trader Joe's, Walmart, and Whole Foods.
In fact, to figure out whether you might have one of the recalled products in your home, you need to visit 13 different recall web pages on the Department of Agriculture and Food and Drug Administration websites, which makes it confusing for the consumer, says William Wallace, senior policy analyst at Consumers Union, the advocacy division of Consumer Reports. (A list of those pages can be found here.)
Wallace says that regulators should make better use of FoodSafety.gov as the dedicated, one-stop, up-to-date website it was meant to be, not just for listing all recalled food products but also for posting clear advice for consumers and background information about possible contamination.
Should You Avoid Ready-Made Foods for Now?
All of the products involved are now past their expiration dates, so they shouldn't be on store shelves. In addition, according to a spokesperson from the USDA's Food Safety and Inspection Service (FSIS): "FSIS routinely conducts recall effectiveness checks ... to verify [that] recalling firms notify their customers of the recall and that steps are taken to make certain that the product is no longer available to consumers." (In this case, "customers" refers to food companies that purchase vegetables from McCain.)
It is possible, though, that consumers may have already purchased one of the recalled foods and stored it in their fridge or freezer. The FDA and USDA both advise throwing those foods away, or returning them to the store where you bought them for a refund.
Can You Cook the Foods to Kill the Toxins?
We don't recommend it. The FDA notes that some of the recalled products require cooking, which could potentially kill dangerous pathogens. However, many of the recalled items are considered "ready-to-eat" or RTE.
And that makes them risky, says James E. Rogers, Ph.D., director of food safety research and testing at Consumer Reports. Even if the product was intended for cooking at home, different food items need to be heated to different temperatures to guarantee bacteria will be killed. Consumers may not always know to heat the product thoroughly.
Additionally, Rogers notes that handling products that contain foodborne pathogens—even if heated thoroughly—could contaminate anything they come into contact with, like your hands. The safest bet is to throw them out.
How Did the Contamination Occur?
The FDA, the FSIS, or McCain Foods have not provided information about how it may have occurred. But, says Schaffner, vegetables often get contaminated by foodborne bacteria "in the field." If they contain pathogens when they reach a processing facility, there is then the potential to contaminate work surfaces, equipment, and water.
Why Both Salmonella and Listeria?
An FSIS spokesperson confirmed that it is uncommon for a recall to involve two separate pathogens. How that might happen is "something of a head-scratcher," according to Schaffner, because the two types of bacteria thrive in different environments.
How Can This Be Prevented in the Future?
McCain's Colton plant was also in the news last year after pieces of golf balls were detected in some hash brown products produced there, leading to another recall. In response to a CR query regarding these latest recalls and outbreak, McCain spokesperson Tarah Foster Arnold said, in part:
"After becoming aware of this issue, we identified the potential risks and informed our customers and relevant regulatory authorities. To be clear, we have received no reports of illnesses associated with the consumption of these products to date and this voluntary recall was issued as a precautionary measure for the safety of consumers."
How Do You Know If Food Has Made You Sick?
Symptoms of food poisoning can include a fever along with diarrhea, muscle aches or other gastrointestinal symptoms, and headache. Symptoms can emerge anywhere between 12 hours and several weeks of consuming a contaminated item.
Listeriosis can be fatal, especially in certain high-risk groups. These groups include the elderly and people with weakened immune systems and certain chronic medical conditions (such as cancer). In pregnant women, listeriosis can cause miscarriage, stillbirth, premature labor, and serious illness or death in newborn babies.
Contact your doctor if you have a fever of 101.5° F or higher, bloody diarrhea, or diarrhea that lasts for more than three days, or if you experience severe dehydration.