Where to Buy Hard-to-Find Fruits and Vegetables
If you're looking to liven up your list of go-to produce items or need fresh ingredients outside of what's mainstream, these retailers may carry what you're looking for Okinawan sweet potatoes are the holy grail of sweet potatoes on my nearly impossible list of favorite but hard-to-find produce. When baked, the lumpy and dirty white exterior of a good one can hide the deepest purple flesh with a sweet, floral fragrance, elegant beyond any mere flower. For a while, it was almost impossible for me to find them.
While I'm content to have broccoli, cauliflower, and plain old spuds (russet potatoes) in regular rotation in my diet, along with common apple varieties and navel oranges, there's something exciting about trying a new or rare fruit or vegetable. And more consumers are starting to agree.
"U.S. consumers, especially younger consumers, are growing more interested in exotic, i.e., less familiar, fruits," says Melanie Bartelme, an associate director at research firm Mintel who covers food. About 57 percent of people who consume fruit say they're interested in this type of fruit, which includes jackfruit, dragon fruit, and durian, Bartelme says.
What you'll find: Staples in Indian and other Asian cuisines, such as curry leaves, bitter melon, Indian okra, methi, tindora, and fresh turmeric, as well as more common types of fresh produce and other Indian groceries, including dried and canned goods.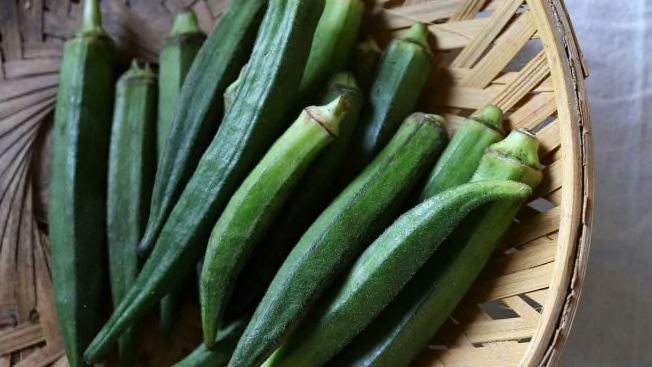 Produce pick: Okra comes in lots of colors, from light to dark green (shown above) and even red or burgundy. Indian okra, also known as ladyfingers, is dark green and remains tender longer than more commonly available okra, according to Seeds of India, an online retailer that sells Indian vegetable seeds.
Shipping info: Desibasket offers U.S. residents free shipping, with a minimum that depends on where you live. If you're in Alaska, California, Hawaii, Puerto Rico, or Washington, shipping is free if you reach a $40 minimum. Deliveries to other U.S. states and Washington, D.C., have a minimum order of $25, and if you order less than $25 worth of groceries, you'll pay a flat shipping fee of $4.99. You can get free shipping to the Virgin Islands and Guam for orders over $50.
What you'll find: This walk-in Korean grocery chain has locations across the U.S., but what you'll find inside can depend on where you live. At one small Manhattan store I visited, I found Okinawan sweet potatoes along with Satsumaimo sweet potatoes, three types of dragonfruit (shown below), fresh lotus root, a massive selection of chili peppers, and Mexican guavas, plus kitchen gear, beauty products, and packaged foods, including an impressive aisle's worth of ramen and other instant noodles.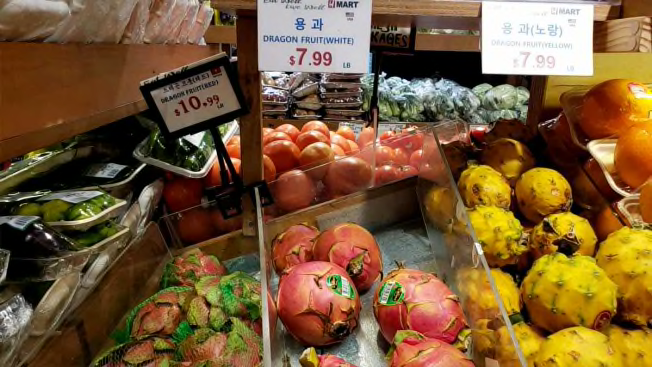 Produce pick: Dragonfruits have large, smooth "scales" on the outside, with juicy, white flesh and edible black seeds on the inside. Red dragonfruits I've had are speckled with seeds like those in kiwis, but the seeds in the yellow dragonfruit I tried from H Mart were bigger, about half the size of a watermelon seed, but still edible. You can cut a dragonfruit in half and scoop out the meat, or cube it for a fun fruit salad. Don't eat dragonfruit skin: It's inedible.
Shipping info: H Mart delivers fresh produce only via its H Fresh delivery service in certain parts of New York and New Jersey. There's a $35 minimum for delivery, plus a $5.99 delivery fee that's waived if you spend more than $49.
What you'll find: When in season, Melissa's sells star fruit, cactus pear, white eggplant, feijoas, Aztec sweet red peppers, malanga, kumquats, buddha's hand (yellow and green versions, which I hope to try for the first time when they're back in season), and more. Bear in mind that minimum quantities may be large. Okinawan sweet potatoes are available, but you'll have to buy at least 10 pounds at a time. Melissa's provides helpful descriptions and suggestions for how to prepare and eat produce items.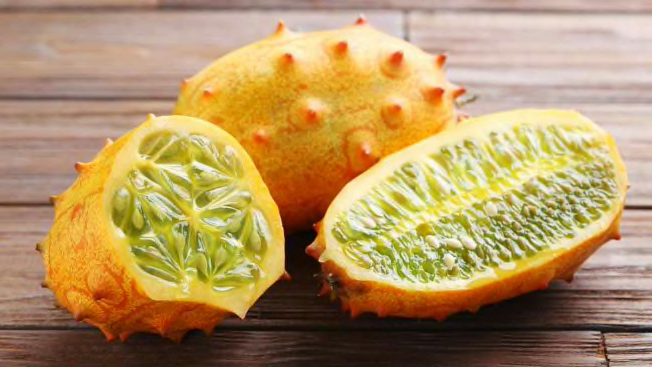 Produce pick: Kiwano horned melon (shown above), also known as African horned cucumber or jelly melon, looks to me like a cartoon sea creature, with little spikes and a firm yellow to orange outer skin. Inside, you'll find what's a bit like the jelly-like seeded center of a cucumber; it tastes similar as well. The innards can be luscious to some and slimy to others, but they may still be worth a try, spooned straight out of the melon or added to a smoothie.
Shipping info: Melissa's ships via FedEx, with cost depending on where you live and how quickly you want to get it. If you live between Santa Barbara and San Diego, Calif., you can get organic produce boxes delivered free of charge.
What you'll find: Sapodilla, various types of durian, passion fruit, finger limes, snake fruit, soursop, sapote, egg fruit, and whole pod cacao (shown below). You'll also find a guide with pictures and descriptions of how items will look and feel when ripe, as well as how to eat them. Variety boxes are also available for fruits that are in season.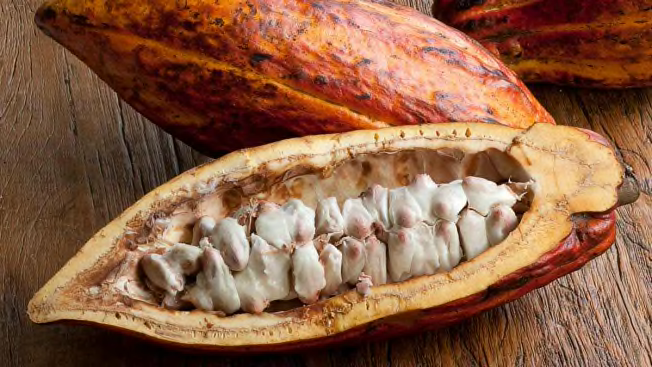 Produce pick: Chocolate is made from the seeds of the cacao fruit, but the sweet flesh that surrounds the beans is also edible, uncooked, according to Miami Fruit. You can also eat the seeds fresh, but be aware that like chocolate, they contain caffeine. You can make cacao nibs by dehydrating the seeds, Miami Fruit says. And if you're feeling ambitious, you can even make your own chocolate.
Shipping info: Miami Fruit harvests from its own farm and other local farms in South Florida, and ships Monday through Thursday depending on the product and seasonal availability. Note that even if the fruit you ordered is in season, it may take some time for the company to have enough ripe fruit to complete the order, the company says. If there's high demand for an item, it can take even longer.
Due to some restrictions from the California Department of Agriculture, some items listed on the site may be unavailable to California residents, Miami Fruit says.
What you'll find: Soursop, sapote, golden berries, rambutan (shown below), calabaza, boniato, sugar cane, Hawaiian plantains, malanga, and breadfruit. In addition to boxes of single types of fruits, you can select specific items to create your own box of tropical fruits. Your shipment will come with information about the fruits you order, as well as food and drink recipes.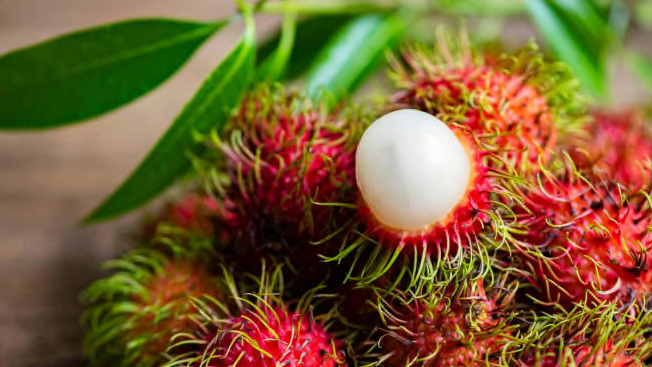 Produce pick: The rambutan is the hairy cousin of the lychee, with long, thick, flexible green or pink spines protruding from all over red inedible skin. In my experience, they're less likely than lychees to burst open with juice when you first puncture the skin with a fingernail. Peel one and you'll find white fruit that's sweet like a lychee but firmer to the tooth. Both have a large inedible seed.
Shipping info: Tropical Fruit Box shipping rates can vary based on location. There's an option to ship free, but your order will take about a week to reach you. You can pay for quicker options, but it's pricey. For example, shipping a Tropical Roots Box (an assortment of root vegetables, peppers, and plantains) to New York via UPS 2nd Day Air costs $70, close to the cost of the box itself ($88) and far more than I'm willing to pay.
What you'll find: Produce used in Asian and Mexican cuisine, such as cactus pears, cherimoyas (shown below), chayote, bitter melon, kohlrabi, Thai basil, Korean cucumber, and other types of produce. You'll also find packaged goods, household items, and beauty products.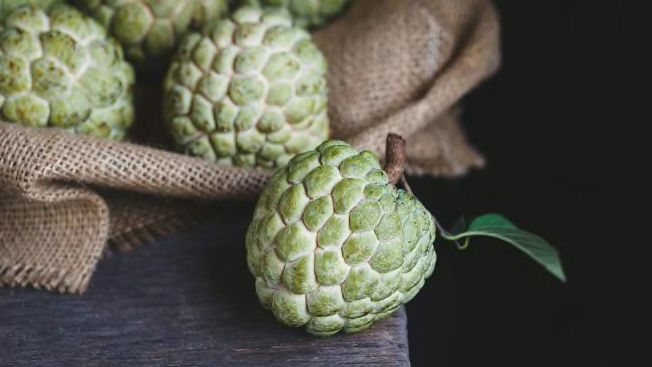 Produce pick: The cherimoya is related to soursop, another tropical fruit, but is sweet rather than sour. Depending on ripeness, it can taste like a combination of pears, papayas, bananas, and berries. When ripe, cut one open and you'll find soft white, custardy flesh, plus large, slippery black inedible seeds. Scoop the flesh into a blender for a smoothie, or just eat it out of hand, discarding the seeds and rind.
Shipping info: Weee ships produce across the country. Currently, you can get $20 off and free delivery for your first order of $35 or more.
It might be no surprise if your local Whole Foods has a wider selection of fruits and veggies than your average supermarket, but you may even find produce you've never tried before at chain grocers like Albertson's and Safeway.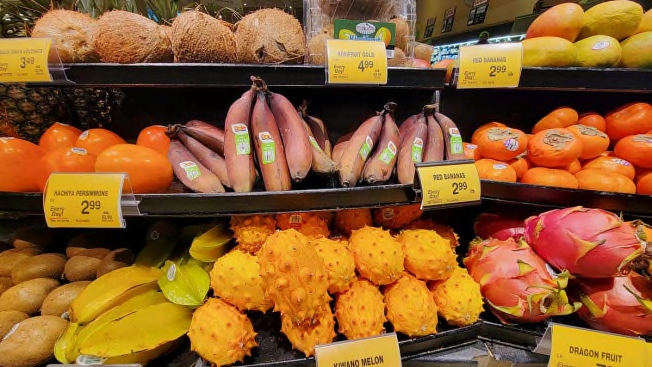 What you'll find: My colleague Amanda Arnold, based in Washington state, came across red bananas at her local Safeway, along with star fruits, horned melons, and dragonfruits.
Produce pick: Produce brand Dole tells me that the red bananas it sells turn a purplish color when ripened and taste like regular bananas with a hint of raspberry. Under the skin, you'll find flesh that's white to light pink. They can be eaten fresh, fried, or baked in any recipe that calls for bananas, according to Dole spokesperson William Goldfield.
Let's not leave out the local mom-and-pop shops and bodegas. Some may have selections that will surprise you.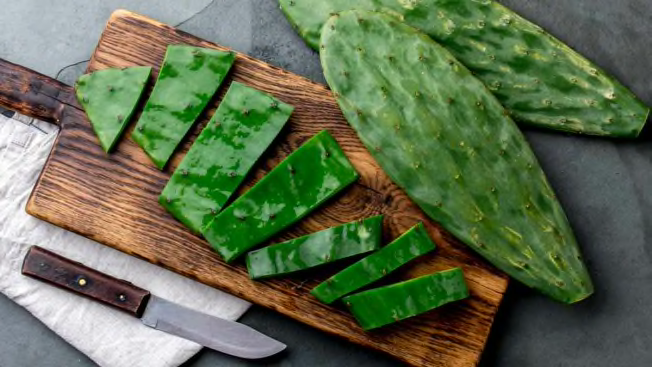 I searched high and low for nopales—the pads of prickly pear cactus, shown above—while writing about alternative Thanksgiving dishes. I found jarred nopalitos, which are cut up and prepared nopales, in lots of places, but not the nopales themselves—until I stumbled across them at the Mexican bodega half a block from my Brooklyn, N.Y., apartment. If you don't have mom-and-pop shops close by, check delivery services like Doordash or Instacart to see what new-to-you produce you can find.