We Tried Ugg Fluff Yeahs and 7 Other Popular Slippers—Here's What We Loved (and Loathed)
Spoiler alert: Crocs are shockingly cozy, and we all passed on several other brands My feet are cold for a good chunk of the year, but come October, I'm essentially clomping around my frigid New York City apartment on two small frozen logs. Socks have been my go-to for years, but that's not ideal: they're not quite warm enough, they don't provide any stability on wood floors, and you can't run downstairs to pick up the mail or get to work in the kitchen without some discomfort (maybe it's just me, but stepping on a little bit of water if you happen to drip while draining pasta or rinsing vegetables is an unsettling experience). 
It's worth noting that slippers aren't just a purely utilitarian product to keep feet toasty in the privacy of your home. Warmth and coziness are far and away the most important factors for a good slipper.
Editor's Pick: Glerups Shoe With Leather Sole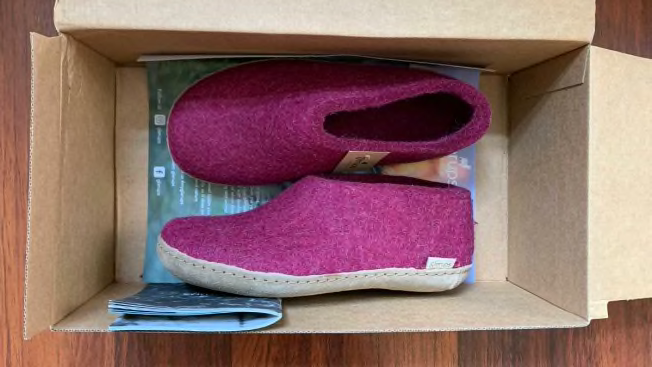 Price: $100
Materials: Wool upper, leather sole
Where to buy: Glerups, L.L.Bean
Why we loved them: The Glerups were an overall top-tier pick for our entire team. The felted wool upper is warm, breathable, and not at all itchy. "Feels like I'm wearing nothing at all," says Perry Santanachote, a writer and one of four evaluators. "They're super light and easy to move around in." Felted wool is wool that's been washed so that it's soft and pliable. The wool is cut into single pieces; then workers glue, then sew, the leather soles to the bottom of the slipper.
Because they're handcrafted with natural materials, they're a bit pricier than our other picks—but they'll likely last longer than many other options, potentially making the cost worth it if you have enough for the initial splurge. They're also attractive, albeit a bit granola: "I feel like a self-satisfied academic when I wear them—in a good way," says Laura Murphy, a writer who helped evaluate the slippers.
Things to note: The leather soles are not super slick—they have some texture, which gives it a little bit of grip—but those with mobility concerns may want to consider the Glerups with a rubber sole, which we didn't evaluate. The leather sole also gets a bit stained if you're wearing them in the kitchen, so if you care about how the soles of your slippers look, again, consider the rubber-soled option. And they're not particularly quick to slip into like many other slippers; instead, you have to wiggle your foot into them, similar to how you'd put on a standard shoe.
The Surprise Fave: Crocs Classic Lined Clog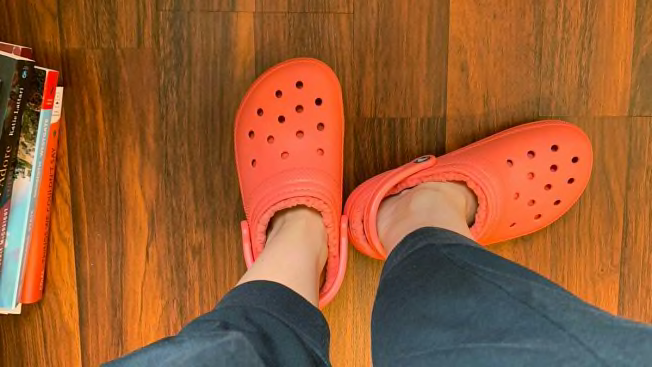 Price: $60
Materials: Plastic foam, faux fur lining
Where to buy: Amazon, Crocs, Macy's
Why we loved them: Three out of four evaluators found themselves head over heels with the Lined Crocs. These slippers are made with ethylene-vinyl acetate foam, a form of plastic that softens and molds to the foot with time, and is lined with faux fur. "I am pleasantly surprised that these are extremely comfortable," says Ginger Cowles, a managing editor and member of the slippers evaluation team. "These are excellent work shoes, and if I'm going to be prepping for a big event—think Thanksgiving or a dinner party—these are the shoes I'll be wearing from now on." These clogs, as Crocs calls them, feel stable and secure, with a thick, textured sole that doesn't slip and provides ample distance and insulation from frigid floors in the winter. They're also machine washable (in cold water only), though we haven't tried washing these shoes ourselves. 
A foam strap can either be pulled over the front of the shoe, transforming the Crocs into a slide, or over the back, making the shoe more secure on the foot. 
Things to note: Because these are synthetic, they may not last as long as slippers made with natural materials like wool. The synthetics may also cause sweaty feet for some folks. 
They also look, well, the way they look, which may or may not be a problem for you. "I am embarrassed every time I look down," says Murphy. "They look like clown shoes." But this was less of a problem for the rest of us, who have been enthusiastically clomping around, clownlike, in our chilly homes for weeks. 
The Gift Pick: Ugg Fluff Yeah Slide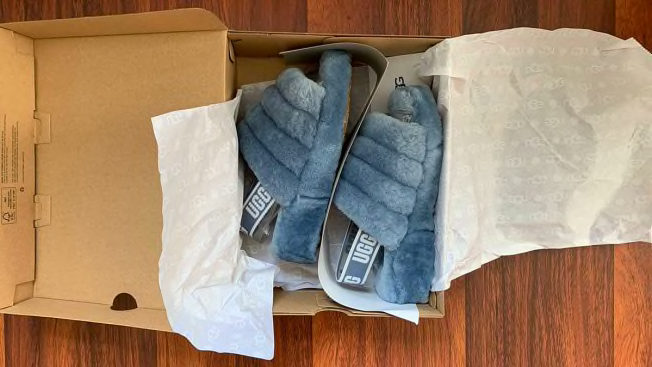 Price: $100
Materials: Sheepskin upper, rubber sole
Where to buy: Amazon, Macy's, Ugg
Why we loved them: These are the indisputably coolest slippers of the bunch. Made with real sheepskin, they're almost comically fluffy and soft — in my notes, I wrote that they felt "like wearing clouds on my feet." The colors are rich and even, and the rubber outsole is stable enough that these slippers can be worn outside (and often are, as Megan Fox and Gigi Hadid have demonstrated). Because they're so cozy and fun, they make for a great holiday gift. 
Things to note: These slippers are heavy, weighing 1 pound total, and come with a 1.5-inch angled platform, so they may not be a good choice for those with mobility issues. "The sole is stable and grippy but that nearly 2-inch platform is just a rolled ankle waiting to happen, especially when my spastic dog gets underfoot while I'm cooking," says Santanachote. And because the toes are exposed, those with super-cold feet may want to opt for socks—or another type of slipper.
For Couch Potatoes: Bombas Gripper Slipper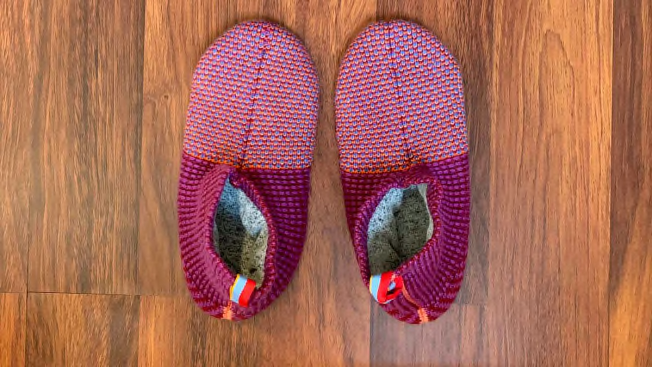 Price: $40
Materials: Acrylic, nylon, and wool blend
Where to buy: Bombas, Dick's Sporting Goods
What we loved: Bombas specializes in t-shirts, socks, and underwear, and indeed, these slippers are more sock than slipper. But the PVC nubbies on the bottom give them some traction, so you're less likely to slip around when moving from the fridge to the sofa—which is the ideal activity in these slippers. 
This warm knitted pair comes in four richly dyed and charmingly patterned colors, with a soft rayon lining. "They don't have a hard sole, which I like, because that makes them more comfortable to wear while curled up on the couch reading," says Murphy. I wear them while working (please don't tell my doctor I sit cross-legged in my desk chair all day) and though my feet run cold, they're never chilled in these.
They're also great for travel, in part because they're so packable but also because they come with a soft fabric bag for storage. And since they're washable and come in only a handful of adaptable sizes, we could see them being a great guest slipper option, for those who prefer that their houseguests leave their shoes at the door.
Things to note: As these are socklike, they have zero arch support. And while they're pretty warm, two of our evaluators noted that they'd be even warmer and more durable if they contained more than 20% wool.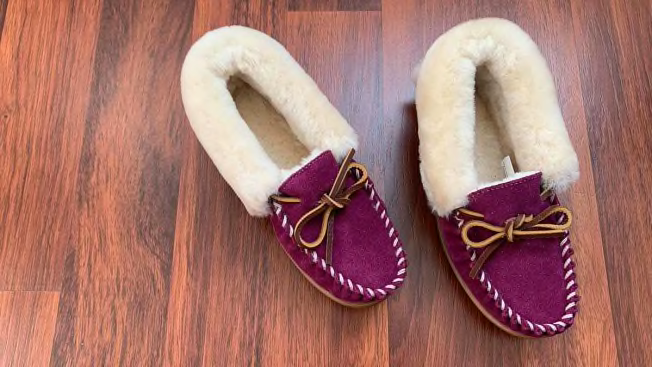 Price: $79
Materials: Suede upper, shearling lining, rubber sole
Where to buy: LLBean, Nordstrom
These slippers have a lot going for them—they're made with sheepskin and lined with super soft shearling (the pelt of sheepskin). Though nobody ranked them in the gutter, they were none of our favorites, either. Some of us found our heels slipping uncomfortably out of the back of the slipper while walking, and the rawhide ties appear mostly for aesthetics. They're beautiful, though—Murphy calls them "#Cabincore"—and they're made with high-quality materials. "The real shearling is superior by a lot. It makes a huge difference," says Cowles, though Santanachote says, "if only I could keep these slippers on my feet!"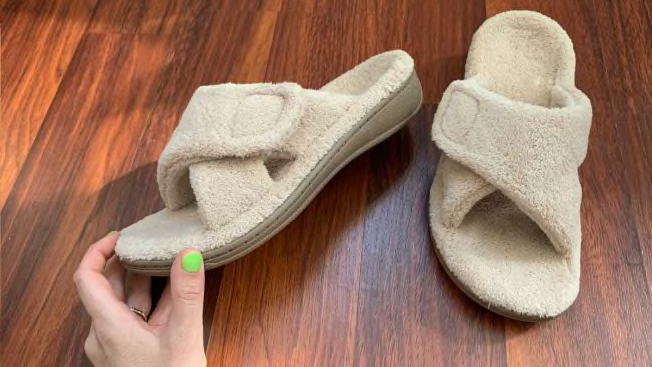 Price: $70
Materials: Synthetic fabric upper and lining, plastic midsole, rubber sole
Where to buy: Amazon, Vionic, Walmart, Zappos
These open-backed synthetic slippers are extraordinarily supportive and have a "Seal of Acceptance" from the American Podiatric Medical Association. These seals are awarded to foot-adjacent products that have been "found to promote good foot health," according to the APMA. They're adjustable, so they'll stay on feet that are wide or narrow, and they lightly mold to your foot, assuring a perfect fit. 
But they're not especially warm, which makes them difficult to recommend as a slipper option. And true to their function, they're orthopedic-looking, which might not appeal to everyone. If you're looking for a supportive, grippy slipper that you can wear year-round, the Vionic Relax slippers are a good option. But if your feet run cold, or you want to look down at your feet and like what you see, these may not be for you.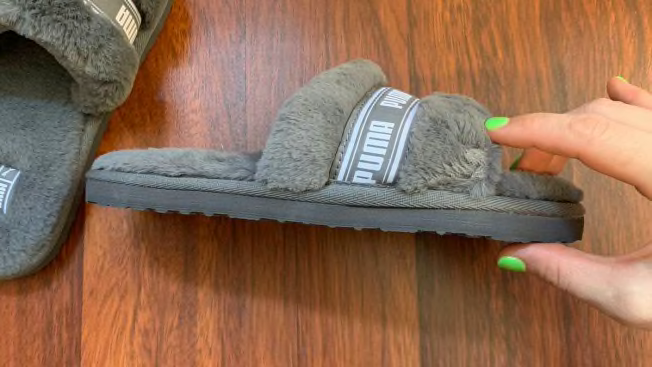 Price: From $30
Materials: Faux fur upper and footbed, plastic sole
Where to buy: Amazon, Puma 
These slides are soft, fluffy, and on-trend, but three out of four of us could not comfortably fit these over our relatively average-width feet. Those with narrow feet will likely have better luck. Because they're slides, they're not super warm, but they're made with faux fur, which Cowles says she found got a bit sweaty as she wore them doing chores. The plastic soles are "very stiff and inflexible so I have to walk like a duck or shuffle to keep the slippers on," says Santanachote, while Cowles notes that "I have a toddler, and when she's asleep, I feel a strong need to step quietly near her room. I could not do that wearing these slides."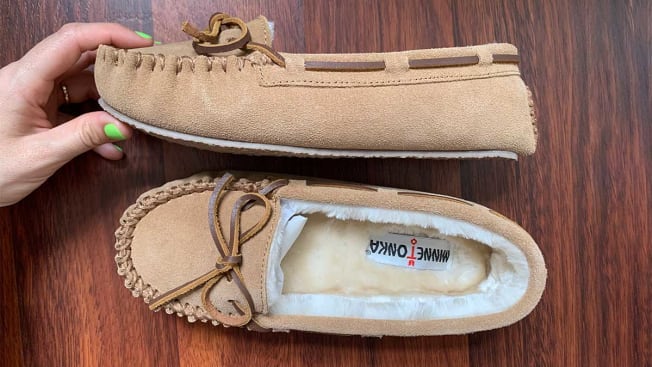 Price: $45
Materials: Suede upper, faux shearling lining, rubber sole
Where to buy: Amazon, Bed Bath & Beyond, Macy's, Target, Walmart, Zappos
These slippers were universally unpopular among our evaluators. They fit oddly—tight around the toe box, but they completely slip off the heel while walking. The suede uppers are lined with faux shearling, which is soft but may get sweaty for some—though the slipper sits very low on the foot, leaving most of the foot exposed to cold air. The rubber soles are thin and feel insubstantial, and some hard strings of glue clung to the outside of one set of slippers, which doesn't make the manufacturing seem promising. 
How We Evaluated the Slippers
Warmth and coziness: Without a doubt, the most critical task of any pair of slippers is providing warmth and a sense of coziness as the temperatures drop (although if you live like me, you have a spouse with an obsession for cranking up the air conditioner the second the mercury climbs to 75, making slippers a nearly full-year item).
Some materials and slipper types are better than others if you have icicles for feet. "If you tend to have cold feet, look for plush slippers with soft furlike linings such as shearling, sherpa (which is faux shearling), faux fur, or fleece," says Wevly Wilson, a shoes and accessories designer and a part-time assistant professor at Parsons School of Design. "Also consider full coverage uppers to keep your entire foot warm."
Shearling, which is the skin and wool of sheared sheep (essentially, suede with the wool attached), is an almost universally good option, according to David Ulan, an adjunct assistant professor of accessories and footwear design at the Fashion Institute of Technology. "Shearling, especially with fur in towards the foot, is a great example of a material that can work well for feet which are always cold or feet that run warm even in cooler climates," he says. "The breathability and wicking of this natural material works quite well in both those feet types."
Cotton and wool are also good options for feet that run hot, according to Wilson, who also advises those with hot or sweaty feet to consider slippers that are open in the front, the back, or both.
Comfort and fit: We considered not just the warmth of the slipper but how comfortable and well-fitted they were. We carefully examined which size we should buy, but if any of the slippers run small or large even after looking at the product notes and buying recommendations, it served as a mark against them. Having to order and return apparel orders is unsustainable and bad for the environment—experts say that as much as 25 percent of returns end up discarded— so we're less likely to recommend slippers that don't fit as expected. Another tip: Ulan notes that when buying new shoes or slippers in-store, wear them on both feet to ensure they actually match. "It is surprising how many people only try on one foot to make this decision," he says.
It's also, frankly, a bummer to excitedly receive an order that fits terribly. We would like to help people avoid this disappointing experience. 
Appearance: Taste is subjective, so what floats our boats may not float yours, but we still evaluated our slippers with an eye toward aesthetics. Some of these slippers are very on-trend—simultaneously athletic and cozy, aka athleisure—but have poor fit or construction. Others may apply to people with a very particular style, but we nevertheless recommend them even if the look isn't what you might initially be drawn to. 
Quality: Ideally, you shouldn't have to buy three pairs of slippers a year to keep up with wear and tear, so we assessed the quality of the slippers to determine how long they'll endure before their inevitable demise. "Loose threads, inconsistent symmetry, and poorly matched materials are clues to a lesser-quality slipper that may not wear well," says Ulan.
And while synthetic materials like sherpa and faux fur have their appeal—they're often less expensive upfront than natural materials and come in comfortable, cute designs—longevity may be one thing you'll have to sacrifice. They're less breathable and thus can make feet sweaty, which doesn't bode well for the slippers' life span. "When a slipper is frequently subject to moisture from the foot, the insides and linings will wear out prematurely," says Ulan. 
Wilson puts it plainly: "The bottom line is that you get what you pay for." Durable, high-quality materials and stitching, durable soles, and even thoughtfully designed arch support all raise the price of any footwear, including slippers.
Performance: Are these slippers supportive and stable? Some slippers have slight platforms or heels, which make them less safe for people with injuries or mobility issues. Others have smooth soles, which could be unsafe for people who walk on slick surfaces or who need extra grip when walking. "Generally, rubber—both natural and synthetic—is most durable and provides very good traction," says Ulan. "When slippers are to be worn on stone or hard, rough surfaces, one should consider rubber or another synthetic sole which will be more durable than many leather soles." 
This product evaluation is part of Consumer Reports' "Outside the Labs" reviews program, which is separate from our laboratory testing and ratings. Our "Outside the Labs" reviews are performed at home and in other native settings by individuals, including our journalists, with specialized subject matter experience or familiarity and are designed to offer another important perspective for consumers as they shop. While the products or services mentioned in this article may not currently be in CR's ratings, they might eventually be tested in our laboratories and rated according to an objective, scientific protocol.
Like all CR evaluations of products and services, our "Outside the Labs" reviews are independent and free from advertising. If you'd like to learn more about the criteria for our lab testing, please go to the Research & Testing page on our website.
When you shop through retailer links on our site, we may earn affiliate commissions. 100% of the fees we collect are used to support our nonprofit mission. Learn more.