Best Frozen Pizzas to Eat Right Now
Can a frozen pie taste good and still be reasonably healthy? CR rates 26 to see whether you can pick one that scores.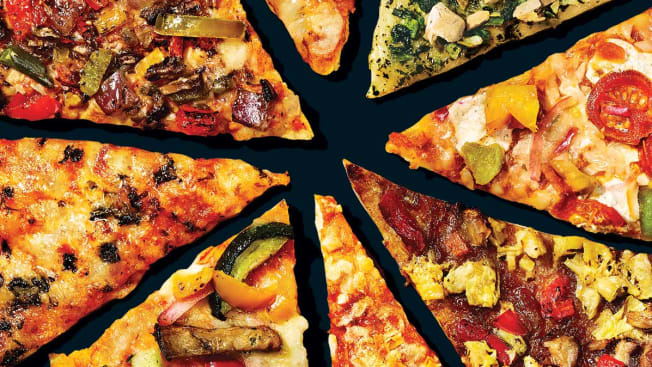 Next to Thanksgiving, Super Bowl Sunday is the biggest eating day of the year. And what finds its way onto many party menus? Pizza. Of course it's pretty popular every other day, too. One in eight Americans has a slice (or two or three) on any given day. And according to market research firm Mintel, much of that is frozen: 37 percent of us eat frozen pizza two to three times per month. Our recent tests of 26 cheese and vegetable pies show that opting for a frozen one is actually a pretty good plan.
Frozen pies have always been dogged by a reputation for being highly processed and not so tasty. Mintel's research shows that more than half of frozen-pizza buyers said they'd buy a pie more often if they weren't so processed, and 59 percent said they'd buy more if they had more premium ingredients.
That's led frozen-pizza manufacturers to try to improve their product by cutting out preservatives and artificial flavors, lowering the sodium content, and making crusts with whole grains. "There are a lot more options now in frozen pizzas, with 'clean' ingredient lists that look more like what I would make at home if I started from scratch," says Rachel Cheatham, Ph.D., an adjunct assistant professor of nutrition and food marketing at Tufts University.
The Role of Toppings and Crust
Whether you opt for frozen or takeout, chowing down on a couple of slices can mean taking in nearly 750 calories and an alarming 1,600 mg of sodium. (U.S. dietary guidelines call for less than 2,300 mg per day.) And depending on your choice of toppings, pizza can also pack a significant amount of saturated fat.
We opted to test plain cheese and vegetable pizzas, knowing that those with meat toppings would have rated worse on the nutrition front. "Losing the meat and adding veggies is a good way to make pizza into a healthier meal," says Lauri Wright, R.D., Ph.D., an assistant professor of nutrition and dietetics at the University of North Florida. "You'll get more fiber, more vitamins and nutrients, and less sodium and fat."
When trying to pick a healthier pizza, consider a vegetable pie. "The veggie pies we tested were for the most part lower in saturated fat than the cheese pizzas," Klosz says.
Thin crust can sometimes save you some calories, but don't automatically assume that a thin-crust pie is a better choice. For example, Red Baron Thin & Crispy Crust Five Cheese Pizza is similar in calories and fat to the Tombstone Original 5 Cheese Pizza, and has considerably more sodium.
Whole-grain crusts aren't easy to find but they're worth seeking out. "If you go for one made with whole grains, you can double the fiber," Wright says. In our testing, for example, Freschetta Artisan Crust Four Cheese Pizza had a multigrain crust and 4 grams of fiber per serving. Most of the other cheese pizzas had 1 to 2 grams.
Pay Attention to Serving Size
"We found that serving sizes for these frozen pizzas varied quite a bit," Klosz says. "Sometimes it's one-third of a pie, sometimes a quarter. And for one of the thin-crust pies we tested (American Flatbread Tomato Sauce & Three Cheese Pizza), a single serving was half the pizza." So even though calories per serving averaged about 300, you could easily consume two to three times that if you don't pay attention to serving size. If your favorite frozen pizza is higher in calories, fat, or sodium than you'd like, consider having just a slice and rounding out your meal with a big salad.
How to Make a More Perfect Pie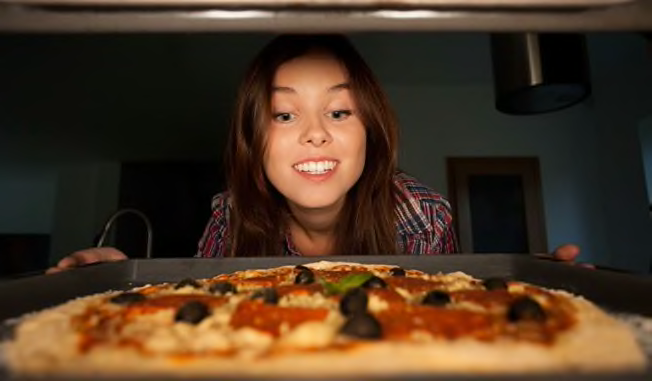 You'll get the best results from a frozen pizza if you follow these tips:
1. Preheat the oven. It's key to good browning and crisping. Don't shortcut this step.
2. Don't thaw. Unless the directions on the box specifically tell you to thaw, put the frozen pie directly into the preheated oven.
3. Slide it on an oven rack. This makes for a crispier crust. The rack should be positioned in the center of the oven.
4. Add your own veggies or fresh herbs. Baby spinach, mushrooms, onions, peppers, and sliced tomatoes are good choices, but you can use whatever vegetables you like. Sauté or roast the veggies lightly to remove some of the water so your pie won't get soggy during baking. Finish with fresh herbs such as basil or oregano. These additions not only improve the nutritional content but also will help give a frozen pie a fresher taste.
Best Toaster Ovens for Frozen Pizza
You don't have to turn on your oven to heat up a frozen pizza. These countertop toaster ovens will do a dandy job. The smaller interior of a toaster oven means it will take less time to reach the desired baking temperature than if you used a regular oven, so you can go from freezer to plate faster.
To fit a typical frozen pie, you'll need a toaster oven with a depth of at least 12 inches, such as the two below. The Breville was tops in our testing, but the Krups scored well for less than half the price.
Check our buying guide and ratings of toaster ovens.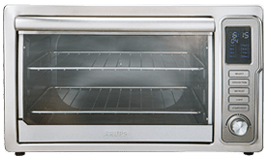 Krups DeLuxe Convection Toaster OK710D51,
$120 Fits a 13-inch pizza.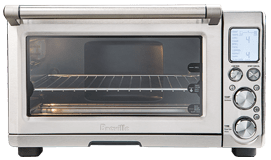 Breville Smart Oven Pro BOV845BSS,
$270 Fits a 12-inch pizza.
Editor's Note: This article also appeared in the February 2018 issue of Consumer Reports magazine.