When you shop through retailer links on our site, we may earn affiliate commissions. 100% of the fees we collect are used to support our nonprofit mission.
Learn more.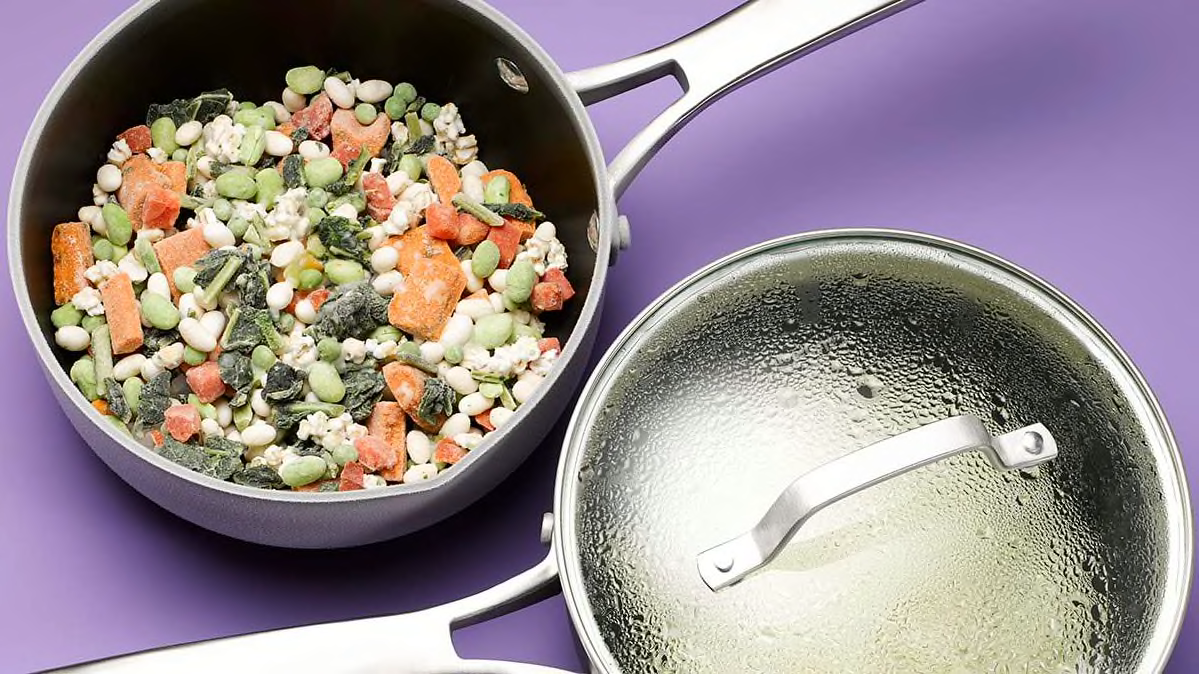 As farmers market season heads into full swing, you may find yourself dreaming about freshly picked ears of corn, peas in their pods, and tender asparagus spears. So why would anyone want to hear about frozen veggies now?
For starters, it's not always easy to find—or afford—what you want in the supermarket produce aisle. And how many of us have gleefully scooped up a basket's worth of goodies only to find that we didn't have time to prepare a meal fast enough before the bounty wilted in the crisper drawer?
No matter how you get your veggies, we all need to get more: The Centers for Disease Control and Prevention esti­mates that only about 1 in 10 Americans consumes his or her daily recommended amounts of veggies (3½ and 2½ cups, respectively). Frozen produce, of course, also cuts down the prep and cook time. (See our cooking tips for frozen vegetables, below.)
That's why veggie lovers will be cheered to learn about the greater number of inventive new frozen offerings. You'll find veggies that are mashed, riced, roasted, and spiralized, as well as mixed with grains and beans. There's also a cost advantage: Data from the Department of Agriculture show typically higher average prices for fresh produce, with some items (cauliflower, for one) significantly cheaper in frozen form.
Consumer Reports' food testers sampled a variety of frozen vegetable products, rating them for nutrition, flavor, and texture. Some innovations missed the mark in terms of taste, and others lost points for excess sodium or other concerns. But overall, our testing team found plenty of products to be both healthy and tasty.
A Nutritional New Day
It's a long-held belief that anything not fresh can't possibly be good for you. But when it comes to frozen vegetables, recent research shows that's not the case. Culinary scientist Ali Bouzari, Ph.D., led a study at University of California, Davis, in which his team tested eight hand-harvested items—blueberries, broccoli, carrots, corn, green beans, peas, spinach, and strawberries. They then flash-froze half of the bounty and stored the other half in typical industry conditions for fresh produce. The researchers periodically tested the content of 11 nutrients in both the fresh and frozen produce.
Comparing like fruits and vegetables with like, there was little difference in nutrient content overall. In some cases, fresh items were slightly better; in others, frozen items had a slight edge. Nutritionally speaking, "good frozen produce is essentially a head-to-head toss-up with good fresh produce," Bouzari says.
Crazy for Cauliflower
If you're browsing the supermarket frozen veggie aisle, you may be surprised by the wealth of cauliflower in the cases. What's up with that?
According to Kara Nielsen, culinary trends analyst at the food and beverage innovation firm CCD Innovation, cauliflower has become de rigueur at trendy restaurants in the past few years. "It's the next kale," she says. Cauliflower mania has spread to home cooks, with sales of products containing the cruciferous vegetable rising 71 percent in the last year, according to market research firm Nielsen.
The cauliflower craze, says Kara Nielsen, took hold when paleo dieters and other carb-averse eaters discovered that processing it into small, rice-shaped pieces could create a substitute for carb-heavy items like potatoes and rice. The new diet star—bagged, riced cauliflower—became a supermarket fixture, both in the produce and the freezer aisles. Broccoli, sweet potatoes, and other vegetables in "riced" form soon followed suit.
Riced cauliflower fared particularly well in our tests. The four products that were rated Excellent overall each contain riced cauliflower. "It's a fairly versatile ingredient," says Maxine Siegel, R.D., who heads CR's food-testing lab. "It has enough flavor that you could eat it on its own, but riced cauliflower can also replace some of the rice in recipes." Mashed cauliflower also got high marks.
Though your healthiest option will always be to buy plain veggies and season them yourself, one of our recommended products was preseasoned. Green Giant Riced Veggies Cauliflower with Lemon & Garlic got a high nutrition score in part because it contained no added salt, but our tasters also rated it highly for its fresh lemony flavor. "It goes to show that it is possible to have a low-sodium packaged product that tastes good," Siegel says.
Birds Eye Veggie Made Mashed Cauli­flower Original and Alexia Mashed Cauliflower with Sea Salt had their nu­tri­tion ratings dinged for rather high (470 and 460 mg, respectively) sodium counts. But they were the only products in our test to earn an Excellent rating for taste.
From Spirals to Tots
Spiralized veggies—low-calorie, low-carb substitutions for pasta—are also big news in the frozen food aisle. It's not surprising: Spiralizing from scratch takes time and specialized kitchen equipment. For fans of these, we found that the frozen packaged Carrot Spirals from Trader Joe's received one of our highest nutrition and sensory scores. (Green Giant recently released a spiralized frozen veggie line, but the items were not available in time for our tests.)
Also popping up in the freezer section are veggie "tots"—similar to kids' fried potato tots but with other vegetables inside. "They do beat potato tots nutritionally. Some are lower in calories, fat, and sodium, and higher in fiber," Siegel says. Of the three in our tests, the Green Giant Veggie Tots Broccoli got the highest Overall Score. But they're not twins to kids' beloved potato versions: According to Siegel, the broccoli filling was flavorful, but the texture was mushy, unlike typical tots.
Powering Up the Protein
Consumers looking to bump up their plant protein intake will also find frozen blends of vegetables, grains, and beans. We found these to be of varying quality. Sodium was a problem, but for Birds Eye Steamfresh Protein Blends California Style—which received Very Good nutrition and taste scores—its 12 grams of fiber and protein per cup compensated for the 450 mg of sodium.
The most disappointing innovation: The line of roasted vegetables from Green Giant. Siegel says her team had high hopes for the concept because roasting brings out vegetables' sweetness, and having a frozen option means that you can skip the time-consuming process of roasting them yourself. But most of these frozen roasted veggies were barely edible, with a smoky, ashy flavor, according to our tasters.

5 Cooking Tips From CR's Cooking Pros
1. Don't thaw first. Cooking your vegetables straight from the frozen state is the best way to maintain their texture. Also, frozen veggies aren't intended to be served raw, like on a crudité plate.
2. Cook in as little water as possible. The veggies' valuable nutrients can leach out if you use too much water. Steaming and microwaving require little or no water. If you opt for a pot, use a cover so that the veggies heat through faster.
3. Mix and match. Sure, veggies make for a healthy side dish—and vegetable grain and bean blends can even be served as the main meal—but you can also incorporate them into soups, casseroles, rice dishes, and more. Veggies not only provide layers of complexity but also boost the health factor of, say, mac 'n' cheese or other pasta dishes.
4. Step away from the salt shaker. Extra sodium can detract from the health benefits of your veggies, so get creative with seasonings such as pepper flakes, garlic, citrus zest or juice, herbs, or even a splash of balsamic vinegar.
5. Swap your cheese. Instead of goopy cheddar cheese sauce, sprinkle Parmesan or Romano on your veggies. These cheeses pack a powerful flavor punch, so a little goes a long way.
Should You Swallow the Health Claims on Packages?
It's common to see lots of exciting-sounding health promises on food packages at the supermarket, and frozen vegetables are no exception. But a little skepticism is in order. "I'm all for touting the benefits of vegetables if it convinces people to eat more of them," says Consumer Reports nutritionist Amy Keating, R.D. "But you don't know how meaningful the claims are unless you check the nutrition facts panel on the back of the package."
Suss out the sodium. "If a product is seasoned or in sauce, it likely contains added salt," Keating says. Birds Eye Veggie Made Mashed Cauliflower, for example, says on its packaging: "50% fewer carbs than the leading mashed potato brand," but it also has 470 mg of sodium in just ½ cup. A healthy sodium level for a vegetable side dish is 140 mg or less.
Check the calories. Green Giant Riced Veggies Cauliflower & Sweet Potato claims to be a "reduced calorie food" and a "good alternative to potatoes, pasta, or rice." While true, these statements may give you the impression that those foods are packed with calories. But 1 cup of skinless baked potato has just 114 calories, for example, and 1 cup of cooked pasta just 200—higher than the 50 in 1 cup of the cauliflower/ sweet potato product but certainly not a calorie bomb.
Be sure about the sugars. Birds Eye Steamfresh Superfood Blends Quinoa & Spinach is claimed to be a good source of antioxidant vitamins, but it also has 10 grams of total sugars per cup. A little of that may come from the sugars naturally present in the veggies, but the majority is likely from the dried cranberries and sugars added to the sauce, Keating says.
Editor's Note: This article also appeared in the May 2018 issue of Consumer Reports magazine.
Shop Like a Nutritionist
Eating well isn't always easy—or fun. On the 'Consumer 101' TV show, Consumer Reports' expert, Amy Keating, heads into the grocery store to show you how to make healthy decisions when it comes to food.