When you shop through retailer links on our site, we may earn affiliate commissions. 100% of the fees we collect are used to support our nonprofit mission.
Learn more.
They go by many names: "power bowls," "grain bowls" . . . even the enlightened-sounding "Buddha bowls." But no matter what they're dubbed, we've concluded that they're the ultimate healthy comfort food. What are they, exactly? Picture a mix of whole grains, like warm quinoa or wild rice, tossed with greens, such as shredded kale or organic arugula. Add in more veggies, such as roasted corn and peppers and fresh tomatoes. Next is the protein­­—think roasted chicken, or tofu, black beans, or a dollop of goat cheese and a sprinkling of sunflower seeds. Then it's all tossed with a flavor-packed sauce or a splash of dressing, like pesto vinaigrette.
Bowl meals are "filling, and you get a mix of flavors and textures in every bite," says Amy Keating, R.D., a CR dietitian. "Plus their ingredients tend to be what people think of as 'power' or 'super' foods, those they should be getting more of in their diet." A modern twist on the whole-grain-based macrobiotic bowls popular in the 1960s, they had a revival when cutting-edge salad joints, like Sweetgreen, and fast casual restaurants with a health bent, like Chipotle, brought well-balanced meals-in-a-bowl to the masses. In fact, according to food-industry consulting firm Technomic, bowl meal offerings on restaurant menus have increased by more than 30 percent over the past seven years.
It's no wonder then that grain bowls are starting to pop up in the frozen food aisle, too, alongside lasagna, chicken stir-fry, and microwave-ready burritos. "Bowl mania really hit its stride this year, and frozen food manufacturers have taken notice," says Consumer Reports' nutritionist Ellen Klosz. "When we started exploring the supermarket options, we were surprised by how many there were, so we looked at the category to see just how healthy and tasty frozen grain bowls could be."
Tracking a Tasty Trend
As many as two-thirds of grocery shoppers are looking for foods with fewer and simpler ingredients, according to market research firm Packaged Facts. "For the most part, grain bowls—even frozen ones—deliver on this front. The ones in our tests contained simple, recognizable ingredients, such as whole grains, vegetables, protein, and seasonings," Klosz says. Several bowls were labeled vegan, meaning they contain no animal products whatsoever, and others were labeled organic, gluten-free, or non-GMO.
Bowl meals make it easy to get healthful foods into your diet. Whole grains, usually the base of bowl meals, have long been linked to improved heart health and decreased risk of diabetes. Newer research finds that subbing whole grains for refined ones, such as white rice or white bread, may help people manage their weight. This is achieved by speeding up metabolism and decreasing the number of calories the body holds on to during digestion—by as much as 100 calories per day, according to a Tufts University study published in the American Journal of Clinical Nutrition.
Getting enough vegetables in one's diet is a struggle for many consumers. "Many of these meals contained a serving of veggies—in many cases, different types than the typical broccoli—and every serving counts," Keating says. In an analysis of 95 studies on the health benefits of fruit and vegetables published in the International Journal of Epidemiology, the biggest reduction in the risk of heart disease and stroke came from eating about 28 ounces of fruit and vegetables per day. But smaller amounts were protective, too: For every 7 ounces of produce eaten daily—equal to about a cup of cherry tomatoes and a large carrot—the drop in risk of developing these diseases ranged from 8 to 18 percent.
Though meat does serve as the protein source in some grain bowls, many feature plant-based proteins, such as beans or tofu. "Meat is increasingly becoming a side dish or a condiment in meals, rather than the main event," Keating says. And for those who need some convincing, bowl meals may make a plant-based dinner more palatable. One-third of the U.S. population says it would like to eat less meat, according to Truven Health Analytics, a market research firm. But on a plate, a small (or nonexistent) serving of meat next to a pile of produce and grains may not look so enticing. Mix the same foods in a bowl and add a sauce, and the divergence from the standard "meat, potatoes, and veggie" feels less intimidating.
No More Fear of Frozen
Frozen meals don't often get high marks for healthfulness or flavor. But in our tests of 26 power bowls, 15 received a high enough overall score—a combination of nutrition and taste ratings—to make our recommended list, and not one received lower than a Good overall score.
Seven of the bowls got Excellent ratings for nutrition, because they supplied at least a third of the daily value for fiber, contained less than 500 mg of sodium, and had little, if any, added sugars. In fact, a lower sodium count is one advantage that frozen grain bowls have over many traditional frozen dinners. Though it's not hard to find frozen entrées with upward of 800 mg of sodium, only a handful of bowls in our tests topped 650 mg. "At $3.50 to $6.00 per meal, you're getting a meal that's healthier than a lot of the frozen fare on the market for about the same or a little more money," Klosz says.
Healthfulness didn't come at the expense of taste, however: Our team of professional tasters was actually surprised that some of the meals came from the freezer case. Despite their overall lower sodium content, none were described as bland. "Higher-quality ingredients in the top-rated bowls gave them plenty of flavor," says Klosz, "and the majority of meals in this category were inspired by cuisines with strong flavor profiles, such as Asian, Indian, and Mexican." What's more, "the spices seemed fresh, not dehydrated," she says. And in many of these dishes, the veggies weren't mushy or waterlogged, which we've seen in other types of frozen meals.
Interestingly, the completely vegetarian or vegan meals, such as Amy's Light & Lean Quinoa & Black Beans with Butternut Squash & Chard and Luvo Planted Power Bowl Great Karma Coconut Curry, were flavor favorites of our testers. By contrast, "gristly" or "dry and chewy" were comments they made about the meat and poultry in many of the dishes that contained those proteins.
The calorie counts of most of the frozen bowls in our tests were on the low side for a meal, hovering in the 250 to 300 range. That's usually not the case with bowls at restaurants or the ones you make yourself at home. "It's similar to salads. While the majority of the ingredients in grain bowls are healthful, you can get carried away and pile them on," says Keating. "If you include a lot of calorie-dense foods, like avocado, dressing, or nuts, or big portions of whole grains, it's pretty easy to make a bowl that has 700 calories or more." If your frozen bowl meal is smaller than you'd like, toss it on a bed of greens, like baby spinach or arugula, or top with some raw or steamed vegetables to bulk it up for just a few additional calories.
A Side Dish With a Nutritional Kick
A frozen vegetarian power bowl makes a more nutritious side dish than a packaged, flavored grain mix side.
Frozen power bowls tend to contain more whole grains, vegetables, and legumes, plus a lot less sodium, says Amy Keating, R.D., a CR dietitian. We compared three of our top-rated power bowls with similarly flavored packaged grain dishes. The nutritional values are for about 1-cup servings of each, as prepared.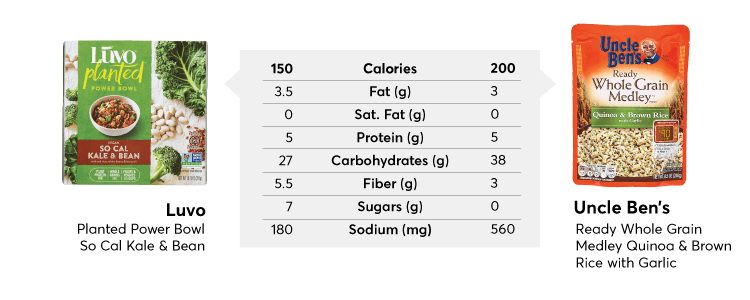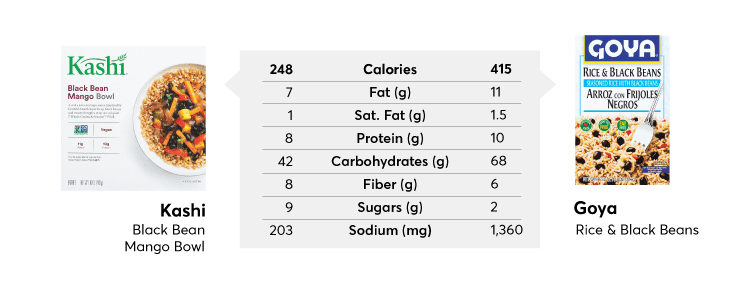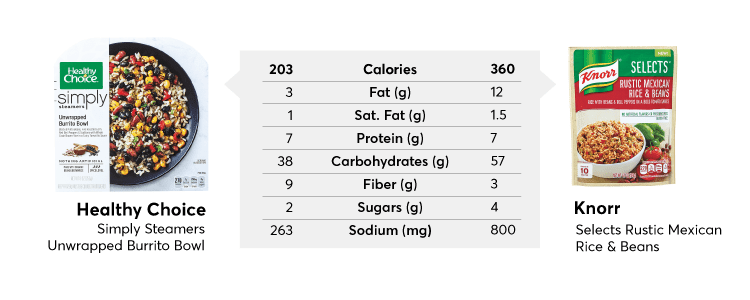 Editor's Note: This article also appeared in the October 2017 issue of Consumer Reports magazine.
Shop Like a Nutritionist
Eating well isn't always easy—or fun. On the 'Consumer 101' TV show, Consumer Reports' expert, Amy Keating, heads into the grocery store to show you how to make healthy decisions when it comes to food.