When you shop through retailer links on our site, we may earn affiliate commissions. 100% of the fees we collect are used to support our nonprofit mission.
Learn more.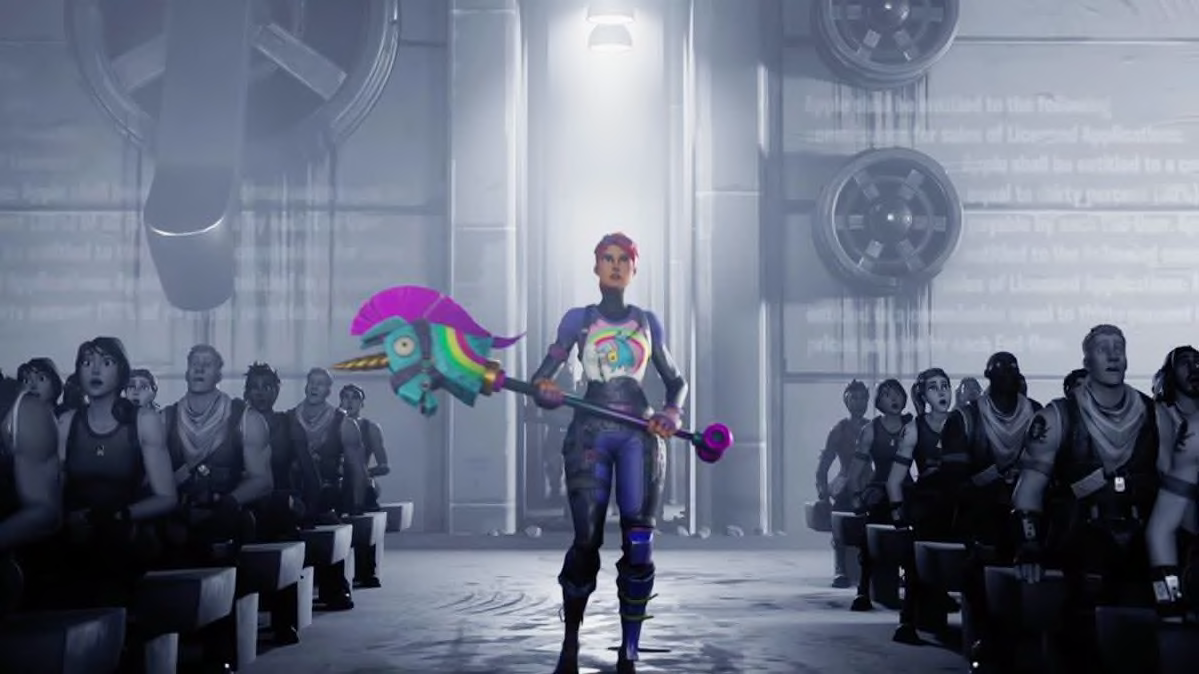 Apple and Google created an uproar in the gaming community on Thursday by removing the Epic Games blockbuster Fortnite from their mobile-app stores after the developer tried to sidestep what it calls the "exorbitant" 30 percent commission placed on in-app purchases.
The ban blocks some players from accessing the game on iPhones, but for most fans, it's likely to have a minimal impact. (See below for details on how to continue playing.)
Fortnite, which pits 100 players against one another in a sort of virtual last-person-standing match known as a battle royale, has more than 350 million registered players worldwide. The game is free to download and play, but you can purchase in-game items like weapons and character "skins" using a virtual currency called V-Bucks.

When purchased directly from Epic, 1,000 V-Bucks costs $7.99. In the app-store markets created by Apple and Google, the price is $9.99. That hefty difference goes to paying the app store commissions, according to Epic.
The game company is now suing Apple (PDF) and Google in federal court in California, arguing that they leverage their dominant position in the mobile industry to stifle innovation and crush competition. Epic simultaneously launched a social media campaign called #FreeFortnite, based on Apple's iconic "1984" ad, to draw attention to the game's removal and pressure Apple and Google to reduce their commissions.
"Today, Apple said Epic is seeking a special deal, but that's not true," wrote Epic Games founder and CEO Tim Sweeney on Twitter. "We're fighting for open platforms and policy changes equally benefiting all developers. And it'll be a hell of a fight!"
Apple and Google both issued statements blaming Epic Games for violating guidelines designed to protect both consumers and developers, and said they're willing to work with Epic Games to bring Fortnite back. Apple CEO Tim Cook and Google CEO Sundar Pichai testified before Congress this month in an antitrust hearing.
"However this lawsuit ultimately plays out, this is a glaring example of two corporate giants exploiting their gatekeeper power," says George Slover, senior policy analyst at Consumer Reports. "Their hardball stance also harms the consumers who have invested time and money in a game they may no longer be able to play."
Here's how this all affects you if you're a Fortnite fan or wish to become one.
Can You Still Download the Game?
Fortnite remains widely available on computers and game consoles. It can be downloaded from the game's website on Mac and Windows devices and the PS4, Switch, and Xbox One.
Many smartphone owners still have access to it, too. Even though the game is no longer offered in the Google Play store, Android users can get it via the Fortnite website. You may have to tweak the security settings on your device to allow for the installation of apps outside of Google Play, but that's not hard to do.
The game is also distributed via the Galaxy Store on Samsung mobile devices.
If you want to play Fortnite on an iPhone, though, your options are limited. As of Friday morning, you could still download the game if you had previously installed the app on your phone and then deleted it. Simply go to the Purchased section in the account settings inside the App Store app and restore it. Neither Apple nor Epic have offered details on whether this is likely to change.
Those who want to download the app on an iPhone for the first time are out of luck, unless Epic and Apple find a way to resolve their dispute.
Have You Lost Your Progress in the Game?
No, Fortnite is an online multiplayer game, so all of your data is stored on Epic's servers. As long as you use the same account, you'll be able to pick up right where you left off. You can bring all of your in-game items from device to device, too.
Can You Still Make In-App Purchases?
As of Friday morning, the answer is yes, but that could change at any moment.
On an iPhone, you have the option to use Apple's in-app payment system or Epic's payment system. Both are presented to you when you go to make an in-app purchase and both work, but the V-Bucks are cheaper on the Epic option.
On Android, you simply use Epic's payment system.
Can You Update the Game?
That's an interesting question.
Android users can simply download the app from the Fortnite website and access the game and features just like they did before.
But Epics says it will no longer be able to update the iOS version of the game. That's a big deal, because a huge part of Fortnite's appeal is the ever-changing nature of the competition: new weapons, new skins, new activities, new threats, and so on.
The next major update of the game—Chapter 2 Season 4—is scheduled for release in a few weeks, according to people who study the game's data files, but iPhone users won't be able to access it if Fortnite remains banned from Apple's App Store.
That means they're resigned to using the older version.
In the meantime, Epic hopes to coax fans into pressuring Apple for lower commissions. To drive the point home, the company is giving players who purchased V-Bucks within the last 30 days a 20 percent refund.