Your Guide to Buying Plants Online
Here's how cost, shipping, and breadth of selection differ among popular plant retailers If you're looking for an alternative to cut flowers as a gift this Mother's Day, you can skip the traditional store-bought bouquet and choose a house plant, an equally gorgeous alternative with a longer lifespan.
Shopping for plants was once just a hands-on experience, but buying them online has gotten much more popular in recent years, in part because they can save you the time and effort it takes to travel to a brick-and-mortar store, according to a report by IBISWorld. Houseplants, especially orchids, have quickly become a popular gift option.
And there's no shortage of online retailers with creative takes that go beyond simple delivery. The Sill and Bloomscape, for example, have carved out a niche by offering curated collections, stylish pots, and tips on how to care for the plants they sell. And flower delivery services such as UrbanStems quickly pivoted to include live plants in addition to standard floral arrangements.
Direct-to-Consumer: The Sill and Bloomscape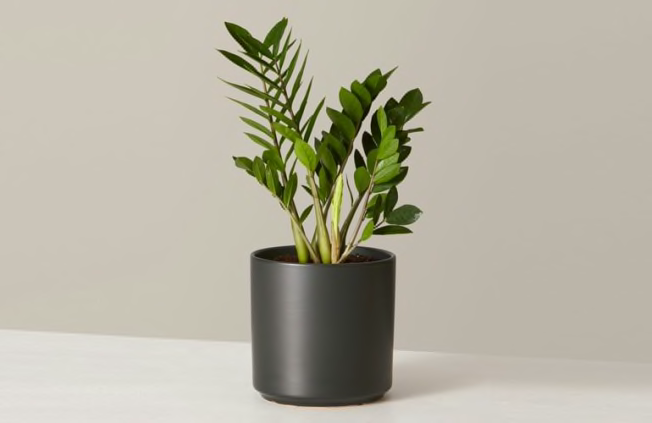 As one of the earlier players selling plants directly to consumers, The Sill set itself apart by making plant-shopping approachable to the inexperienced. Each product listing highlights brief care tips, such as how often the plant should be watered and whether it should be placed in direct or indirect sunlight. The retailer also offers pots that come in many colors and styles.
Item: ZZ Plant in the Acadia Planter
Price: The ZZ plant starts at $39 for a small pot (5 inches in diameter), and $55 for a medium (7-inch) pot.
How it's packaged: Most plants—except for a few small ones—arrive in a nursery grower's container that is nestled inside the pot of your choice. This helps reduce the risk of stress on the plant while in transit. When you receive the plant, The Sill recommends that you allow it to acclimate to its new environment in the grower's container for the first two weeks. Afterward, you can plant it into your main pot, but that's optional if your plant still has room to grow in its original container.
Size and style: Pots come in two sizes (small and medium), three materials (porcelain, ceramic, and recycled plastic), and eight colors (black, peach, white, blush, cream, mint, terracotta, and stonewash).
The retailer also offers a large version (12-inch-diameter pot) for $163 but it's only available for local delivery in New York City and northern New Jersey.
Shipping: Shipping rates are $5 flat shipping for orders under $10, $10 flat shipping for orders between $10 and $100, $25 flat shipping for orders over $100. However, these fees may fluctuate depending on seasonality and your location. Orders take 5 to 10 business days to be packaged and shipped, plus 1 to 4 days in transit.
Return policy: If a plant or pot arrives damaged, The Sill will either reship a replacement or (if the item is out of stock) issue store credit, which can be saved for when it becomes available again. If a plant is dead on arrival (unlikely but may occur during colder weather) they'll replace it.
Good to know: Plants from The Sill tend to sell out quickly and you may encounter a waitlist for more popular plant and pot combinations. The Sill doesn't ship to Hawaii or Alaska.
Monthly plant subscriptions are available (each month, you'll receive a plant in a 6-inch-diameter grow pot paired with a 7-inch-wide ceramic planter) along with bundles and sets of two or more greens. You can snag 15 percent off your first purchase if you sign up for SMS text messages for marketing.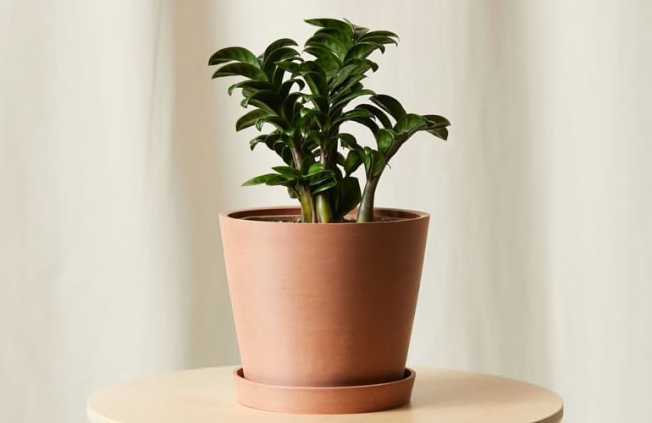 Similar to The Sill, Bloomscape also has an easy shopping experience. Indoor plants are available in five sizes (ranging from 4-inch-diameter pots to 11.8-inch-diameter pots) and are predominantly featured in pots of five different colors. Bloomscape's plants arrive fully grown and pre-potted. Each product listing includes care tips, light suggestions, and whether or not it's pet-friendly—some plants can be toxic to animals.
Item: Zenzi Plant
Price: At the moment, Bloomscape only offers the ZZ in a large format ($150, 11.8-inch- diameter pot), which is currently on a waitlist. There is the alternative of a "Zenzi" plant ($65 for a medium, 8-inch-diameter pot), which is a dwarf variety of the ZZ.
How it's packaged: Each plant arrives pre-potted with Bloomscape's signature potting soil (with Canadian Peat Moss, Perlite, and Hydrafiber) in an Ecopot (made from 80 percent recycled plastic) pot and saucer.
Size and style: Pots come in one size (medium) and five colors (stone, clay, charcoal, slate, and indigo)
Shipping: Bloomscape will ship orders under $75 for a flat fee of $7, and you'll get free shipping if you spend more than $75. The company says its plants will typically ship within 3 to 8 days after purchase, though some may ship out sooner, and will take 3 to 5 days to arrive. Some plant orders may be held up to a week during inclement weather and if the weather is forecast to fall below 20 degrees, either at the destination or along the shipping route. If weather delays are expected, Bloomscape will ship them via 2-day air at their expense.
Return policy: Bloomscape doesn't accept returns, but they do guarantee that your plant will live for at least 30 days—though its website says repotting an indoor plant into a new container within the first 30 days will void the guarantee. If a plant or pot arrives damaged within the 30-day timeframe, Bloomscape will replace it.
Good to know: Bloomscape's plants come with a booklet of expert care tips and instructions. An online service team (the Grow-How Team) is available for free advice on general plant care (e.g. when to water or prune a plant) to specific questions (e.g. yellowing leaves or pest damage). Bloomscape does not ship to Hawaii or Alaska.
You can get $10 off your first order if you sign up for marketing emails.
Key takeaways: Bloomscape offers a more extensive and diverse array of plants, and with free shipping on orders over $75 (plus, a $7 flat rate for everything under $75), it's the better deal. But if you're looking for variation in plant sizes and pot colors, The Sill is the way to go—even though you may have to wait for most combinations to come back in stock.
Flower Delivery Services: UrbanStems and The Bouqs Company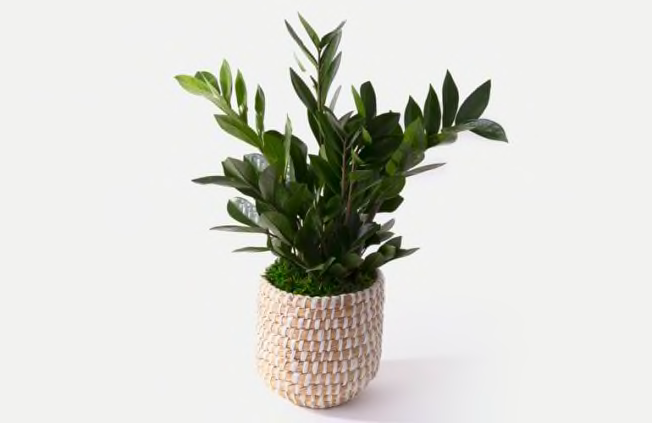 This online flower delivery service's plant collection is relatively limited to cacti, succulents, orchids, and a handful of popular greens (the ZZ included). UrbanStem's plant offerings aren't marketed with their scientific names or nicknames and instead, they're given generic titles such as "The Archie" or "The Quinn"—making it difficult for novice plant shoppers to visually discern between varieties or comparison shop by species.
Item: The Charleston
Price: $75 for "The Bosco" (6.25-inch-diameter pot), $80 for "The Charleston" (7-inch-diameter pot)—both are ZZ plants but each name corresponds to a different size.
How it's packaged: The Bosco comes in a black and white ceramic planter while The Charleston comes in a brown and white woven planter.
Size and style: UrbanStem's ZZ plants come in two similar sizes and are primarily distinguished by their planters, as noted above.
Shipping: UrbanStems offers free shipping on orders over $100 and a $10 flat-fee shipping for next-day deliveries. They do not deliver on Sundays, Mondays, or major holidays. You can find more details about their shipping policies on the UrbanStems website.
Return policy: UrbanStems says all items are nonrefundable and you may only cancel an order before it's prepared by the shipping team. If an item arrives damaged, the company will send a replacement, or if it's no longer available, you may only then receive a refund to the original form of payment.
Good to know: The retailer allows users to filter their search by the delivery date and even offers the option of same-day and next-day deliveries in New York City and Washington, D.C. UrbanStems offers next-day delivery on orders placed before 2 p.m. the prior day for all other locations. UrbanStems doesn't ship to Hawaii or Alaska.
Free delivery is available periodically for some holidays, including Mother's Day and Father's Day.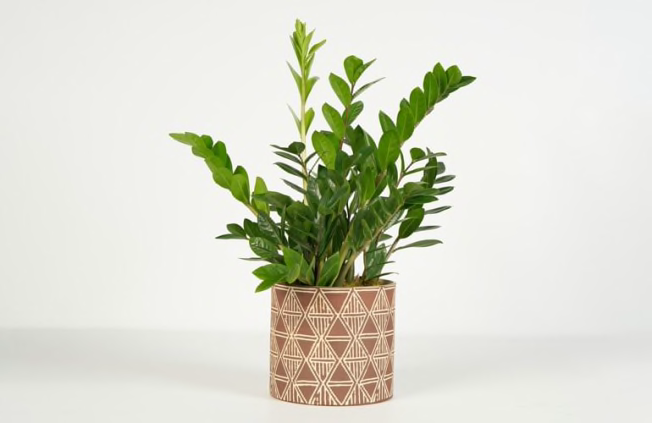 The farm-direct flower delivery service recently started including live indoor plants within their product collection. Similar to UrbanStems, Bouqs doesn't label their greens with proper names but they do offer playful twists on a few of them (e.g. "Show Me the Money Tree" and "Best Fern"). They carry roughly 15 options, including succulents, orchids, and a few popular varieties such as snake plants and pothos.
Item: Make It ZZ
Price: $74 for a small ZZ plant
How it's packaged: The ZZ is shipped in a brown patterned ceramic planter and comes covered in moisture-retaining moss.
Size and style: Bouqs offers the ZZ plant in one size (6.75-inch-diameter pot)
Shipping: Bouqs charges $12 for week-day deliveries and $21 for Saturday deliveries. Products can't be delivered on Sundays or Mondays. You may select a delivery date of your choice, though bear in mind that the earliest available date for the ZZ plant is currently May 17. While the brand guarantees delivery within the selected time frame, some may arrive up to 2 days prior.
Return policy: All sales are final and you may only receive a replacement if either the wrong item was delivered, it arrived in poor condition, or if it was never delivered.
Good to know: Bouqs' plants come in design-forward pots, though there aren't any alternative options if you don't like a specific style. You can save 30 percent on orders by opting for a monthly subscription plan, which costs $36/month. Bouqs does not ship to Hawaii or Alaska.
You can currently get 25 percent off at checkout by using the code FORMOM and 20 percent off your first order when you sign up for emails. The two discounts can't be combined.
Key takeaways: Flat-fee shipping rates and the option of same-day or next-day delivery may make UrbanStems more appealing but it also features higher price points and a comparatively limited selection. Bouqs indoor plants range in price from $44 (for a pair of hoya heart plants) to $79 (for a fern) while UrbanStems' collection starts around $35 (for a single hoya heart plant) and goes up to $90 (for an orchid).
Major Retailers: Amazon and Home Depot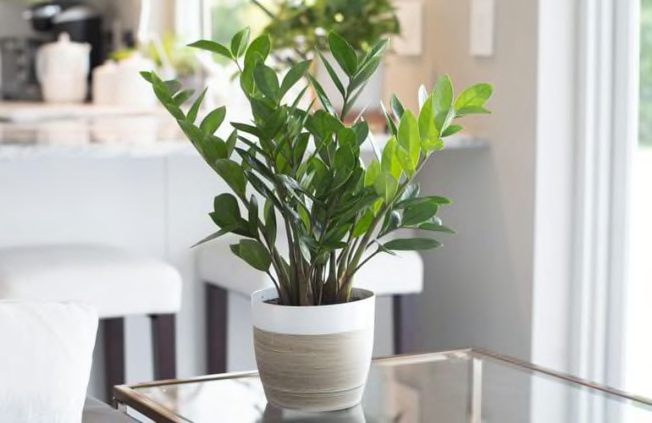 The mega-retailer carries live plants from several brands, but Costa Farms is a popular option, at least according to reviewers: The brand's ZZ plant is labeled as an Amazon Choice pick and has nearly 3,000 ratings, averaging at 4.5 out of 5 stars.
Item: Costa Farms ZZ Indoor Plant
Price: The ZZ plant starts at $27.34 for a small growers pot (6-inch-diameter), $45.49 for a larger decorative pot (10-inch-diameter)
How it's packaged: You have the option of a plastic growers' pot or a decorative one made from recyclable materials, which is less than $2 extra.
Size and style: Choose between two sizes—a 12-inch-tall ZZ (6-inch-pot) or a 22-inch-tall ZZ (10-inch-pot). Both are available in either a grower's pot (from $27.34) or a decorative one (from $28.99).
Shipping: Shipping is free. Timelines are based on each seller but will typically take around seven business days to arrive from the time of purchase.
Return policy: All items sold and fulfilled by Amazon can be returned for a full refund with 30 days of delivery.
Good to know: You can peruse the site for the same plant type but bear in mind, most will arrive in plastic growers' pots and may lack dedicated care instructions.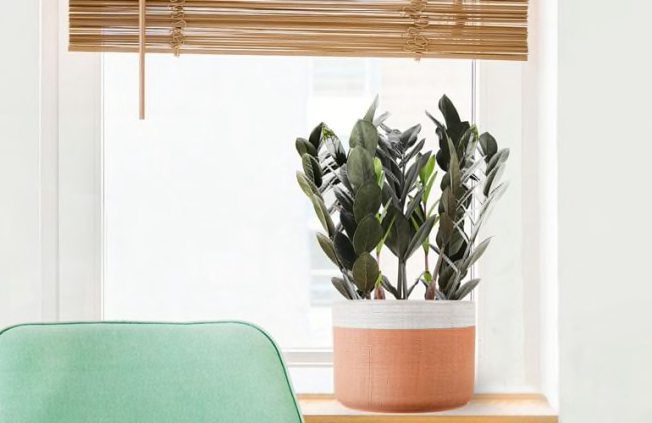 Similar to Amazon, Home Depot carries a mix of indoor plants and features popular sellers such as Costa Farms and American Plant Exchange. The retailer currently carries 16 different types of ZZ plants, including some that come in ceramic or woven baskets. At the time of publishing six of the versions were out of stock.
Item: Trending Tropicals Raven ZZ Plant
Price: The ZZ plant is $36.99 for a 6-inch-diameter pot
How it's packaged: This specific product is planted and shipped in a white ceramic pot, but styles vary across brands.
Size and style: Home Depot's ZZ plant inventory includes an array of sizes and pots. Prices start from $24.98 for a 5.9-inch-diameter pot and range up to $48.72 for a 10-inch-diameter pot.
Shipping: Most of the ZZ plants on the site are eligible for free shipping, although in-store pick-up will vary by location and specific store inventory.
Return policy: All perennials, trees, and shrubs have a 1-year guarantee according to Home Depot and if a houseplant arrives damaged, the retailer will immediately send a replacement at no charge.
Good to know: You can peruse the site for ZZ plants in a variety of pot styles, and even choose based on the height of the actual plant.
Key takeaways: Amazon and Home Depot both offer free shipping and returns, so deciding where to shop comes down to preference. You may find more varieties on Amazon but may also have to weed out irrelevant product listings, while Home Depot corrals all ZZ plants into one easy search.
When it comes down to ordering plants online, the retailer you choose largely depends on the type of product and experience you expect. Brands such as The Sill provide a concierge-like service (with dedicated pamphlets featuring care tips and on-site helplines) while offering a "trendy" approach that boils down to design-forward pots—which may be appealing to some shoppers.
Flower delivery services lack a wide selection and will often cost more than competitors (e.g. $74 for a small ZZ plant from Bouqs versus $39 for a similar product from The Sill). What you're paying for there, though, are guaranteed delivery dates with the option for next-day delivery.
And finally, when it comes to big-box retailers or brands like Amazon, you'll typically forgo the frills (stylish planters, thoughtful packaging, and presentation) for an item pared down to the basics.
As far as plants that can travel well, Osofsky suggests going for those with thick, structural leaves that are less susceptible to breaking in transit. "Snake plants are pretty indestructible and would be fine even if shaken in a box," she says. "Pilea peperomioides and burros tails, on the other hand, have delicate leaves that break off and scar easily if bumped around."
In a time crunch? Order for pickup from a local nursery, garden center, or plant shop. And if you're looking for a more cost-effective option, join a local plant swap or Buy Nothing groups on Facebook. Chances are, you might just come across the perfect find there.
When you shop through retailer links on our site, we may earn affiliate commissions. 100% of the fees we collect are used to support our nonprofit mission. Learn more.