When you shop through retailer links on our site, we may earn affiliate commissions. 100% of the fees we collect are used to support our nonprofit mission.
Learn more.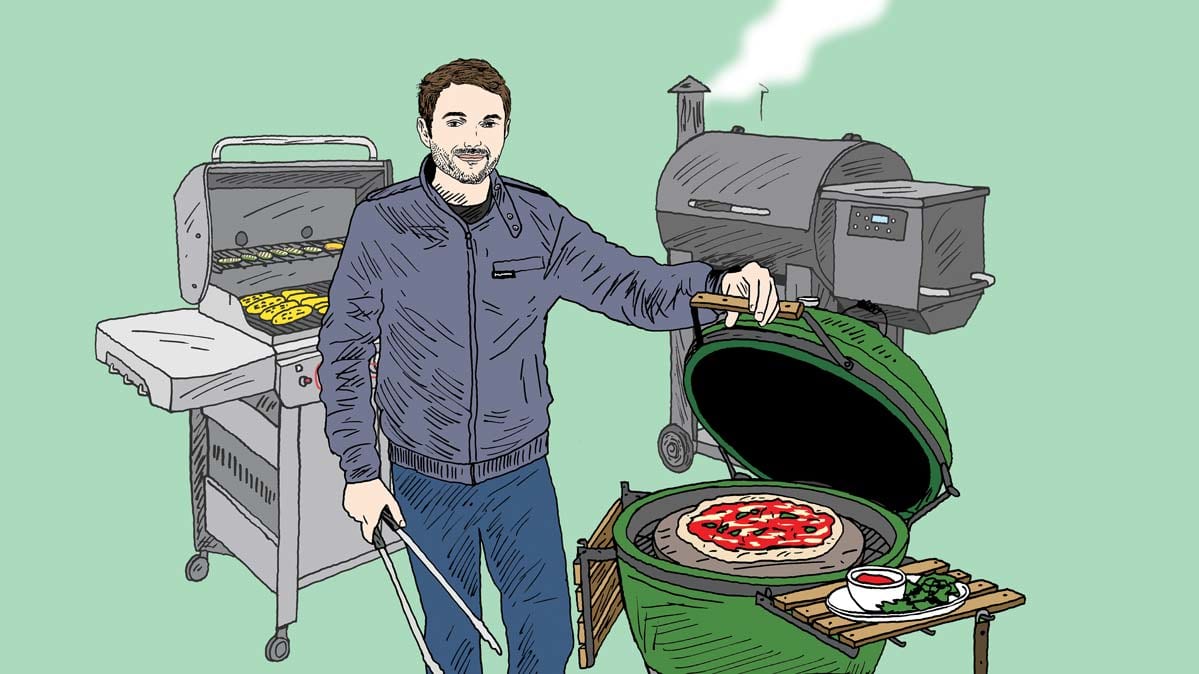 Illustration: peter arkle
Some people collect spoons or snow globes. Others favor shot glasses or stuffed animals. While I don't really consider myself a collector of anything, I'm at a loss for how you might otherwise describe my assemblage of grills. There are five in total, struggling to fit alongside each other on my small patio.
In the same way you might have different small appliances for cooking different foods, I have different grills. (See my grill picks, below.) I don't want a grayish steak from an underpowered gas grill any more than most folks want a waffle cooked in a Crock-Pot. Also, before working at CR, I went to culinary school in the South, where I developed an affinity for barbecue.
My gas grill is my go-to for weeknights and cooking for a large crowd; I can easily cook for 15. It lights instantly and heats quickly. It's great for staples such as burgers, hot dogs, squash, eggplant, and most fish—basically, anything where you want grill marks and a little flavor. It's also low-maintenance: Just scrape the grates with a grill brush after each use, and periodically empty the fat-drip tray. It's easy to see why this type makes up the lion's share of the market, accounting for about 60 percent of all grills sold.
My charcoal grill is what I use for imparting smoky flavor to the same kinds of food I'd cook over gas. I tend to save it for the weekend. It usually takes me 20 to 30 minutes to get a good fire going, and the coals need to be extinguished when the cooking is done. So it's a little fussy for a Tuesday night. But there's something glorious about tossing a few hunks of pecan or oak on top of the glowing coals and cooking a salmon steak or halved Vidalia onions. The smoky flavor is complex and unmatched by any other cooking technique. For me, smoking on a gas grill just can't match the flavor of charcoal.
My absolute favorite is my kamado grill. It's the most versatile, though the cooking area is pretty small, just big enough for two racks of ribs. I love how it maintains low and high temperatures so well. It can hold a smoking temperature of about 225° F for slow-smoking ribs or brisket. Or I can pack it with lump charcoal, open the vents, and get temperatures close to 1,000° F, superb for searing a steak or cooking thin-crust pizza. Plus, this grill is so airtight that I just close the dampers when I'm done, then relight the residual coals the next time I cook. I clean it out only once every four or five sessions.
The pellet grill is the newest addition to my arsenal. It's easy to use and fast to heat, and it lets me control the temperature with ease like my kamado; its digital thermostat allows me to dial in the temperature, like an oven. The wood pellets impart a pleasant, smoky taste, not unlike a charcoal grill. It does a decent job with brisket, ribs, and pulled pork, but it doesn't get hot enough to sear meat. In fact, in CR tests most pellet grills don't sear like the best gas, charcoal, or kamado models. Also, pellets can be harder to find than charcoal and propane, and if you don't store them in a watertight container, they turn into wet sawdust.
Last up is my portable gas grill, great for hot dogs and burgers away from home. With a single burner, it's like someone captured a small campfire and trapped it inside a metal case. Mine has a locking lid that keeps the greasy grate after a cookout from falling out in my car trunk.
In truth, I love and use them all. Whether you start with a single grill or buy five yourself, I'm confident you won't regret it. And maybe after you've nailed your first rack of ribs or smoked your own salmon fillet, you'll come to see me as a little less eccentric, too.
The Grill Expert's Grill Picks
Each kind of grill has its merits, from speedy preheating times to finely tuned temperature controls. But if you opt for a single grill, I say go with gas. It offers the most bang for your grilling buck, and gas grills are easy to use and clean. Plus, you can always add a smoker box and a pizza stone to expand a gas grill's cooking versatility. (See our ratings for all the grill types featured here.)
Editor's Note: This article also appeared in the July 2020 issue of Consumer Reports magazine.