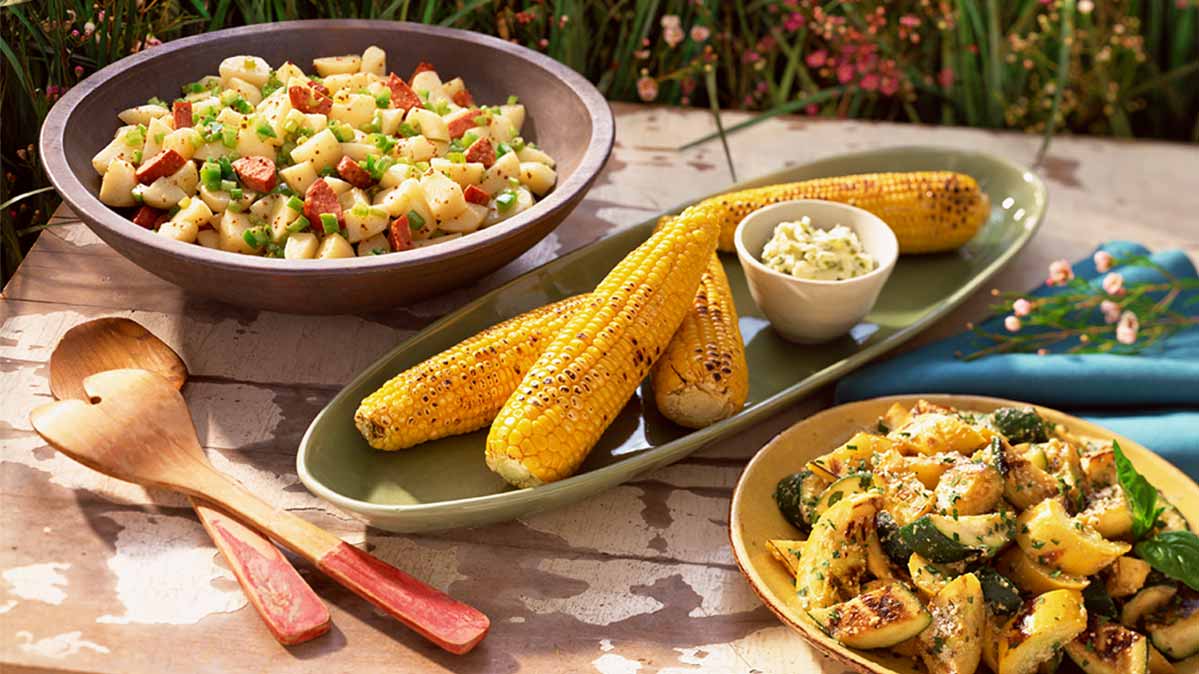 Before you toss the hamburgers and hot dogs on the grill this July 4, think about where you should buy all your cookout food. Besides the grilled meat, you might want to add prepared items such as potato salad, coleslaw, and even a few deli sandwiches to your shopping list.
Finding what you want won't be hard if you go to one of the grocery stores and supermarkets highly rated by Consumer Reports.
You might not have to enter the store itself. Many major chains, including Albertsons, Kroger, Safeway, Publix, and even Walmart, now offer store-to-door delivery or the option to pick up your groceries curbside. Some offer both.
Seafood, Salads, and More at Costco
One great supermarket for stocking up for a July Fourth cookout is Costco. It's the only national chain in our survey of more than 50,000 members that garnered top ratings for fresh store-prepared foods.

This week at its Yonkers, N.Y., outpost near Consumer Reports' headquarters, Costco was selling quinoa salad with veggies, mung beans, brown rice, and red lentils for $4.99 a pound; a kale pesto fusilli pasta salad with medium-sized shrimp for $6.99 a pound; and 20 half-croissant sandwiches filled with chicken, roast beef, ham, cheese, and other fillings—plus two dressings—for $29.99.
You could save money making these yourself, but if you're in a rush or can't be bothered cooking, they're good bets.
Wegmans Rules in the Northeast
East Coast-based Wegmans also got top ratings for fresh store-prepared foods. For the Wegmans in Frederick, Md., the company advertised its ready-to-cook braised Memphis barbecue ribs and triple berry crostata among its Fourth of July cookout suggestions.
In our ratings, Wegmans bested all other food retailers overall. In addition to its scores on fresh store-prepared foods, it won top marks for store cleanliness, staff courtesy, checkout speed, produce quality and variety, meal and poultry quality, selection of healthy options, and quantity of local produce.
Leaders in the South and Midwest
In the Southeast, Publix shines for high-quality prepared salads, cold cuts, and other July Fourth cookout food. The chain got highest marks in this region for fresh store-prepared foods, as well as for store cleanliness and staff courtesy. You might have to pay a bit more, though; the store ranked worse than average for the prices of organic options and for competitive prices in general. (Here's where to find the best grocery-store prices in America.)
More for Your Holiday Celebration
Midwesterners can be proud of several regional chains that ranked at the top for fresh store-prepared foods: Wisconsin-based Festival Foods; Dierbergs, a family-owned chain centered in Missouri; and Mariano's, a Chicagoland favorite. Festival Foods also ranked tops in store cleanliness and staff courtesy. Dierbergs and Mariano's also ranked well in store cleanliness.
Dierbergs also ranked tops for the quality of local produce. The chain shows a photo gallery of local partner farms on its website. It also was among the least-complained-about stores; only 23 percent of shoppers had one or more gripes.
"The checkers have gotten to know us; they're great with the kids," said a shopper, Jon Harris, about the Dierbergs store at Heritage Place in Chesterfield, Mo. "There have been times when the general manager has come up and said, 'What can I do to help?' I think that's pretty unusual."
Make Your Cookout Memorable
Wherever you shop, be sure to follow Consumer Reports' food-safety tips for summer cookouts, including how to use a meat thermometer, store cold dishes like potato salad, and clean up properly. And take advantage of our advice on keeping away mosquitoes and ticks and using sunscreen the right way.
Consumer Reports is an independent, non-profit organization dedicated to helping consumers. We make it easy to buy the right product from a variety of retailers. Clicking a retailer link will take you to that retailer's website to shop. When you shop through retailer links on our site, we may earn an affiliate commission – 100% of the fees we collect are used to support our mission.
Learn more.
Our service is unbiased: retailers can't influence placement. All prices are subject to change.