When you shop through retailer links on our site, we may earn affiliate commissions. 100% of the fees we collect are used to support our nonprofit mission.
Learn more.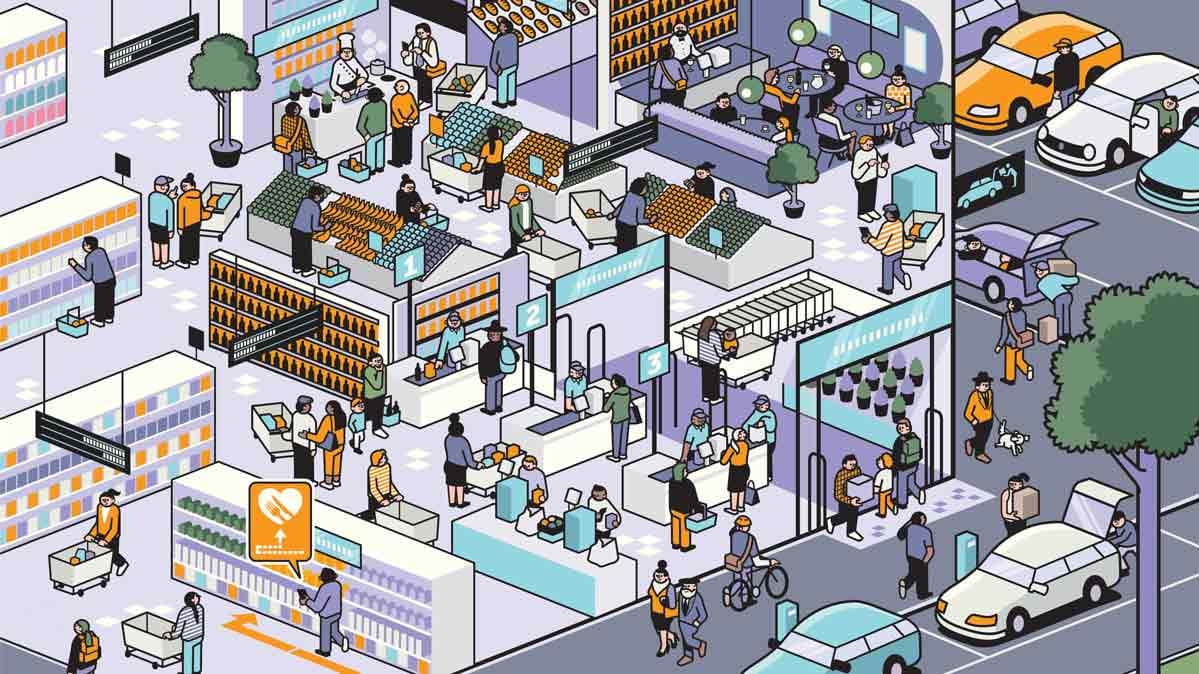 It's not unusual for Michelle Smith of Trussville, Ala., to grocery shop for three households at once. While stocking up for her husband and herself, she could also be buying for her 73-year-old mother-in-law, who lives 10 miles away, and making sure her youngest daughter, a college student, has healthy food in her apartment fridge.
Smith's juggling tool is Shipt, an online and app-based delivery service that lets her order groceries from Target and other chains. The $99 annual fee is worth it, she says, because "it gives you time to do other things."
Del Clark of Bartlesville, Okla., shaves time off his shopping trips but avoids the fees by using Walmart's free Grocery Pickup service. Twice a week he orders on his smartphone, waits for a "ready" text, and drives to a designated parking area where a Walmart staffer loads his car. "Compared to going into the store and picking up things I didn't expect to buy or trying to find where they moved something," he says, "it's a time and money saver."
Changing Lifestyles
The way Americans shop for groceries is changing fast—so fast that the traditional weekly trip to the market may reach an expiration date, just like milk.
In the past year alone, several supermarket chains—including Aldi, Cub Foods, Food Lion, Price Chopper, Publix, Schnucks, Tops, and Wegmans—extended the opportunity for their shoppers to order groceries remotely and then pick them up curbside. Walmart expanded its version of this "click and collect" service. So did Target and Whole Foods Market.
Home delivery of fresh food is growing fast, too. By year-end, Walmart plans to double the number of stores that offer the service to 1,600. It uses its own workers to shop for orders and employs services like DoorDash, Postmates, and Skipcart to deliver them. Target acquired the Shipt delivery service in late 2017 to bring its products to customers' doors. Amazon Prime Now members in at least 75 metropolitan areas can now get fresh food from Whole Foods Market delivered in as little as an hour. And Costco members now have the option to order same-day delivery of fresh food via Instacart.
Clearly, there's an appetite for new ways to food shop. Google searches for "grocery delivery" rose nearly 40 percent between May 2018 and May 2019, and increased nearly sixfold for "grocery pickup." While only 7 percent of Consumer Reports members surveyed in the summer of 2018 told us they've used a grocery delivery service, 16 percent said they'd like to. Target's acquisition of Shipt could help make that possible. CR members rated Shipt tops among six competitors in its first-ever comprehensive ratings of grocery delivery services.
Speedier Shopping
Consumers are finding more time-saving tools and programs in stores as well.
In some Krogers and Sam's Clubs, members can use an app to scan each item they put in their carts, then skip checkout entirely by using a payment method uploaded to their phone.
Amazon has expanded its Amazon Go convenience stores beyond the pilot stage; it now has 12 of them in four states. Consumers activate an app that's linked to a payment method of their choice. The app tracks their movement and choices, and speeds them out the door while extracting a payment—all without scanning a bar code or requiring a cashier.
Grocery apps are evolving to help people shop faster—and eat better. The Out of Milk Grocery List app, for instance, lets shoppers use their phones to scan bar codes of products while at home, automatically adding them to an e-shopping list to be used at a store. Kroger's OptUP program steers app users toward food lower in saturated fat, sugar, and other ingredients.
Consumer Reports' latest consumer experience study of grocery apps found that users were generally pleased with how they create and manage shopping lists, apply coupons and discounts, navigate in-store to find items, and plan for shopping trips.
Adventure in the Aisles
Companies are trying to streamline shopping for people who still venture into stores while also making it an occasion to browse, graze, and splurge. The strategy is succeeding for the top-rated retailers in Consumer Reports' ratings of 96 grocers. Six excel for overall satisfaction: Texas-based Central Market; Wegmans, in the East; Heinen's, in Ohio and the Chicago area; Gelson's Markets, in Southern California; Market Basket, in New England; and the national chain Trader Joe's. All focus on providing a satisfying in-store experience.
The Heinen's in downtown Cleveland, for instance, located in a renovated bank building with a stained-glass domed ceiling, has become an upscale lunch and afterwork destination for dining and relaxing with a glass of chardonnay.
At Central Market's 10 stores, where the slogan is "Really Into Food," customers can attend cooking classes, health fairs, and festivals with themes like chocolate or chili, and listen to live music while dining on prepared foods in a café. "The quality and flavors are better than I've found anywhere else," says Don Rebsamen, who particularly enjoys the tortillas at the Central Market near his Dallas home.
In perhaps the perfect confluence of indulgence and convenience, Gelson's offers a service called Sip 'n' Shop at its 11 stores. While you relax at a store's wine bar, a Gelson's employee will do your grocery shopping for you at no extra charge.
Sometimes it's the quality of the store brands—items that carry the grocer's name—that propels shoppers into a store. The cost of these "private label" products—which are often made at the same plants as their name-brand counterparts, using similar ingredients and recipes—can be 20 to 25 percent less, says Burt Flickinger III, managing director at the Strategic Resource Group in New York, a retail consulting company.
Often, though, shoppers are drawn by store-brand items unique to a retailer. On Central Market's Facebook page, for instance, a post about the retailer's small-batch ice cream—in flavors like coconut ginger and chili pepper pecan—drew rapturous responses.
The Future of Food Shopping
It's this mix of pleasure and efficiency that will inform the design of future grocery stores, says Phil Lempert, CEO of Consumer Insight, a supermarket industry consultant and founder of the website Supermarket Guru.
New stores will be smaller than they are now, with all but display items moved off the shelves to warehouse-style back rooms, he says. Robots will pick and pack preordered items while shoppers roam in-store, sampling from displays of fresh produce, baked goods, locally made products, and freshly prepared foods.
Aldi is a harbinger, Lempert notes. With about 2,000 stores mainly east of the Mississippi, it has a following for its smaller footprint and selection of well-priced packaged goods, many of them private label. It recently upped its offerings of fresh products by 40 percent. Giant Food Stores, Hy-Vee, Meijer, and Publix have opened similar smaller-scale stores within the last year.
"That's the new model," Lempert says. "You build relationships with consumers by having a store that satisfies their needs and aligns with their values. That's how people are going to shop."
Editor's Note: This article also appeared in the August 2019 issue of Consumer Reports magazine.