When you shop through retailer links on our site, we may earn affiliate commissions. 100% of the fees we collect are used to support our nonprofit mission.
Learn more.
When Google introduced its new smartphone a year ago, it playfully boasted that unlike Apple's iPhone 7 the Pixel had a traditional analog headphone jack.
Things are a little different this year.
When the Pixel 2 arrived in stores last week, that traditional jack was gone, replaced by a single USB Type-C connector designed to handle both audio output and charging.
Google hopes music fans will view this as an opportunity to purchase the company's new wireless Pixel Buds, for $159. If you don't like that idea, you'll have to do some homework. In an online post, Google noted that only headphones compatible with USB Type-C Digital Audio will work with the Pixel 2.
The phone comes with a dongle that accommodates your existing 3.5mm headphones, which may ease the pain. But lose it and you'll have to pay $9 for another—and that's down from the $20 Google was initially charging.
Analog Type-C headphones won't produce any sound, Google says. Instead they will prompt a smartphone notification informing you that you need different headphones.
For consumers looking to upgrade to what will probably rank among the year's best Android smartphones, this raises some interesting questions.
How do I know whether my headphones are compatible?
For now, Google recommends that you purchase headphones certified as "Made for Google." This program, similar to Apple's "Made for iPhone" program, confirms that the hardware is fully compatible with the Pixel 2. As of now, only three manufacturers offer headphones that have earned that distinction: AiAiAi, Master & Dynamic, and Libratone. (Consumer Reports has not yet tested these headphones.)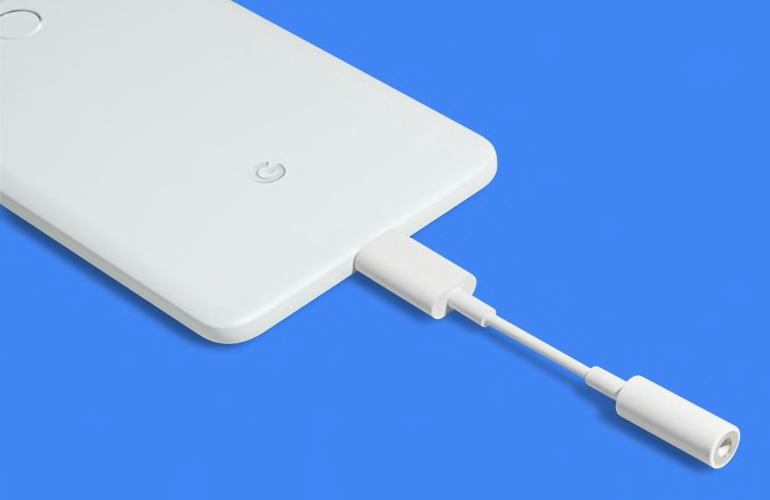 Will new headphone models soon follow?
"Eventually you're going to see everybody using Type-C Digital Audio," says Rahman Ismail, chief technology officer of the USB standards body USB Implementers Forum.
Ismail admits there may be some confusion now about USB Type-C Audio, but he says it will sort itself out.
"Going forward, this is not going to be an issue," he says. "We're going to see more and more people come out with Type-C Digital Audio support, both with headphones and smartphones."
It's unclear how quickly Android smartphone makers such as Samsung and LG will move exclusively to the Digital Audio standard, but one less-established manufacturer has already done so. The recently released Essential Phone, the handiwork of Android co-founder Andy Rubin, also uses USB Type-C Digital Audio exclusively, the company says.
Does USB-C Audio bring any tangible sound-quality improvements?
"The short answer is no," says Maria Rerecich, director of electronics testing at Consumer Reports. "Just switching to a different connector doesn't necessarily improve the audio quality."

According to Rerecich, a pair of headphones is only as good as its weakest link. That could mean the physical construction of the 3.5-mm/USB/Lightning connector, the quality of the headphone drivers (speakers), or the electronics that convert the 0s and 1s of digital audio into the analog signals used to make sounds that can be heard by the human ear.
Dropping the 3.5-mm jack may improve the Pixel's water resistance, but the switch to USB Type-C Digital Audio shouldn't confer any automatic sound-quality advantage over analog jacks.
"Digital doesn't mean better," Rerecich adds.
What benefits does the new standard offer?
"It kind of goes both ways in terms of what we wanted our earbuds to do and what Google wanted the Pixel 2 to do," says Henrik Böwadt, vice president of marketing and business development at Libratone. He rattled off a list of features, including adjustable noise cancellation, that Google took into consideration before bestowing the "Made for Google" certification on its QAdapt In-Ear USB-C headphones, $149.
Those features were not confined to music. "When you long-press the Play/Pause button, it actually invokes Google Assistant," Böwadt adds. "All of those nice, handy features are all developed for the Pixel 2."