When you shop through retailer links on our site, we may earn affiliate commissions. 100% of the fees we collect are used to support our nonprofit mission.
Learn more.
Google unveiled a bunch of new products on Wednesday, including a pair of Pixel smartphones, all meant to pull consumers further into the company's ever-expanding ecosystem.
The company says the Pixel 2 and Pixel 2 XL, which have 5- and 6-inch screens, respectively, have super-sharp displays and improved cameras. Like the top models from Samsung and Apple, the Pixels have a sophisticated new portrait mode.
They are also the first phones to incorporate Google Lens, an augmented reality technology that the company showed off at its annual tech conference earlier in 2017.
Google's other offerings announced Wednesday include a pair of smart speakers, a new Chromebook, earbuds, and more. All of these new products work with Google Assistant, the tech giant's entry in the digital assistant wars that also include Apple Siri and Amazon Alexa.
The Pixel 2 starts at $649 for a 64GB model, while the base price for the Pixel 2 XL is $849. They can be preordered now and will go on sale Oct. 19.
Focus on Photos
Last year's debut Pixel and Pixel XL excelled in CR's smartphone camera testing, and the new models continue Google's emphasis on photography.
Both versions of the phone feature a 12-megapixel rear camera. The cameras check all the boxes on high-end smartphone photography features.
In particular, the Pixel 2 phones have a portrait mode, which uses software to produce a bokeh effect, in which the subject is in sharp focus while the background is blurred. It's a classic technique of portrait photography.
The iPhone 8 Plus and Samsung Note8 do something similar, using a pair of lenses—one that takes a picture up close and another that takes a wide-angle photo. Google says the Pixel 2s achieve the same effect with just one lens by using sophisticated software and "dual-pixel sensors." What that means, roughly, is that each pixel captures two slightly different images (one on the right, one on the left) that the software uses to sense depth. According to Google, the technology is particularly helpful in creating the bokeh effect when there's a bright, busy background.
That's a claim we'll be interested to test out in our labs after the phones hit the market.
Like the most recent iPhones, the new Pixels also focus on augmented reality. These are the first phones to feature Google Lens, which was unveiled at the company's Google I/O conference earlier this year. Google Lens is a technology that uses artificial intelligence to help your phone interpret what the camera is looking at, and provide relevant information or perform useful functions. Conceptually, that's similar to the unloved Google Glass, which the company launched back in 2013.
We'll have to see how well it works in the real world, but it should help the phones handle diverse AR apps.
Other notable features include an OLED HD display; the same screen technology is used on high-end phones by LG and Samsung, along with the upcoming iPhone X.
Google is bucking the all-glass trend in smartphones by using aluminum construction in the phones, which could mean more durability, but no wireless charging. As in the previous Pixels, there's a fingerprint sensor on the back of the phone—similar buttons on other Android phones can be hard to reach, but the Pixel version seems to be placed more conveniently.
In addition, you can access Google Assistant by just squeezing the sides of the phone.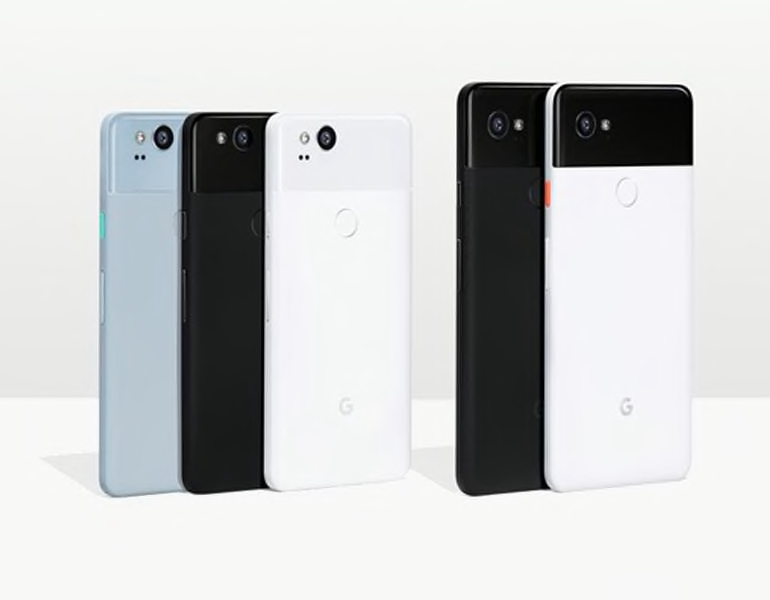 New Speakers, Chromebook and More
Google's other offerings announced Wednesday include a pair of smart speakers that expand the Google Home line. The original Google Home, which came out last year, was the company's answer to Amazon's voice-controlled Echo smart speaker. The Google Home Mini, which will cost $49 when it hits the market next month, looks comparable to Amazon's Echo Dot, a small, voice-controlled device designed to pair with conventional Bluetooth speakers. The Google Home Max, which will cost $399 when it comes out in December, is focused on sound quality and is a clear challenge to Apple's HomePod speaker, coming out the same month.
The company is also launching a new, powerful Chromebook. The Pixelbook ($999) is a super-thin laptop and the first to have Google Assistant built in. It's available for preorder now and goes on sale October 31.
Google says its new, Bluetooth-enabled Pixel Buds are optimized to work with Google Assistant. They are supposed to have a 5-hour battery, with the included charging case carrying enough juice to last 24 hours.
The Buds also work with Google Translate, so when you speak into your earphones, your phone's speaker will translate what you say into one of 40 languages. (This technology should sound familiar to fans of Douglas Adams' famous sci-fi saga, The Hitchhiker's Guide to the Galaxy.)
The Buds cost $159, can be preordered today, and will hit stores in November.
Finally, Google Clips are small, hands-free cameras that will sell for $249, but it's unclear when they will go on sale. The company also introduced the Daydream View virtual reality headset, which works with various smartphones and will sell for $99.
Smartphone Stress Test
Do smartphones generally live up to manufacturers' claims when it comes to durability? 'Consumer 101' TV show host, Jack Rico, goes inside Consumer Reports' labs to find out how CR tests products for resistance to drops and tumbles.