How to Shop for an Artificial Christmas Tree
Industry experts share tips for choosing a high-quality one that lasts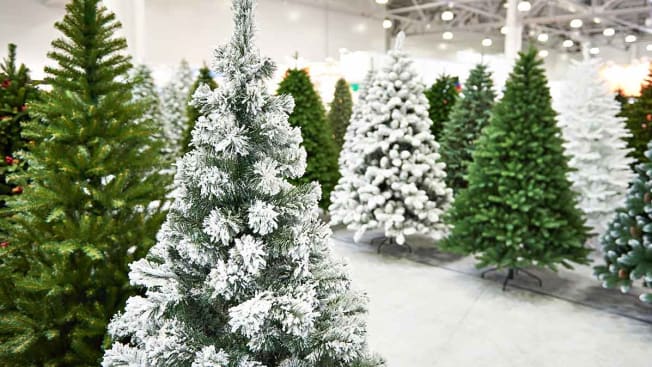 Artificial Christmas trees have come a long way. These days, they're a lot more realistic, easier to put together, and beautifully lit with just the right number of lights.
You can find trees designed to emulate the complexities of over 150 different varieties spotted in nature—down to the needle shape and coloring. And while there are a host of creative options to choose from, there's something to be said for a tree that comes close to the real deal. 
Material: PVC vs. PE Needles
A decade or so ago, an artificial tree could be easily spotted, Johnson says. Nowadays, one could be standing 5 feet away from an artificial tree and you'd be hard-pressed to tell the difference between a fake tree and a real tree.
The secret is polyethylene—PE—a thermoplastic that becomes instantly pliable when exposed to certain levels of heat. In making artificial Christmas trees, polyethylene (PE) is injected into a mold that's modeled after a real tree's needles, Johnson says. This results in a highly realistic appearance. 
In contrast, older trees were predominantly made from PVC (or polyvinyl chloride), a versatile plastic that's used to manufacture everything from pipes to wire and cable insulation.
While polyethylene produces 3D needles, PVC makes flat, thin, rectangular strips that are wrapped around a wire. Over time that wire starts to loosen up, and that's when the branches and corresponding needles fall off, Johnson says. For that reason, artificial Christmas trees made solely of PVC tend to be less expensive compared with varieties that are mostly polyethylene. 
Today you may find trees that are made exclusively of PVC or PE and some that include a mix of the two. Johnson suggests purchasing trees where at least 45 percent of the material makeup is polyethylene for a more realistic appearance.
Lighting: LED vs. Incandescent Bulbs
Anyone who has spent hours wrestling with string lights on a tree knows how difficult working with them can be. Broken bulbs and tangled strands are just a few of the downsides of doing it yourself. Some people prefer to go with the convenience of a pre-lit artificial Christmas tree.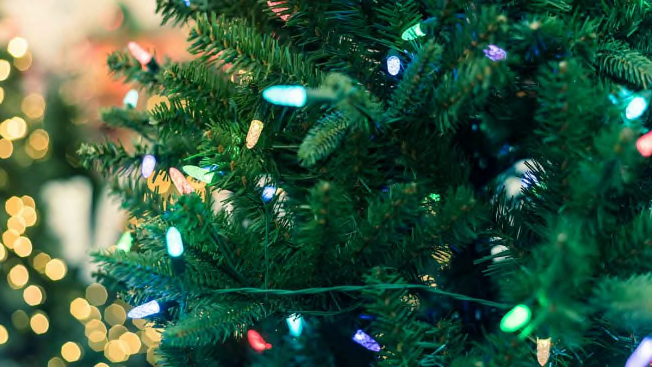 Trees that come with LED lighting are far more popular now, Skinner says, "and because most LEDs save up to 90 percent on energy usage, it's a plus."
Incandescent lights, on the other hand, aren't as energy-efficient, require more maintenance, and have a shorter life span. When people buy pre-lit trees, they expect to just set it and forget it, Johnson says. What they don't realize is that incandescent lights require upkeep because their burning life span is only so long, he adds.  
Naturally, pre-lit trees will often cost more than the unlit variety because of the manufacturing, maintenance, and time that goes into making them, Johnson explains.
Artificial Christmas trees come in a variety of configurations: tall, short, thin, wide . . . the list can go on and on.
When deciding how big an artificial Christmas tree to buy, the ceiling height of the room where it will live is a good place to start. A relatively compact room with a 12-foot ceiling may not be able to accommodate an extra-wide tree, but it can house a pencil tree that's 10 feet tall. It all depends on the square footage you have to work with. 
Storage is another important and often overlooked factor. After all, once the tree is out of the box, it might not be so easy to fit it neatly back in. 
"You're going to be storing your tree most of the year," says Jami Warner, the executive director of the American Christmas Tree Association. "Make sure whichever artificial tree you choose will fit easily in your home's storage space, and invest in a good-quality storage bag."
Tip count is a common feature touted in product listings. It refers to the number of needles on a tree, and often it's meant to reflect how realistic it will appear. 
The number of needles and what they're made of will dictate how authentic a tree looks. When sourcing artificial Christmas trees for Bronner's, Johnson always goes for the highest tip count to get the most realistic-looking trees possible. He aims for at least 2,500 tips on a 5-foot or 6-foot tree, and 4,000 to 5,000 tips on a 7½-foot tree.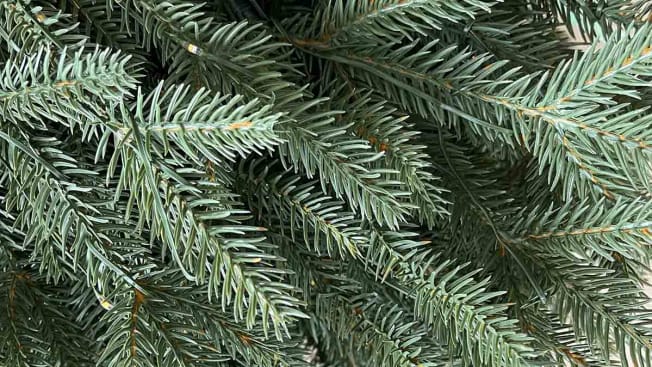 That said, there's no hard and fast rule on a minimum tip count, especially when it comes to tree varieties, such as comparing a stocky Fraser fir with short and stiff needles to a slim pine tree with longer needles. 
"Tip count is usually a good indicator of a tree," Skinner says. But when trees are designed to compete on tip count but then manufacturers dial back needle sizes, "it can create trees with more tips on paper but less actual greenery by volume." 
Different trees can have varying tip designs; some will be long and thin while others may be short and thick. Because it can be challenging for the average consumer to gauge how the number will correspond to life, Skinner recommends using tip count as one of several comparison points. 
How you choose to deck your tree is another factor that can influence tip count. 
"People who decorate their trees with big ornaments prefer fewer tips and more open space because they are going to be filling it," Skinner says. In this case, you can forgo the high count in favor of more space.
Artificial trees usually come with built-in stands, so be sure to choose one that includes a sturdy metal one, Warner advises.
"A good stand is everything," she adds. "It doesn't matter how good the tree is if the stand is flimsy and falls apart."
Read through product descriptions to gauge whether the model you're interested in buying comes with a base and if so, what material it's made from. Metal will be significantly more solid than plastic, which won't be able to withstand the weight of a tree as well, especially when ornaments and lights enter the equation.
Cost of an Artificial Christmas Tree
The cost of an artificial Christmas tree depends on a host of factors such as what it's made from, whether it's pre-lit, and how tall it is.
The more involved the technology and manufacturing are, the more expensive the tree will be. Case in point: luxury models that come with all the bells and whistles end up retailing for $2,000 or more. 
While there are several popular companies known for their artificial trees—National Tree Company and Balsam Hill are two big ones—it's not uncommon for big-box retailers to white-label their inventory. This is when they purchase trees from a manufacturer and put their branding on the label.
For that reason, where you purchase an artificial tree will also have an impact on its price. According to Johnson, you may find the exact same tree at two different retailers, where one will feature hundreds of fewer tips and lights even though the size remains consistent. As a result, those versions can then be sold at a lower price. 
Consumers can expect to spend between $150 to $300, on average, for a basic artificial Christmas tree that's roughly 6 or 7 feet tall, Warner says. But when it comes to highly realistic trees, pre-lit trees, or specific heights and sizes, consumers will see a higher price. 
So while you don't have to spend a fortune for a solid tree that will last, bear in mind that trees made from lower-quality materials won't stand the test of time. 
"Unlike living trees, artificial Christmas trees are an investment," Warner says. "A high-quality Christmas tree can easily last for more than 20 years. This means that spending a few extra dollars can end up saving you money in the long run."
Shop pre-lit trees: Amazon, Balsam Hill, Lowe's, The Home Depot, Walmart, Wayfair
When you shop through retailer links on our site, we may earn affiliate commissions. 100% of the fees we collect are used to support our nonprofit mission. Learn more.