What to Make Instead of the Usual Dishes This Thanksgiving
If you're tired of turkey, green beans, stuffing, and pumpkin pie, consider these dishes to help you switch things up for your holiday dinner For many people, Thanksgiving this year will be larger than last, making up for an isolated 2020 holiday season. But going back to the usual number of people at the dinner table doesn't mean you have to go back to the usual old Thanksgiving dishes and the dread of wasted turkey leftovers and more pumpkin pie than you can eat.
If you're looking for alternatives, you're not alone: 11 percent of U.S. adults plan to make something new for Thanksgiving this year, according to a new survey from the Food Industry Association.
And among those who are concerned about whether they can get their hands on the foods they want due to possible food supply shortages, 47 percent said they'd try preparing something different from what they've made in the past. With that in mind, I reached out to chefs for their recommendations for Thanksgiving dish alternatives, including those that they serve on their own dinner tables.
Instead of Turkey, Consider Crackling Pork Roast
Turkey may be the mainstream Thanksgiving dish, but some Hispanic families add to or replace that with pernil, a roasted pork shoulder. Some Chinese families opt for crispy-skin roast pork as a side dish on Thanksgiving. So pork isn't too far afield from turkey for a holiday menu.
Diana Whitcroft, a Jersey City, N.J., private chef who cooks in other people's homes, offers her family's spin on pork that can hold up as a main Thanksgiving dish. It comes out of the oven with crispy skin and a deep and savory aroma.
1 large carrot, chopped into large pieces
1 onion, chopped into large pieces
1 leek stalk, and chopped
5-6 ounces celery root, chopped into large pieces
4 pounds boneless pork shoulder (skin-on)
Salt and pepper
2 teaspoons sweet paprika
1 teaspoon ground clove
1 tablespoon caraway seeds
4-5 bottles dark beer
2 tablespoons cold water
2 tablespoons butter
2 tablespoons flour
Directions
1. Preheat the oven to 275° F. Place all the vegetables in a roasting pan.
2. Using a sharp knife, score the pork skin to create a diamond pattern. Each diamond should measure roughly 1½ inches to 2 inches. Salt the skin. Flip pork and season with salt and pepper. Rub all over with the rest of the spices and place the pork in the roasting pan on top of the vegetables, skin side up.
3. Pour half of the dark beer over the pork skin. Roast on the center rack for 4 to 4 ½ hours, or until it reaches the safe internal temperature of 145° F using a meat thermometer.
4. Check the roast every half-hour to make sure the beer doesn't completely evaporate. When the liquid gets too low, continue to add beer. If you run out of beer, brush the skin with cold water. You'll want to have enough liquid at the bottom of the pan to use it to render a sauce when you're finished baking.
5. When your roast is done, remove it from the oven and transfer it to a baking dish. Broil for about 5 to 7 minutes or more, or until the pork skin becomes crackling but not burnt. You'll want to keep a close eye on it.
6. Strain the pan juices into a heatproof vessel and set aside. You can discard the vegetables or set them aside as a garnish for your roast.
7. In a saucepan, melt the butter over medium heat. Whisk in the flour until fully incorporated and foamy. Little by little, add in the strained pan juices, whisking continuously to avoid lumps. If the sauce is looking too thick, add a few tablespoons of water to thin out. The consistency should resemble a loose gravy. Season as needed with salt and pepper.
Makes 5 to 6 servings, but the recipe can be halved for a smaller gathering.
Instead of Green Beans, Try Nopalitos (Cactus) Salad
Private home chef Anna Maria Hernandez Cibulsky received what she calls a "classic French education" at Le Cordon Bleu of Culinary Arts in Austin, Texas, but her experience goes beyond that training, into work as an executive chef at an Italian restaurant, a line cook at a Hawaiian fusion restaurant, and now as a private chef based in Georgetown, Texas, often preparing Mexican and Asian meals. Here's a recipe for a dish she serves at her own family meals: nopalitos salad.
Note: Nopalitos are the pads of the prickly pear cactus, called nopales, chopped or sliced into smaller pieces. You can buy nopales fresh at Mexican grocery stores, or you can use prepared nopalitos, which are sold in jars, Hernandez Cibulsky says. For instance, Goya is one brand that makes them.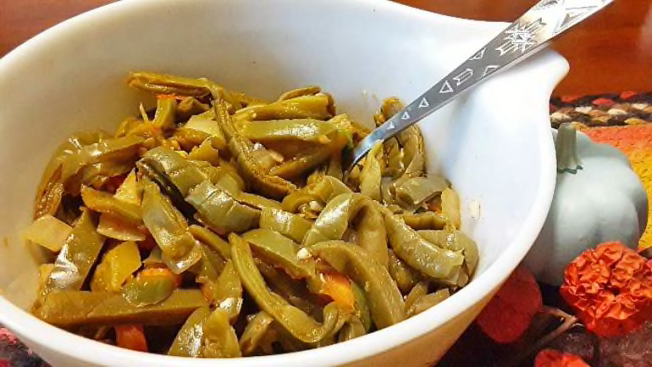 1 tablespoon olive oil
¼ cup onion chopped
1 garlic clove chopped
2 serrano or jalapeno pepper, diced
1 cup chopped tomatoes
2-3 cups chopped nopales (if using jarred nopalitos, rinse to reduce sodium)
3 to 4 sprigs of cilantro, roughly chopped
1 teaspoon cumin
½ teaspoon chili powder
Coarse salt (such as Himalayan pink salt) and cracked black pepper to taste
Warm flour or corn tortillas
Juice from ½ lime
Crumbled cotija cheese to taste (optional)
Directions
1. If using fresh nopales, place the chopped pieces in a pot of cold water and bring them to a boil. Boil for about 15 minutes or until the color changes from bright green to a more dull green. Drain and rinse in cold water.
2. Heat the oil in a frying pan over medium-high heat. Add the onion and cook for about 5 minutes or until it starts to soften and look transparent.
3. Stir in the garlic and the diced pepper, and cook for one minute to release flavor.
4. Add chopped tomato and cook for about 5 minutes to release the juices.
5. Stir in nopalitos and the cilantro. Let it cook for another 5 minutes. To avoid a sauce that is too dry, add water by the tablespoon. Season with pepper, cumin, chili powder, and a few squeezes of lime, and mix.
6. Serve warm or cold with warm flour or corn tortillas, and garnish with fresh chopped cilantro and crumbled cotija cheese.
Makes 2 servings. Depending on your crowd, you can double, triple, or otherwise multiply this recipe as needed.
Instead of Stuffing, Try Tamales
Tamales are often a staple on Thanksgiving for Mexican households that celebrate the holiday. If you'd like to add them to your own Thanksgiving dinner table, or they're already a staple for you and you'd like to try a new recipe, Gabriela Garcia, founder of Modern Brown Girl, offers her grandmother's recipe, adapted here. You may want to enlist some help for this one because it can be labor-intensive.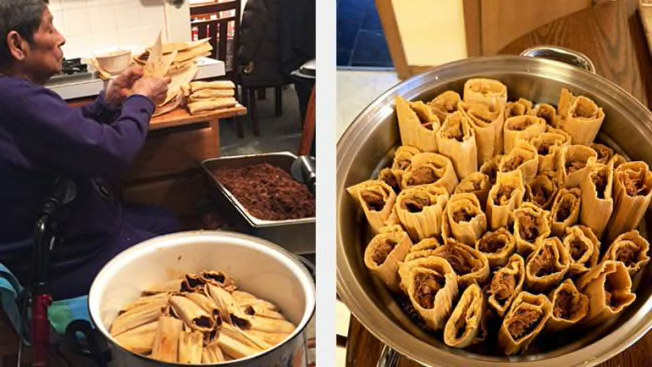 8 ounces whole ancho chilies
1 pound corn husks
5-pound pork shoulder
3-4 cloves of garlic
½ teaspoon ground black pepper
2 teaspoons of ground cumin
5 cups pork broth
1 pound lard, plus a little for the saucepan
5 pounds fresh corn masa
1½ teaspoon salt
1½ teaspoon baking powder
Directions
1. The day before Thanksgiving, prepare the ancho chilies by putting them in a bowl and covering them with boiling water. Let them sit for 30 minutes or until soft.
2. Remove the chilies from the liquid and let them cool, then remove the stems and seeds and coarsely chop them. Transfer them to a food processor and process, adding the reserved soaking liquid as needed until smooth.
3. Pour the mixture through a fine-mesh sieve and transfer it to a covered container; refrigerate it until ready to use.
4. To prepare the husks, fill a stockpot with warm water and corn husks and soak overnight.
5. To prepare the pork, cut it into 1- to 2-inch pieces. Place the pork pieces, the garlic, and the spices in a large stockpot. Cover with water and bring to a boil over high heat. Reduce to a simmer and cook over low heat for about 3 hours or until meat is tender.
6. Remove the pork and shred. Reserve the pork broth. Store the meat and the broth separately in the refrigerator overnight.
7. On Thanksgiving day, prepare the masa by beating the lard with a mixer or by hand in a large bowl until light and fluffy. Add the fresh corn masa and salt and beat in.
8. Add in the chili mixture little by little until you achieve a dark pinkish color. Beat or knead like bread with a little pork broth, until the dough feels light. You'll know it's ready when a small amount floats when dropped in a glass of water.
9. Prepare the pork filling by heating a little more lard in a large heavy saucepan. Add a cup (or more, to your taste) of the blended ancho chili mixture and simmer until sauce slightly thickens. Add some salt to taste.
10. Add shredded meat and enough broth to cook for about 20 minutes. You may want to add more of the chili mixture depending on your taste.
11. Just before you're ready to make your tamales, rinse the husks and dry well.
10. Place a few tablespoons of masa in the center of each corn husk, and spread it with the back of a spoon. It should be spread only along the bottom two-thirds of the husk.
11. Line plenty of pork meat down the center and fold the sides of corn husk toward the center, overlapping them. Now fold the end that's not covered by masa down and set it aside on a platter until ready to cook. Continue these steps until all the masa and pork filling are used up. Save some husks. You'll need them when steaming.
12. To steam the tamales, bring 3 to 4 cups of reserved pork broth to boil in a large steamer pot. Place tamales with the folded side down in the steamer standing upright. Cover tamales with moist corn husks and a clean, moist dish towel. Put the lid on the steamer and steam for 1½ hours, or until the husks can be easily peeled from the dough. Add more broth to the pot as needed to continue steaming. Be careful not to pour broth onto the tamales.
Makes 5 dozen; the recipe can be cut in half. Tamales can be frozen before the steaming step.
Instead of Cranberry Sauce, Try Blackberry Mostarda
Regular cranberry sauce—whether canned or prepared using the recipe on the back of a bag of cranberries—can get old if you use the same recipe year after year. And think about dinner guests who never liked cranberry sauce in the first place. This alternative from chef Emily Peterson, a chef in Parsippany, N.J., and a cooking instructor and host of the podcast "Sharp & Hot," is sweet and acidic with fresh and cooked blackberries. And it works well with the richness of a Thanksgiving menu, Peterson says.
Blackberry Mostarda With Pickled Mustard Seeds
For the pickled mustard seeds
½ cup whole yellow mustard seeds
½ cup rice wine vinegar (not seasoned)
½ cup water
½ cup mirin (sweetened Japanese cooking wine made from rice)
1⁄4 cup granulated sugar
Kosher salt, to taste

For the mostarda
2 cups blackberries, divided
1 cup granulated sugar
1 teaspoon red chili flakes
½ cup white wine vinegar
½ cup dry red wine (such as côtes du rhône or sangiovese)
1 sprig fresh thyme
Kosher salt, to taste
Directions
1. The day before Thanksgiving, make the pickled mustard seeds: Combine all the ingredients in a small saucepan and simmer, uncovered, over low heat until the seeds are plump and the liquid is syrupy, about 1 hour. Cool, then store in a tightly covered jar in the fridge.
2. While the mustard seeds cook, cut half the blackberries in half lengthwise, refrigerate, and reserve for serving.
3. Combine the other half of the blackberries and the rest of the mostarda ingredients in a small saucepan. Bring to a simmer and cook, stirring occasionally, until the sugar is dissolved, the fruit has broken down, and the liquid has reduced to a syrup, about 45 minutes. Remove from the heat, remove the thyme stem, cool to room temperature, then refrigerate overnight.
4. Just before Thanksgiving dinner, remove the mostarda, mustard seeds, and sliced berries from the fridge. In a large mixing bowl, fold the fresh sliced berries into the mostarda mixture, then add pickled mustard seeds to your liking. Start with a tablespoon or so, stir, then taste and add more if you enjoy the acidic caviar pop between your teeth. Add a little kosher salt here, too, if needed.
Instead of Pumpkin Pie, Try One (or Both) of These Desserts
A decade or three of pumpkin pie at Thanksgiving can make the dessert the least looked-forward-to dish at the dinner table for some people. So the next two recipes could work for you if you're looking for a change to your dessert menu or simply want another choice.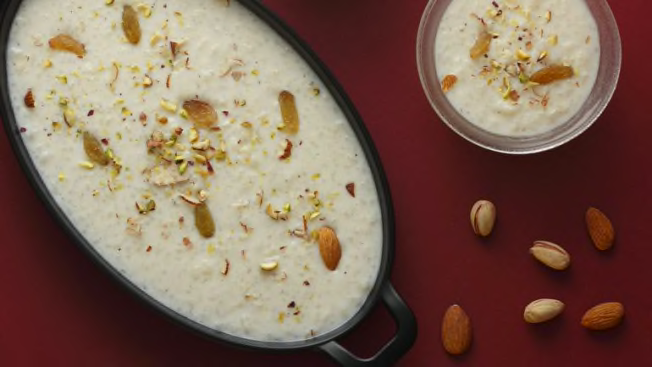 Kheer (Indian Rice Pudding)
This one comes from Devan Rajkumar, sous chef at Toronto catering company Food Dudes and a regular guest on the Canadian daytime TV show "Cityline." During this holiday season, Rajkumar is also working to provide food assistance to families through Cooks Who Feed, an organization that sells aprons to raise funds to help feed the hungry using locally sourced surplus foods.
¼ cup rice
2 teaspoons ghee (clarified butter)
4 green cardamom pods, bruised
1 cinnamon stick
½ teaspoon kosher salt, to taste
1 liter whole milk
1 teaspoon saffron threads (optional)
4 tablespoons granulated sugar
2 tablespoons golden raisins (optional)
3 tablespoons nuts, chopped (Rajkumar uses cashews, almonds, and pistachios)
2 teaspoons rose water
Directions
1. Rinse the rice thoroughly under cool water until the water is clear. Place the rice in a bowl and add water until just covered. Soak for 30 minutes, then drain.
2. Place a heavy-bottomed pot on medium-low heat. Add the ghee, drained rice, cardamom pods, and cinnamon stick. Toast gently for 1 to 2 minutes, until fragrant, and add a pinch of salt.
3. Add the milk to the pan and stir well. Increase heat to medium, and bring the mixture to a gentle boil. Be sure to not scald the milk. Stir in saffron.
4. Reduce heat to medium-low and allow the rice to cook for approximately 25 to 30 minutes, stirring regularly to avoid burning or sticking on the bottom.
5. Add in sugar, raisins, and nuts. Simmer for 5 more minutes to infuse flavors.
6. Stir in rose water and remove from heat.
7. Optional: Chill kheer in the fridge for several hours before serving and garnish with more chopped nuts and a few threads of saffron.
This dessert option's main ingredient is sweet potatoes, my own go-to alternative to pumpkin flavor. This recipe from Autumn Moultrie, pastry chef at Back Alley Bread in Brooklyn, N.Y., can be labor-intensive when prepared completely from scratch, so Moultrie offers shortcuts using refrigerated pie dough and marshmallow fluff for the topping.
For the filling
3 medium sweet potatoes
1⁄2 teaspoon kosher salt
1⁄2 teaspoon nutmeg
1⁄2 teaspoon fresh ginger or ¼ teaspoon dried
1¼ teaspoons cinnamon
1⁄2 teaspoon allspice
1⁄2 teaspoon clove
1⁄4 teaspoon fresh orange zest
1 teaspoon vanilla bean paste or vanilla extract
1⁄2 cup sweetened condensed milk
3⁄4 cup brown sugar
2 large eggs beaten
2 tablespoons flour
4 tablespoons melted butter
For the crust (you can use store-bought pie crust instead and skip ahead)
3 cups cold all-purpose flour
1¼ teaspoons kosher salt
1⁄2 cup cold shortening
1 stick very cold butter, cut into 1⁄4-inch cubes
1⁄2 cup ice cold water
Egg wash made with 1 beaten egg mixed with 1 teaspoon milk and a pinch of salt
For the marshmallow topping (you can also use prepared marshmallow fluff instead and skip ahead)
3 tablespoons powdered gelatin
1⁄2 cup cold water
1½ teaspoons vanilla extract
1⁄2 teaspoon orange zest
1⁄2 cup water
⅓ cup wildflower honey
1¾ cups sugar
3⁄4 teaspoon sea salt
Directions
For the sweet potatoes
1. Roast and peel sweet potatoes, then mash or rice them and cool to room temperature.
2. Mix together cinnamon, nutmeg, allspice, clove, ginger, orange zest, salt, brown sugar, vanilla extract, and flour, plus 2 eggs, melted butter, and sweetened condensed milk, until smooth.
3. Stir mixture into mashed sweet potatoes until combined and refrigerate.
For the crust (if you're using store-bought dough, skip to step 6) , sift together salt and flour.
1. Transfer to a food processor and add shortening and butter and pulse until the mixture is in pea-sized chunks.
2. Dump mixture into a large bowl and mix in ice-cold water a little at a time by hand until you have a shaggy ball of dough.
3. Press the dough into a rectangle and wrap tightly in plastic wrap. Refrigerate for at least 2 hours, or overnight.
4. Remove the pie dough from the fridge and roll it out until it's a little less than 1⁄4-inch thick.
5. Cut the dough into 4x4-inch squares.
6. Pop the squares into the freezer for 10 to 15 minutes so they stay cold while you're filling them.
7. Remove the squares from the freezer and use your finger to press a small well into the center of each.
8. Place a 3- to 3½-tablespoon mound of the filling into the well. For the top of your "Pop-Tart," make the same-sized well in another square.
9. Brush the border of the bottom square with a very small amount of egg wash, and line up the top square with your filled square. Press the top and bottom crust together. Repeat until all the "Pop-Tarts" are filled. Place them in the freezer until ready to bake.
10. Preheat your oven to 450° F. Line a baking sheet with parchment paper. Brush the "Pop-Tarts" with egg wash, prick a tiny hole in the center, and bake in a preheated oven on the middle rack for 18 to 24 minutes or until golden brown. Cool them on a rack.
For the marshmallow topping (skip to step 6 if you're using prepared marshmallow fluff)
1. Mix the gelatin with ½ cup cool water. Add vanilla extract and orange zest. Stir to combine.
2. In a heavy-bottomed saucepan, combine the other ½ cup of water, honey, sugar, and sea salt.
3. Cook on medium-low heat until the syrup reaches 245° F on a candy thermometer.
4. Pour syrup into the bowl of a stand mixer, and scrape all the syrup into the bowl, using a heat-resistant spatula. Let cool for 6 to 8 minutes, until about 212° F.
5. Stir gelatin mixture into the mixing bowl with the syrup. Whisk on medium-low for 30 seconds, then mix on medium-high until the mixture is roughly tripled in volume, about 8 to 10 minutes.
6. Top the "Pop-Tarts" with the marshmallow mixture and let them sit uncovered for 10 to 12 minutes. You can use a culinary torch to toast it until golden brown. If you're using prepared marshmallow fluff, just spread or pipe it over the top and don't use the culinary torch—avoid heating altogether or the fluff will melt.
Makes 8 to 10 "Pop-Tarts." If you're not feeding a crowd, the recipe can be halved. These also freeze well uncooked.