Haggling for Your Next Mattress Could Save You Nearly $250
Here's how shoppers successfully negotiated a mattress deal, according to CR's latest member survey. (It doesn't have to be stressful.)
When you shop through retailer links on our site, we may earn affiliate commissions. 100% of the fees we collect are used to support our nonprofit mission. Learn more.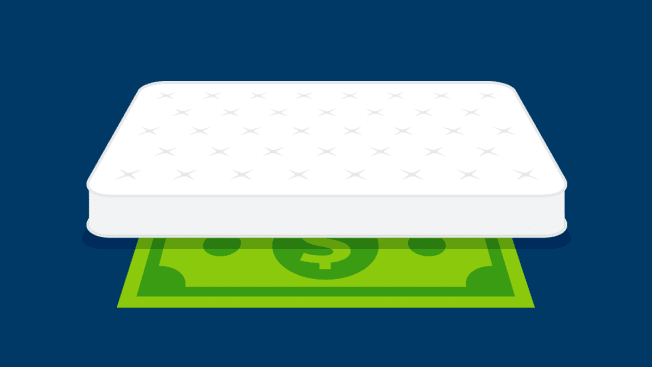 Haggling for a better price on a flea market bookcase—a no-brainer. Asking for a deeper discount on a mattress? Not so common.
In a survey of nearly 4,000 Consumer Report members who bought a new mattress recently, just 23 percent of respondents said they tried negotiating a lower price. But of those who tried, a majority reported success. 
Secrets of Successful Mattress Hagglers
If you're wondering if it pays to negotiate, our data says yes—and quite a bit.
In our member survey, the median amount discounted from a mattress sale price after haggling was $245, a notable increase over last year's median of $191. These are some of the tactics that worked best, based on the experiences of the respondents who haggled:
Ask About Special Discounts
In CR's member survey, 23 percent of respondents asked for a special discount (say, for teachers, seniors, students, or veterans) and more than half—54 percent—actually received it.
Of course, it's possible that the seller isn't doing you a special favor—these discounts may, in fact, already be part of official policy. But it's offered only if you ask.
That's why Michael Gale, vice president of retail for Saatva, suggests doing your research before heading to a mattress retailer or shopping online. Discount policies and practices are often spelled out on the manufacturer's site. (For instance, Saatva's special discounts, which include a range of groups, including military veterans, teachers, students, and healthcare workers, are listed on its "Resources" page.)
You can also just call a store before your visit. Note that these discounts sometimes can't be combined with other sale offers, so you may need to do some math to decide which discount provides more bang for your buck.
Fifteen percent of the shoppers we surveyed said they mentioned to the salesperson the prices offered by competing mattress retailers. Of these hagglers, 57 percent of them were successful.
An even more common tactic was the tried-and-true "I'll walk away" tactic, in which members told the salesperson they'd check the prices offered by other mattress retailers. Nearly a fifth of respondents (18 percent) tried this tactic. More than half of them—55 percent—were offered a new price that was appealing enough for them to close the deal.
Be Familiar With Pricing Trends
CR members found that the most successful haggling tactic was mentioning deals found on a mattress manufacturer's website. Almost 7 out of 10 customers who used this tactic were successful. 
The truth is, each mattress carries a suggested retail price from the manufacturer. But sellers can nudge up the price if they think they can get their customers to pay more.
So, say you're interested in a certain Serta mattress. You see a particular price offered for it on the Serta site—but then you arrive at your neighborhood store, only to find that mattress jacked up for a hundred dollars more. To get a deal, mention the price you saw online and ask if the seller can match it.
Take note of any recent sale prices—whether on the manufacturer's site or the retailer's—you might have missed, too. It's possible that if the seller made a profit at the lower cost, they might be willing to go down again in order to make the sale.
"The best way to find the best deal is to track the price over time," says Kelly Mooney, CR's senior market analyst for mattresses.
Just Ask for a Better Price
If the thought of haggling makes you anxious, know that haggling for a mattress doesn't have to be overly involved. Nearly a third of respondents (31 percent) did nothing other than ask for a better price—and 59 percent were successful.
Other Ways to Save When Haggling for a Mattress
Even though most hagglers succeed at scoring a discounted price, a sizable minority don't. Some manufacturers and retailers claim to price mattresses fair enough that the haggling is never necessary—or that the profit margins are so slim, that it's simply not possible.
If a deeper discount on the price of a mattress isn't in the cards, you can still try to haggle for swag at little or no cost.
"Ask whether you can get a bundled discount based on the products you're interested in, like a mattress and base combo or a mattress and bedding bundle," says Saatva's Gale, adding that some companies have a "buy more, save more" approach that makes customers eligible for scaled discounts based on the value of the merchandise they are purchasing.
While 69 percent of the successful hagglers we surveyed landed a discount, 31 percent scored free delivery for their mattress, 27 percent got their old mattress hauled away at no charge, 19 percent brought home a free mattress protector, and another 15 percent, pillows.
If all else fails, ask when the mattress might be on sale next. Chances are, the salesperson will point to the next big holiday, such as Presidents Day, Memorial Day, or Labor Day when brands are able to offer their best discounts.
Top 3 Places to Haggle for a Mattress, According to CR's Member Survey
According to our survey, some retail spots seem more conducive to negotiating than others. Here are the top three U.S.-based stores with locations across the country where the deals were made. (The ease of haggling at these retailers may help to explain why they also each receive high marks for sales service in our member survey.)
With each description below, we also highlight a mattress sold there that scores well in our rigorous lab tests. In other words, it's a model that just may be worth haggling for.
According to our survey, 46 percent of our respondents tried to get a better deal here. The country's largest specialty mattress retailer operates more than 2,300 locations across the United States.
Last year Mattress Firm was named the top Tempur-Pedic retailer in the country, but they also offer beds from more than 20 other brands. CR members paid an average of $1,970 for a mattress from this retailer.
Around one-third (36 percent) of our respondents haggled for a lower price at Sleep Number. Besides Mattress Firm, only Sleep Country, a Canadian retailer, had more shoppers trying to make a deal (45 percent).
Sleep Number, the pioneer in air-adjustable beds, is among the largest mattress retailers in the U.S., with more than 650 high-end retail stores throughout all 50 states. We've tested three of its nine models: the Sleep Number p6, Sleep Number i8, and Sleep Number i10. Members paid, on average, $3,574 for a mattress from this retailer.
Our survey suggests that after Sleep Number (above), shoppers at independent retailers felt most empowered to haggle (about 33 percent). But as far as big U.S.-based retailers go, Macy's takes the third spot, with 24 percent of shoppers trying for a deal.
Once a seller of only mattresses from conventional companies (like Serta and Sealy), the department store now also sells beds from formerly online-only brands, such as Casper, Leesa, and Purple. Survey respondents said that, on average, they paid $1,231 for a mattress—a roughly 6 percent drop compared with what was reported in last year's survey.