7 Yard and Garden Improvements That Boost Your Home's Resale Value
After a slump in the spring, the real estate market is hot. These tips can help you sell your home faster, and for more money.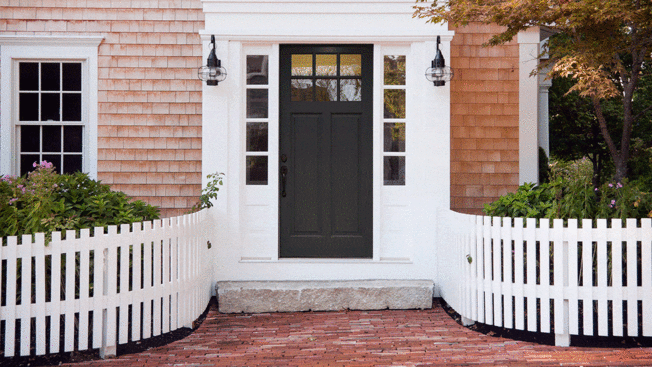 If you're thinking about selling your home, now may be the time.
The real-estate website Zillow reports that the pace of home sales is the fastest it's been in more than two years. Inventory is low and prices are rising. Pandemic-weary city-dwellers seeking more space account for part of the surge in demand, real estate agents say. Historically low mortgage interest rates are probably another factor.
But even in this seller's market, curb appeal is key. "You have seconds to get a buyer's attention online," says Susan Williams, a real estate agent with Coldwell Banker serving areas outside of Los Angeles. "Especially now, a buyer has to look at a home's photo and be so seduced that they want to put on a mask and go look at it."
So what changes should you make to turn your home into real estate eye candy? Here are seven that experts say can give its resale value a serious boost.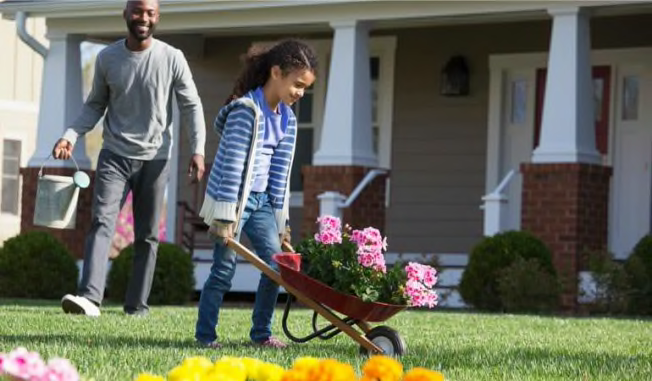 It comes as no surprise that a well-maintained lawn and plantings are among the top outdoor features that buyers prize, according to 2018 research by the National Association of Realtors (NAR). A yard that's overgrown detracts from the entire property. "When a yard is not kept up, people wonder what else is wrong with the house," Williams says.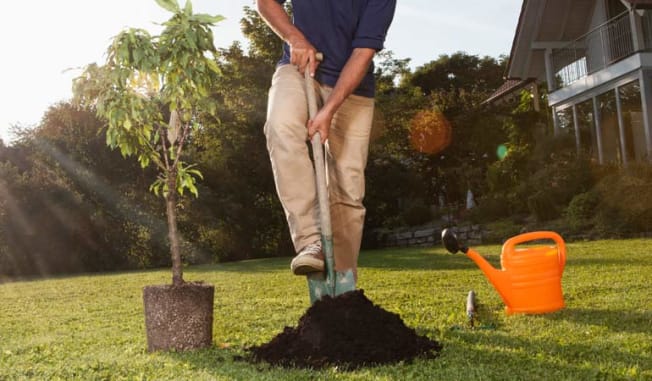 A mature tree on a property can contribute thousands of dollars to a home's value. Even a leafy sapling, grounded by well-groomed mulch or colorful annuals, can add curb appeal, says Rachel Stults, a spokesperson for Realtor.com. "It can't hurt to plant a few small ones," she says.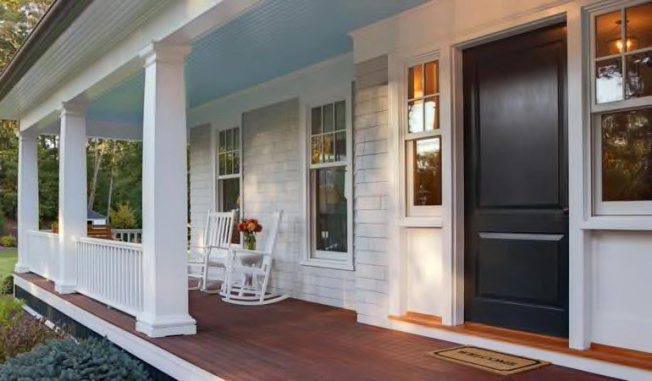 Who knew that the color of your front door could translate into thousands of dollars in your pocket? According to Zillow, a black front door correlates to an extra $6,000 in a home's sale price compared with similar homes. Notably, black is the only color that appears to work that magic.
But no matter what color your door is, at least freshen up the paint. Semigloss paint yields a smooth, slightly shiny sheen, and it's also easy to clean, says Rico de Paz, Consumer Reports' resident paint pro. (For the best exterior paints, check CR's exterior paint ratings.)
Other ways to make the front of your house more appealing: Pressure-wash walkways and your driveway, wash your windows, put a wreath on your front door, replace your door mat, and get a new mailbox or repaint your old one. Place tall plants in colorful pots on the front landing or porch. Even fakes will do. "The buyers don't even notice that the plants are fake," Malina says. "They're there for 20 minutes with one child in each arm."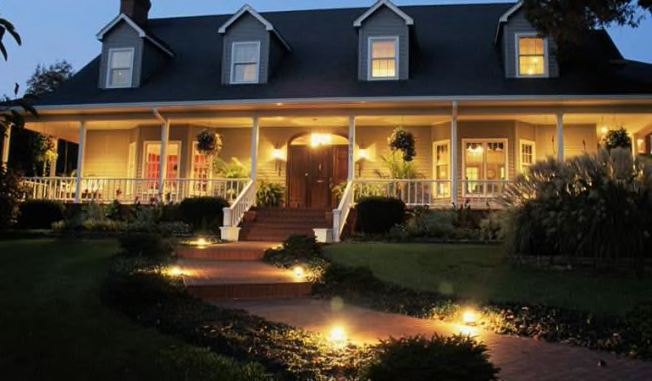 Including "outdoor lighting" in a listing description contributed to homes selling 3.1 days faster and for 1.6 percent more, on average, than homes listed without those words, according to Zillow. For a $300,000 home, that's $4,800.
Adding lighting could be as easy as installing solar-powered path lighting yourself. Or you could have lighting professionally installed. Even with the extra cost, you may still get a return on your investment. Patrick Harders, founder of Enlightened Lighting, an outdoor lighting design and installation company in Sterling, Va., says that illuminating basic areas of the front facade and walkway can start at $1,500.
5. Make the Most of Your Outside Living Area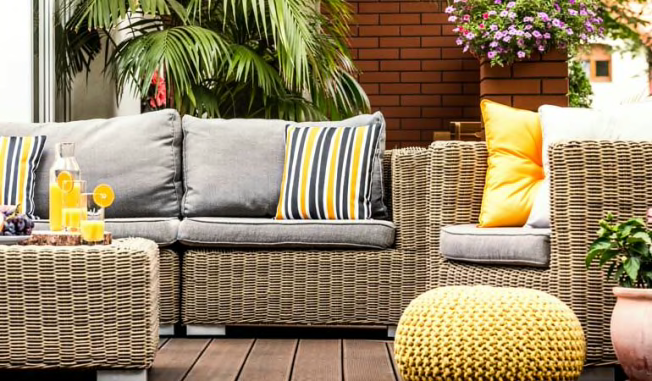 The pandemic has driven home the importance of outdoor living space. "When we have to social distance, that space is even more essential," says Kim Soper, founder of Better Homes and Gardens Real Estate Cypress in Lexington, Ky. An NAR study found that new decks and patios can return 69 to 80 percent on the investment. And the word "pergola" (an outdoor structure that provides shade) in a listing correlates to a price that's 2 percent higher and a property selling 9 days faster, Zillow found.
Even small improvements to existing decks and patios can help sell your property. Get your deck refinished or painted, and power wash the patio, Williams advises. Make safety repairs. Replace furniture or cushions that look worn. Buy inexpensive, colorful pillows and flower pots to brighten up living areas. And set a table with colorful place settings. "A lot of times when we're staging, you put down one of those bright colorful rugs and it warms up the space a bunch," Janni says. In general, you want to create a mood so buyers get a sense of what it's like to live there.
And as attached as you may be to your antique bird bath or garden gnomes, stow them away. "You want to make your yard look pristine and clean of clutter, the same as you would the inside of your home," Stults says. Play structures in good condition are okay, though. "In our market, they are generally a positive," Janni says. Young families find them a plus, and older buyers want to keep them if they envision grandchildren visiting.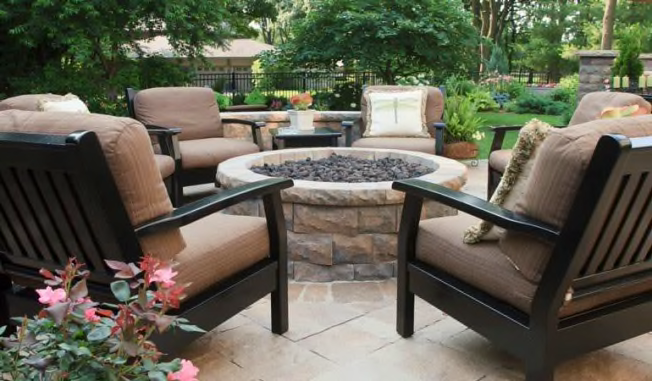 Homes mentioning "fire pit" in their listing sold for 2.8 percent more and 3.8 days faster, on average, Zillow found. "Buyers are drawn to trendy features and features made popular by home-improvement TV," Pendleton says. "Fire pits fall into that category."
A built-in circular stone fire pit that's 3 to 4 feet in diameter and fueled by natural gas would cost around $1,500, says Mike Wilson, who builds hardscapes in Madison, Wis. But you can build a fire pit yourself using a fire pit ring kit and wall blocks you can buy at Lowe's or Home Depot. Or buy a portable fire pit; 30-inch models are available online for just under $65. Then arrange a tableau around it with colorful outdoor seating.
7. Install 'Smart' Sprinklers
These systems access local weather data through your WiFi connection and turn on your sprinklers accordingly to water your lawn and garden. Zillow's research found that listings on its site mentioning "smart sprinkler systems" sold 15 days faster, on average, than those that didn't list the feature.
If you already have a sprinkler system, upgrading involves purchasing a new smart controller, ranging from $100 to $300. (See which smart sprinklers perform the best in our tests.) You can install it yourself or hire an electrician. Besides boosting your home's value, a smart sprinkler controller can help you save money on water.
In-ground pools have traditionally been considered a drag on home sales, because not all buyers want to deal with the maintenance or potential liability. But the pandemic, which has kept many people close to home, may have changed that equation, real estate agents say. "In our area, pools were out," says Malina of the communities she serves north of New York City. "Now, they are so in."
If you have an in-ground pool, give it a good cleaning before listing your house, and keep it pristine. Replace faded poolside furniture, cushions, and umbrellas. Throw some fun floats in the water. And add a stack of colorful pool towels.
Don't have an in-ground pool? Real estate agents tell us that just having space in the yard for an above-ground pool is attractive to some homebuyers. Malina says one of her clients, who is buying a $2 million home near the Hudson River, is planning an above-ground deck around a pool made from a recycled steel shipping container. "These types of pools are in vogue, as people see how much in-ground pools cost to build," she explains.