When you shop through retailer links on our site, we may earn affiliate commissions. 100% of the fees we collect are used to support our nonprofit mission.
Learn more.
What a difference four years make. Toyota succumbed to customer pressure to roll out a Prius plug-in in 2012, seemingly without enthusiasm. Indeed, it was a half-hearted effort that promised some electric-only range but resorted to turning its gas engine on at every opportunity. Unsurprisingly, in our owner satisfaction survey the Prius Plug-in hybrid ranked well below the regular Prius. Clearly the company could do better.
It's no secret that Toyota believes in hybrids and stays away from fully electric vehicles and, until now, even true plug-in hybrids. It seems that the automaker heard those EV-leaning buyers loud and clear, as evidenced by the new 2017 Toyota Prius Prime. With the fourth-generation Prius, the plug-in takes on a dedicated name, several styling detail differences, and, most important, the ability to go all electric—no ifs, ands, or buts.
We got a first-hand experience with the Prius Prime by renting one from Toyota; the car goes on sale in the fall. Thanks to an 8.8-kWh lithium-ion battery, the car has a claimed range of 22 miles. Unlike its predecessor, it remains in electric mode even at full throttle or climbing hills. Once past those electric miles, the Prime reverts to regular hybrid operation. There is also a recharging mode, which runs the engine to supply the battery with juice—handy for recapturing some electric miles for future use. But there are no free rides—that recharging cuts into fuel economy. By how much? We'll find out when we buy our own Prime in the fall and test it thoroughly.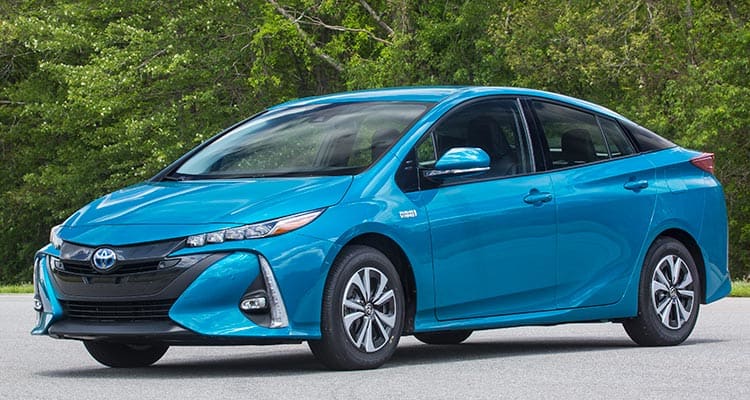 Prices for the Toyota Prius Prime are expected to begin where a well-equipped Prius leaves off, about the mid-$30,000s. Three equipment levels are available, with the top trim distinguished by a larger touch screen and faux-leather seats with a power driver seat.
In our hands, we actually observed a 28-mile pure-electric range without trying. Toyota says it takes 2.5 hours to recharge at 240 volts, a claim we will soon verify. Suffice it to say that the car can be charged overnight at the standard 120 volts, even if that takes six hours.
Unlike the regular Prius, the 2017 Toyota Prius Prime is only a four-seater. Toyota says that the big battery takes up the space. And due to the curved rear window, there's not a rear wiper.
Don't be fooled by the mere 121-horsepower stat; the Prime takes off with authority. With a full battery, the car is committed to deliver an electric car experience, complete with near-silent running and brisk response. In hybrid operation, it functions much like a regular Prius, with which we got 52 mpg overall when we tested it. Ultimately, the 2017 Toyota Prius Prime promises a combined range of more than 600 miles.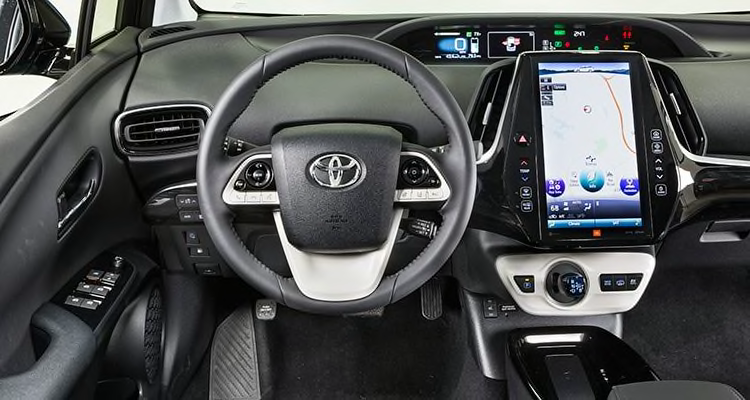 A long press on the Mode button shifts into battery recharge mode, in which the engine works constantly and thus buzzes monotonously. It doesn't take long before you gain five or six miles of electric range, which can be used in an urban environment or anywhere else.
In other respects the Prime drives very similarly to the regular Prius with a comfortable, steady ride and handling that's responsive and secure, though not sporty.

Top trim lines get a large Tesla-like touch screen that serves as the gateway to the audio system, trip information, phone, and navigation. The expression "Can't see the forest for the trees" is most apt here. You'll get Toyota's various apps and other secondary items before you'll figure out how to get simple good-old FM radio. Yes, it's that maddening. The seat heater controls seem like they were added as an aftethought—the switch is low and far away on the dash, practically by your ankles.
Advanced active safety systems are standard, including active cruise control, automatic emergency braking, and automatic high beams.
For people who think the regular Prius is too much of a commodity and relies too much on gas yet aren't ready to fully embrace a dedicated EV, the 2017 Toyota Prius Prime provides a bridge. Much like the Chevrolet Volt, the Prius Prime can go electric for short distances and rely on its hybrid powertrain for longer trips, with no range worries.
Check back with us for more on the Toyota Prius Prime once we buy our own and fully test it.
Read our complete Toyota Prius road test.