When you shop through retailer links on our site, we may earn affiliate commissions. 100% of the fees we collect are used to support our nonprofit mission.
Learn more.
It's an automotive industry truism: With every redesign, a car gets a little bigger and more powerful, and gains some safety features and creature comforts, while also seeing an incremental improvement in fuel economy.
And then there's the redesigned 2016 Toyota Prius. It not only easily tops its previous-generation's fuel economy, but also goes farther on a gallon of gasoline than any vehicle Consumer Reports has ever tested. By our measurements, it chalked up 52 mpg overall. That figure tops the previous-generation Prius' 44 mpg, and bests the original Honda Insight's 51 mpg from way back in 2000.
See Consumer Reports' guide to the 2016 Prius.
Small Changes Equal Big MPG
Toyota accomplished this by paying attention to every fuel-sipping detail. The restyled body is more aerodynamic, the gasoline engine is even stingier, and the transmission is more efficient.
Also, the battery pack uses a different compound—a lithium polymer instead of nickel-metal-hydride in most versions—which is lighter and more efficient at storing energy and delivering power, but is also more expensive. The Prius utilizes that battery's power more often, especially in city driving.
All those seemingly small engineering changes added up to a huge improvement.
As with every vehicle we test, we install a fuel meter to precisely measure each milliliter of fuel consumed. We drive the same routes for every car. On our city course, the 2016 Prius returned 43 mpg, a stunning 11 mpg improvement over the old version. At 65 mph highway cruising, we measured 59 mpg—which is better fuel economy than any diesel-engined car we've tested.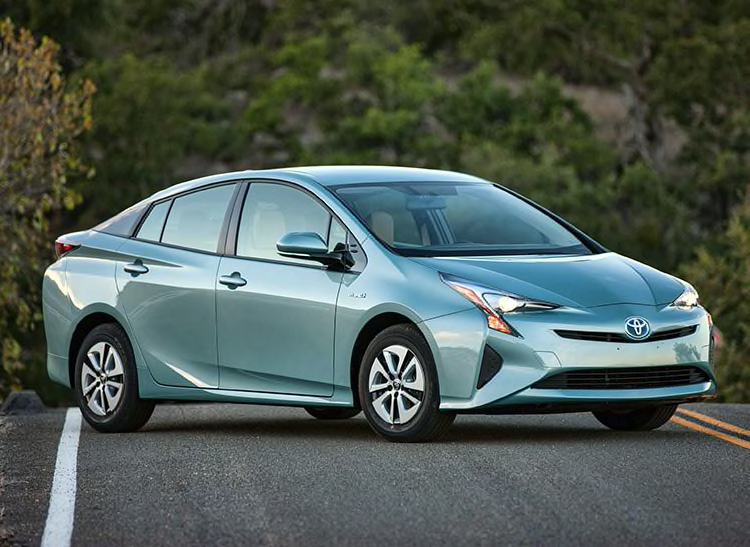 Improvements Throughout
But Toyota didn't focus solely on fuel economy gains. The 2016 Toyota Prius has sharper handling, a more cushioned ride, less grabby brakes, and nicer interior materials. And even with its flashy new exterior styling, the interior has plenty of space, while the hatchback layout makes it easy to haul large items. As such, the Prius is a proper family car for five occupants, with strong crash-test results, whereas the previous mileage champ Insight felt more like a two-seat science project.
Still, there are some oddities inside the Prius, such as the center-mounted instrument readout. The transmission's shifter is a tiny, toy-like joystick. Our test car has a plastic center console that looks like a Stormtrooper's bedpan. The front seats need better back support for all-day road trips, and the future-look exterior styling crimps outward visibility through squinty rear windows.
So although the Prius isn't perfect, there's no question it's at the top of the fuel-efficiency game. And at $27,323 for our mid-trim Prius Three, it proves you can drive an affordable, everyday car and still get phenomenal fuel mileage.
How Accurate Are Fuel Economy Estimates?
How accurate are the gas mileage estimates that come with new cars? On the 'Consumer 101' TV show, Consumer Reports' expert Ryan Pszczolkowski explains how CR confirms the amount of fuel an engine is using—and offers tips for maximizing your mpgs.