When you shop through retailer links on our site, we may earn affiliate commissions. 100% of the fees we collect are used to support our nonprofit mission.
Learn more.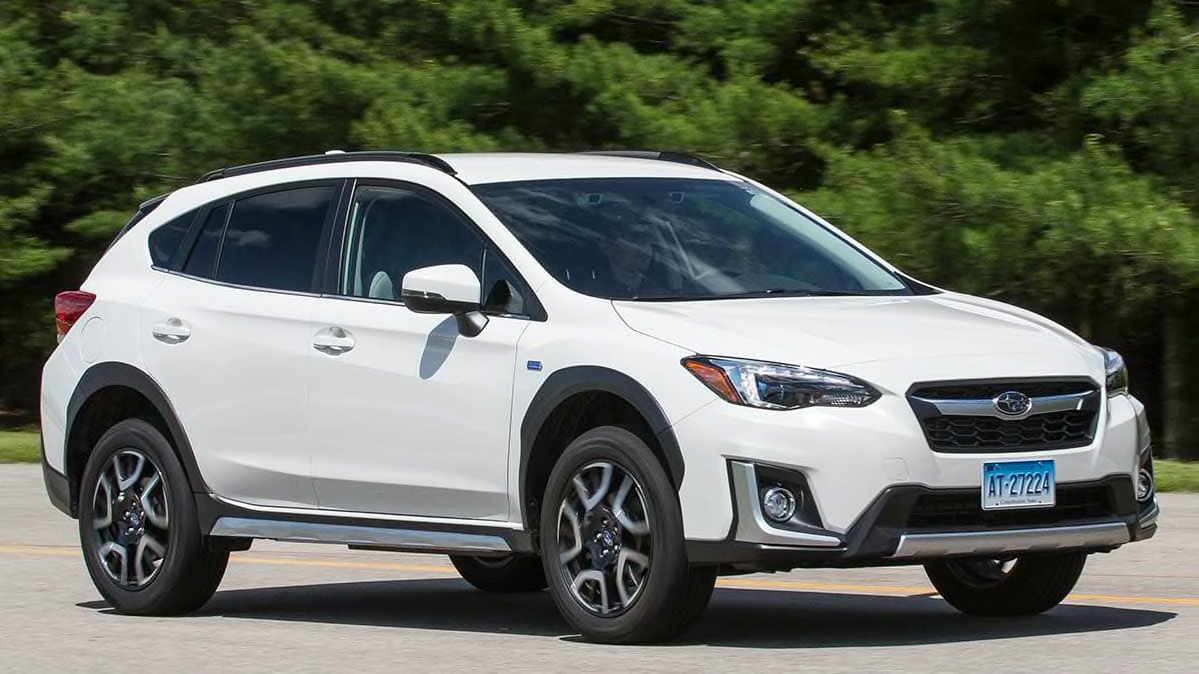 The Subaru Crosstrek hybrid returns for a second go-around, but this time as a plug-in hybrid, utilizing technology from Toyota's Prius Prime.
The goal of any plug-in hybrid is better fuel economy, tied in with the lure of driving for some distance on battery power alone.
Subaru says this new Crosstrek can deliver 17 miles of all-electric driving—so far, we're seeing about 20 miles. It's been taking 2.25 hours to replenish the battery on a 240-volt connection—like what you'd need to power a kitchen oven or laundry dryer. It would take around 7 hours on a standard household 120-volt outlet.
The EPA estimates the Crosstrek plug-in hybrid (PHEV) will return about 35 mpg overall, which is a bump up from the regular model's 29 mpg.
But this electrified version has some downsides, such as reduced cargo space (the hybrid battery takes some away) compared with the non-hybrid model, and lots of odd noises coming from the electric motors and continuously variable transmission (CVT).
The Crosstrek PHEV is based on the top-trim Limited model, which costs $27,195 for the non-hybrid. Hence, the plug-in hybrid's $34,995 starting price is quite the jump from a well-equipped standard model. However, hybrid buyers may be able to take advantage of a $4,500 federal tax credit, as well as other local and state rebates, to soften the blow.
Here are our first impressions.
What we bought: 2019 Subaru Crosstrek Plug-in Hybrid
Powertrain: 148-hp, 2.0-liter four-cylinder engine paired to a continuously variable transmission
MSRP: $34,995
Options: $795, including auto-dimming rearview mirror with Homelink, all-weather floor mats, LED interior lights, and rear bumper cover
Destination fee: $975
Total cost: $36,895
What We Like . . . So Far
Using its all-electric capabilities, the Crosstrek hybrid delivers a good acceleration push from a standstill, feeling smooth and effortless. Once the all-electric miles are used up, the SUV acts like a regular hybrid, switching back and forth between gas and electric power as conditions warrant. The Crosstrek plug-in hybrid can glide along on battery assist up to around 20 mph.
Just like with the standard Crosstrek, the hybrid version delivers a nicely cushioned ride.
Handling comes alive when the SUV is pushed a bit in corners, but it doesn't feel very sporty in everyday driving.
The Crosstrek hybrid has a driveshaft, rather than depending on electric motors to route power to each corner. In certain situations, that helps its full-time all-wheel-drive system provide better traction than some hybrid SUVs that have the electric motors.
As with the standard Crosstrek, getting in the front seat is very easy, thanks to its accommodating step-in height. The front seats, though, are quite basic—we haven't liked them for long trips. The rear seat is roomy for the class and offers decent thigh support.
Most controls are logical and well-placed, and the touch screen is relatively easy to navigate.
We're pleased that the 2019 Crosstrek PHEV comes standard with Subaru's EyeSight Driver Assist Technology suite of safety equipment. It includes forward collision warning, automatic emergency braking, adaptive cruise control, lane departure warning, and lane keeping assist. Blind spot warning and rear cross traffic alert are also included, as is a pedestrian alert system. Subaru says that system issues an audible alert to pedestrians who are near the vehicle when it is traveling below 20 mph.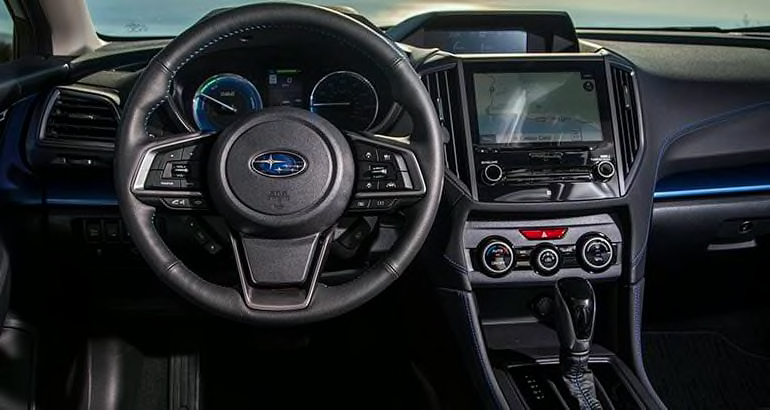 What We Don't Like
The CVT in the Crosstrek PHEV is a bit disappointing; it creates the same obtrusive engine drone we experienced in our regular Crosstrek.
An unrefined engine growl—amplified by the transmission—greets drivers who need a burst of power, say, when accelerating onto a highway. We found ourselves raising an eyebrow every time we heard the electric drive, which makes very strange noises—like a constant whirring or subtle siren.
Our Crosstrek has some nice interior fit and finish touches. But our $36,000 vehicle doesn't include adjustable lumbar support for the driver's seat, which we find disappointing.
In addition, the storage area is compromised compared with the standard Crosstrek. The company says that it put the battery under the cargo floor instead of elsewhere in the vehicle for the sake of ground clearance and passenger room.
Last, the Crosstrek PHEV costs significantly more than the standard version—a hefty $8,000 difference before incentives. Perhaps this vehicle might appeal to buyers looking for plug-in perks such as carpool lane access and preferable parking while charging.
What We'll Keep an Eye On
Subaru claims that the Crosstrek PHEV can go from 0-60 mph faster than the standard Crosstrek, which we measured at a leisurely 10.3 seconds. We'll know more when we complete our testing. We're also eager to measure the Crosstrek's fuel economy.
CR's Take
This new Crosstrek hybrid is a solid improvement over Subaru's first effort. However, buyers looking to go green will definitely have to pony up a bunch of green to do so. We'll see whether it has the goods to compete with the Toyota RAV4 hybrid, which we're also testing. That SUV has a similar price, but it doesn't need to be plugged in.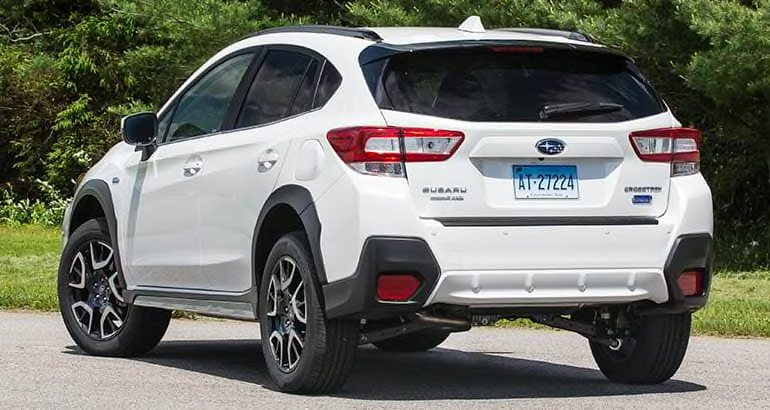 Is an Electric or Hybrid Car Right for You?
With longer range batteries and more places to charge, electric cars are becoming a popular choice for drivers who want to reduce their consumption of fossil fuels. On the "Consumer 101" TV show, Consumer Reports' expert Mike Monticello explains to host Jack Rico what you need to know about this technology.