When you shop through retailer links on our site, we may earn affiliate commissions. 100% of the fees we collect are used to support our nonprofit mission.
Learn more.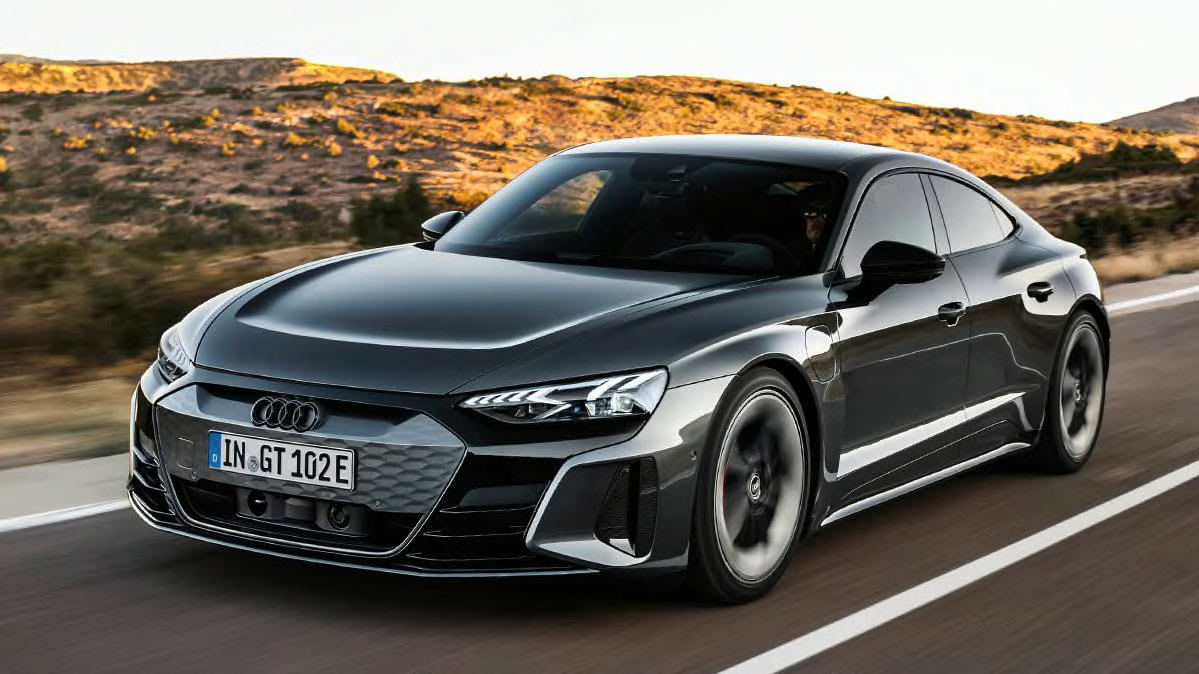 With the introduction this week of Audi's new electric flagship, the E-Tron GT, Volkswagen Group—the parent company of Audi and Porsche—seems to be asking its customers a simple question: What is your preferred flavor of fast, sleek, electric German four-door coupes? Not that the Audi E-Tron GT and the Porsche Taycan are the same car, but they are built upon the same electric vehicle architecture, use similar electric powertrains, and feature rakish, low-slung body styling that makes it easy to see that they're more than distant cousins.
Of course, these high-performance EVs are nothing like the budget-oriented multi-brand EV clones Detroit pumped out during the last few decades of last century, giving rise to the pejorative term "badge engineering." Today's electric Audi and Porsche fellow travelers are their own unique models that feature the latest technology, captivating styling, and a steep price tag to go with all of that. And for those who like Audi's distinctive design touches, they're all present and accounted for in the E-Tron GT.
American consumers can expect to see the E-Tron GT at dealerships this summer. Audi will offer two trims—a base model, and a performance-oriented RS version that will go from zero to 60 miles per hour in 3.1 seconds on its way to a 155-mph top speed, acceleration Audi says is in league with the V10-powered Audi R8 supercar. Added into the mix of top shelf goodies are a carbon fiber roof, all-wheel drive, optional four-wheel steering, and an 800-volt electrical system that Audi says will be able to charge a nearly depleted battery to 80 percent capacity in just over 20 minutes in public DC-fast charging venues. There are no EPA range estimates available yet, but Audi estimates the base model will go 238 miles on a full charge, and the RS will go 231 miles.
What it competes with: Porsche Taycan, Tesla Model S, other upcoming luxury EV sedans, such as the BMW i4 and the Lucid Air
What it looks like: A Porsche Taycan in Audi clothing
Powertrain: Up to 522 combined hp in the base model, and up to 637 hp in the RS; two motor; two-speed transmission for the rear motor; all-wheel drive
Starting Price: $99,900 - $139,900
On sale: Summer 2021
CR's Take
Gorgeous styling, blistering performance, and Audi's brand cachet ought to make the E-Tron GT a slam-dunk among well-heeled EV shoppers. This latest luxury EV offering from Volkswagen Group, one of the world's largest automakers, is likely to put a noticeable dent in Tesla's current hold on that exclusive niche. First-year reliability is a big question mark for any new model, but one would hope Volkswagen Group engineers already have had some practice working out the kinks on the closely related Porsche Taycan, whose growing pains should help the Audi version. Only time—and the brave ones who snap up the first examples—will tell.
Outside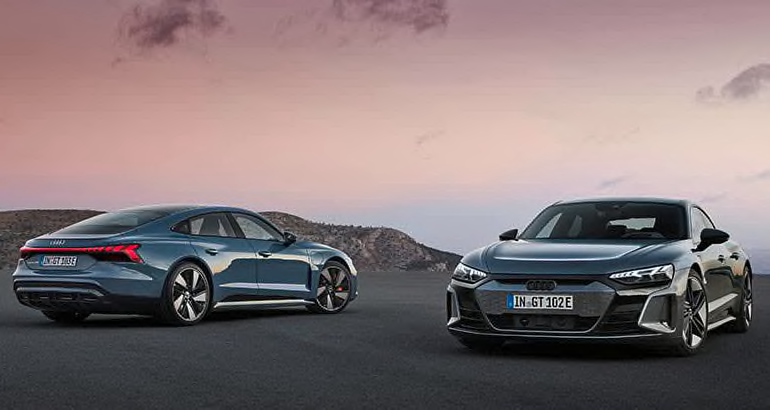 Even though the overall profile of the E-Tron GT is similar to that of the Taycan, designers did plenty to differentiate the Audi from its Porsche relative. Nothing says "Audi" quite like the GT's familiar trapezoidal faux grille shape, wide-set, aggressive headlights, and low-slung stance. Athletic sheetmetal bulges above the wheels are reminiscent of Audi's powerful RS7, and a sculpted, hashmarked taillight bar pulls in the car's body lines as they slope toward its tail.
The wheels are a five double-spoke design for U.S.-bound models. The base trim gets 20-inch wheels with grey accents, while cars equipped with the performance package get black accents. The RS will be available with trim-specific wheels, in either 20- or 21-inch diameters. Radiator and brake cooling ducts have shutters that open and close to optimize either cooling or aerodynamics, depending upon driving demands. Audi says the car's drag coefficient is 0.24, which is the same as the previous version of the Tesla Model S P85.
Coming or going, the E-Tron GT looks like something that will be as impressive on the track as it will be sitting in a row of motionless valet-parked cars at the entrance to an expensive restaurant.
Inside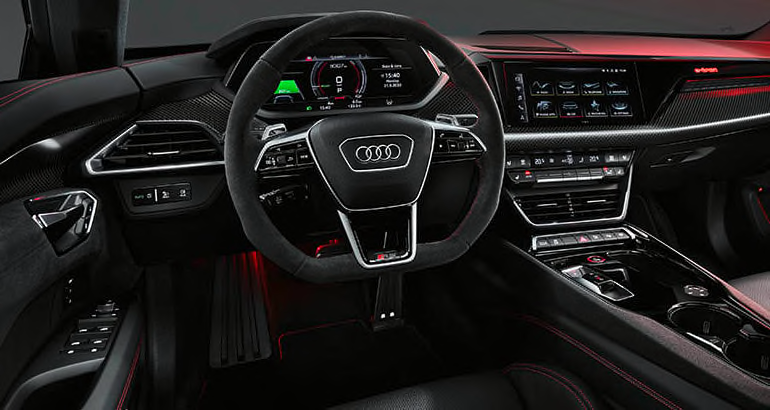 The interior is also unmistakably Audi. The giant trapezoid from the front end appears in smaller form at various places on the dash, including the vent bezels, door handle bezels, and instrument cluster. The faux suede-wrapped steering wheel has a sporty-looking flat spot along its bottom edge. Crisp, full-color displays, both on the instrument panel and infotainment screen lend the upscale look that anyone spending $100,000 or more on a car would expect.
Offering a leather-free interior, studded with recycled material, Audi has created an interior environment aimed at the environmentally conscious. For everyone else, leather upholstery made from actual animal hides can be subbed in for an added fee. Audi hasn't yet offered cargo space numbers, but the Taycan's trunk is 14.3 cubic feet on the standard model, and 12.9 cubic feet in the Turbo and Turbo S models. The Taycan also has a 2.8-cubic-foot "frunk" where the engine would be on a conventional car. It's tough to imagine the E-Tron GT's dimensions will be too much different.
What Drives It
The E-Tron GT will have two different motor setups available. Both the base model and the RS feature a 235-hp front motor. In the base model, the rear motor is a 429-hp unit that, combined with the front motor, produces 469 hp until the car is put into "overboost" launch control mode, which increases combined output briefly to 522 hp for 2.5 seconds. The base model's motors crank out a combined 464 lb.-ft. of torque (472 lb.-ft in overboost), and the car has a top speed of 152 mph. The RS model has a more powerful 450-hp rear motor, which, combined with the front motor, puts out 590 hp (637 hp in overboost). The top torque output for the RS is 612 lb.-ft., and its top speed is 155 mph.
Unlike some of the gasoline-powered Audi cars currently on the road, the electric models don't make much noise. So Audi's audio engineers created a unique acceleration sound, to enhance the driving experience and to alert pedestrians to the vehicle's approach. In a video published on Audi's media site last fall, the company explains that different sounds will be available for the various driving modes. The sound bites available on the internet thus far depict a space-age sound that will put the "Tron" in E-Tron.
Most electric cars available right now rely on a direct drive without gear ratios, but the E-Tron GT features a two-speed transmission with one gear for acceleration, and the other for highway cruising. The car features an electronically controlled air suspension that can adjust its firmness for different driving demands, and which allows the ride height to be raised nearly an inch up or down from its center position. Four-wheel steering—which turns the rear wheels a few degrees in the opposite direction from the front wheels at low speeds to increase maneuverability, and turns them the same direction as the front wheels at higher speeds to aid stability—is standard on the RS version, and optional on the base model.
The two E-Tron GT models have the same 93-kWh battery pack, which sits within an aluminum frame beneath the cabin floor. Audi says the car's 800-volt charging system allows the battery to be charged from 5 percent capacity to 80 percent capacity in 22 and a half minutes using DC fast charging that can be found in public places. In the absence of EPA-certified numbers, Audi estimates that the E-Tron GT has 238 miles of range in base trim and 231 miles of range in RS trim. That is a few miles more than the EPA's range estimate for the Taycan 4S, but significantly less than the 387-mile EPA range estimate for the top-performing Tesla Model S.
Safety and Driver Assistance Systems
Audi has not yet shared details regarding standard and available safety features on the E-Tron GT, but currently, many Audis sold in the U.S. market come with automatic emergency braking, adaptive cruise control, lane keeping assist, and other active safety features. Although Audi tends to offer many desirable options and advanced features within pricey options packages that boost the vehicle's overall price tag, there is a possibility that safety items will be standard on its new flagship model. We hope so.