Biden Administration Wants More Electric Vehicles, Better Fuel Economy
New initiatives are aimed at reducing greenhouse gas emissions The Biden administration has issued strong new regulations aimed at automakers, including an executive order that would set a target for 50 percent of new vehicles sold in the U.S. by 2030 to be electric vehicles (EVs), plug-in hybrid vehicles (PHEVs), or fuel-cell electric vehicles (FCEVs). In addition, according to senior officials, the administration plans to release a proposal that will raise fuel-economy standards for gas-powered vehicles, undoing some of the cuts the Trump administration made to emissions standards last year.
The White House says the new standards, which will come from the Environmental Protection Agency and the Department of Transportation, are projected to save about 200 billion gallons of gasoline and reduce carbon pollution by around 2 billion metric ton. They include a proposal to reduce greenhouse gas emissions by 10 percent in 2023, then by 5 percent per year through 2026. Previously, automakers had to reduce emissions by only 1.5 percent annually.
Depending on how the new initiatives are implemented, they may force automakers to catch up to where fuel economy and greenhouse gas emissions standards would have been in 2026 had the Trump administration not relaxed them last year. A final rule will go into effect after a public comment period, in which automakers and advocacy groups will make the case for any changes they'd like to see.
The new standards are likely to lead to a greater variety of EVs for buyers to choose from, and the administration estimates that sales of plug-in and fully electric vehicles will increase to 8 percent of overall vehicle sales by 2026.
Although fully electric vehicles represent only about 3 percent of overall new vehicle sales currently, a 2020 survey from Consumer Reports shows strong interest in EVs, especially among younger buyers and those who have experienced an electric car as either a driver or a passenger. (While today's road-trippers won't find as many public EV charging stations as gas stations, a separate infrastructure bill proposes building more chargers across the country.)
Over the past year, automakers including Ford, GM, Mercedes-Benz, Stellantis, Volkswagen, and Volvo have already promised to build more EVs, but none of these announcements have constituted a guarantee, says Dave Cooke, a senior vehicles analyst at the Union of Concerned Scientists.
"There are always a lot of wiggle words in any of these promises about where the industry is headed," he tells CR. "But when it comes to being held to those kinds of promises, they will continue to fight or weasel out of anything that actually binds them to those lofty promises."
Although Biden's executive order is nonbinding, Cooke told CR he hopes the administration will set firm rules requiring real commitments from automakers. Senior administration officials told CR that the executive order will kick off the development of stricter EV, PHEV, and FCEV standards, including standards for medium- and heavy-duty vehicles.
When it comes to environmental protection, however, EVs aren't a panacea—nor are any truly zero-emissions. The new standards still don't account for the total emissions of building, charging, and recycling an electric vehicle, Cooke says.
"EVs are more efficient, they cut greenhouse gases, they are a critical part of moving forward and addressing climate change, but if you aren't factoring in the real emissions impact of those vehicles and [you're] treating them as zero, every time you sell an EV you're going to overestimate your emissions reductions," he says.
Electric Pickup Trucks Are Coming Soon
Ford Motor Company Executive Chair Bill Ford and President Joe Biden with the all-electric Ford F-150 Lightning on May 18, 2021.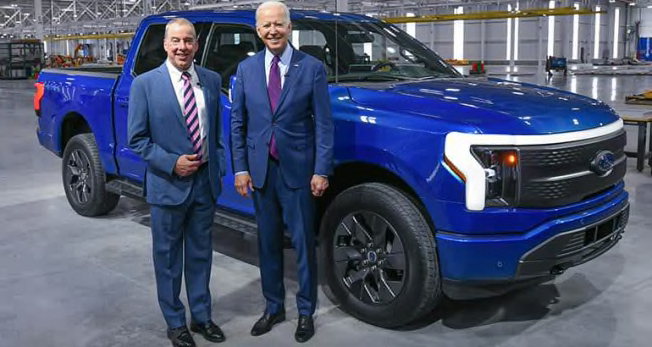 Potential Savings for Consumers
According to CR's survey results, most Americans think fuel economy is either "extremely important" or "very important" when purchasing a new vehicle—especially when it comes to larger vehicles, such as trucks and SUVs. Consumer Reports estimates that an EV can save owners between $6,000 and $10,000 in fuel and maintenance costs over the lifetime of the vehicle. Plus, proposals to extend and expand tax credits could lower the initial purchase price of EVs.
The Trump administration and others have said that stronger fuel-economy standards would increase the prices of new vehicles, but that argument is misleading, according to Carol Lee Rawn, senior director for transportation at Ceres, an environmental advocacy group that works with businesses and investors.
"The reason that the average price of a new car is so high is not because of fuel-savings technologies but because the automakers are catering to a high-income group," she says. "If they were concerned about the average consumer's ability to buy a car, they'd make more models available at prices people can afford."
Although the initial sales prices of gas-powered vehicles may increase slightly under the new rules, the White House estimates that the new standards would lead to overall cost savings of $900 per car due to reduced fuel costs.
The moves announced today are likely to make fuel-efficient vehicles, EVs, and PHEVs more affordable through scale by bringing the U.S. in line with similar directives in other countries, Rawn says. "With a global platform, companies will be able to realize cost savings," she says, because automakers will be able to save money by using the same designs and technologies in Europe, Asia, and the U.S. The more vehicles automakers build with similar designs, the greater the chances that cost savings will be passed on to consumers.
Already, California, Massachusetts, and New York have set in place targets that all new passenger vehicles sold by 2035 will meet zero-emissions standards. These states join the European Union, plus the United Kingdom, Canada, China, Costa Rica, Egypt, India, Israel, Singapore, Sri Lanka, and Taiwan—which all have similar targeted phaseouts of gas-powered vehicle sales on the way.
The true benefits of the administration's proposals will depend on specifics that have yet to be released, says CR's Harto. "Based on the preliminary information, we are hopeful that the White House is moving forward with a stronger initiative for cleaner vehicles that will turn these aspirations and targets into enforceable requirements, but the details will matter," he says.
According to EPA estimates, cars, pickups, and SUVs are responsible for 17 percent of total U.S. greenhouse gas emissions, which are linked to global warming and climate change. Lower-income communities and communities of color are on the front lines of the impacts of climate change, including drought and floods. Pollution from motor vehicles is a serious threat to human health, and it is proved to increase the risk of heart disease, lung cancer, and asthma—especially for those living near major roadways.
"There's no question that we're way behind," Rawn says. "To its credit, the Biden administration made this a priority and moved it forward relatively quickly. They stepped forward to stop the bleeding."
Rawn says automakers are more likely to make major investments in new fuel-saving and emissions-reducing technologies if they are certain that regulations will be in place for the long haul.
In an email, a spokesperson for the automotive industry trade group Alliance for Automotive Innovation told CR that "auto manufacturers are committed to a net-zero carbon transportation future, and we look forward to working with the administration on these and other efforts from the U.S. Department of Transportation regarding a cleaner, safer, smarter future." The email also referred to new proposed fuel-economy standards as a "chance to realign the auto industry in preparation for greatly expanding electrification of the fleet and rapidly decreasing [greenhouse gas] emissions after 2026."
Although more automakers have been offering an increasing range of gas-powered vehicles with more fuel-efficient engines, the market trend toward larger SUVs and pickup trucks led to a slight increase in greenhouse gas emissions between 2018 and 2019, the most recent year the EPA has data for.
"Under the Obama administration's fuel-economy rules, the automakers ramped up really quickly and did really well at improving mileage for the first handful of years and got a bunch of credits, but then they kind of coasted and rested on their laurels," Harto says.
Compounding the issue is that it could take decades for the cleaner vehicles of tomorrow to replace the less efficient models on sale today. On average, today's passenger vehicles have been on the road for about 12 years, according to the Bureau of Transportation Statistics, and drivers are increasingly holding on to their vehicles for even longer than that.
That's why Rawn and others are already looking past today's announcement. "It's important that the next iteration of regulations come out as soon as possible," she says.
The standards proposed today will be in effect through 2026. Senior administration officials told CR that the executive order will kick off development for stricter fuel-economy standards through 2030, including standards for medium- and heavy-duty vehicles, but they did not provide more details.
Chris Harto, senior policy analyst at Consumer Reports, says, "Based on the preliminary information, we are hopeful that the White House is moving forward with a stronger initiative for cleaner vehicles, but the specifics will matter. We're going to need more information so we can dig into the data and see what the real-world benefits would be for consumers. The first details suggest that this will be stronger than some of the proposals that have been floated in recent weeks, and both consumers and the climate would be all the better for it, if that's true."