Mercedes-Benz Is the Latest Automaker to Go All Electric
With a $47 billion investment in EV technology, the company plans to phase out internal combustion engines by 2030 Daimler AG, the parent company of Mercedes-Benz, announced today that it will spend more than $47 billion to fully electrify its lineup by 2030, one of the largest investments in EVs any major automaker has made so far.
The announcement is more of a promise than a guarantee. The company said in a statement that the switch to EVs would take place "where market conditions allow." But it follows similar announcements from other automakers as lawmakers around the world attempt to address the transportation sector's outsized contribution to climate change. In the U.S., transportation accounts for about 29 percent of the country's total greenhouse gas emissions, according to the Environmental Protection Agency.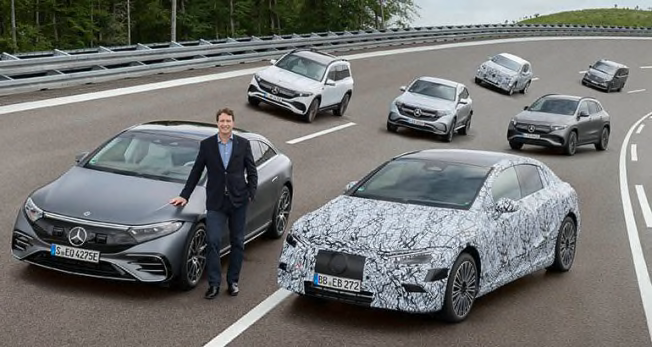 The investment is one of the largest any automaker has made regarding electrification to date. Hyundai has promised to spend $87 billion on EVs and autonomy by 2025, but other automakers have been more modest. Volkswagen promised to spend $19 billion and GM says it will spend $35 billion on EVs and autonomy, also by 2025. Stellantis—the parent company of Alfa Romeo, Dodge, Chrysler, Jeep, Fiat, Ram, and others—said it will put $35.5 billion toward EVs by 2025. And Honda has plans to spend $46.3 billion on research and development, including for EVs, by 2040. Smaller automakers, including Jaguar Land Rover, Volvo, and Bentley, have made similar promises.
At Mercedes-Benz, the all-electric EQS sedan and EQA and EQB SUVs will be available by 2022. These will be followed by even more EVs, including all-electric Maybach and G-Class ultra-luxury SUVs and electric AMG sports cars, the automaker says.
"Luxury automakers are leading the way because they're already feeling the heat from Tesla eating into their market share and more competition from new startups including Lucid and Rivian on the way," says Chris Harto, senior transportation and energy policy analyst at Consumer Reports. Sports cars can also benefit from electrification, he says. "It's really hard for gasoline vehicles to match the high levels of performance that a well-designed electric vehicle can deliver."
These announcements aren't entirely altruistic, says Gabe Shenhar, associate director of CR's Auto Test Center. Instead, they're coming on the heels of new regulatory requirements worldwide that address climate change by limiting sales of new vehicles powered by internal combustion engines. In the U.S., California, Massachusetts, and New York will require that all new passenger vehicles sold by 2035 meet zero emissions standards. They join the EU and other countries—including the United Kingdom, Canada, China, Costa Rica, Egypt, India, Israel, Singapore, Sri Lanka, and Taiwan—with similar coming phaseouts.
"The bottom line is that no manufacturer can afford to stay behind on the EV frontier," Shenhar says, "so they have to heavily invest in research and development to maintain a competitive edge and at the same time take care of their public image."