When you shop through retailer links on our site, we may earn affiliate commissions. 100% of the fees we collect are used to support our nonprofit mission.
Learn more.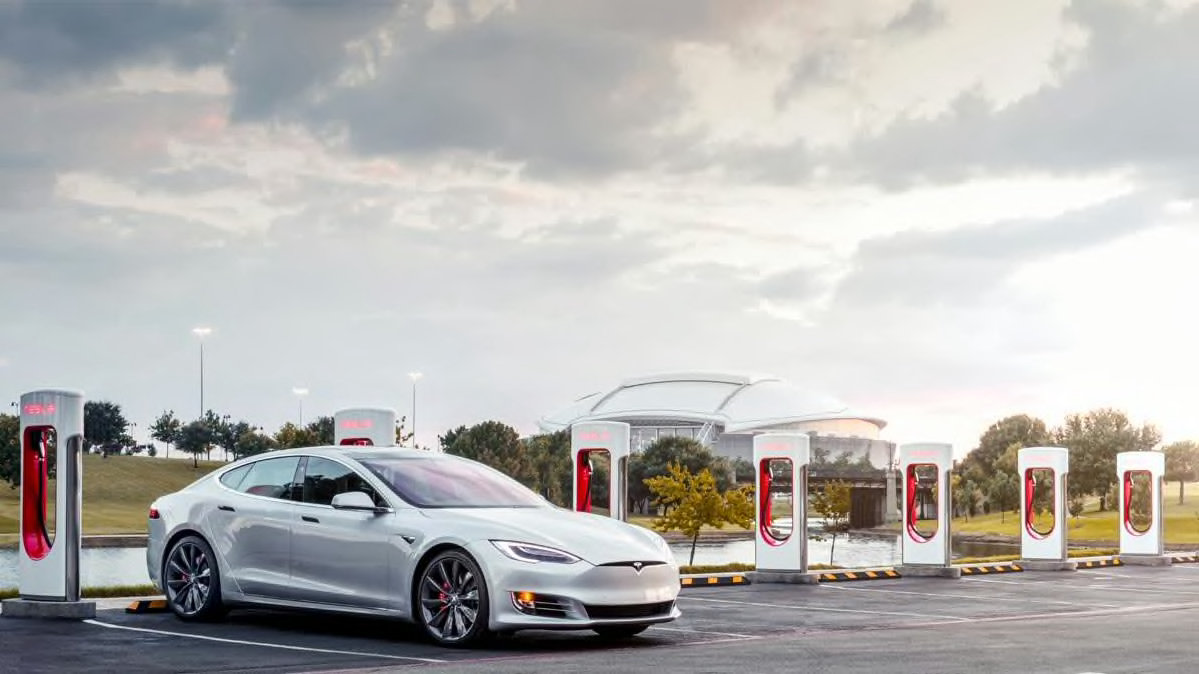 Life may be getting easier for electric-vehicle owners looking to recharge.
An ongoing build-out of the national EV-charging network should help reduce consumer fear of running out of charge, known as range anxiety, a potential barrier for consumers converting to plug-in electric vehicles.
Tesla is by far the largest U.S. seller of EVs, and it has built a network of "Superchargers" to match. Tesla has more than 1,533 stations, with more than 13,000 individual chargers worldwide currently or coming soon. It's continuously filling in gaps in its network. In June, the company said it turned on the first of its next-generation "V3" chargers, delivering up to 250 kilowatts of power and up to 75 miles of range per 5 minutes of charging time.
But the chargers work only for the automaker's models. Other companies are building their own networks.
Some companies, such as ChargePoint, EVgo, and Electrify America, are filling out the national network, making longer drives possible for other EV models. The numbers sound impressive: ChargePoint has more than 66,000 charging spots accessible to the public. EVgo claims more than 1,200 "DC fast" chargers nationwide. (DC fast chargers can add up to 90 miles of range in 30 minutes, depending on the EV and the charger.)
Volkswagen is one of the big automakers planning to expand its EV lineup in the coming years. Using a spinoff company called Electrify America, VW is spending $2 billion to build the infrastructure as part of its settlement with the U.S. government over its diesel-emissions cheating scandal.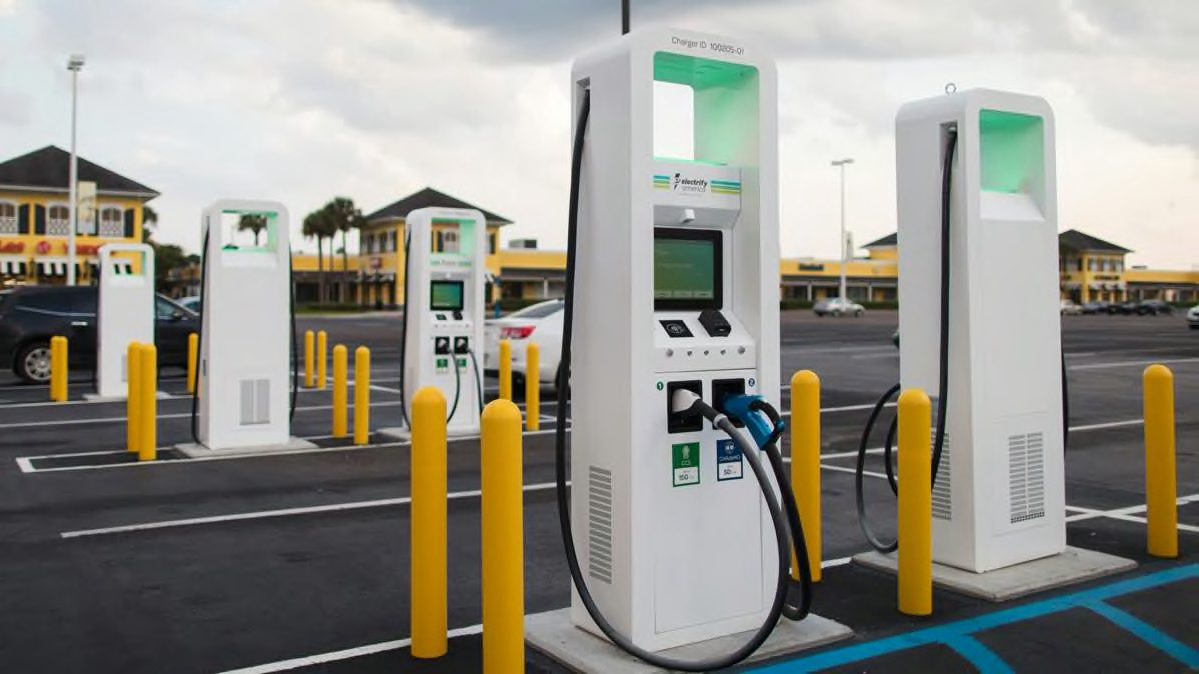 Electrify America is in the second of four phases and said it would complete work on 484 charging stations by June 2019, with locations in 17 metropolitan areas in 42 states and the District of Columbia. With those, the average gap between stations in the network will be 70 miles, the company says.
"We have a chance to actually, finally increase EV adoption in the U.S.," Giovanni Palazzo, president and CEO of Electrify America, told reporters recently. "This is the fastest construction pace, including everyone." Most of the newer stations have DC fast chargers.
Electrify America says it will bring chargers online soon that give cars 20 miles of range per minute of charge time, up from 9 miles a minute for a DC fast charger. The energy throughput on those will be so intense that the company has had to design a new cable with built-in cooling; otherwise, the copper wire would need to be as thick as a fist, company engineers say.
To put the charger-building spree in context: The Department of Energy estimates that there are now 21,876 electric charging stations in the nation, with 65,003 individual charging outlets. Of course, that figure is still dwarfed by the number of gas stations in the U.S.—well over 100,000, according to the National Petroleum News MarketFacts 2012 Report.
Number of electric charging outlets in U.S.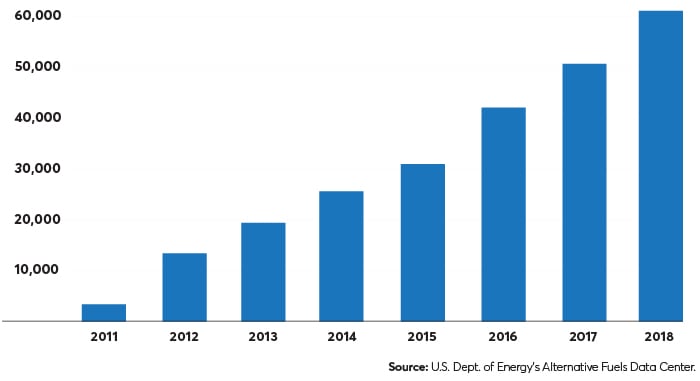 Number of electric charging outlets in U.S.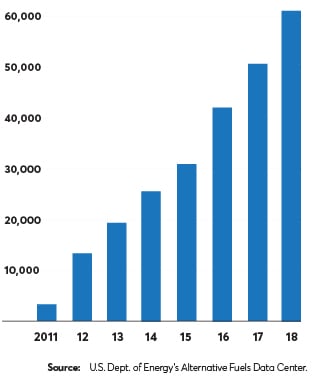 But discussing the EV-charging network in the same context as gas stations misses the point, says Pasquale Romano, CEO of ChargePoint. EV owners don't need charging stations in the same way that traditional cars need gas stations, because most of the time they're charging at their own garage or at their office, he says.
"When you're charging at home or at work, it's awesome," Romano said in a phone interview. "You don't have the chore of going to the gas station, and you've always got a full battery."
Because recharging an EV takes longer than a fill-up at a gas station, charging stations are often at places where drivers might spend some time, such as highway travel plazas or some big-box-store parking lots.
To see how many chargers are available along any particular route, you can go to websites such as plugshare.com, among others. These sites generate travel maps for all-electric trips, highlighting various charging stations along the way. Google Maps also shows some public charging stations.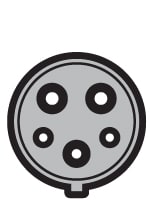 Level 1 & 2 J1772 Charge Port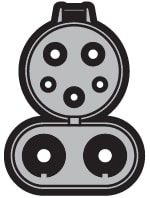 DC Fast Charging SAE/CCS Combo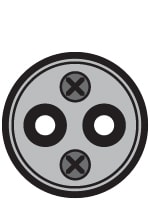 DC Fast Charging CHAdeMO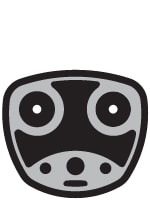 DC Fast Charging Tesla
Illustration by Chris Philpot
Charging Station Setbacks
These electric-charging plans sound great, but there are some real-world growing pains. CR's auto testers have frequently found that chargers at newer stations can be out of service. Some networks are more dependable than others, we have found. Other challenges can include long waits for available spots or extended charging times as multiple people plug in at the same time.
Mel Yu, an automotive analyst at Consumer Reports, says the round trip from our Auto Test Center in Colchester, Conn., to New York City typically takes about 4 hours in a gas-powered car and 5 hours in an EV. That's due to the extra recharging time, and the possibility of having to wait for an open charger, he says.
"Now, regardless of the vehicle, EV owners can live without fear of electricity running out, but it still requires some effort and a relaxed attitude about the recharging time," Yu says.
An EV owner who takes at least one 100-mile road trip a month will benefit from a subscription plan from a company such as ChargePoint, EVgo, or Electrify America, Yu says. The monthly fee can pay for itself in a single charging session, he says. Long-distance travelers can benefit from apps, such as PlugShare, that provide maps with the real-time status of available chargers.
Editor's Note: This article also appeared in the September 2019 issue of Consumer Reports magazine.
Correction: An earlier version of this article incorrectly referred to the number of electric charging stations in the U.S. At the time of publication, there were 21,876 electric charging stations with 65,003 individual charging outlets.
Electric Cars 101
Electric cars are bringing some of the biggest changes the auto industry has seen in years. On the "Consumer 101" TV show, Consumer Reports expert Jake Fisher explains to host Jack Rico why these vehicles might not be as newfangled as you think.