How the Tesla Model S Changed the World
On the 10th anniversary of the day the car first went on sale to the public, we look at how this groundbreaking EV transformed the auto industry—and how it challenged CR to rethink how we test and rate vehicles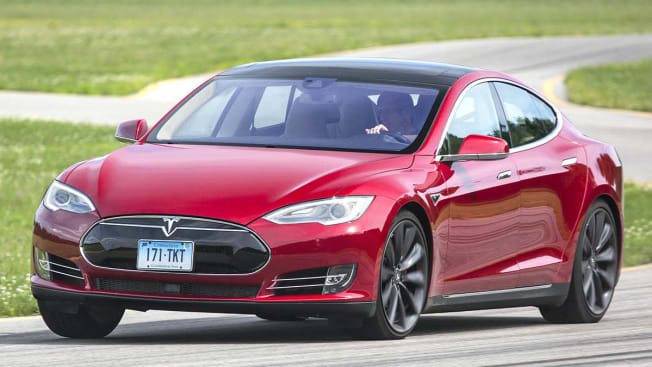 When the Tesla Model S debuted 10 years ago today, a scrappy, California-based startup put the rest of the automotive industry on notice. With its frenetic pace of nonstop innovation and a steadfast commitment to vehicle electrification, a company unlike any other had built a car unlike any other. If it succeeded, Tesla would be the first all-new mainstream automaker to enter the U.S. market since the 1980s.
A decade later, Tesla is one of the most valuable companies on Earth, and its CEO, Elon Musk, is the richest man in the world. The Model S is still on sale, although competitors from legacy automakers are finally catching up to it in terms of driving range and performance, and the more affordable Model 3 and Model Y sell in far greater numbers. Also, the introduction of certain features, such as a yoke-style steering wheel, has distracted from the flagship sedan's underlying brilliance, as has Musk's public image.
The first Tesla Model S arrived at the Consumer Reports Auto Test Center in Colchester, Conn., on Jan. 11, 2013. Unlike other cars we buy for our test program, we bought the Model S online. We had to make the purchase in New York because Connecticut had yet to approve Tesla's dealership-free sales model.
Some automakers—even dealerships—are slowly moving toward an online sales model. But when Tesla first started out, it was an experiment for an automaker without an existing dealer network and relatively low-volume sales, says Stephanie Brinley, principal automotive analyst at S&P Global, a market research firm. "Tesla had to start from scratch, which brought the opportunity to try to create something new," she says. "They took those opportunities and made them work for them."
The Model S even changed how some car buyers think about ordering a vehicle. In order to get on the waiting list for it, we had to put down a deposit before we had even seen one. While this concept has become commonplace, with buyers waiting months for everything from an Acura Integra to a Nissan Z, it was truly novel back in 2012, Brinley says. "If it hadn't worked for them, I don't think we would see it as predominantly as we do now," she says. 
In some ways, Tesla turned waiting for a car into a desirable choice. "If you're the cool guy, you put down your deposit for your Fisker Pear before it's even been shown," Brinley says. "If you're not the cool guy, you don't."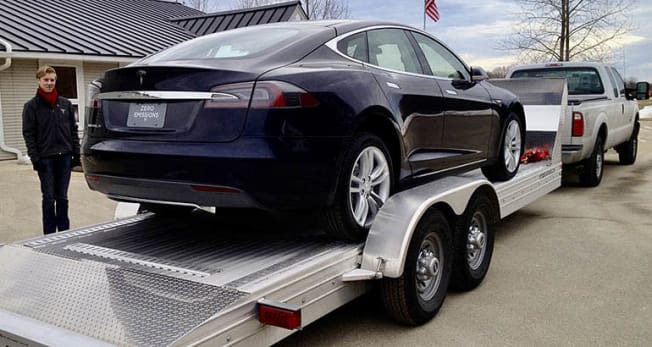 Buying our Tesla was just the beginning of an entirely new experience. Until then, the electric cars we had tested were small vehicles with big compromises, so-called "compliance cars" with short ranges, designed largely to meet zero-emissions vehicle requirements in specific states. 
With its luxury car looks and 200-mile range, the Model S was something else entirely.
"It was the first time that we saw an electric car go head-to-head with other cars in its class and just outsell them," Fisher says. "It was more desirable, and it performed better on every objective or subjective measure."
It earned the highest Overall Score in our ratings. In our first review, our testers said it was "brimming with innovation," that it delivered "world-class performance," and that it was "interwoven throughout with impressive attention to detail." Thanks to instant acceleration from its electric motor, it quite literally outran similarly sized V8-powered sedans from BMW and Jaguar, sprinting from 0 to 60 in 5.6 seconds, and outmatched the rest of the competition on tech, luxury, and efficiency. 
It also came with a major advantage over other EVs: the Tesla Supercharger network. When the Model S debuted, drivers had to charge at home or rely on a hodgepodge of charging stations around the U.S. Then Tesla built a network of charging stations with rapid charging speeds that made EV ownership much easier and realistic, even on long road trips.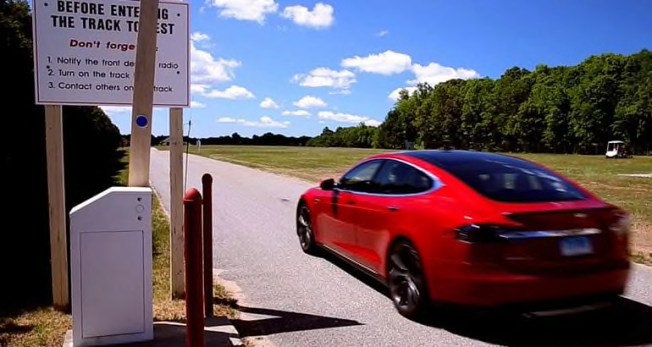 3. The Over-the-Air Automation Evolution
The Model S also introduced the concept of an automotive over-the-air (OTA) software update. Today, many newer cars can receive software updates remotely over the airwaves that can change how the vehicles perform. But in 2012, software updates were for computers, and unless you physically modified the vehicle, the car you bought was the car you ended up with. 
These OTA updates made the Model S better by adding features or changing controls, and they fixed problems that appeared after the vehicles had already been delivered. For example, we found an issue with Summon mode—a feature that allowed drivers to remotely control the vehicle with the Tesla app without anyone in the driver's seat, which may have kept a user from stopping the vehicle. So we had a 45-minute phone call with Elon Musk, and Tesla sent out an OTA update that fixed it shortly after. Later, Tesla used an OTA update to improve the braking performance of the Model 3 sedan after CR's tests showed long stopping distances.
Over time, Tesla continuously evolved the Model S as if it were a tech product, making changes outside of the model year cadence of traditional automakers, which no major automaker had ever done before, says Brett Smith, director of technology at the Center for Automotive Research, who has studied the auto industry for 34 years. "The auto industry has often relied on revolutionary change with each new generation," he says. "And Elon and his team have looked at it as a constant evolution of the product."
Tesla kept refining the Model S, eventually leading CR to rethink how we rated it when we tested a P85D in 2015. Since then, the company has used over-the-air updates to increase a vehicle's range by remotely unlocking the hidden potential of its battery pack, issuing recalls, and even adding what Tesla calls an "Emissions Mode," which makes fart noises when the turn signal is on.
Most Tesla fans are aware of OTA updates in the context of those related to the company's Full Self-Driving (FSD) beta software. That all started in 2014, when Tesla's focus started shifting from electrification to autonomy. Musk promised that owners of Teslas would be able to summon their cars remotely from across the country by 2019, and that they could make money renting their cars out as fully autonomous "robotaxis" by mid-2020. Eventually, Tesla started selling the promise of FSD for as much as $10,000, releasing a beta version of the feature to the public in July of 2021.
"One of the biggest turning points was getting into driver automation technology, which was never part of the original vision for the company," Niedermeyer says. Back in 2012, the Model S didn't even have adaptive cruise control. But since Autopilot first debuted in 2014, Tesla and Musk have made many promises about how the cars will eventually be able to drive themselves at a level better than a human. Only a few of those promises have come to fruition, and so far, we don't think FSD is better or safer than a human driver.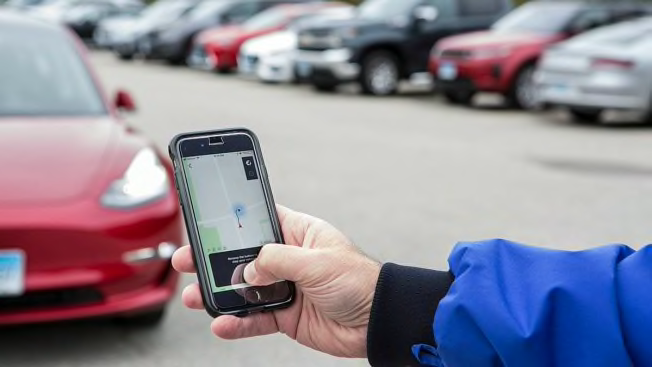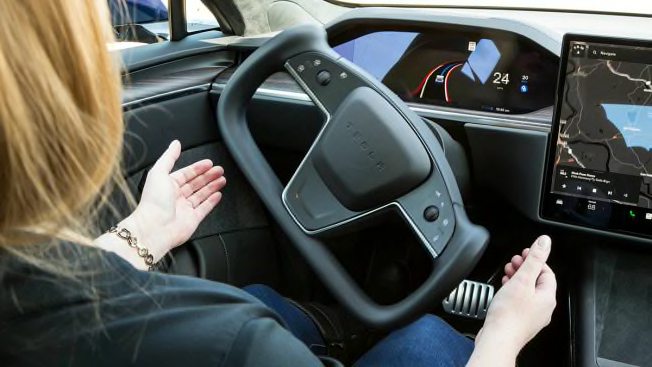 As much as Tesla's approach caught the attention of buyers and reviewers, the success of the Model S led other automakers to reconsider the way they build and market their vehicles—especially when it comes to EVs, Smith says. 
For example, he says that the process GM used to develop its new Ultium electric powertrains could have been inspired by the kind of in-house technology development that Tesla achieved by building its own motors and designing its own software for the Model S. "You see them doing the motors, you see them doing the battery control systems—and a lot of that I think comes down to what Tesla was learning, what Tesla was doing," Smith says.
Similarly, you can see the industry influence of Tesla's choice to design its vehicles with minimalist interiors. "The industry has picked up on it because—guess what? It saves them money," Niedermeyer says.
As Tesla grew, it retained its Silicon Valley ethos when building the more affordable Model 3 sedan, which starts at just under $47,000, and the Model Y SUV, which starts at just under $66,000. Both sell in far higher numbers than the Model S—and that level of growth marks a bigger feat than building a few luxury EVs, according to Brinley. "It could've been a success in a small, little space," she says, "but it's more important that they were able to grow and develop the processes."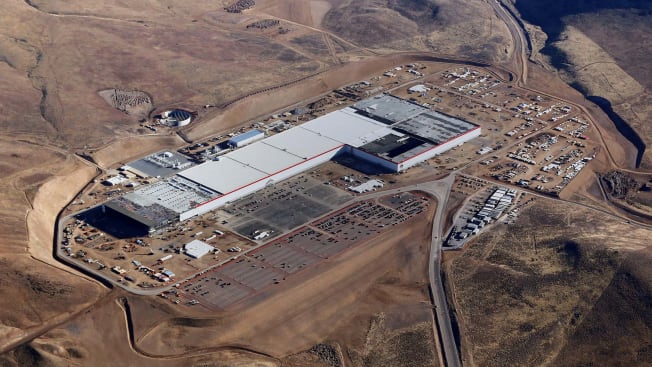 But many industry observers say that Tesla's focus on speed and nimbleness has put some dents in the quality of its product. The Model S has repeatedly lost its recommended status from CR due to reliability woes, and initial quality has also suffered. Owners have complained to CR about display screens that freeze up, dust and defects in the exterior paint, trim pieces that come loose, and a suspension system that makes rattling and squeaking noises.
"They showed that it could be done differently, but in so many ways they also showed how doggone hard it is to build a car," Smith says. "The uniqueness and attributes that car provided other than being a car were so compelling that the people that were interested absolutely overlooked the fact that it was often not great build quality because it did so many other things so wonderfully."
Ultimately, for many consumers, poorly fitting body panels, bad paint jobs, and electrical issues didn't matter. This phenomenon is reflected in our ratings, with the Model S scoring poorly in our reliability ratings but extremely well in our owner satisfaction survey.
When something does go wrong, mechanics are largely dependent on Tesla to provide parts, says Rich Benoit, a YouTuber who fixes and customizes repairable Tesla vehicles, and whose Rich Rebuilds channel has 1.32 million subscribers. "If someone needs a drive motor, the only place they can go to is Tesla," says Benoit, who also founded an aftermarket service center for Tesla vehicles.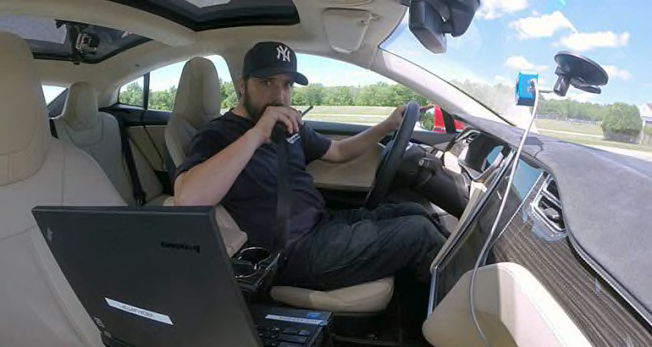 At 10 years old, the Model S is one of the oldest vehicle designs on the market, up there with the positively geriatric Chrysler 300, Dodge Charger, Nissan Maxima, and Toyota 4Runner. It's also a luxury sedan in a market that's increasingly leaving four-door cars behind in favor of SUVs and pickup trucks. Model S sales are relatively flat, and a starting price of $104,490 limits its potential customer base and positions it against other appealing, premium models.
Fundamentally, today's Model S is less enjoyable to drive than its predecessors. "Today, more often than not, they're almost trying to get your hands off the wheel. It's noisier, it rides harsher," says CR's Fisher. A yoke-style steering wheel is harder to hold, and the lack of a traditional turn signal stalk or shifter can be off-putting for many drivers.
But the Model S may still have some magic up its sleeve that other car makers might not be able to capture. First and foremost is range: With an EPA-estimated 375 miles per charge, only Lucid makes a car that can go farther before plugging in. And when it's time to recharge, only Tesla offers the Supercharger. A high-performance Plaid version (it's a reference to the Mel Brooks movie "Spaceballs," not a paint job) might sell in tiny numbers, but it adds cachet to the entire Model S lineup. 
In addition, while features such as Emissions Mode and the yoke-style steering wheel may turn off some buyers, they attract plenty of others, Niedermeyer says.
"They still also really emphasize and optimize for initial impressions—what you'd call initial quality, the surprise and delight factor of that first experience," he says. For every buyer who thinks a farting turn signal is sophomoric, there's another one who can't wait to prank their spouse with it. The tech influence is also attracting buyers who may not be traditional car enthusiasts but view Tesla as an impressive gadget.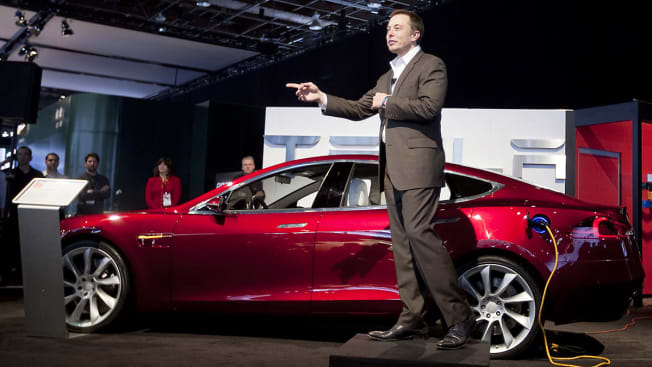 And then there's Elon Musk. With a massive Twitter following and the ability to grab headlines, he's associated with the car company like no other automaker CEO. And Musk has clearly helped Tesla connect with a specific segment of the American public. "[Tesla has] a leader in Elon Musk that a lot of people can relate to: kind of nerdy, really focused on their work," Benoit says. 
But as much as the reputation of the Model S was bolstered by the public image of the dedicated green-tech entrepreneur who helped create it, it may be sullied by more recent reported allegations of sexual harassment, discrimination, and securities fraud, along with Musk's newfound interest in energy-intensive cryptocurrencies, and his support of right-wing candidates, all of which may alienate some buyers. In addition, some people who have publicly criticized Tesla and Musk have been harassed on social media by people who say they support the company and its leader. 
As the market share for EVs grows, Brinley says it's hard to predict what will happen to the Model S, especially as automakers such as BMW and Mercedes-Benz launch new electrified flagships. "We'll see over the next two years," she says. "Is the demand for electric, or is the demand for the cult of Tesla and what it created?"