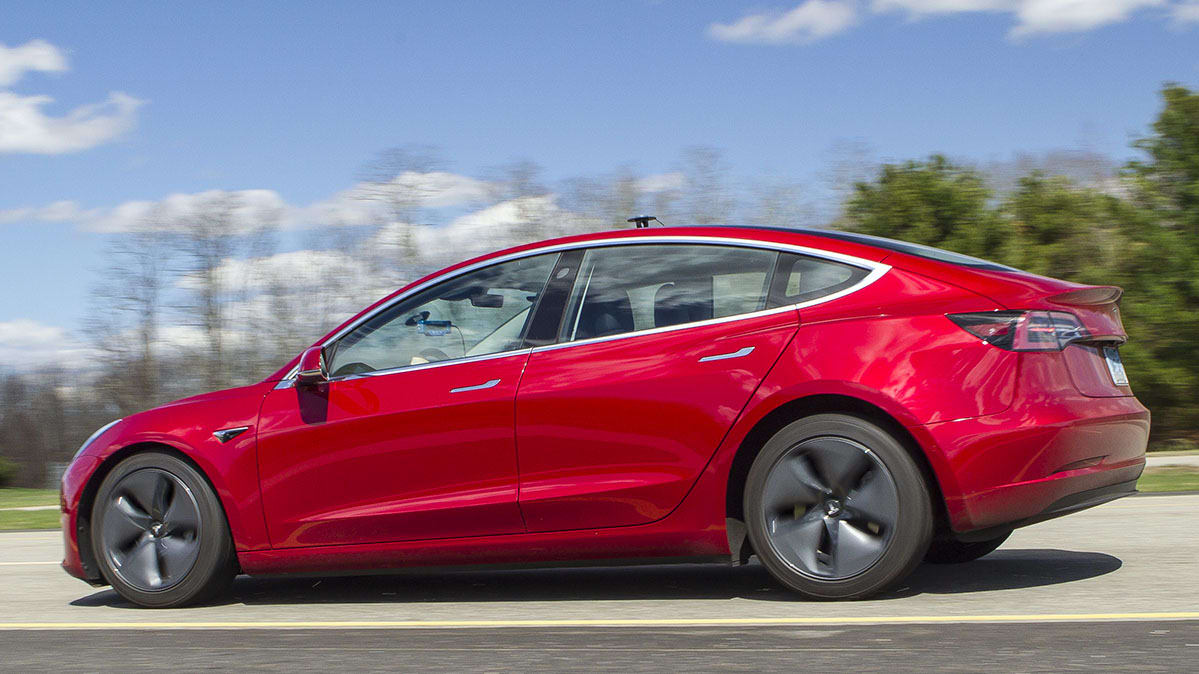 Tesla will issue an over-the-air update to improve the Model 3's braking performance this weekend, CEO Elon Musk confirmed to Consumer Reports late Tuesday.
Musk first mentioned that a fix was coming via Twitter on Monday, after Consumer Reports said it would not recommend the latest Tesla electric car because of several major flaws, including long stopping distances.
CR measured the Model 3's stopping distance at 152 feet from 60 mph, which was far worse than any contemporary car we've tested. Musk responded by vowing that Tesla would fix the Model 3 braking performance and also make it best in class. "Tesla won't stop until Model 3 has better braking than any remotely comparable car," he tweeted Monday.
Tuesday evening, Musk spoke at length on the phone with our director of auto testing to better understand our findings and share information that Tesla had discovered about the braking issue. (CR frequently speaks with manufacturers to answer detailed questions about our test findings.)
Musk said that Tesla engineers were attributing the Model 3's poor braking performance in CR's tests to calibration issues with the car's braking control system. In a followup email, Musk said his engineering team was validating changes to the braking system this week and "assuming that goes well, plan to deploy via OTA to Model 3 fleet this weekend."
During the call, Musk also said that Tesla had already deployed several improvements to later-production Model 3s that could address some of the ride quality and wind noise concerns CR raised with the car, and that he was considering additional improvements to the vehicle's controls, based on CR's feedback.
This isn't the first time the automaker has used over-the-air updates to address CR findings. In 2016, when CR pointed out that drivers might not be able to stop their vehicles while in "Summon" mode—a system that allows drivers to move or park their cars without anyone sitting in the vehicles—the automaker responded quickly. Within a week of CR notifying Tesla of its findings, the automaker released an update that fixed the problem.
On the other hand, Tesla owners have sometimes had to wait much longer for critical updates. The company took several months to roll out the software for automatic emergency braking (AEB) to Model S sedans and Model X SUVs with second-generation hardware even though customers were promised AEB would come standard on their vehicles.
Once an update for the Model 3 is sent to our vehicle CR will conduct more tests, says Jake Fisher, director of auto testing. "If Tesla can update the brakes over the air, we will retest our Model 3," Fisher says. "It would be an industry first if they could improve brake performance remotely."
Consumer Reports is an independent, non-profit organization dedicated to helping consumers. We make it easy to buy the right product from a variety of retailers. Clicking a retailer link will take you to that retailer's website to shop. When you shop through retailer links on our site, we may earn an affiliate commission – 100% of the fees we collect are used to support our mission.
Learn more.
Our service is unbiased: retailers can't influence placement. All prices are subject to change.