When you shop through retailer links on our site, we may earn affiliate commissions. 100% of the fees we collect are used to support our nonprofit mission.
Learn more.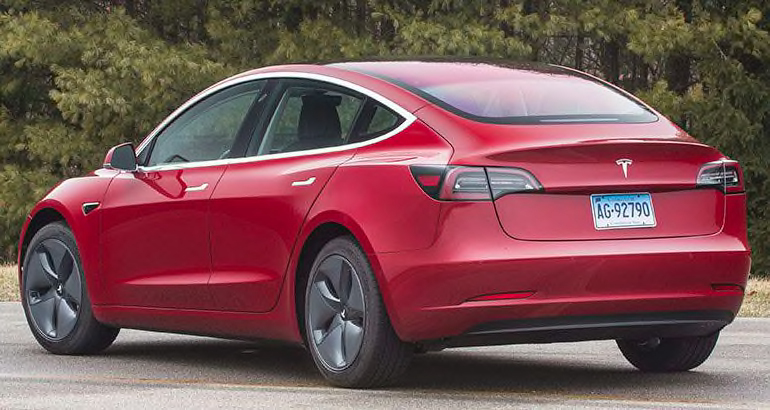 Tesla said Wednesday that factory output of its Model 3 sedan should hit 5,000 cars a week starting in about two months, a dramatic increase that would help clear the company's controversial production backlog.
The electric car company only recently hit a milestone of producing 2,000 units a week.
Factory delays have been an intense focus for investors and analysts gauging Tesla's market value and for the about-400,000 consumers that Tesla says put down $1,000 deposits starting in 2016, with most still waiting for their vehicles to be delivered.
"The thing we're most excited about is a rapid increase in output," Tesla CEO Elon Musk said on a conference call with investors Wednesday. "In general, our understanding of production is improving rapidly, exponentially in fact. We're seeing ways to dramatically increase volume."
Cheaper Model 3s Coming
Musk said during the investor call that Tesla has struggled with numerous manufacturing challenges, including determining which jobs were better suited for robots and which for humans.
With more Model 3 sedans rolling off the line, Tesla would have more of the lower priced versions available for consumers, including the base model that starts at $35,000.
The Model 3 was billed by Tesla as a more affordable option, but until now, only more expensive versions with options packages have been available because they're being produced first.
Consumer Reports spent $59,000 on a Model 3 that includes a long-range battery pack ($9,000), several premium features ($5,000), as well as the "enhanced Autopilot" ($5,000) and "Full Self-Driving" ($3,000) add-ons.
Model 3 Taking Market Share
Making the base version available could change the Model 3 from a luxury car for true believers willing to spend whatever it takes to buy into Tesla's electric-car vision into a more mainstream model that could shake up the U.S. electric-car market.
Even so, the latest figures Tesla put out Wednesday show that the car is already the second-leading seller in the midsized premium sedan market, behind the Mercedes-Benz C-Class.
Tesla says the Model 3 has just over 25 percent market share, up from 5 percent in December. It expects to have 40 percent by the end of the year. Tesla's calculation includes the Model 3, the C-Class, the Lexus IS, the Audi A4, and the BMW 3 Series. It doesn't include other luxury sedans, like those made by Acura, Cadillac, Infiniti, or Lincoln.
Tesla Crossover Next
Tesla will begin making investments in its next passenger vehicle, the Model Y, in 2019, Musk told investors. The company will have to build a new factory to make the model, which is expected to be a crossover SUV, smaller than the Model X but built on the Model 3 platform. The Fremont, Calif., factory building the Models 3, the S, and the X is at full capacity, Tesla says. Production of the crossover could start in about 24 months, Musk said.
Electric Cars 101
Electric cars are bringing some of the biggest changes the auto industry has seen in years. On the "Consumer 101" TV show, Consumer Reports expert Jake Fisher explains to host Jack Rico why these vehicles might not be as newfangled as you think.