When you shop through retailer links on our site, we may earn affiliate commissions. 100% of the fees we collect are used to support our nonprofit mission.
Learn more.
Update: Since this first drive was published in February 2018, we have finished evaluating the Model 3.
See the complete Tesla Model 3 road test.
It's always a big deal when electric automaker Tesla unveils a new product, but the all-new Model 3 luxury compact sports sedan is arguably the automaker's most important release so far. That's because the Model 3 is Tesla's first attempt at a real mass-market electric car. With a promised starting price of $35,000, Tesla is aiming the Model 3 at cars such as the the Audi A4 and BMW 3 Series—but without any emissions.
Hype has surrounded this car since Tesla CEO Elon Musk first announced it about two years ago, with hundreds of thousands of shoppers placing $1,000 deposits within days. But many of those prospective buyers have had their patience tried, since the Model 3 rollout has been plagued by Tesla's production headaches and delays.
Because CR has previously purchased Teslas, and because we quickly placed a deposit, we were able to buy an early Model 3 for our test fleet. The downside to being an early adopter meant buying the first configuration that Tesla offered, meaning a more expensive, well-equipped version.
The automaker built its earliest production Model 3s with a $9,000 long-range battery and $5,000 in premium upgrades (12-way power and heated front seats, a premium audio system, and a glass roof). We added the $5,000 Enhanced Autopilot system and the $3,000 full self-driving capability option to evaluate these intriguing features and their potential for over-the-air updates. By the time we were done, our Model 3 rang up at $59,000.
These are our first impressions, based on our purchased car. Once the car reaches 2,000 break-in miles, it will be put through our battery of more than 50 tests. We'll report back in the future with full results.
What we bought: 2018 Tesla Model 3 Long Range
Drivetrain: 258-horsepower electric, one-speed direct; rear-wheel drive
MSRP: $35,000
Destination fee: $1,000
Options: $23,000
Total cost: $59,000
How It Drives
Let's start with the takeoff. Unlike regular gasoline-powered engines, electric cars deploy their full torque instantly. Because of this, the Model 3 rushes off the line with authority, and every prod of the accelerator translates to immediate thrust in near silence.
The Model 3 is not only quick, but also promises impressive range. With the long-range battery, the car has an EPA rating of 310 miles per charge. (We'll test our car's range in the weeks to come.) The standard battery, which Tesla says will be available later, is estimated to have a 220-mile range.
Our testers were impressed by our car's glued-to-the-road handling, with steering that is quick and precise, much like a well-tuned sports car. The Model 3's taut suspension keeps the car from leaning when cornering, while its sharp reflexes help it carve through tight turns with ease and tear down straightaways.
Ride quality is a different matter. The car is overly stiff, struggling to absorb bumps with the dignity expected from a luxury car. There's also considerable wind noise at highway speeds.
One of Tesla's signature features, Autopilot, is available on the Model 3, and we ordered it for our test car.
The Autopilot system combines such systems as adaptive cruise control which maintains speed and is able to vary it to keep pace with traffic. It can bring the car to a stop and resume driving during stop-and-go snarls.
It's activated by pulling down on the column-mounted gear selector lever twice, and our initial impression is that it works pretty well.
While it's not as smooth as most human drivers are, Autopilot on the Model 3 does a good job of keeping the car between lane lines. The experience in this car is similar to what we found in our latest Model S.
It's important to keep in mind that Autopilot isn't designed to react to all unexpected situations, which means it's essential for drivers to remain attentive and engaged, and to keep their hands on the steering wheel.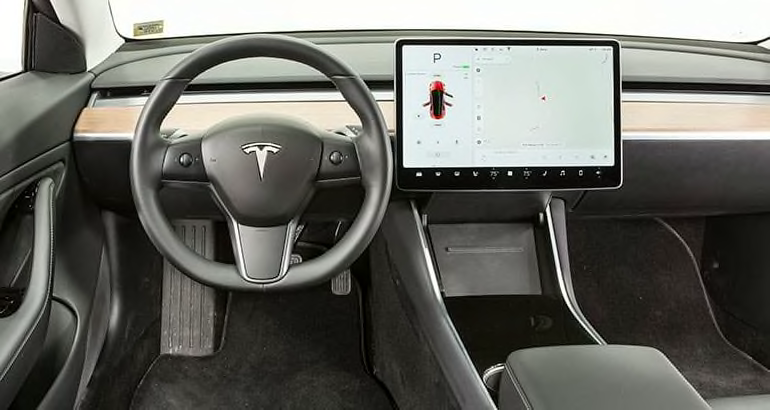 Inside
From its inception, Tesla has been a company that thrives on doing things differently, and that holds true even for the Model 3's keys. There aren't any. Instead, it uses your smartphone as a key. Once you install the Tesla app on your phone, the car can sense you approaching, it automatically unlocks its doors, and lets you drive away simply by putting the car in gear.
That might be a problem if your cell phone's battery dies. If that happens, drivers can unlock and start the Model 3 with a key card, much like cards used at some hotels. However, the touch method to unlock the car with the key card can be tricky to learn and master. Plus, the card has to be placed on the center console to begin driving—another inconvenience.
The smartphone-app-as-key is a unique approach. It provides a simple solution to unlocking and starting, but other eccentricities of the Model 3 seem different just for the sake of being different. Take the door handles: You push on one side of the chrome lever, and then must pull on the other side to open a door. It feels unnatural and awkward.

The driving position in the Model 3 is fantastic. Even with thick front pillars, the car's expansive windshield, sloping hood, and low dashboard give a clear, commanding view of the road ahead. It's similar to what it feels like to drive a sports car like an Acura NSX or Porsche 718 Boxster—cars that, like the Model 3, don't have an engine up front and therefore have a lower hood. The only real visibility issue is the high shelf behind the rear seats, which can partially hide the view of the car directly behind.
The steering wheel has a thick rim and a small diameter, much like some race cars have. That design is possible because in the Model 3, the driver does not need to see through the steering wheel to monitor any gauges (more on this in a bit). This adds to the car's sporty feel.
Up front, the seats are comfortable with good side bolstering. The rear seat is a different story—it's positioned extremely low to the floor, resulting in an uncomfortable knee bend for adults and providing no thigh support. Toe space is cramped under the front seats. It's a tighter fit than passengers will find in many of the Model 3's key competitors.
Our test car is filled with nice-looking materials, including suede and wood trim that come with the Premium Upgrades package. The clean dash, large touch screen, concealed air vents, and the absence of knobs give off a minimalist vibe.
This approach also applies to the Model 3's controls. Like the keys, there aren't any, at least not in the traditional sense. Other than two thumbwheels located on the steering wheel, and two stalks on the steering column, there aren't many physical controls for the driver to interact with.
Every gauge or instrument, including the digital speedometer, driving range display, and even the turn signal indicators, are located on the 15-inch screen perched high on the dashboard in the center of the car. And just about every function of the car is controlled using that screen.
The screen is full of menus and has an impressive level of capability and functionality, but drivers are forced to use the screen in ways that don't always make sense. It's fine for drivers to adjust their mirrors or the height of the steering wheel while they're stopped, but other adjustments that are normally made while driving can become distracting.
For instance, drivers must use the screen to adjust the adaptive cruise control's speed setting. Very often our drivers found themselves turning their gaze away from the road to check for speed, range, or time, and many of the displays are too small to see at a quick glance.
If ever there were a car that needed a head-up display, it's the Model 3. Having the car's most critical information projected on the windshield in front of the driver—instead of on a screen in the center of the dash—would be the perfect use of advanced technology in what is otherwise a very modern machine. Unfortunately, a head-up display is not available.
Our last Model S had some issues with the fit of trim pieces, but so far the Model 3's interior feels solid. We haven't noticed any squeaks, rattles, or misalignments.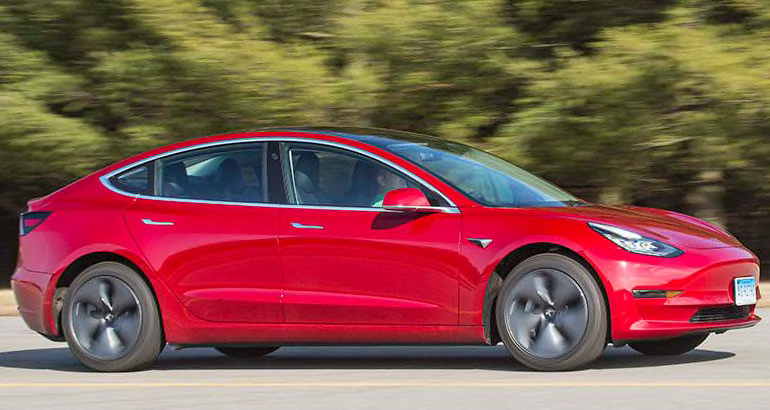 Safety & Driver Assist Systems
Forward-collision warning and automatic emergency braking (up to 50 mph) come standard on the Model 3. Tesla promises to raise the speed for its automatic emergency braking system in the future via over-the-air updates.
A quick note on the full self-driving capability option: Tesla says that "In the future, Model 3 will be capable of conducting trips with no action required by the person in the driver's seat…it is not possible to know exactly when it will be available . . . " Be aware: Tesla has not announced a specific date for when, or if, this $3,000 option will be usable.
If shoppers skip the Autopilot or the self-driving options when they buy a Model 3, they will pay a premium. These systems cost $5,000 (Autopilot) and $3,000 (self-driving) if you buy them upfront. If you want to add them later through a software update, you'll pay $6,000 and $4,000, respectively.
Bottom Line
Tesla fans will likely love everything about the car and overlook its deficiencies. Even other buyers will revel in the car's instant power and enjoyable handling initially, but the stiff ride and unintuitive controls might wear thin over the long run.

See the complete Tesla Model 3 road test.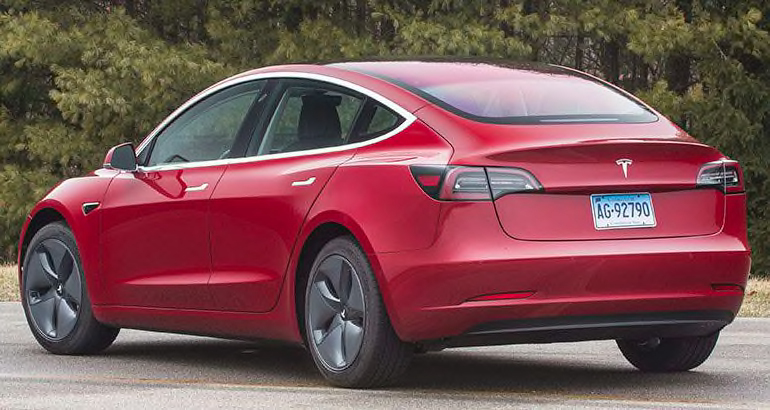 Electric Cars 101
Electric cars are bringing some of the biggest changes the auto industry has seen in years. On the "Consumer 101" TV show, Consumer Reports expert Jake Fisher explains to host Jack Rico why these vehicles might not be as newfangled as you think.