When you shop through retailer links on our site, we may earn affiliate commissions. 100% of the fees we collect are used to support our nonprofit mission.
Learn more.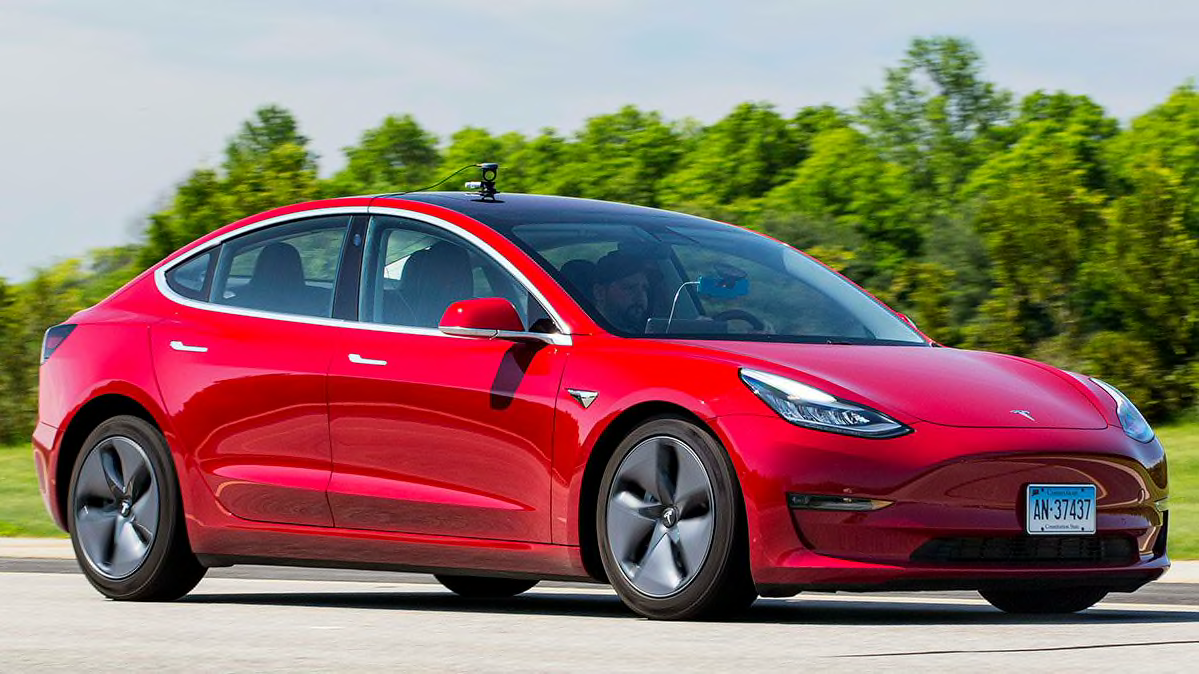 Consumer Reports now recommends the Tesla Model 3, after our testers found that a recent over-the-air (OTA) update improved the car's braking distance by almost 20 feet.
The software update came a week after Consumer Reports published test results that showed stopping distances for the Model 3 that were significantly longer than any other contemporary car (complete road test available to members). That braking performance, along with issues with the Model 3's controls and ride comfort, initially prevented the car from getting a CR recommendation.
Last week, after CR's road test was published, Tesla CEO Elon Musk vowed that the automaker would get a fix out within days.
Until now, that type of remote improvement to a car's basic functionality had been unheard of. "I've been at CR for 19 years and tested more than 1,000 cars," says Jake Fisher, director of auto testing at Consumer Reports, "and I've never seen a car that could improve its track performance with an over-the-air update."
In an email to CR, a Tesla spokeswoman said that the company had improved the software for the Model 3's antilock braking system to adapt to variations in how the brakes might be used and to respond to different environmental conditions.
In CR's initial review of the Model 3, testers noted that the EV's 152 feet to stop from 60 mph was 7 feet longer than a Ford F-150 pickup's stopping distance, and 25 feet longer than Tesla's own Model X SUV's. In retesting after the software update was downloaded, the sedan stopped in 133 feet from 60 mph, an improvement of 19 feet.
The new shorter distance is typical for a compact luxury car and matches the 133 feet that Tesla claims its own testing found, using the same tires as those on our Model 3.
The improved braking distances raised the Model 3's Overall Score enough for the car to be recommended by CR, but our testers had other areas of concern as well. They found issues with the Model 3's wind noise, stiff ride, and uncomfortable rear seat. Last week, Musk told CR in a conversation that the automaker had already made changes to its production line to address those three issues.
To see if these changes made a difference, CR is renting another Model 3 from Tesla. CR does not use rental cars in our formal testing, but we will report back on what we find in that car.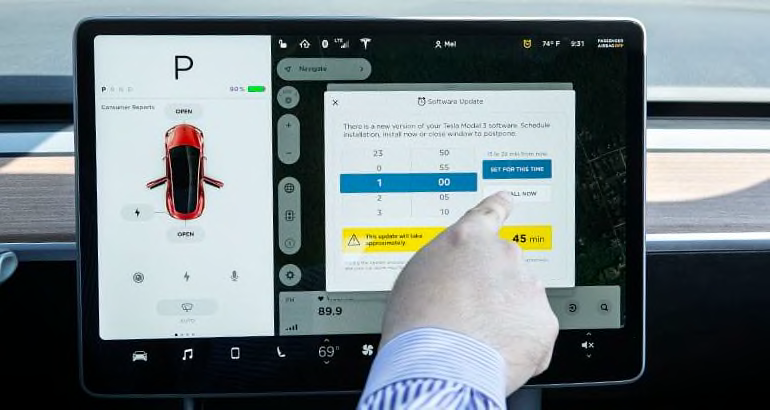 CR also gave notably low marks to the Model 3's unique controls, which force drivers to make audio, phone, climate, and other changes almost exclusively through a center-mounted touch screen. Musk suggested in the same conversation with CR that some of those problems could be addressed with OTA updates.
And it appears that Tesla has already started to deploy some changes to the controls in the latest update. CR testers discovered that the controls for the side-mirror and steering-wheel adjustment on the touch screen now function differently.
Before the update, our testers expressed concern that those controls were difficult to use while driving, and CR's Jake Fisher mentioned the potential for distraction to Musk during the phone conversation. Now, when drivers adjust their seat position using the power controls along the edge of the driver's seat, prompts to adjust the car's mirrors and steering-wheel position appear on the center touch screen. At first glance, these changes seem to be an improvement, but we need to spend more time evaluating them.
Finally, Musk suggested in a tweet last week that the company would make the Model 3's braking performance the best in its class. Although this update improved the car's stopping distances, the braking performance is not class-leading. So for Tesla to make good on Musk's promise, it may need additional updates to the braking software.
In response to a question from CR, Tesla says that it works to "continuously improve our products in pursuit of having the best possible products in every category," but it did not provide a time line for any future updates.
CR will continue to evaluate updates and make changes to our scores as necessary.
See the complete Tesla Model 3 road test and ratings.