When you shop through retailer links on our site, we may earn affiliate commissions. 100% of the fees we collect are used to support our nonprofit mission.
Learn more.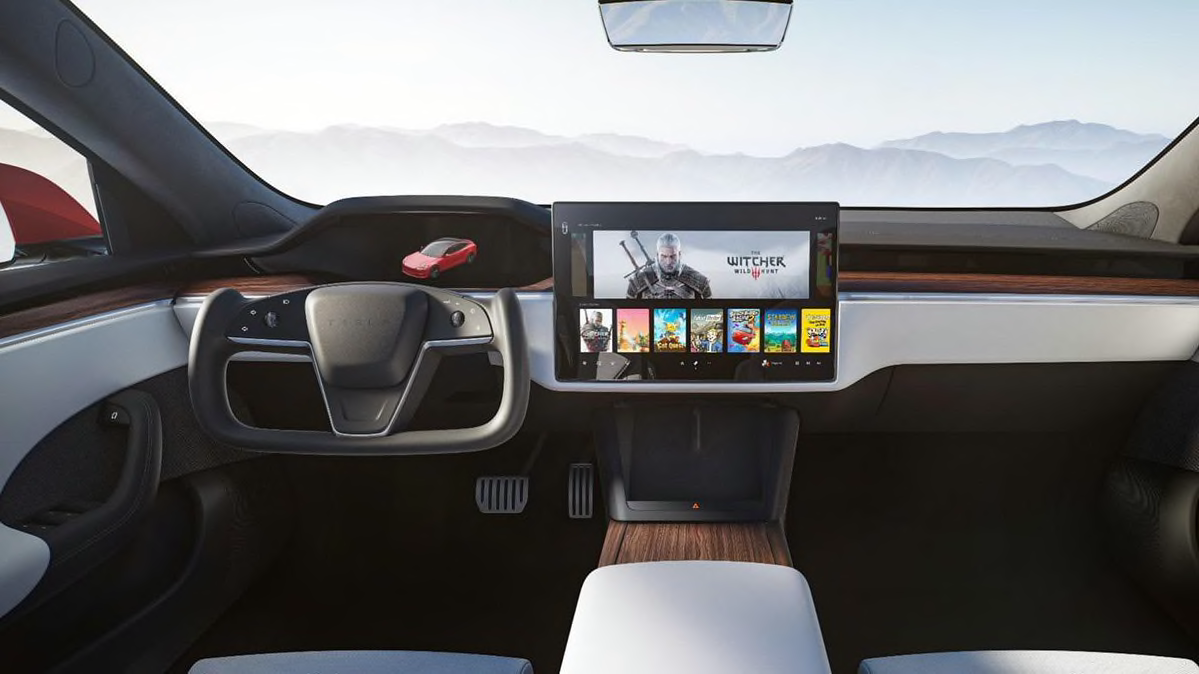 Tesla revealed an updated version of the Model S sedan that promises up to 412 miles of all-electric range, a minimalist interior that's reminiscent of the Model 3, and a sleeker exterior. But the biggest changes are the yoke-style steering wheel, the absence of a traditional turn signal stalk, and the replacement of a physical gear selector with software that "guesses" the drive direction.
A circular steering wheel has been replaced by what Tesla calls a "butterfly style" steering control. It's similar to the steering controls found in race cars and airplanes. This style precludes the ability to shuffle steer—the method recommended by many driving instructors—and may make it more difficult to perform maneuvers that require multiple turns of the wheel, such as a three-point or K-turn often used to turn around.
"We aren't aware of consumers complaining about round steering wheels, and it isn't clear how this one is an improvement," says Jake Fisher, senior director of auto testing at Consumer Reports. "However, it's a major enough change that we need to buy a new Model S and test one on our own before we can form any opinions on how the new setup performs."
The gear selector is no longer mounted on the steering column. In fact, it's not mounted anywhere. In a tweet, Tesla's CEO, Elon Musk, says the car "guesses drive direction based on what obstacles it sees, context & nav map. You can override on touch screen." Tesla has not released any images of what this touch-screen-based selector will look like.
"We are very supportive of creative innovation that improves the driving experience, but at first glance these changes appear to be styling-based and could make driving more difficult," Fisher says. "We plan to purchase the updated model and will have more to say once we drive it thousands of miles with multiple testers."
The turn signal indicator stalk has also been replaced by what appears to be a touch-sensitive button on the left side of the steering controller.
During a presentation for investors, the automaker said the new design will go on sale in March with deliveries estimated in "late 2021," along with an updated Model X SUV. (Tesla doesn't follow the same "model year" changeover timing as most of the rest of the automotive industry, instead making changes incrementally.) Using the Tesla website's chat feature, a Tesla sales representative told CR that a traditional steering wheel will not be available. Tesla's corporate office didn't respond to other questions for this article.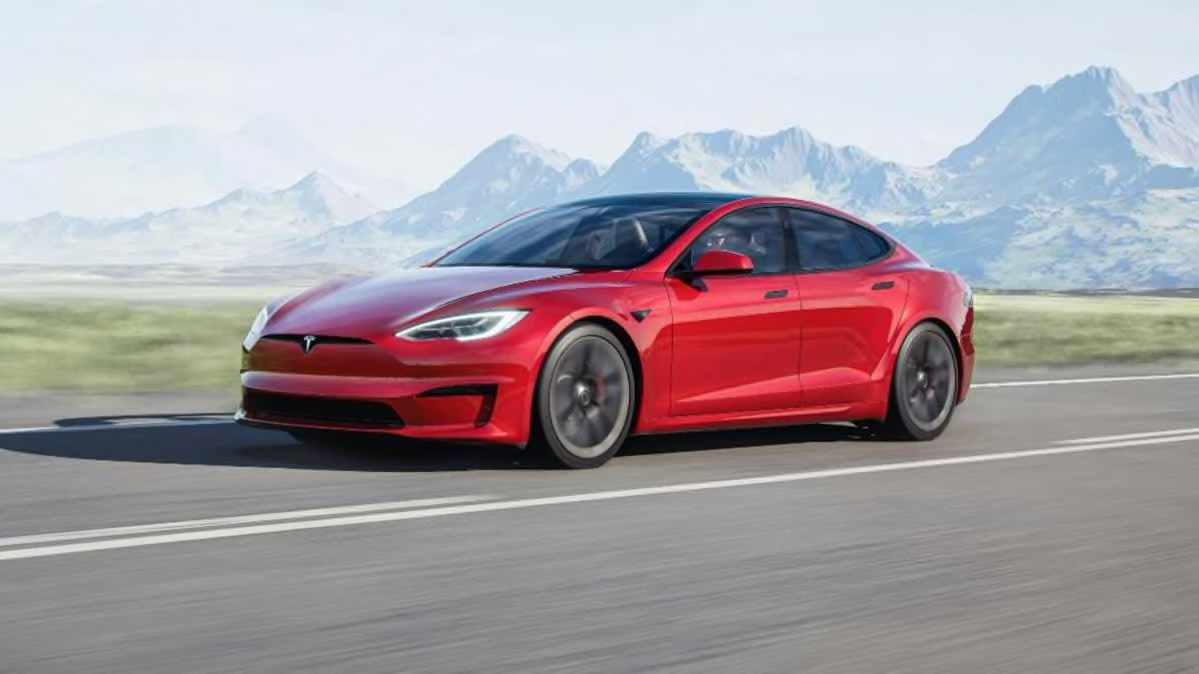 Is the Steering Wheel Even Legal?
Federal rules about vehicle interiors offer some leeway for automakers, and much of the interior layout common on modern vehicles comes down to tradition. The Ford Model T, for instance, had the brake pedal on the right and the throttle behind the steering wheel. And decades ago, plenty of cars had "three on the tree" manual gear selectors extending from the steering column.
But Tesla's changes may meet the very edges of regulations that exist, says William Wallace, CR's manager of safety policy.
Federal Motor Vehicle Safety Standards (FMVSS) require that the steering control system "shall be so constructed that no components or attachments, including horn actuating mechanisms and trim hardware, can catch the driver's clothing or jewelry during normal driving maneuvers."
Whether a butterfly design can meet this standard remains to be seen. And a recent attempt to update FMVSS regulations for different kinds of steering controls that would anticipate the designs of future self-driving cars appears to be on hold, Wallace says.
The Model S may run into trouble at the state level, because many states with vehicle inspection programs—including New Hampshire, Pennsylvania, Wisconsin, and Utah—require inspectors to ensure a car's steering wheel is circular and/or at least 13 inches in outside diameter before passing the vehicle.
Putting the gear selector on a touch screen can cause serious issues if the screen fails. "Many Tesla owners have shared their experiences with malfunctioning screens with us, and it has impacted their reliability ratings," Fisher says. "With these changes, it appears that the car may not even be drivable without access to the display screen."
It also opens up Tesla to the potential for future recalls, as FMVSS requires an indicator of gear selector positions to be visible when a vehicle is operational. Earlier this month, the National Highway Traffic Safety Administration (NHTSA) pressed Tesla to recall current vehicles whose touch screens are at increased risk of failure, since the screens are already used for critical operations in addition to infotainment features such as navigation and audio.
"Tesla's continued push to include critical functions in the center touch screen underscores how important it is for the company to recall cars right away when those screens don't work," says Wallace.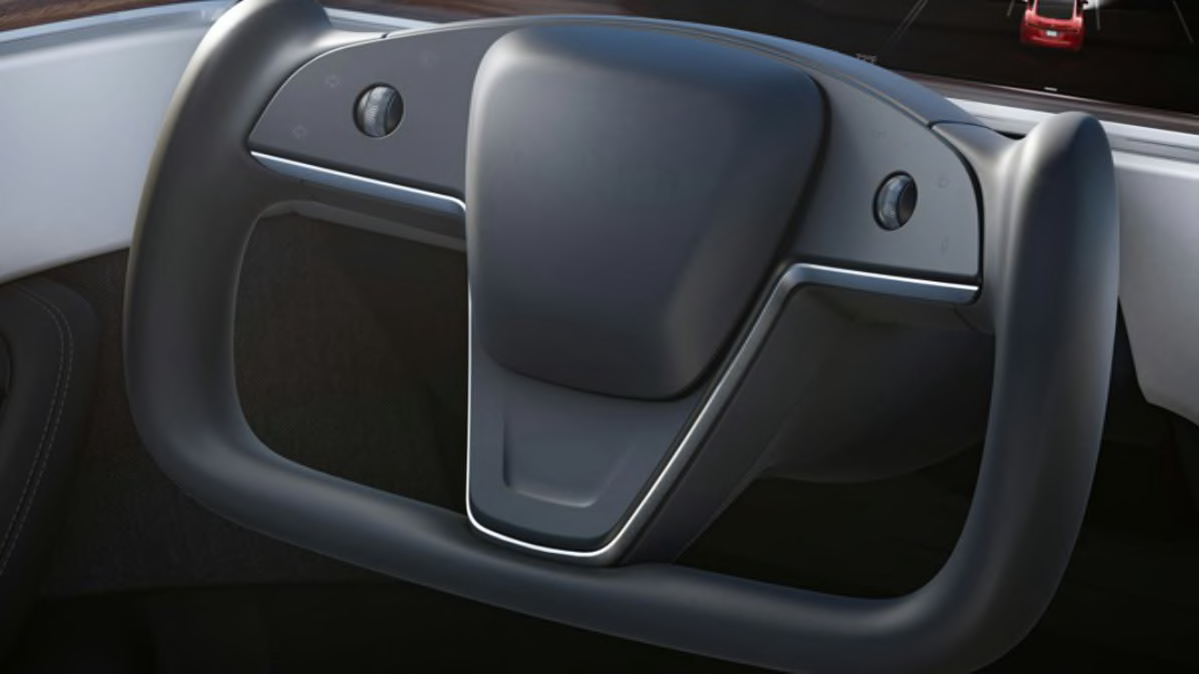 Other Updates
Although the interior updates are eye-catching, Tesla has made other changes to the Model S. The dual-motor Long Range edition will sell for $79,990. The Plaid trim can now accelerate from 0 to 60 mph in just 1.99 seconds, with up to 1,020 hp on tap, a 390-mile range, and a price of $119,990. The Plaid+ trim ups the range estimate to more than 520 miles, for $139,990.
Inside, the vertically oriented screen of the old Model S has been replaced with a 17-inch horizontal model, and an additional screen has been added for second-row passengers, who also get more headroom and legroom, plus a wireless phone charger. When we conduct our rear-seat evaluation, we will look for potential interference with car-seat installations from the added screen. The company says that the car's infotainment system is powerful enough that occupants can play video games from any seat using wireless controllers.
The exterior also gets some upgrades, although it's instantly recognizable as a Tesla. The automaker claims that aerodynamic improvements give the Model S the lowest coefficient of drag of any current production vehicle. Paint colors other than white cost extra.