Ask five experts to forecast the hottest interior paint color for 2018, and you'll get five different answers: A dreamy blue, an adventurous blue, a vivid red, and—surprisingly—two shades of black. Color experts keep an eye out for trends, traveling around the country and abroad, and taking cues from the arts, fashion, pop culture, and the automotive industry, among other areas.
Major paint manufacturers have in-house color experts, who identify these trends, create new palettes, name each color, and more. Often, the experts' descriptions of their paints are as aspirational as the color names themselves.
Below, predictions from five paint brands on the interior paint colors they say will be popular in 2018, plus details on how and where you can try them in your house.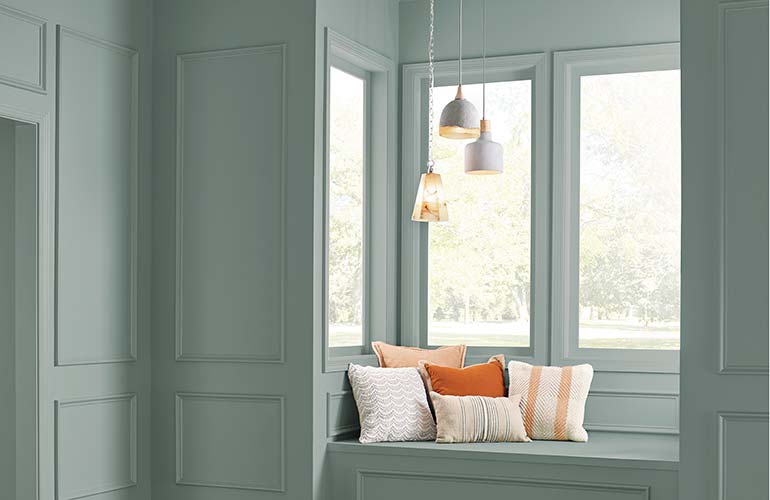 Behr: In the Moment T18-15
Described as: "A perfect balance between blue and green," says Erika Woelfel, vice president of color and creative services at Behr.
Why it's hot: A peaceful, restorative color, it helps create a relaxing feel—or a sanctuary, explains Woelfel.
Where to use it: This muted blue-green looks sharp in the kitchen with white cabinets, but it also works well with taupes, grays, and browns, as highlighted in the dining room image shown at top. In a small space, like the sitting area featured here, the color creates a sophisticated vibe. (Yes, the walls above and the walls in the story's top photo are the same color.) "And it's used on the walls and trim, for a monochromatic look," says Woelfel. "But you can energize the space by adding pops of color, like the orange pillows."
Recommended sheen: A matte finish works nicely in bedrooms but use an eggshell finish in the bathroom. Keep in mind, the higher the sheen, the easier it is to clean, and the better it is at fending off stains. Going for a stunning look? Consider painting just one wall of a room in a glossy sheen.
Where to buy: Home Depot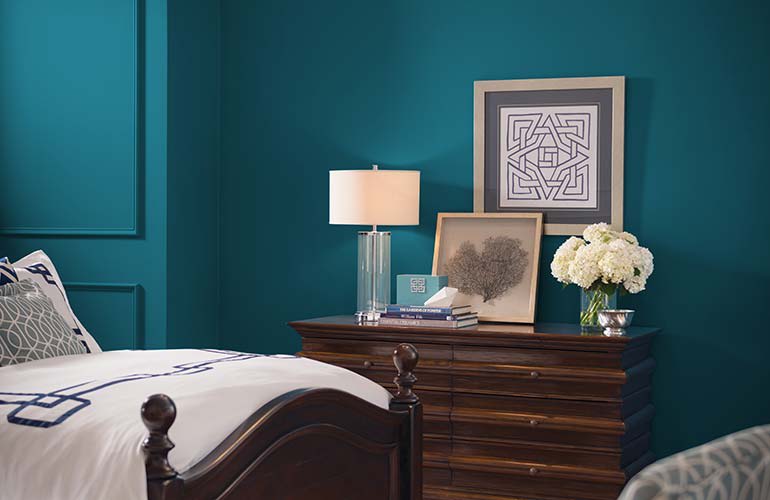 Sherwin-Williams: Oceanside SW6496
Described as: An opulent and mysterious green-blue hue, according to the manufacturer.
Why it's hot: "Oceanside is inspired by wanderlust and global interconnectedness," says Sue Wadden, director of color marketing at Sherwin-Williams. "We are craving things that remind us of bright folklore, like mermaids and expeditions across continents."
Where to use it: Just about anywhere, says Wadden, when mixed with whites, creams, or deep rich tones and warm metallics. Want to ease into this blue? Paint your front door, side table, or an accent wall in an otherwise neutral room.
Recommended sheen: Flat on walls with semi-gloss trim.
Where to buy: Sherwin-Williams stores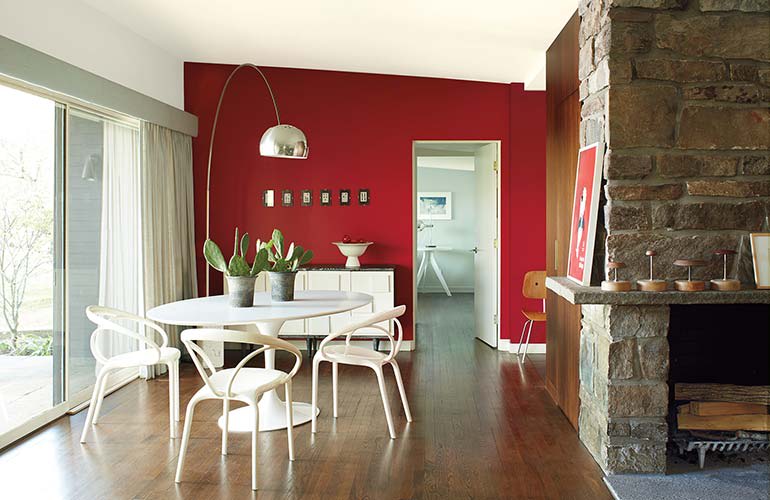 Benjamin Moore: Caliente AF-290
Described as: "A vivid, charismatic red, yet livable," says Andrea Magno, senior manager of color and design at Benjamin Moore.
Why it's hot: After five years of pastels, neutrals, and quiet palettes, "people want more oomph," she says. The Benjamin Moore design team found that red hues are becoming more popular in a number of areas, which the manufacturer describes as "embodying the change, strength, confidence, and vitality that permeates cultural movements around the world."
Where to use it: Depends on how comfortable you are with red. Noncommittal? Then paint a door, which will wake up a space. "The use of red in this dining room is fresh," says Magno. "Natural light is coming in, and the warmth of the stone and wood works nicely to bring in the red."
Recommended sheen: Looks great in any sheen, but Magno especially likes the matte finish for a look she describes as rich.
Where to buy it: Select paint and hardware stores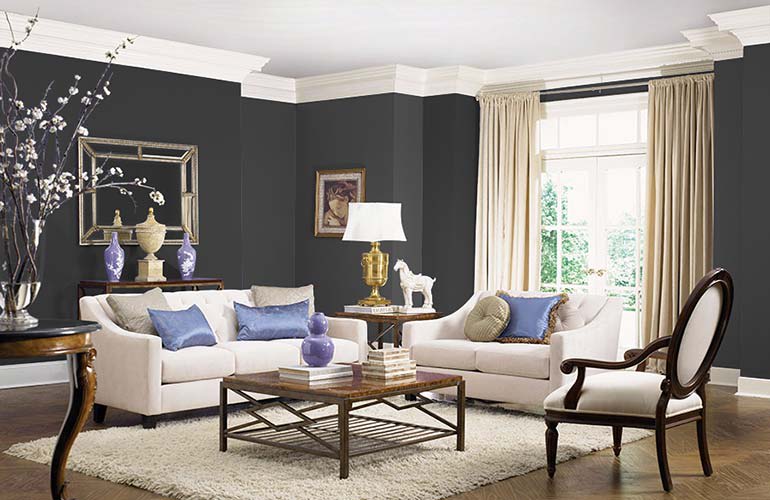 Olympic: Black Magic OL116
Described as: A true black—no undertones—this is the blackest black in the Olympic palette, says Dee Schlotter, senior color marketing manager for Olympic.
Why it's hot: A little rebellious, this dark shade gives you a chance to express yourself. "But it's also the need for privacy in an invasive world—social media being one example," she says. "Black can get you to a meditative feeling."
Where to use it: Back panel of a book case, doors inside your home, or behind a flat screen TV. "It makes the screen disappear when the TV is off, and gives a theater-like presentation when it's on," says Schlotter. Use this color above wainscoting painted a warm white, or pair with periwinkle accents, as shown in this living room.
Recommended sheen: Matte is fantastic, says Schlotter. But use a more washable paint (meaning a higher sheen) for doors and other surfaces that have to withstand small handprints and big messes.
Where to buy it: Lowe's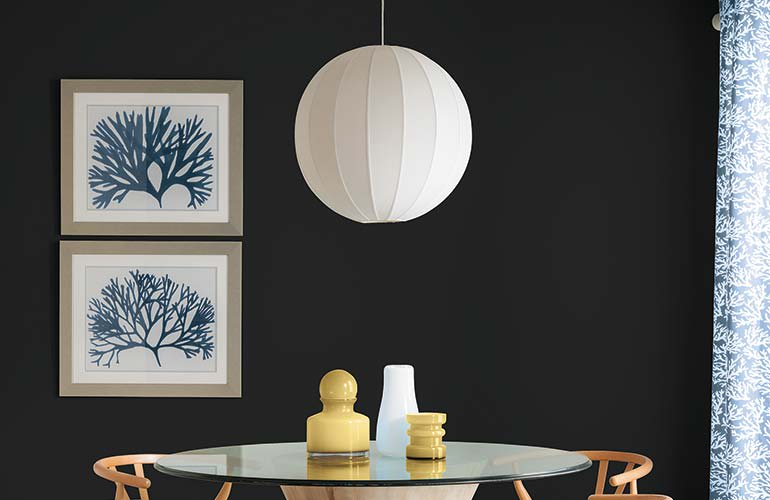 Glidden: Deep Onyx 00NN 07/000
Described as: A true black, with no hints of blue, says Misty Yeomans, color marketing manager for Glidden.
Why it's hot: "It's reflective of all the things going on in society," she says. "There's a lot of protesting, rebellion, and negative news, so we are reacting to that. But there is also a level of privacy and protection that black offers."
Where to use it: An accent wall or a bathroom, for starters. In this dining area, the black is paired with a clean white for contrast, while the vintage yellow and blue accents add interest.
Recommended sheen: Matte black looks stunning, says Yeomans, and makes a beautiful impression. For a front door, use a high gloss finish for a touch of elegance.
Where to buy it: Home Depot, Walmart, and paint stores
Best and Worst Paints in CR's Tests
No matter what color you paint your walls, you'll want to use a paint that lasts. You can find all these brands in our interior paint ratings, plus dozens more. Years of testing found that a brand's flat, eggshell, and semi-gloss formulas perform similarly overall in our tests, so we've combined the scores to make it easier for you to shop.
In our test of interior paints, we make durability an important factor in our evaluation. We test how well a paint repels stains, holds up to scrubbing, and holds its sheen—and of course how smoothly it goes on. We give higher marks to paints that cover an old color best with just one coat. And to help you pick the right paint for your project, we evaluate how well a paint resists fading and mildew.
Take a look at the paint buying guide, your ultimate primer.
Shopping links are provided by eBay Commerce Network and Amazon, which makes it easy to find the right product from a variety of online retailers. Clicking any of the links will take you to the retailer's website to shop for this product. Please note that Consumer Reports collects fees from both eBay Commerce Network and Amazon for referring users. We use 100% of these fees to fund our testing programs.