When you shop through retailer links on our site, we may earn affiliate commissions. 100% of the fees we collect are used to support our nonprofit mission.
Learn more.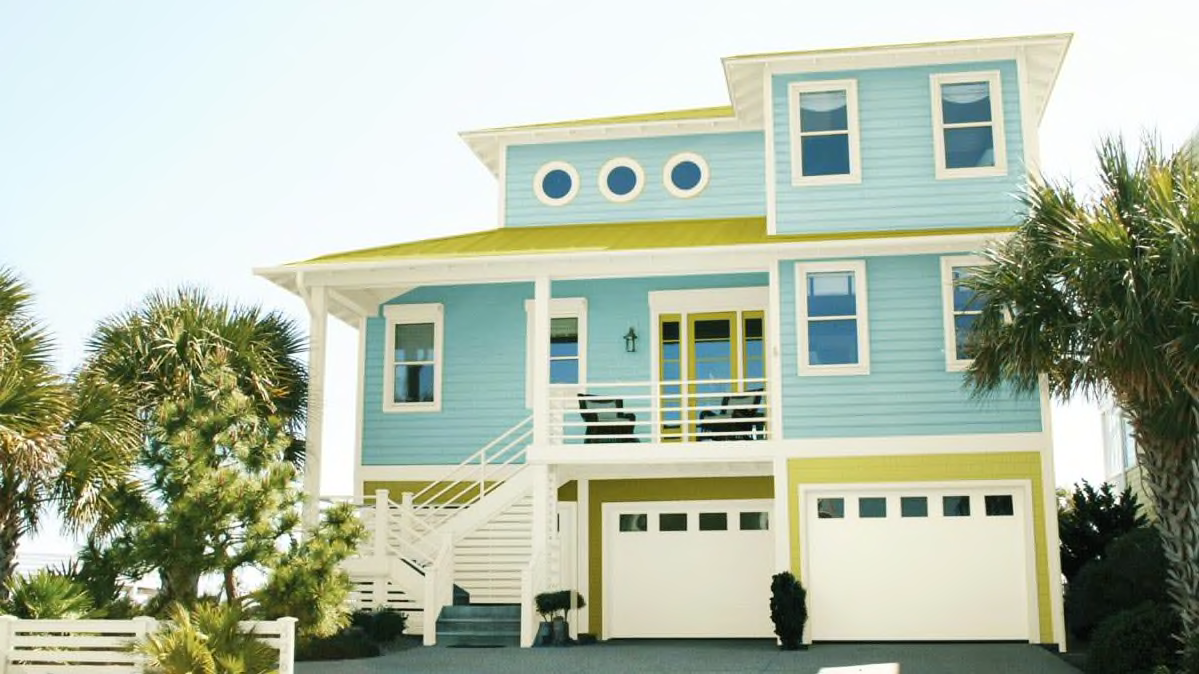 Over the past decade, manufacturers have made exterior paints more durable. Most of the exterior paints in Consumer Reports' ratings will look good for nine years or longer. That's great news—if you love the colors you choose.
"The right paint color can emphasize attractive details, minimize less appealing features, and change the overall appearance of your home," says Erika Woelfel, vice president of color and creative services at Behr.
Given the scale of this project, and the expense, it's understandable why so many homes are painted neutral colors—especially if you're thinking of selling your house in a few years.
Further, warm neutral palettes continue to be a popular choice, since fixed elements on the home—think brick and stone—are warm materials, says Sue Kim, senior color designer for Valspar. But as blues and grays became popular colors for a home's interior, we're seeing a slight shift in their popularity for exteriors, too. Another reason house colors are changing? As younger home buyers move to the suburbs, they can bring urban style to their new neighborhoods, says Kim.

A good place to begin your color research? Paint manufacturers offer collections and curated palettes on their websites. And manufacturer's digital tools allow you to upload photos of your home and play with different colors that work well with the style of your home and setting.
Below, in alphabetical order, we highlight brands that scored well in our tests, plus the color palettes that each brand recommends.
"Keep in mind, a brand may offer several different paint lines, and they do not perform the same," explains Rico de Paz, the engineer who oversees Consumer Reports' tests of paints and stains. "Often lines are at different price points, and have different components—making some paints more durable than others."
For the longest lasting paints, zero in on the ones in our exterior paint ratings that received Very Good scores in appearance after nine years.
Behr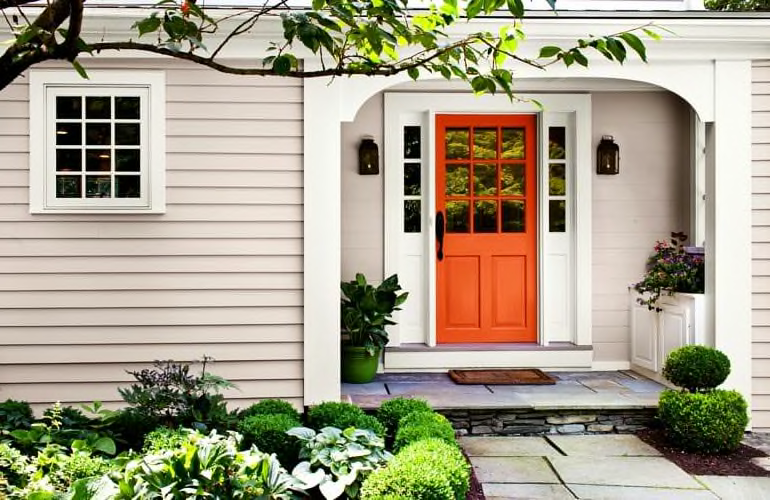 Palette: Greige, a grayish beige, is a popular neutral. This house is painted Off the Grid T18-08, a greige hue. It's paired with trim and shutters painted Soft Focus T18-09. "Make a statement on the front door with a bold hue like Spiced Berry S150-6 or Civara T18-02 (shown here)," says Behr's Woelfel.
Sheens: Flat for the body of the house, and semigloss for everything else.
Tips from Behr: Tour your neighborhood, scroll Pinterest, or browse shelter magazines for house styles similar to your own, and note which shades catch your eye, says Woelfel. "You can also pull colors you love from your interior decor and tone them down a bit for exterior use, which would unify the house with a cohesive design."
Where to buy: Home Depot
Benjamin Moore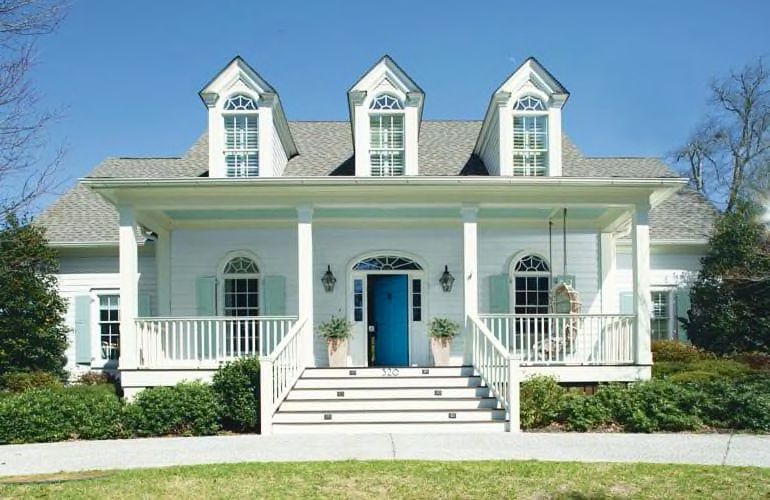 Palette: The body of the house and trim are painted Distant Gray OC-68. The shutters and porch ceiling are done in Harbor Haze 2136-60, and the door, in Cool Blue 2058-40, welcomes you in.
Sheens: Low luster for body of the house and trim, and satin for the shutters and door.
Tips from Benjamin Moore: "Using the color from the shutters as a guide is a subtle way to introduce color to the ceiling," says Andrea Magno, a color and design expert at Benjamin Moore. "This will make the transition from the wall to the porch ceiling a bit softer and will bring dimension to the space without breaking the unity of existing colors."
Where to buy: Select paint and hardware stores
Clark+Kensington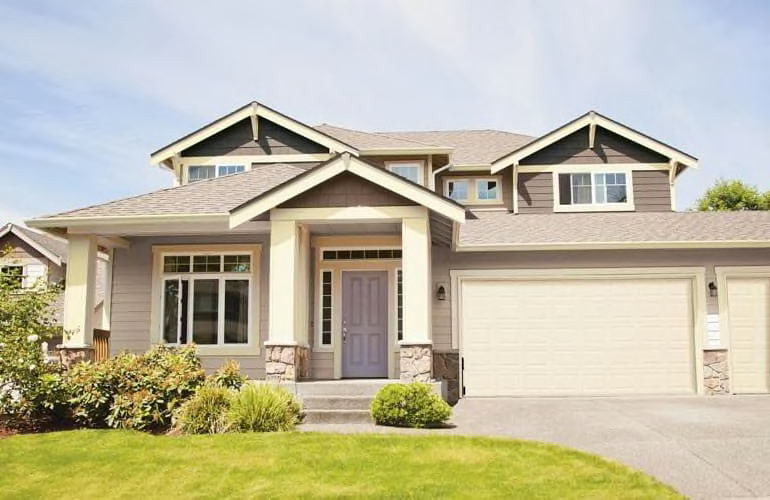 Palette: Adobe Hut N-C3 is in the greige family, and is used here for the home's exterior. Whipping Cream 17A-1 covers the trim and garage doors, and, to add interest, the front door is painted Purple Energy 5056.
Sheens: Flat seems to be a popular choice for a home's exterior, says Julie Elrod, a spokesperson for Ace Hardware, manufacturer of the Clark+Kensington paint brand. For the front door, typically you'll want to use semigloss for its durability, and you can easily wash it when needed.
Tips from Clark+Kensington: Take a look at the elements on and around your home that you do not plan to change, such as the roof, stone, brick, and landscaping. Select your color scheme by finding colors that work best with those elements, says Elrod.
Where to buy: Ace Hardware
Glidden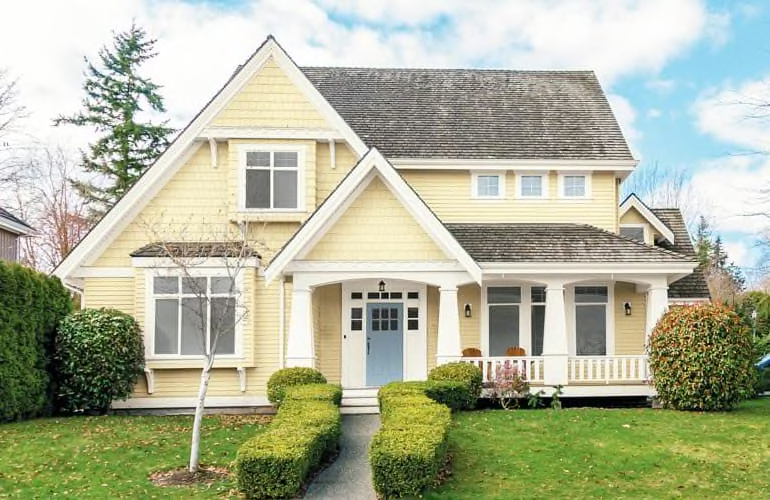 Palette: This soft yellow, Country Cream 40YY 72/164, is paired with Natural White 50YY 83/029 for the trim. The door is painted Oxford Blue 10BB 40/090 for a classic look.
Sheens: Flat is commonly used on the body of the house, while satin is used for trim and accents, say the experts at Glidden.
Tips from Glidden: "If a home's flower beds are ripe with roses, consider painting the front door red to reinforce the hue," says Misty Yeomans, senior color marketing manager at Glidden. Does a garden full of sunflowers greet guests? Choose a yellow hue for the front door. "The dual impact of the colors gives the doorway a welcoming feeling and will add to the home's curb appeal," she says.
Where to buy: Home Depot, Walmart, and paint stores
Sherwin-Williams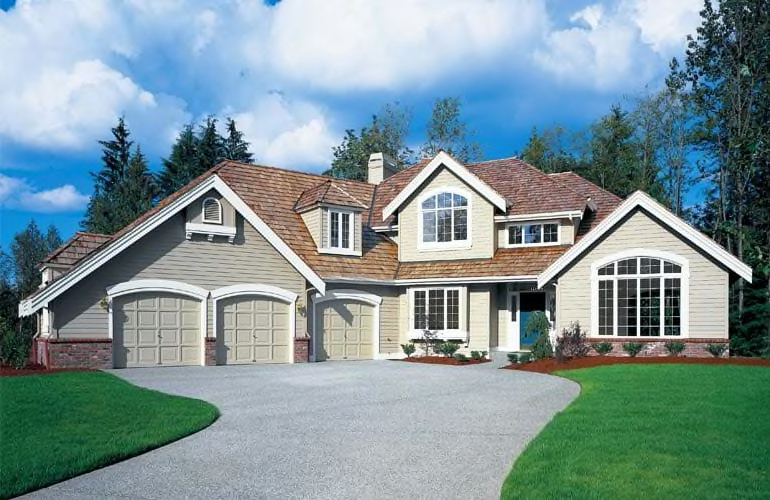 Palette: Neutral Ground SW 7568 covers the main part of the house, and the trim is Extra White SW 7006. The door, in Connor's Lakefront SW 9060, adds contrast. (The image at the top of this story—the blue beach house—is also from Sherwin-Williams. It's painted Festoon Aqua SW 0019, Luau Green 6712, and Zurich White SW 7626.)
Sheens: Flat is ideal for the body of the house, while satin works best for trim and shutters. Semigloss or high gloss are ideal for doors.
Tips from Sherwin-Williams: "Start by looking at which colors your neighbors have chosen and avoid using those exact same shades," says Sue Wadden, director of color marketing at Sherwin-Williams. "Instead, choose a color that complements them—this curb appeal trick will benefit you and your neighbors."
Where to buy: Sherwin-Williams stores
Valspar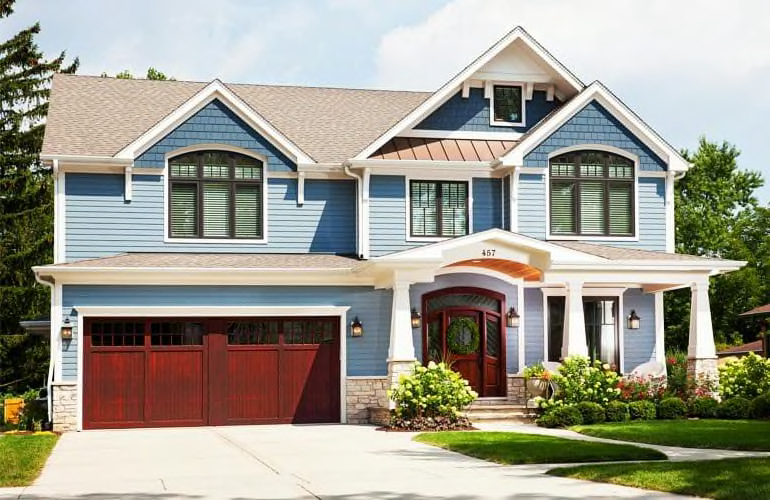 Palette: Coventry Blue 4005-5C was used for the body of the house, and a darker hue, Blue Sash 4005-6B, draws your eye to the gables. The white trim, Du Jour 7002-6, adds a crisp touch.
Sheens: These colors work best in satin, says the manufacturer.
Tips from Valspar: "Take your time when considering color," says Valspar's Kim. "Buy a few color samples to paint different colors on different corners of the house, and observe them for a day or two." And you can always try a new color on the front door or shutters.
Where to buy: Lowe's
Lab Tested for Your Home
You'll find 15 paints in our exterior paint ratings with Overall Scores that range from 30 to 75. Our tests have found that a brand's flat, eggshell, and semigloss paints perform similarly overall, so we combine the scores to make it easier for you to compare brands.
When comparing paints, click the Features & Specs tab in our exterior paint ratings. Sunny, hot, and dry climates require paint that resists cracking and fading, and you'll see this information there. Warm and humid areas call for paint that's mildew resistant, and homes in the desert or the city need paint that prevents dirt from sticking.
How to Paint
Do you have some painting projects planned for your home? On the 'Consumer 101' TV show, Consumer Reports' expert Rico De Paz shows host Jack Rico how to give walls the perfect coat.