When you shop through retailer links on our site, we may earn affiliate commissions. 100% of the fees we collect are used to support our nonprofit mission.
Learn more.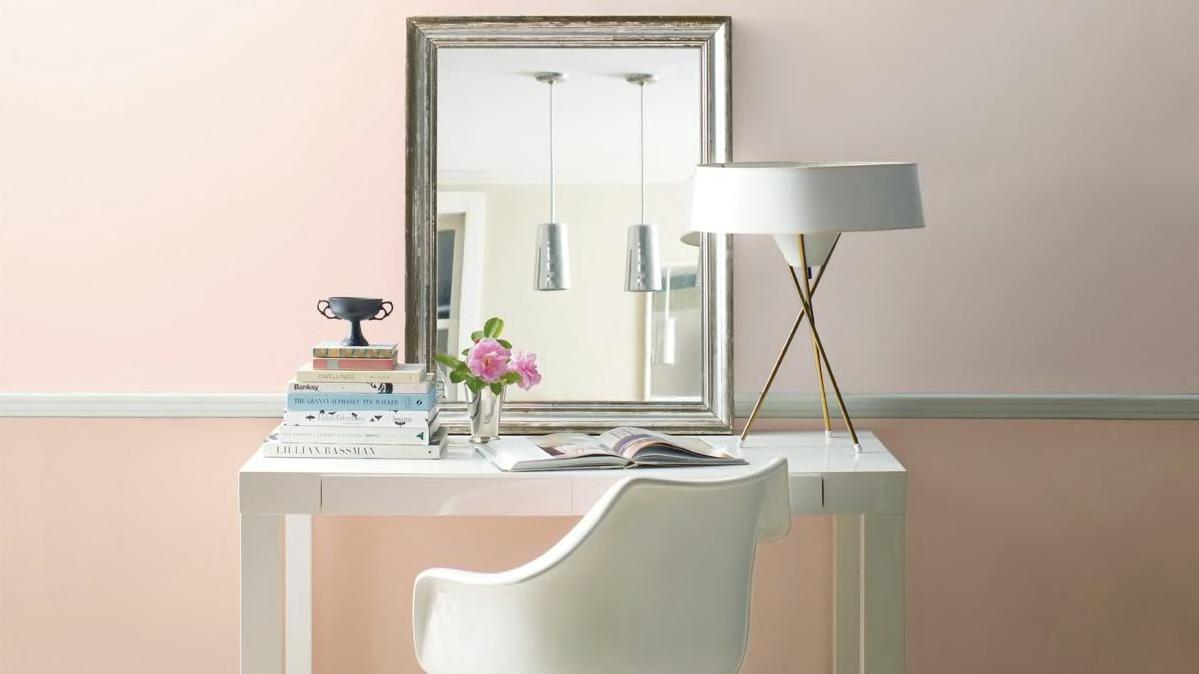 Soft shades of pink became so popular in recent years that they spread beyond fashion and popped up in icy drinks, classic cookware from France, and a zillion other things, spawning the term millennial pink—a hue trendy enough to capture the spirit of a generation.
Millennial pink isn't just one color but a range of pinks that are sophisticated and surprisingly versatile. Color experts from major paint manufacturers say that even as Generation Z looks to make its mark with variations of yellow, millennial pink remains widely used for home décor.
"Its classic aesthetic promotes calmness and a softness that helps consumers escape the 'digital noise,'" says Misty Yeomans, Glidden's senior color marketing manager. Glidden's China Silk is one example.
Once upon a time, pinks were limited to little girls and their bedrooms, but no more. And that shift isn't limited to millennial pink.
"The entire pink family is going through a bit of a renaissance right now," says Erika Woelfel, vice president of color and creative services at Behr. "We're seeing a wider range of pink tones used across myriad styles."
That's why we asked five color experts from major paint brands to recommend interior paint colors from this palette. Here's what they have to say. To see how well these paints performed in Consumer Reports' tests, check our interior paint ratings.
Benjamin Moore
Proposal AF-260 (walls), Camellia Pink 2093-50 (dresser)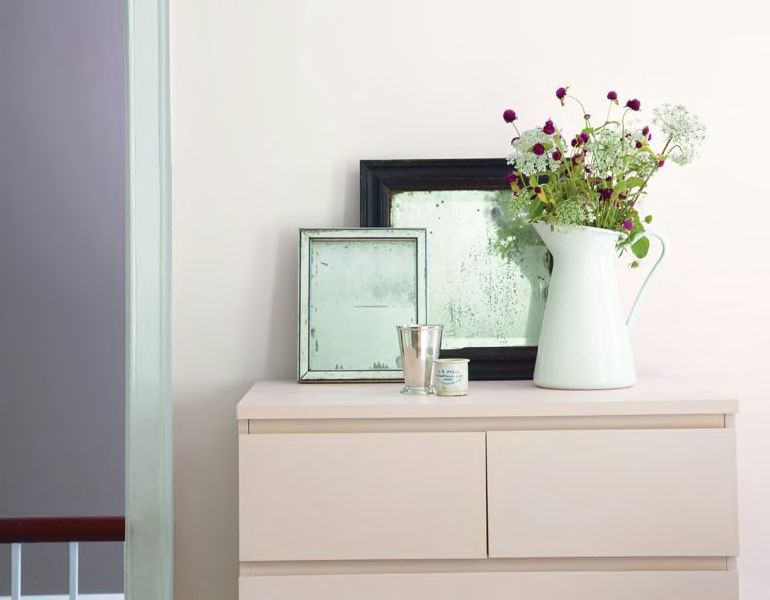 "We've seen a range of pinks being used in interiors," says Andrea Magno, a color and design expert at Benjamin Moore. "From off-whites with the slightest hint of pink, such as as White Opulence OC-69 to Pleasant Pink 2094-60, to deeper pinks, such as Cranberry Cocktail 2083-20, for a stronger color statement."
CR's take: Benjamin Moore Aura, $70 per gallon, scores Excellent in our hiding tests, covering most colors in one coat and the darkest colors in two. Benjamin Moore Regal Select, $54, earns a score of Very Good in hiding. Our interior paint ratings also tell you how well a paint resists stains and mildew, how smooth a surface it leaves, whether you can skip priming, and more.
Where to buy: Select paint and hardware stores
Behr
Positively Pink T18-01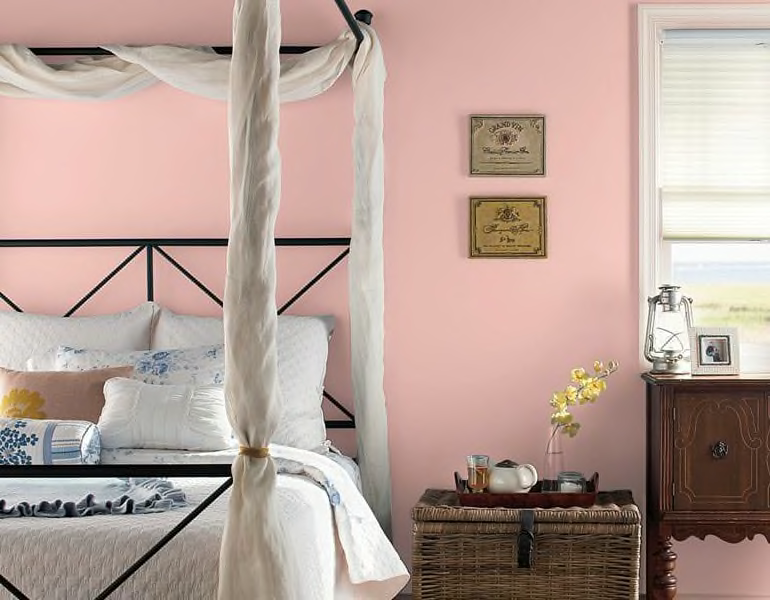 "Positively Pink is a gentle, nostalgic shade that falls somewhere between rose and apricot," says Behr's Woelfel.
CR's take: You'll see three Behr paint lines in our interior paint ratings. Behr Marquee, $43 per gallon, scores Excellent in our hiding tests. Behr Premium Plus Enamel, $28, scores Very Good in our surface smoothness tests, and Behr Premium Plus Ultra, $36, earns an Excellent score in our scrubbing tests, telling you how well this paint withstands scrubbing.
Where to buy: Home Depot
HGTV Home by Sherwin-Williams
Lotus Flower HGSW2046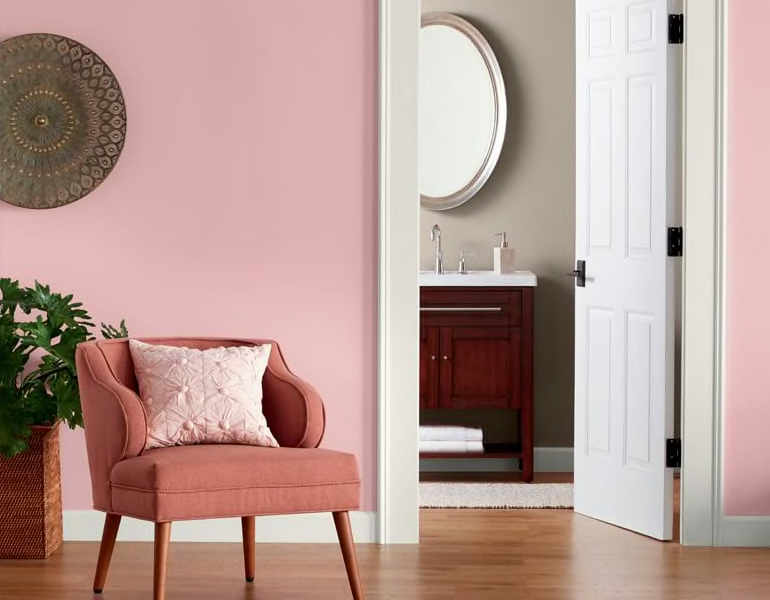 "Lotus Flower is a great color for a bedroom or bathroom, but now, thanks to the millennials, would be a widely accepted color in a living room," says Ashley Banbury, senior designer for HGTV Home by Sherwin-Williams.
CR's take: HGTV Home Infinity by Sherwin-Williams, $47 per gallon, scores Very Good in our hiding tests. HGTV Home Ovation, $29, and HGTV Home Showcase, $40, earn Good scores in these tests. Check the interior paint ratings for more details on what our tests reveal.
Where to buy: Lowe's
Sherwin-Williams
Fading Rose 6296
"Millennial pink can be an easy addition to a living space, and it's a beautiful complement to gray," says Sue Wadden, director of color marketing for Sherwin-Williams.
CR's take: Sherwin-Williams Emerald, $65, scores Good in our hiding tests, and Sherwin-Williams Duration Home, $61, does, too.
Where to buy: Sherwin-Williams stores
Valspar
Long Shadow 1004-3B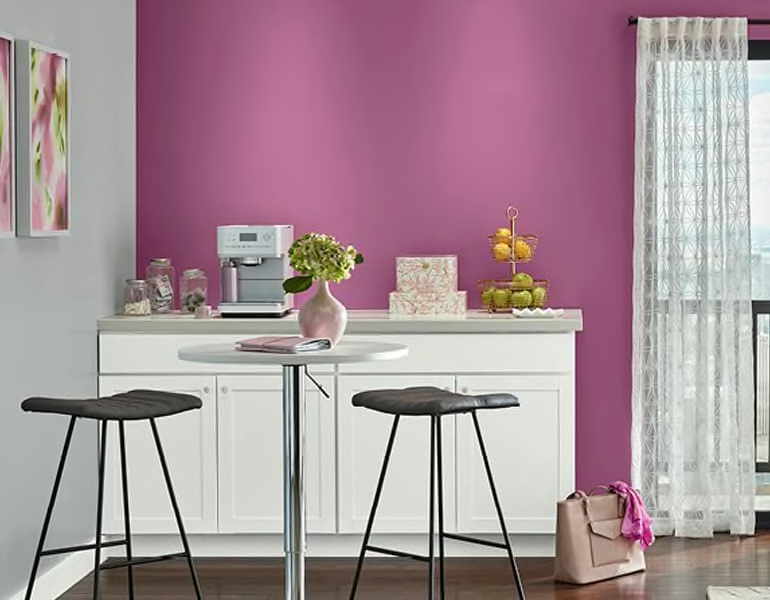 "Millennial pink has transformed over time into more of a berry pink with a hint of purple," says Sue Kim, senior color designer for Valspar. The brand's Long Shadow is one example of this. "This purple-pink hybrid is youthful, optimistic, and brave."
CR's take: Valspar Reserve, $44 per gallon, scores Excellent in our hiding tests. Valspar Signature, $34, scores Good in this test, and Valspar Optimus, $47, scores Very Good in our surface smoothness tests.
Where to buy: Lowe's (Valspar Reserve and Signature), and Ace Hardware (Valspar Optimus)