Is It Time to Get a TV Antenna?
How you can benefit from the return of old-school antennas and free over-the-air TV Just like turntables and LP records, TV antennas have made a comeback. But unlike the vinyl revival—which feeds on nostalgia and the appeal of old-school analog audio—the antenna resurgence is fueled by consumers looking to save money.
And the surge in antenna use is considerable. Twenty-five percent of all U.S. broadband households now use an antenna to watch local TV channels, according to the research company Parks Associates, up from just 15 percent in 2018.
Is an Antenna Right for You?
People who are thinking about buying an antenna frequently ask two questions. Will the antenna get good reception? And will it be hard to install? In brief, the answers are it depends, and no.
Reception
Several things can affect the quality of your reception, but the main factors are your distance from a broadcast tower and whether there are any obstructions, such as trees or mountains, that can get in the way. Websites such as AntennaWeb can help you make an informed guess as to the type of antenna you'll need and how many stations you can expect to pull in. You won't have to lay out a lot of money to find out whether an antenna works well at your home. Consumer Reports has tested antennas selling for as little as $20, and even relatively pricey models typically cost $80 or less. Just check the return policy before you buy one.
Those prices might seem like even better bargains fairly soon because a new over-the-air standard for broadcasts called ATSC 3.0 is now rolling out. Among other enhancements, the new signals can carry internet content alongside traditional TV broadcasts. That means you may be able to stream some shows right over the air. The new broadcasts will also support 4K video and high dynamic range (HDR) content.
Provided you do get good reception, the picture quality might actually be better than what cable provides. "The signals may be less compressed," says Claudio Ciacci, the lead television tester for Consumer Reports. "And many stations now offer subchannels with programs such as older TV shows or public channels that may not be available on cable."
Installation
Though it can be useful to have an antenna on your roof, indoor antennas work well in many situations. They're very easy to set up. And they look better than the old-fashioned rabbit-ear models with the tinfoil flags that people used to add to them. Companies such as Antennas Direct and Mohu offer attractive designs, including flat models that can be painted to match a wall.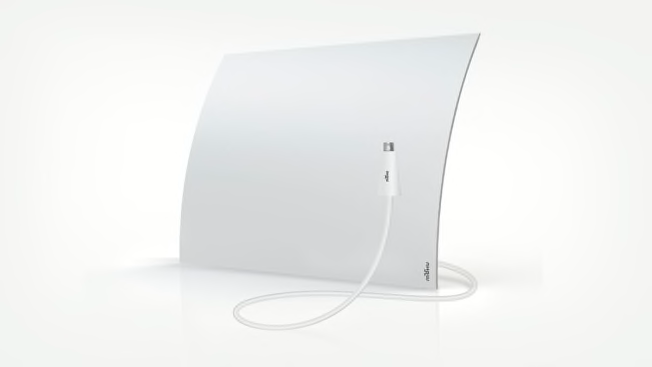 Tips for Better Reception
TV antennas can require some fiddling. Consumer Reports has a whole bag of tricks to help you get the best reception. But start with these simple tips.
• Try the antenna in different spots around the room, preferably near a window. Or see whether placing it in a higher location, such as high up on a wall or in an attic, helps.
• Try an amplified TV antenna if you live far from a broadcast tower or your reception is marginal.
• Rescan for channels periodically. It's easy to do, and you might get a new station or two.
Think TV antennas are obsolete? Think again. On the "Consumer 101" TV show, Consumer Reports expert Jim Willcox explains to host Jack Rico why this classic technology is making a comeback.