When you shop through retailer links on our site, we may earn affiliate commissions. 100% of the fees we collect are used to support our nonprofit mission.
Learn more.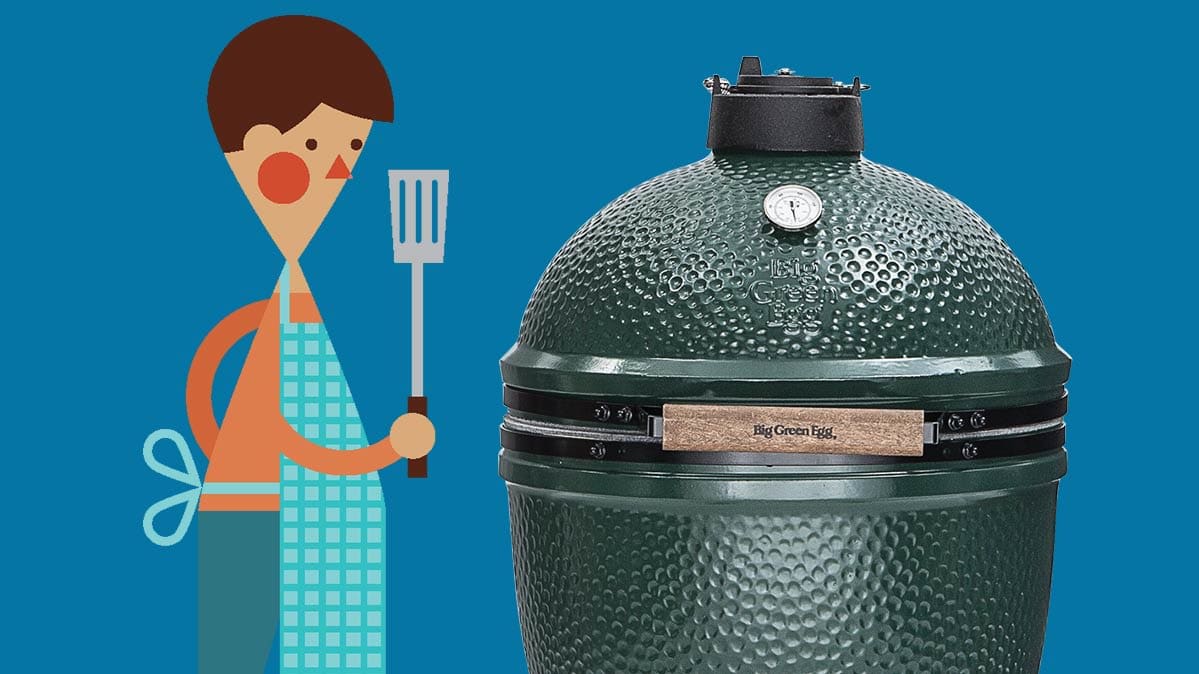 Illustration: Patrick Hruby
We aren't here to judge the cultural phenomenon that has formed around the Big Green Egg since its 1970s debut. Let's just say that this ceramic beast of a charcoal grill and smoker has hatched numerous copycat cookers and die-hard devotees who call themselves Eggheads.
We can, however, evaluate its performance and help you answer the question: Does anyone really need to drop $1,000 on the Big Green Egg? Especially when competitive kamado grills can be had for as little as $300, not to mention that some great gas grills—as well as the top-rated charcoal grills from our tests—start around $100. (Pellet grills are an alternative to the Big Green Egg, and they start around $400.)
But the Big Green Egg was never trying to supplant gas and charcoal grills and, frankly, its design has little in common with traditional grills.
Rather than adjusting gas burners or arranging charcoal briquettes as you would in a conventional charcoal grill to concentrate heat, you fill a kamado grill's lower hemisphere to capacity with lump hardwood charcoal. Once the coals are going, the design starts to make sense: Cast-ceramic walls an inch thick and a heavy lid with a heatproof gasket team up to trap heat. That allows you to use the dampers to precisely control the temperature.
"The Big Green Egg was the only widely known kamado grill for years," says Mark Allwood, a market analyst who oversees grills for Consumer Reports. "But in the past few years, we've seen lots of kamado models from other brands trying to capitalize on the popularity of the Egg." (The category gets its name from the ancient Japanese cooking urn.)
We were wowed by the Big Green Egg a few years back when we compared it with a conventional charcoal grill. But with so many newcomers to the kamado market, we wondered whether it was still a smart buy.
To answer that question, our team of engineers tested a batch of metal and ceramic kamado grills at prices from $300 to $1,500. The brands included Weber, Kamado Joe, Vision, Pit Boss, Broil-King, Char-Broil, and Char-Griller.
How CR Tests Kamado Grills
We started by assessing the cooking performance of each kamado. Could it get thin-crust pizza hot enough to crisp the crust without burning the toppings? Next, we used pork shoulder to see whether the grill could cook low and slow for long stretches, all while maintaining a consistent temperature.
Every kamado grill we tested excels in our cooking tests, but they differ significantly in two key areas: convenience and cleaning. The best kamados not only cook well but also make it easy to build a hot fire or dial down the temperature for ribs or brisket. They're also easy to clean. Many have ash catchers, or trays, while others need to be disassembled for a thorough cleaning.
If you're curious about kamados, our grill buying guide is a great place to learn a little more about the landscape. CR members can also access our ratings of gas, charcoal, and kamado grills.
CR members can read on for our in-depth test results for the Big Green Egg.
And regardless of which kamado grill you use, there are certain tips that will help ensure great results. Below, we've highlighted five of the foods that we think are best on a kamado and provided expert tips for preparing each.
Detailed Test Results for the Big Green Egg
Kamado grills, including the Big Green Egg, are designed to maintain low temperatures for long, slow cooking and produce a roaring fire for searing steaks or grilling pizzas. When we tested the Big Green Egg for both capabilities, it did extremely well, like the other grills in its class.
For the low-and-slow test, our experts had no problem maintaining a temperature of around 330° F for 6 hours. The impressive part is that we didn't need to add coal or adjust the dampers once we dialed in the sweet spot, exactly the kind of control you'd want for ribs or pulled pork.
That's consistent with what we've seen with other kamado grills, particularly ceramic models such as the Egg.
When we tested the Big Green Egg for high-heat cooking, we recorded an average temperature of 850° F at the grates. That's right on a par with other kamados. The temperature is really a function of how big a fire you can build; the larger the capacity of your kamado, the hotter it will get.
In short, the Egg rates Excellent at cooking, just like every kamado grill we've tested.
We started to see big differences, though, when we looked at features, convenience, and cleaning.
Convenience and Cleaning
Where the Egg starts to fall behind the competition is in the not-so-subtle touches that can make these massive grills easier to use.
The Egg has basic wood shelves and a lower damper that we found can be a bit difficult to operate. And you have to remove the grates and a heavy ceramic ring to scoop out residual ash when you clean it.
Plenty of the kamados we tested have clearly drawn inspiration from the Egg but improved upon its design.
Some light charcoal automatically, while others have dampers that are numbered and easy to turn, making it much simpler to control the heat and replicate results.
The Egg earns ratings of Good for convenience and cleaning. Many competitive models earn ratings of Very Good or Excellent in either or both of those tests.
Should You Buy a Big Green Egg?
It might surprise you to learn that despite being the first of its kind, the Egg actually comes in dead last among the kamado grills we tested. That doesn't mean it can't deliver on its crucial promises: It can get roaring hot and hold a low, steady temperature for hours on end. But so can the others.
The Egg is like the most basic trimline of a luxury car. It's a great place to start, but in this case you can actually pay less for a model that's decked out with more features. Some kamados cost more than the Egg, but in each case our experts found that those extra costs were worth it.
Here, we've highlighted three of the very best kamado grills from our ratings and explained what makes them such stellar alternatives to the Big Green Egg.
5 Tips for Great Results on Any Kamado Grill
A kamado grill can provide a greater temperature range than any other type of grill, but it also works differently from gas, pellet, or charcoal grills. You'll need to practice using the dampers to control the heat. Regardless of which model you purchase, these five tips will help you get great results when cooking on a kamado grill.
Brisket and Ribs
Use a heat-deflecting plate (included with the Kamado Joe featured above and sold as an extra for other models, including the Egg) to protect slow-smoked meats from drying out during cooking. The plate is usually an inch-thick ceramic disc that doubles as a pizza stone.

Chicken
Thin pieces can be cooked with the lid open the entire time. For thicker pieces, or a whole chicken, close the lid and control the temperature with the dampers.
Veggies
Skewer smaller vegetables like button mushrooms, cherry tomatoes, or cut pieces of peppers to keep them from falling through the grates on your grill, because the gaps on kamado grills can be larger than those on gas.

Pizza
Heat the pizza stone (included with most kamados, but sold as an extra for the Big Green Egg) in the grill, then dust it with cornmeal to prevent sticking. Dust the underside of your pizza and pizza peel, too.

Fish
Hearty fish like salmon, tuna, and swordfish stand up well to smoke—imparted by cooking with a mix of charcoal and wood chips or wood chunks. For more delicate fish like sole, tilapia, or bass, try cooking with charcoal only because the smoke flavor can become overpowering.