Do You Need WiFi to Cook a Roast?
A viral tweet about GE smart ovens raises questions about connected appliances David Barnard was baking vegetables in his new $3,600 GE wall oven in early March when he decided to try the Convection Roast mode to caramelize his veggies. But upon selecting the mode from the oven's touch screen, he was presented with a message saying he would have to connect his oven to WiFi to unlock the feature.
"So then I sit down on the kitchen floor, download the app, [and] go through this ridiculous onboarding," Barnard said via a video call interview. "They were asking [for] all sorts of personal information, and then I just couldn't get it to work." He ended up airing his frustrations on Twitter, with the tweet going viral and catching the attention of not only GE Appliances but also billionaire businessman Elon Musk.
Barnard's tweet elicited dozens of responses, mostly from other consumers who bristled at the idea of an oven needing WiFi to perform a basic function and the concept of connected appliances in general. Many also said Barnard should return the oven. 
Included in the many reactions was a tweet from Elon Musk: "Basic appliances should not connect to the Internet or have significant compute power or they will/are/have obviously be turned into an army of ddos puppets." Musk, whose car company, Tesla, makes internet-connected cars, was referring to DDoS (distributed denial of service) attacks, where hackers hijack dozens or hundreds of internet-connected devices to bombard a website or company's servers with traffic and make them unusable.
To make sure Barnard's experience wasn't out of the ordinary, a Consumer Reports test engineer tried to use the Convection Roast mode on a connected Café range we happen to have in our test labs. (GE Appliances, which is owned by Haier, also makes the Café brand.) Our test engineer received a similar message saying the feature requires a WiFi connection, despite the range having a physical Convection Roast button.
We also downloaded and created an account with the GE SmartHQ app to see what data it collects. The app asks for your name, email address, home address, precise smartphone location data, and preferred language.
We reached out to GE Appliances to find out why Convection Roast mode requires a WiFi connection, when the company started requiring a WiFi connection, and what it does with the data it collects.
According to Rachael Schwartz, executive director of Cooking Product Management at GE Appliances, this requirement was created as part of the company's new Better with Time product line, which was released in December 2020. The lineup features 17 models with a Convection Roast button that requires an initial WiFi connection to work.
"Our ovens and ranges produced since then have included some features that came already loaded and ready to work on the oven/range, some that update after a one-time connection that enables the unit to check for 'enhanced' features, and some that require a constant connection to access the 'cloud,'" Schwartz says. The Convection Roast mode, along with some other modes, such as air fry and dehydrate, is an enhanced feature, meaning the oven needs to connect to the internet at least once to make sure it's using the most up-to-date software for that mode.
So how does GE determine what's a basic (GE calls them "core") feature and what's an enhanced, software feature? Shawn Stover, vice president of Smart Home Solutions at GE Appliances, says it comes down to usage, as most consumers use the standard Bake mode at 350° F no matter what they're cooking.
Stover also says that after the oven has run the one-time update, the Convection Roast mode and other enhanced modes will work without an internet connection. With that being the case, why require a connection at all? "It's a way to really kind of push that mindset of what's available" in terms of additional functionality, Stover says. The company essentially wants to change the consumer mindset of how an appliance works.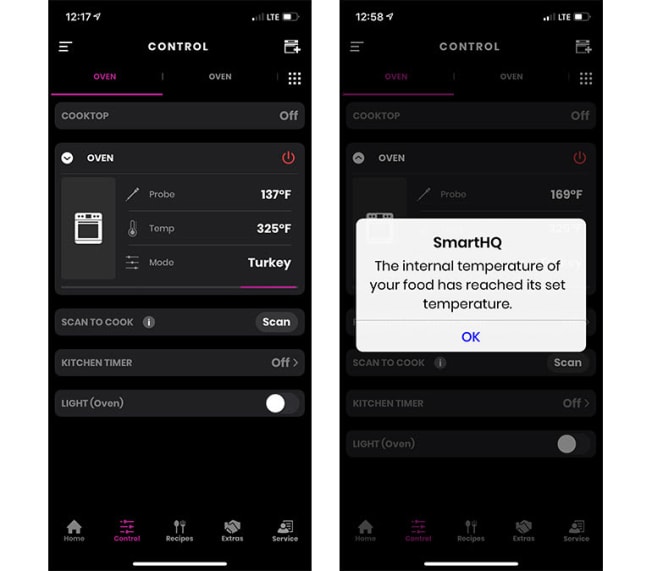 "Consumers no longer have to wait another decade before they enjoy a new way to cook or clean that simply wasn't possible when they first purchased their product," says Wendy Treinen, director of brand and product communications at GE Appliances. "The post-purchased 'new' and 'now' is only possible with software-based solutions."
As for the data it collects, Stover says GE Appliances uses that information to "provide a better experience for our consumers" and to "provide our service technicians the ability to troubleshoot issues and remotely service our appliances." He adds that all data is encrypted and that access to it is limited and requires authorization. The company's connected appliances also hold a Gold Underwriters' Laboratories (UL) IoT Security Rating for their cybersecurity practices. A Gold rating falls in the middle of UL's ratings scale and means the appliances encrypt data, are secure out of the box, and use apps that are monitored for security issues.
We asked GE Appliances how it would respond to customers, such as David Barnard, who argue the company is requiring connectivity for basic functions in order to get them to sign up for the app. Stover says that is not the goal. "If it was, I would make you keep the app to stay connected," he says. He added in response to critics that he hopes the manufacturer has done a good enough job that customers will want to stay connected to take advantage of the many additional features available.
"Using WiFi to bring new features to older ovens is a good thing for consumers, but manufacturers shouldn't require connectivity for features that appear to be built into the oven from the beginning, especially one as common as convection," says Tara Casaregola, who oversees CR's oven and range testing. "Convection ovens predate the invention of WiFi by decades."
In addition to updating existing features on its appliances, GE Appliances is also adding completely new modes and features. Last year, the company released dedicated air-fry and turkey modes for existing ovens via a software update. We evaluated GE's turkey mode last fall, and while it worked, it wasn't without issues.
"We are adding new functionality all of the time," says Stover, adding that the company will release a new steakhouse mode for its ovens next month. "This regular cadence of updates drives consumer benefit through connections and it's an open territory consumers have only begun to explore," he says.
"Only begun," may be an apt phrase. According to a nationally representative survey of 2,036 adults (PDF) conducted by Consumer Reports in October 2021, only 2 percent of Americans own a smart wall oven, range, or cooktop that is connected to the internet. An additional 5 percent of Americans own a smart wall oven, range, or cooktop, but the appliances are not connected to the internet. But appliance makers are committed to the concept, with GE, LG, Samsung, Whirlpool, and more all offering a range of internet-connected appliances.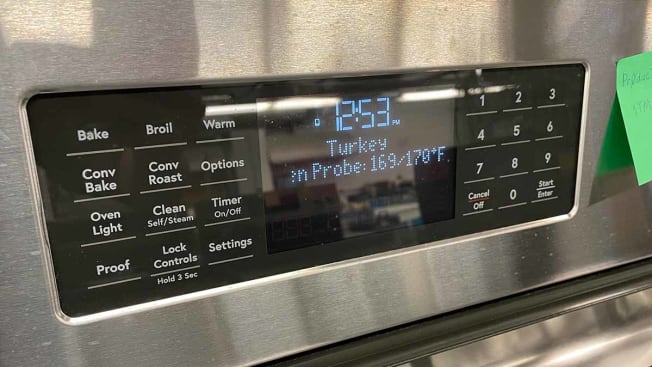 Justin Brookman, CR's director of technology policy, says he can see the benefit of bringing new features to older models, but there are risks to requiring an internet connection that probably outweigh the benefits.
"Most people don't use their ovens in very complicated ways," Brookman says. "They just want them to get hot and cook food. Connecting a device to the internet introduces new security and interoperability risks that for me at least would outweigh the benefit of any new features."
If you already own one of these ovens and don't want to connect it to the internet (even just once for the one-time software update), you'll simply have to forgo using its more advanced features. If you're shopping for a new GE oven, you'll eventually be able to tell which individual features require the one-time WiFi connection and which do not by checking its model listing on the GE Appliances' website.
Current model listings don't provide that level of detail. When asked, Stover said "we did some digging to confirm this is clear on each of the product specification pages, and we've found pages that need additional clarity." The company is working to update those pages but couldn't share the exact timing of those changes because of the various teams and brands involved.
While many consumers complained about the concept of an oven requiring WiFi in response to Barnard's tweet, GE says it has received only two direct complaints from customers, and fewer than a dozen reviews from customers on the company's website mention "concerns about the initial setup and convection roast."
Despite his frustration, Barnard was eventually able to get his oven connected, and he remains excited about the future of the smart home and connected appliances. "I'm not anti-connected devices," Barnard says. "It's just really frustrating that they would break basic functionality of an oven to force you to connect."
If you have questions or concerns, GE Appliances has a dedicated support team for connected appliances available to speak with its customers. You can reach them by email at connected@help.geappliances.com or by phone at 800-220-6899.