Best Melamine Dinnerware Sets
Taking a meal alfresco is a warm-weather delight—if you have the right dishes As much as I love hosting dinner parties and picnics, I'm not inclined to serve everyone chopped salad or hot dogs or whatever on my best Heath Ceramics dinner plates. It's not that I don't respect and appreciate my friends, but when you get enough people together, accidents happen, especially if wine is involved or children are present. And while paper plates are certainly an option, they do not convey elegance—and some of them may contain PFAS, dangerous "forever chemicals" that have been linked to numerous health issues. 
Editor's Choice: Certified International Talavera 12-Piece Melamine Dinnerware Set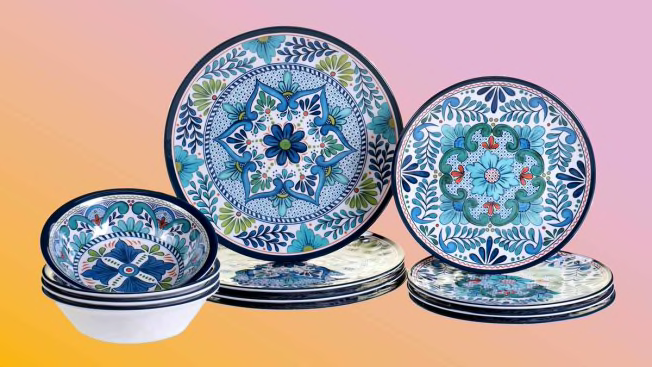 Number of pieces in set: 12
Price: From $47
Where to buy: Amazon, Bed Bath & Beyond, Target
These flawless, medium-weight plates and bowls are ideal for almost any situation in which you might require unbreakable plates. They have a wholesome design that will appeal to many tastes—I tend to prefer a simpler, more modern look, and even I adored these. The pattern is modeled after traditional talavera, a type of hand-painted, handmade pottery that originates in Mexico. However, it's worth noting that these plates and bowls are not true, certified talavera, which must be made in Puebla, Mexico, and meet particular standards established by Consejo Regulador de Talavera, a regulating authority. 
This is a well-balanced set, with four dinner plates, four salad plates, and four all-purpose bowls that are small enough for cereal but wide enough for small salads or pasta. There are no flaws that I could detect on these pieces—they sit evenly, have smooth, unblemished glaze, and don't scratch beneath knives and forks. They made a loud clatter when dropped (as all these plates did) but did not break. I found the design charming and sweet and loved eating my morning eggs and toast or Wheat Chex out of one of these pieces.
These beautiful plates and bowls are neither especially heavy nor flimsy, making them a great option for a camping trip, a picnic, or a dinner party. However, if you're planning to walk long distances with this set, you may want to opt for one of the lightest sets that we evaluated. Though the lighter sets have a flimsier feel, they're easier to carry. 
Most Elegant Set: Sandia Melamine Dinnerware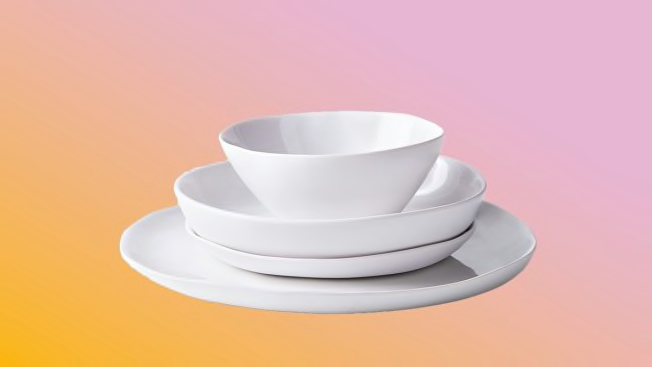 Number of pieces in set: 16
Price: $192
Where to buy: Food52
Having a dinner party? This is the set you're going to want to impress your guests with. It's chic and simple, with a unique, irregular edge and a high-shine glaze. We evaluated the white set, which is basic enough for almost all palates, yet the interesting shape elevates each piece into something unusual and graceful. 
This is a full set, with pasta bowls, cereal bowls, salad plates, and main plates, ensuring that your entire meal can be served on matching dishes. These are among the heaviest dishes we tried, which adds to each piece's elegance but also means it's less than ideal for picnics or camping—this is better for parties on the patio or poolside instead. 
A few things about this set keep it from being our No. 1 pick. Sections of the glossy interior glaze have a slightly gritty texture when you drag your fingers across them. It's not visible, but you can feel it, which in my mind makes it a minor issue, but a flaw nonetheless. And the cereal bowl has a narrow base, which gives it an unconventional look but also renders it less stable. Children, clumsy people (hi), and others with mobility issues may find that this bowl, specifically, is not ideal, not because the bowl will break (these pieces stayed intact when we dropped them), but simply because, well, your food will spill out of it. 
Best Set for Kids: Zak Designs Confetti 12-piece Dinner Plate, Salad Plate and Bowl Set
Number of pieces in set: 12
Price: From $48
Where to buy: Amazon, Target, Walmart
We bought this 12-piece set in the white colorway, which means the speckled pattern delightfully resembled a funfetti cake. These adorable dishes are among the most lightweight of any we tried, so they're a great option when you'll be carrying them longer distances than just to the backyard. They're also a great option for children for this reason, or for others who prefer their dinnerware to be lightweight, resilient, and easy to carry. The flip side, though, is that some people may think these plates feel flimsy, so if you're looking to impress anyone over the age of 12, this probably isn't the right set. 
This set did not scratch or break and has no visible flaws. The cereal bowl is deep, with a medium-wide base that made it ideal for my morning bowl of Chex; a child could be trusted to eat their Cheerios from this bowl without too much trouble. The set also includes 11-inch dinner plates and 9-inch salad plates. It lacks versatile wider salad/pasta bowls, which is a miss, but not enough of one for us to not recommend this set. 
Best Budget Set: The Pioneer Woman Country Splatter 12-Piece Melamine Dinnerware Set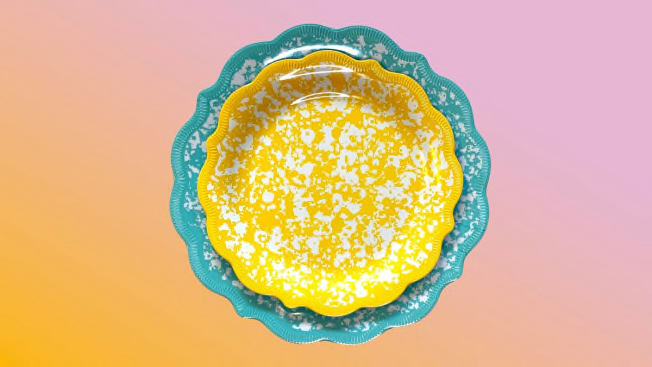 Number of pieces in set: 12
Price: $27
Where to buy: Walmart
This inexpensive melamine set has an innocent, old-fashioned look that's styled to resemble enamel graniteware. The vivid, speckled colors don't quite look like the real thing—the pattern is a bit too large, the design too uniform—but it's charming enough, and would look cute at a casual potluck.
These pieces are neither flimsy nor especially heavy, so they'll work for a variety of purposes: kid's birthday parties, burgers and hot dogs by the campfire, slices of watermelon next to the pool. The fun pattern and the striated, wavy edges have a cute paper-plate appearance. Altogether, this set, with its enamel look, paper plate border, and petal-y edges, feels a bit much, as if it wants to be too many things at once. At almost 9 inches in diameter, the bowl is on the large side, too, a bit bigger than your standard cereal bowl but steeper than a pasta or salad bowl. 
Despite the handful of downsides to this set, it's still not a bad buy. It's cute in a guileless way, with no flaws, no scratching, no breaking, and a good price. For those casual summer hangouts, this is the almost perfect set. 
Other Melamine Dinnerware Sets We Evaluated
Fingerprint Magnet: Modern Melamine Dinnerware (Set of 16)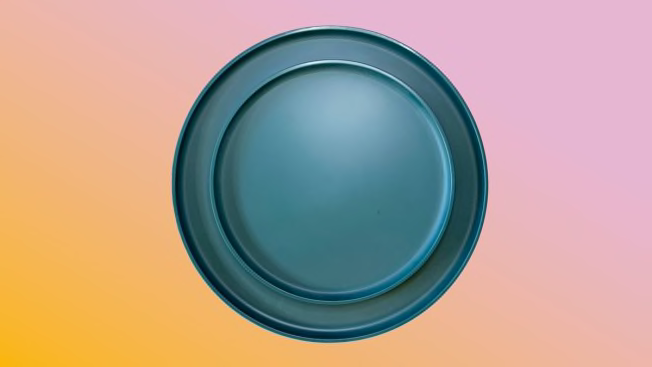 Number of pieces in set: 16
Price: $152
Where to buy: West Elm
First, the good stuff: these are a lovely, deep teal that West Elm calls "silver pine" that sets off food beautifully. Bright, leafy green salads pop, and intensely red shakshuka is complemented by the rich hue. The plates and bowls have a modern, angular shape that is more distinguished and serious than it is fun. It's a big, well-balanced set, with the right piece for any dish. The bowl is on the small side, with a 5-inch diameter, so it's better for muesli or snack-sized servings of cereal. The dinner and salad plates come with a short, vertical edge, and the pasta bowl is a welcome addition. 
These pieces are on the heavy side, so the set is not the best option for picnics or the beach, but it has a refined, chic design that looks right at home at a stylish backyard dinner party. And nothing broke when dropped: We checked. (Though they're especially loud when they hit the floor!)
The downsides? Steak knives scratch the plates, and the pieces smudge. No matter how thoroughly I cleaned my hands, merely handling these dishes left them covered in filthy-looking fingerprints. (And no, my hands are not sweaty or gross. They tend to run papery, which is its own issue!) It's possible that the lighter colors wouldn't show smudge marks and scratches as easily as this dark teal, but because we didn't try them, we can't say for sure. Serving my guests on dishes that look dirty personally makes me uncomfortable, even if I know they're clean. 
Although these pieces are a beautiful color and shape, the quality isn't there. For $150-plus, you can do better. 
Best Set for Fans of Mawkish Still Lifes: Sur La Table Maravilla 12-Piece Outdoor Melamine Dinnerware Set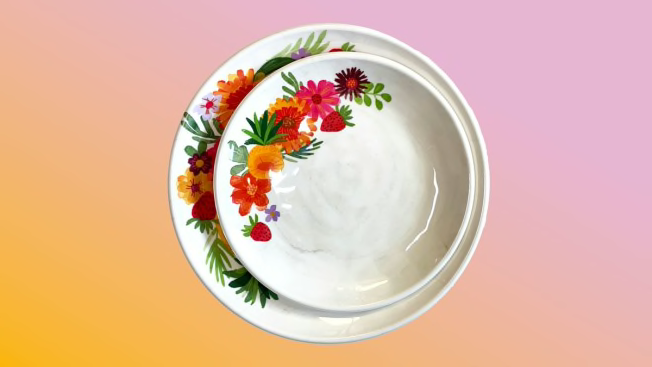 Number of pieces in set: 12
Price: $90
Where to buy: Sur La Table
These glossy pieces with their saccharine gouache florals didn't live up to our expectations. They arrived with big gray smudges that look like a manufacturing flaw. This design choice—if that's what it is, it's not easy to tell—makes the pieces look dirty. This set comes with shallow pasta bowls, salad plates, and dinner plates, and for the high price, I missed having a cereal bowl option. 
These otherwise feel like high-quality pieces. They don't scratch, they don't break, and they're mid-to-heavyweight, so they're best left at home. A child may appreciate the lighthearted design, so this set might make another good option for your kids' dishes if the confetti set above isn't to you or your family's tastes. Just keep in mind that they look as if they were handled by someone who was messing around with a charcoal grill before serving dinner. 
The Set That Didn't Survive: ​​Spice by Tia Mowry Cinnamon Twist 12 Piece Decorated Assorted Color Melamine Dinnerware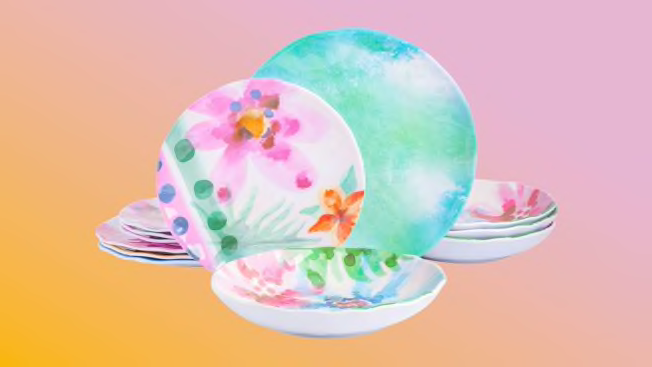 Number of pieces in set: 12
Price: From $43
Where to buy: Amazon, Target, Walmart
Well, folks, several pieces arrived completely shattered, so it's safe to say that these dishes break. Unbroken pieces have a bubbly, textured glaze, and the splotchy design appears haphazardly placed on each piece, as if the print were quickly and unevenly applied in a factory instead of carefully added to each plate or bowl. Theoretically, this could have a fun, retro vibe, like a bright floral fabric from the '80s, but instead it looks cheap.
This 12-piece set comes with shallow dinner bowls, dessert plates, and dinner plates. 
How We Evaluated These Melamine Dinnerware Sets
We evaluated these melamine dinnerware sets according to a handful of simple, but critical, criteria.
Do the pieces scratch easily? We repeatedly scratched at the interior of these pieces with a steak knife to see which ones end up looking worse for wear in the course of regular eating. 
Do they break easily? We dropped each type of piece from a height of 4 feet and checked for chips and to see if any of them broke. Melamine is known for being break-resistant, so we did not expect much breakage—although, clearly, this is not a hard-and-fast rule.
Do they feel heavy or insubstantial? Although lightweight pieces may feel flimsy or cheap, there's a clear benefit—they're easier to carry long distances. Therefore, we noted the weight of the pieces in each set, but this didn't end up being used against any of them.
Are there any flaws? We noted the existence of bubbling on the surface of the pieces, which is a manufacturing flaw. Other issues, like a sandy texture or design defects, count against each set as well.
Are they attractive? Let's be real—this is the No. 1 concern with any dishware set, especially if you're going to be serving guests. Because we anticipate a wide range of tastes among our readers, we tried a variety of styles and ended up loving sets that have very different looks. Some, however, don't look as cute in real life as they do in the photos.
Are Melamine Plates Safe? 
Melamine is a chemical that is approved by the Food and Drug Administration for a variety of uses, including cooking utensils, plastic products, and industrial coatings, among other things. But historical misuse of this chemical, as well as some research in lab settings, may cause many people to wonder if melamine dinnerware is safe for them.
"Melamine is infamous as an illegal adulterant in pet food and children's milk formulas, resulting in the deaths of six children and kidney problems in many more," says Ian Musgrave, a molecular pharmacologist at the University of Adelaide in Australia. In 2008, at least 22 manufacturers of powdered baby formula in China were discovered to have been illegally fortifying their baby formula with melamine. "However, there is no good evidence that the minute amounts we consume in our diets have any effect on people in general."
Additionally, some research has shown that some melamine bowls can leach melamine into food if the bowl holds extremely hot soup (194° F) for at least 30 minutes. But these conditions aren't likely to match up with how most people consume their food, and even then, the amount of melamine absorbed into the bloodstream was much lower than what the FDA allows, according to Musgrave. "The absorbed melamine was very rapidly excreted, and the total levels excreted suggest an exposure to melamine [less than one-six-hundredth the amount of] the most stringent exposure limit set by the U.S. FDA," he says. "This is despite the researchers using a brand of melamine ware with the highest melamine leaching on contact with hot fluids." Most families probably don't use their melamine dishware in this fashion, he says. 
So is melamine dishware safe? "Yes," says James Dickerson, Consumer Reports' chief scientific officer. "Just ensure that you never place it in an oven and minimize using it within a microwave. This kind of use can cause some small amount of leaching into your food, particularly into acidic food."
This product evaluation is part of Consumer Reports' Outside the Labs reviews program, which is separate from our laboratory testing and ratings. Our Outside the Labs reviews are performed at home and in other native settings by individuals, including our journalists, with specialized subject matter experience or familiarity and are designed to offer another important perspective for consumers as they shop. While the products or services mentioned in this article might not currently be in CR's ratings, they could eventually be tested in our laboratories and rated according to an objective, scientific protocol.
Like all CR evaluations of products and services, our Outside the Labs reviews are independent and free from advertising. If you'd like to learn more about the criteria for our lab testing, please go to CR's Research & Testing page.
When you shop through retailer links on our site, we may earn affiliate commissions. 100% of the fees we collect are used to support our nonprofit mission. Learn more.