When you shop through retailer links on our site, we may earn affiliate commissions. 100% of the fees we collect are used to support our nonprofit mission.
Learn more.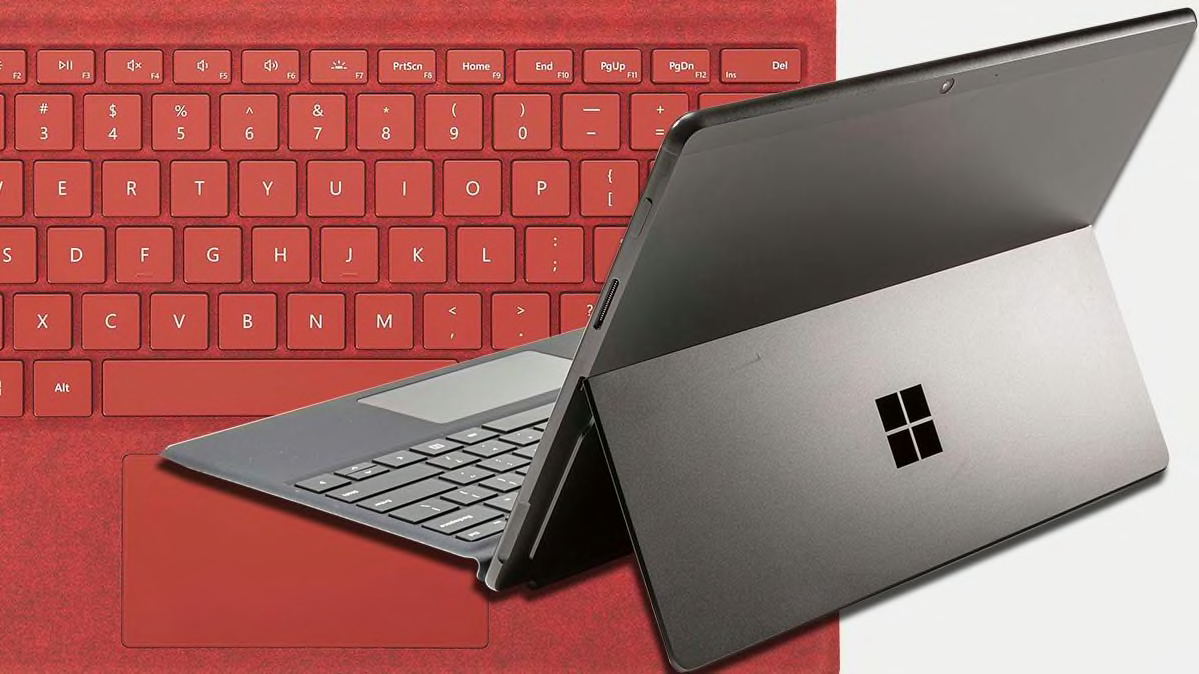 In 2012, Microsoft released its first Surface device, a computer with a detachable keyboard and a screen that measured roughly 11 inches—all designed to merge the productivity benefits of a laptop with the convenience of a touch-screen tablet.
This idea of two devices in one was new at the time—Lenovo had just announced its IdeaPad Yoga convertible a few months earlier—but it soon caught fire, paving the way for Surface devices that have largely impressed our testers over the years.
With myriad variations now vying for your attention, however, it can be tough to figure out which Microsoft Surface model is right for you.
Do you spend your days on the road or parked behind a desk? Do you need a laptop powerful enough to edit high-res video or are you more of a Facebook-YouTube-Word-type person? And how much does that removable touch screen truly appeal to you?
Those are the questions you need to ask yourself. Because not all Surface models have the detachable screen, which may come in handy if you're an artist, designer, or someone who just likes to doodle on the display with Microsoft's highly regarded Surface Pen stylus.
Some models have faster processors and more storage space, which is useful when you need to crank through an Excel spreadsheet or store a bunch of photos and videos on the device, says Antonette Asedillo, who oversees computer testing for Consumer Reports. If you can get by with less power, though, you might want to consider the Surface Go, she says. It's by no means weak—it's simply more portable.
Here's everything you need to know to choose carefully between the Surface Laptop, Surface Book, Surface Go, Surface Pro, and newly released Surface Pro X. That's a lot of devices to keep track of, especially if you don't pay much attention to the routine developments in the world of tech.
Microsoft Surface Go
Good for: Frequent travelers and consumers with basic needs

This model was first released in mid-2018, so it's getting a bit long in the tooth when measured in laptop years. That's both good and bad: The device does tend to go on sale every now and then, but it doesn't have the latest and greatest specs, which explains in part why it received lower performance scores in our labs. That's not a big concern, though, if you plan to use the laptop simply for writing emails and browsing the web. And because it's such a tiny laptop, at 10 inches, the Surface Go makes for a great travel companion. When you're done writing emails at the hotel, you just detach the screen and unwind with some Netflix.

Microsoft Surface Laptop 3
Good for: Students and office professionals

This model—released last fall—is among the best laptops in our overall ratings. It's a traditional notebook, so there's no removing the keyboard and using the screen as a tablet. The option we tested had an Intel Core i5 processor, 8GB of memory, and 256GB of solid state storage, which can hold a modest-sized photo library. If you're looking to routinely edit photos and video, though, you'll want a more powerful machine.
Microsoft Surface Pro 7
Good for: Students, artists, and office professionals

The Surface Pro 7, also released last fall, is similar to the Surface Laptop 3 in terms of specs, but it has the detachable keyboard. That means it can handle typical productivity work—and quickly convert to a high-tech sketchboard for the included Surface Pen.

Microsoft Surface Pro X
Good for: Frequent travelers and consumers with basic needs

This model, released last fall, is harder to explain. It has a detachable keyboard, which makes it well-suited for use as a sketchpad, but it uses an ARM processor that's on the slow side and limits app use. (When the device was introduced, Microsoft extolled the processor's battery-life advantages, but laptops with traditional processors have logged better battery life in our labs.) What's more, because the ARM processor is not compatible with certain apps, we couldn't run some antivirus software on the device. Microsoft maintains a list of apps that don't run on the Pro X, so be sure to consult it before purchasing the laptop.
Microsoft Surface Book 2
Good for: Power users, video editors, and gamers

Released in late 2017, this model is not especially fast, but it's plenty solid. The unit we tested had an Intel Core i5 processor, 8GB of memory, and 256GB of solid state storage, but perhaps more importantly, it can be configured to include a dedicated graphics card. That's good for people who enjoy editing high-res video and playing video games. And, yes, you can detach the keyboard, too.