When you shop through retailer links on our site, we may earn affiliate commissions. 100% of the fees we collect are used to support our nonprofit mission.
Learn more.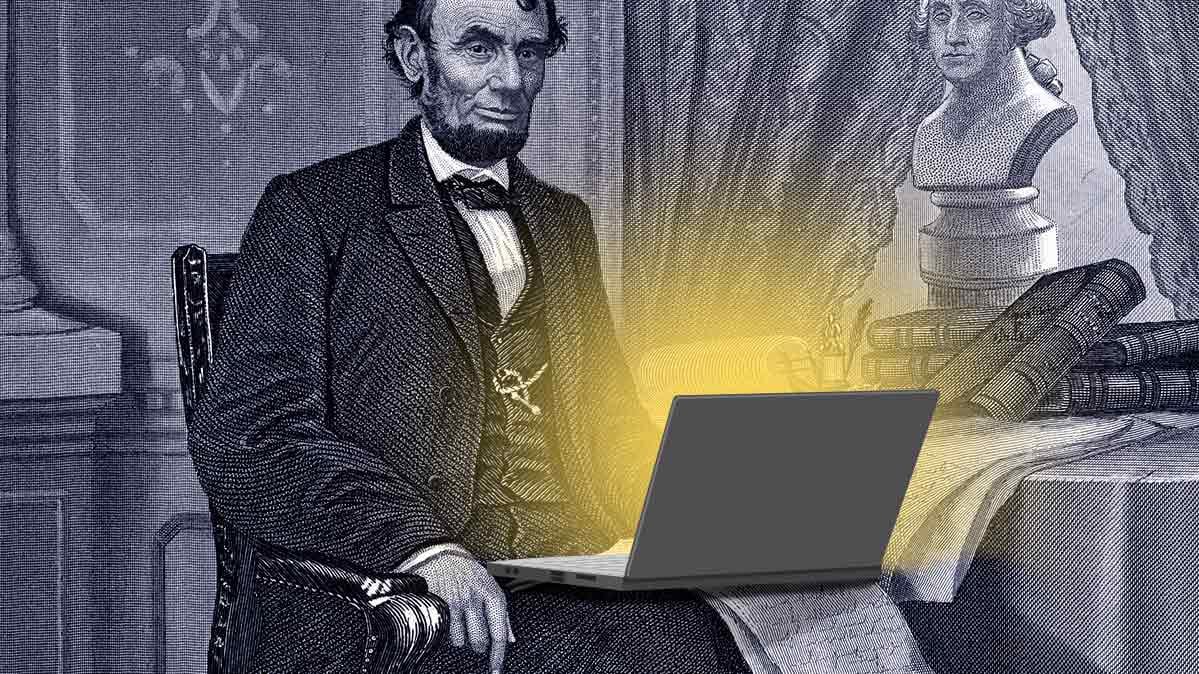 A few years ago, you had to wait for back-to-school sales or Black Friday to find good laptop deals. No longer.
Several retailers and manufacturers will be celebrating Presidents Day this year with deep discounts on a variety of laptops, including some of the best models in CR's ratings.
The prices on high-end models such as the Apple MacBook Air, LG Gram, Lenovo ThinkPad X1 Carbon, and Microsoft Surface Laptop 2 will be cut by a hundred dollars or more, while lower-end models, including an 11.6-inch Dell Inspiron, will be available for less than $200—a price that's more Chromebook than full-fledged Windows 10 laptop.
The two biggest times of the year for laptop sales are Black Friday and the late-summer back-to-school period. But according to data from the retail market research firm Gap Intelligence, Presidents Day weekend is becoming a prime time for deals, too: Last year, for example, laptop discounts advertised on the Sunday before Presidents Day hovered around 21 percent off the regular price.
"Black Friday—all of December, really—is still the biggest time for discounts, but we are starting to see a small spike for Presidents Day," says Dustin Down, an analyst at Gap Intelligence.
The bottom line for consumers is that the next week or so is a great time to shop for a laptop.
Consumer Reports rates dozens of laptops every year, evaluating them based on criteria including how well they perform routine tasks involving productivity apps and web browsing, how long the battery lasts, and how comfortable the keyboard is to use. We also factor in predicted brand reliability and owner satisfaction ratings derived from surveys of CR members.
Here's a look at some of the best laptop deals you'll find this Presidents Day weekend.

Lenovo ThinkPad X1 Carbon
The deal: $1,000 at Lenovo.com, a savings of about $300
The deal, which runs from Feb. 14 through Feb. 24 on Lenovo's website, provides a healthy discount for a high-end laptop that doesn't go on sale too often. (Generally speaking, you'll find budget or midtier laptops on sale more frequently than higher-end models.)
This base model comes with a 14-inch display, an Intel Core i7 processor, 8 gigabytes of memory, 256GB of solid-state storage, and a battery that should last around 15 hours—in other words, you should easily be able to tackle just about any task with it, whether that's watching high-res video, working with Microsoft Office, or touching up photos in Photoshop.
We haven't tested this particular model, but a previous-generation ThinkPad X1 Carbon scored well in our labs.
HP Pavilion 15
The deal: $479 at Office Depot and Office Max, a savings of nearly $200
Office Depot and OfficeMax will have a handful of laptops on sale from Feb. 17 to Feb. 23, but this HP Pavilion 15 offer is well worth highlighting. Normally you'd find this laptop priced around $700, so you could easily save more than $200—not too bad.
The $479 sale price is available in stores only, but the laptop is currently available online for $600, which is still a good deal.
HP Pavilions are aimed right at everyday consumers. This model has a 15.6-inch display (as implied by the name), an Intel Core i5 processor, 8 gigabytes of memory, and a 1-terabyte hard drive. That's a lot of storage space, but hard drives tend to be slower than solid-state drives.
Those are solid specs, though the computer might disappoint if you want great performance for playing video games or editing 4K video. We haven't tested this particular model, but siblings such as the HP Pavilion 15 i5 generally do okay in our ratings.
Microsoft Surface Laptop 2
The deal: $1,100 at Microsoft.com, a savings of $200
Microsoft is serving up a handful of Presidents Day deals—online and in-stores—now through Feb. 18. This offer for a 13.5-inch Surface Laptop 2 is the one worth highlighting.

Beyond the savings, the laptop scored quite well in our tests. It has the latest Intel Core i5 processor, 8GB of memory, and 256GB of solid-state storage, all of which means you'll be able to accomplish any computing task with ease, except perhaps for playing hard-core video games.
Given the broad variety of Surface devices, it can be hard to keep track of which Microsoft model does what, but the Surface Laptop is a traditional notebook. That means you can't detach the keyboard or bend it around to use the laptop more like a tablet. For a 2-in-1 option like that, consider the Surface Pro 6 or Surface Go (on sale for $200 off and $50 off, respectively).
Apple MacBook Air
The deal: $1,050 at Best Buy, a savings of $150
Best Buy has a number of Apple laptops on sale now through Feb. 18. We like this deal for the 13-inch MacBook Air, released last October, in large part because it's among the highest-ranked laptops in our ratings. While sales on Apple laptops are not as rare as they were a few years ago, this is a good price—especially if you're in the market for a new Mac.
What makes it so special? In addition to the compelling specs, which include an Intel Core i5 processor, 8GB of memory, and 128GB of solid state storage (though we prefer 256GB on non-budget laptops these days), the model is very light (2.7 pounds) and has a battery life of roughly 10 hours, according to our testers. In other words, it's a smart choice for people on the go.
LG Gram 13
The deal: $950 at LG.com, a savings of about $150
The LG Gram 13 is one of the highest-ranked 12- to 13-inch laptop in our ratings, and you'll save about $150 if you buy it directly from LG.com between Feb. 17 and Feb. 24. Several Gram models will be on sale, but this one is the least expensive.
It has an Intel Core i5 processor, 8 gigabytes of memory, and a 256GB solid-state drive. Once again, you'll be able to do just about anything with those specs, except play high-end video games. At 2.1 pounds, the laptop is very light for its size—it's called "Gram" for a reason—and our testers found that the battery can last nearly 16.5 hours on a single charge. Those factors could make the model a very good choice for travelers and coffee-shop squatters.
Dell Inspiron 11 3000
The deal: $130 at Dell.com, a savings of $100
Dell.com has a number of laptops (and headphones, printers, and other devices) on sale leading up to Presidents Day, with more on the way. One item worth waiting for is this 11.6-inch Dell Inspiron notebook, which will be priced at $130 on Monday, Feb. 18. That's a full $100 cheaper than usual.
That's the kind of price usually reserved for a Chromebook rather than a full-fledged Windows 10 laptop such as this.
The components, which include a lower-end AMD A6 processor, 4 gigabytes of memory, and 32GB of storage, are on the basic end of things, but the laptop should be able to handle everyday tasks like web browsing, Google Docs editing, high-res video viewing, and Microsoft Office chores.
You probably wouldn't want to edit video with this machine, and you won't be able to store a huge digital photo or music library on it, but if your needs consist of using a web browser, writing, and working with simple productivity apps, it could be a solid option.
Asus Vivobook
The deal: $830 at Newegg, a savings of about $70
You can take advantage of the Presidents Day sale price for this 15-inch Asus Vivobook right now. While the discount isn't quite as impressive as the others on this list, the value—even at the laptop's regular price—is very good, considering the model's specs.
The machine has a dedicated Nvidia graphics card. Combine that with the other high-end specs—an Intel Core i7 processor, 8 gigabytes of memory, and 256GB of solid-state storage—and the Vivobook is ready to play high-end games and quickly render high-res video. We haven't tested this model, but we have evaluated other Vivobooks in the past and they've largely performed well. The only drawback is the machine's weight, a hefty 4 pounds.
Acer Chromebook 15
The deal: $300 at Target, a savings of $50
On sale now through Feb. 23, this Chromebook model—one of Acer's latest—has a 15-inch Full HD display, an Intel Celeron processor, 4GB of memory, and 32GB of flash storage.
Yes, those are modest specs, but Chromebooks are primarily designed for web-based activities, whether that's using Google Docs, following the latest trends on Twitter, or watching videos on YouTube—all of which does not require significant horsepower.
While we have not tested this specific model, we do have six Acer Chromebooks in our ratings and all scored well. Consumers who value portability may prefer a 13-inch model, but this one is a fine choice for daily desk and countertop chores.