Best Walmart Black Friday Laptop Deals
The retailer has a few solid offers, mostly for HP computers, and all are priced at $500 or less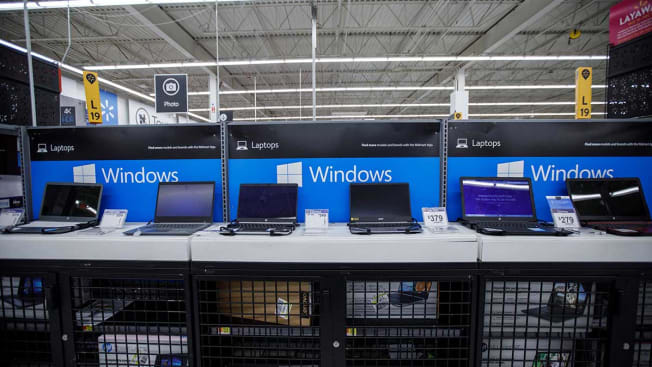 Walmart has a few solid Chromebook and laptop deals on tap for Black Friday—all priced at $500 or less. Most feature models made by HP, known for producing computers for mainstream consumers.
That means the machines are a good choice for relatively simple tasks like browsing the web, watching YouTube videos, and editing text with apps such as Microsoft Word and Google Docs.

One gaming model has higher-end specs, allowing you to do more complex tasks like editing high-res photos and videos—and playing games, of course.
Walmart's Black Friday deals begin online at 10 p.m. ET on Nov. 27—the day before Thanksgiving. The in-store sales kick off at 6 p.m. Thanksgiving Day. According to the retailer's Black Friday ad, there are no "doorbusters" or limited-time offers spaced throughout the day, making it a bit easier to plot your moves.
The deals below are listed in order of price, from lowest to highest. For more on Walmart's Black Friday sale, check out our story on the retailer's TV deals.
15.6-Inch HP Chromebook
The deal: $300 at Walmart
CR's test results: HP Chromebook 15-DE0035CL
This Chromebook is usually priced closer to $500, making this a good deal. Since it's a Chromebook it's mostly intended for light tasks like browsing the web and doing typical office productivity work (editing text documents, presentation slides, etc.) A similar model did quite well in our tests, with no major issues to speak of.
15.6-Inch HP Pavilion
The deal: $400 at Walmart
CR's test results: HP Pavilion 15-CS1063CL
This model normally goes for around $600. It's a good mid-range laptop, with an AMD Ryzen 5 processor (roughly similar to an Intel Core i5), 8GB of memory, a 128GB solid state drive, and a 1-terabyte (aka 1,000 gigabytes) hard drive. (Click here to learn more about the differences between solid state drives and hard drives.) Outside of heavy tasks like editing high-res video or playing graphics-intense games, this laptop should serve you well. We tested a similar model (with an Intel processor) that generally performed well, though our testers noted that the display had a narrow viewing angle. That means images have a tendency to wash out if you look at the screen from off to the side.
15.6-Inch HP Pavilion Gaming Laptop
The deal: $500 at Walmart
CR's test results: HP Pavilion Gaming 15-CX0058WM
This gaming model—the most powerful laptop in this round-up—normally lists for around $750. What makes it a gaming model? The higher-end specs, for one: It's got an Intel Core i5 processor, 8GB of memory, and 256GB of solid state storage. There's also a dedicated Nvidia graphics card, which means you can play modern games (like "Fortnite") at high settings and also edit high-res video. We tested this model and gave it mostly high marks, though—like many a gaming laptop—it's a little heavy at more than 5 pounds.