Best Riding Mowers for Your Property
According to CR's tests, these tractors and riders are a cut above for mulching, bagging, and discharging
When you shop through retailer links on our site, we may earn affiliate commissions. 100% of the fees we collect are used to support our nonprofit mission. Learn more.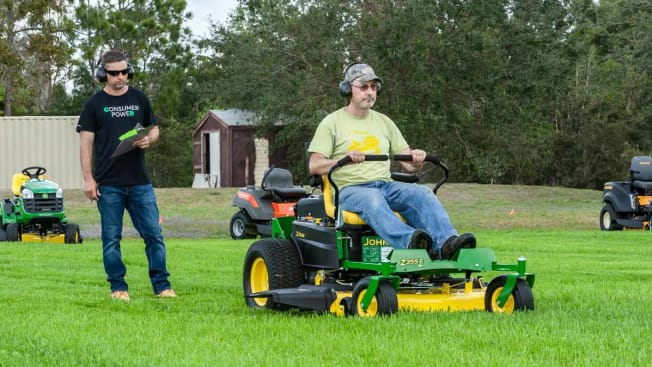 When you have a lot of lawn to mow, there's nothing wrong with sitting down on the job. In fact, for lawns of half an acre or more, riding mowers that let you sit and steer are the way to go.
Your options fall into three broad categories.
• Traditional lawn tractors: These feature a cutting deck from 42 to 54 inches wide, and typically top out at speeds of 4 to 5 mph. They tend to be very stable, so they're the best choice if you have terrain that's bumpy or hilly.
• Zero-turn-radius mowers: They're sized like tractors. But instead of a steering wheel, most have lever-arms for turning and navigation. These mowers can turn in place, nimbly maneuver around obstacles such as trees, and reach a higher top speed than tractors. And they're generally more expensive than tractors.
"If you have a fairly regularly-shaped lawn and want that groomed look, it may be best to opt for a tractor, says Misha Kollontai, who oversees Consumer Reports' lawn-mower testing. "They generally provide a more even cut and cost less than a zero-turn mower.
"If, however, your lawn is covered in trees, stones, or other obstacles, a zero-turn mower would probably be your best bet," Kollontai adds. "It would allow you to maneuver around easily and cut even along the most irregular lines."
Zero-turn mowers also generally have a higher maximum speed, letting you get the job done faster, Kollontai says.
How CR Tests Lawn Mowers and Tractors
To get you ratings and reviews of the latest models by early spring, our testers travel to our mower-testing facility in Fort Myers, Fla., to conduct tests in late winter at grounds we prepare each year. We plant 1,800 pounds of grass seed (predominantly annual rye, prized for its dense growth) and cut 500,000 square feet of grass in three modes—mulching, side-discharging, and bagging, a total of 3,000 pounds of clippings. We mow both level turf and slopes to get a feel for each model and review the convenience features.
The Overall Score incorporates all that performance data, along with predicted reliability and owner satisfaction ratings from our latest member surveys. They leverage data on more than 78,000 lawn mowers and tractors that members purchased between 2010 and 2020.
CR members with digital access can read on for ratings and reviews of the 12 best lawn tractors, zero-turn mowers, and rear-engine riders on the market right now. You'll find gas-powered models from Cub Cadet, Gravely, John Deere, and Toro—plus a new battery-powered zero-turn mower from Ego.
Notes: For models with noise-at-ear ratings of Fair or Poor, we recommend that you use hearing protection. Also, CR doesn't judge zero-turn mowers for bagging because our research shows that just 12 percent of their users bag their clippings.
Keep in mind that while your new mower may save you steps, shopping for one may take a bit more legwork this season. COVID-related supply-chain holdups, combined with increased demand, are reducing supply, says Courtney Pennicooke, the CR product analyst who covers lawn mowers. "Supplies are more limited, and models may be on back order," he says.
You also might need to check out a variety of retailers. Some mower brands are associated only with Home Depot or Lowe's, while others are sold only through independent dealers. And some brands may sell certain models at a big home-improvement chain and others through dealers.
"Shop around more than usual, checking a few different stores," Pennicooke says.
To see even more options, including models with wider cutting decks, check out our complete riding mower ratings.
Best Zero-Turn-Radius Lawn Tractors
Best Rear-Engine Riding Mower
Finding the Perfect Lawn Mower
Is your lawn mower failing to make the cut? On the "Consumer 101" TV show, Consumer Reports expert John Galeotafiore explains to host Jack Rico how to find the best mower for your needs.