Where to Watch 4K Content With HDR
Streaming services now have plenty of movies and series to show off your TV's hot new technology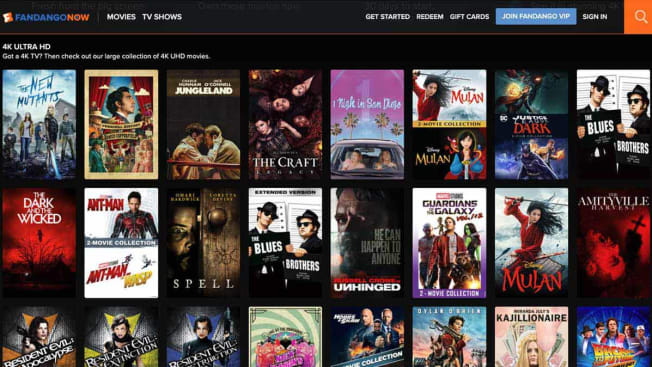 If you've bought a new TV in the past couple of years, there's a good chance it's a 4K set with HDR (high dynamic range) capability, a technology that can create brighter, more lifelike images by expanding the set's brightness, contrast, and colors. However, with just a few exceptions, anyone watching TV through a cable connection or with an antenna isn't taking advantage of HDR.
To really put these new sets through their paces, you'll have to turn to streaming services, Blu-ray discs, or satellite TV—at least for now. Most of the content is on streaming services, and there's plenty of it.
Amazon Prime, which now costs $119 a year, or $13 a month, has hundreds of titles available in 4K, and most new original shows are shot with HDR10, including "The Marvelous Mrs. Maisel" and "The Boys."
Amazon also supports the Dolby Vision and HDR10+. There are now a decent amount of Dolby Vision titles right now, including the original series "Jack Ryan," and a rotating selection of shows and movies in Prime Video that can be rented or purchased.
Amazon was the first—and so far, only—service to announce support for the new HDR10+ format. In fact, the company tells us that its entire HDR catalog is now available in HDR10+.
If the title is in HDR10, you'll see the HDR logo. If the title is available in either Dolby Vision or HDR10+, you'll see those logos instead if your TV supports the format.
Remember, you don't have to do anything to play one of these shows in the more sophisticated HDR format. Your TV will automatically use the best format it can.
The Apple TV player supports both HDR10 and Dolby Vision, so it's not surprising that iTunes (and the Apple TV+ service, mentioned below) has movies and TV shows in both HDR formats.
Hollywood studios, including 20th Century Fox, Lionsgate, Paramount, Sony Pictures, Universal, and Warner Bros. all offer 4K titles with HDR in iTunes, at no premium over the HD versions.
One nice perk: If you've already purchased an eligible film in regular HD in iTunes, Apple will automatically replace it with the 4K HDR version at no extra charge.
This relatively new premium subscription streaming service, which costs $5 a month, offers exclusive Apple original TV shows ("The Morning Show," "Ted Lasso") and movies ("Greyhound," "Beastie Boys Story") in 4K HDR quality. It also has a small library of licensed content. Apple TV+ offers content in both the HDR10 and Dolby Vision formats.
Apple TV+ is available, of course, on Apple devices, including Apple TV, as well as on Amazon Fire TV and Roku streaming players, and LG, Samsung, Sony, and Vizio smart TVs.
Cable, Satellite, and Over-the-Air TV
Most broadcast TV doesn't yet support 4K, let alone HDR. However, there are now some set-top boxes from cable companies, including Altice (Optimum) and Comcast (Xfinity), that support 4K via apps and streaming. And you may start to see some of the bigger cable companies testing 4K with HDR over the next 12 to 18 months.
There may even be some regular HD content with HDR from cable in the future.
Both DirecTV and Dish satellite services offer 4K content, including some with HDR, mainly sports and live events, via dedicated 4K channels. They also offer some movies in 4K. These satellite services only use the HLG HDR format—not HDR10—so your 4K TV needs to support it. Of the two services, DirecTV has been more aggressive, with three dedicated 4K channels, while Dish has only one.
HLG—and 4K broadcasts—should get a boost over the next year or two as a new over-the-air standard, called ATSC 3.0, rolls out. Dubbed "Next Gen TV" by the industry, these new, more robust signals are now available in only a few markets; it will likely take several years for the transition to be complete. Many broadcasters favor the HLG format for consumers who use antennas because it doesn't require metadata, so both standard and HDR programming can be combined into a single signal that's compatible with both standard and HDR sets. (TVs without HDR just ignore the extra HDR data.)
Given its vast assortment of content—the "Star Wars" films from Lucasfilm, plus all the Disney, Marvel, and Pixar movies—the new Disney+ service is a treasure trove for those looking for 4K HDR films. In addition, most new original series, such as the Star Wars spinoff series, "The Mandalorian," are available in 4K Ultra HD and HDR. Disney+ supports both the HDR10 format and Dolby Vision, which can be found in titles such as Pixar's "Onward" and "Black Panther," from Marvel.
Disney+ has fairly wide device support, as you can get it on Amazon Fire TV, Apple, Chromecast, and Roku streaming players, Xbox and PlayStation game consoles, Android TVs (such as Sony sets), and smart TVs from LG, Samsung, and Vizio.
FandangoNow—formerly M-Go—is a video-on-demand service that lets you either rent or buy movies and TV shows. As with many other services, it has a growing collection of movies in HDR10, including "Spiderman: Homecoming," "Wonder Woman," and "The Fate of the Furious."
FandangoNow was also the first streaming service to support "IMAX Enhanced" digitally remastered 4K content with HDR and DTS immersive sound. Right now, Sony is the main TV brand supporting IMAX Enhanced, but the company says that even TVs that don't specifically support the format will still see some benefits, though not to the full extent you'd get with an IMAX-accredited set.
When it comes to newer movies, FandangoNow has a better selection for purchase than to rent; most newer titles cost about $20 to $30 to buy, or $6 to rent, though there are also discounted titles for less. FandangoNow makes it easy to find 4K titles with HDR with a special section on its website just for those titles.
Fubo was the first service to offer streaming broadcasts with 4K HDR10, mainly sporting events, such as the World Cup and NFL football, shown on Fox and FS1. Right now, you can catch Fox's Thursday night NFL game broadcasts, plus BBC America series such as "Aerial America" and "America in Color."
For 4K HDR content, the company recently expanded the list of supported 4K streaming players to include Amazon Fire TV 4K and Amazon Fire TV Cube, Apple TV, Chromecast Ultra, and Roku's Premier, Premier+, and Ultra models.

If you want premium picture and sound quality, 4K Blu-ray is your best choice. Plenty of HDR content—mainly in HDR10, but a growing amount in Dolby Vision—is on the way from all the major Hollywood studios. Prices for 4K Ultra HD players are falling, so you can now get a good player starting at about $100.
Google has its own new 4K streaming device, the $50 Chromecast with Google TV, and the Google Play Store has a nice selection of 4K HDR movies available for rental or purchase. This service isn't just relegated to the Chromecast players, however. Any 4K-capable streamer that supports Google Play—such as Amazon Fire TV and Roku devices—can access these movies via the Google Play app. Google Play offers titles in HDR10, Dolby Vision, and HDR10+.
Unlike competitive new services such as Apple TV+ and Disney+, right now you can't get 4K movies or shows—with or without HDR—on HBO Max, the new streaming HBO replacement service from WarnerMedia. However, "4K HDR, Dolby Vision, HDR10 Plus and Dolby Atmos are on our road map," a spokeswoman for HBO Max told us when the service launched. We'll update this listing when 4K HDR content becomes available.
After unexpectedly pulling the plug on 4K titles back in 2018, Hulu reinstated 4K shows and movies a year later, though the selection has been limited, and the company still doesn't support HDR.
Going forward, all of Hulu's exclusive and original TV series, such as "The Handmaid's Tale" and "Bad Hair," will be available in 4K streaming. It's still not clear when Hulu will offer HDR support.
However, the service has expanded its 4K support to most of the major streaming player platforms, including Amazon Fire TV, Apple TV, Chromecast, and Roku, Xbox game consoles, and LG and Vizio smart TVs.
Netflix has a ton of 4K content with HDR, not surprising since almost every new Netflix original series is shot in 4K HDR. That includes the entire Marvel catalog ("The Defenders," "Jessica Jones," etc.) that Netflix licenses, and newer shows such as "Lost in Space." There are also some original Netflix movies with HDR, including "The Cloverfield Paradox" and a collection of Adam Sandler productions, as well as licensed content. Some, such as the film "Marriage Story" and the "Stranger Things" series, are available in Dolby Vision. Available titles will display either the HDR or Dolby Vision logo next to their description. The format will depend on the device you're using.
Note that you'll need to step up to the company's pricier Premium Netflix 4-Screen plan, which just increased from $16 to $18 a month, to get 4K and therefore HDR.
This newer service, from NBCUniversal, says 4K HDR content is on the road map, but isn't yet available, and right no there's no timetable for adding it. We'll let you know when it arrives.
This lesser-known site claims it has the largest collection of 4K streaming content available, some of it available in HDR. There's a decent amount of free content—about 100 hours, according to the company, but most titles can either be rented for 48 hours, or purchased.
While much of UltraFlix's library contains older titles ("Fargo," "Robocop") and niche content, it does have some more recent big-budget films, such as "Vivarium." UltraFlix is available on Apple TV and Roku streaming players, and a good number of smart TVs from several brands.
The Vudu pay-per-view service was among the first to support Dolby Vision, and it has a growing list of titles, including "Black Panther" and "Pacific Rim Uprising." The service supports both HDR10 and Dolby Vision titles. You'll typically pay about $15 to $30 to purchase a movie with HDR, and $6 to $8 to rent it. If a movie is available in Vudu UHD, you'll see the option to purchase or rent in Vudu UHD on the movie details page, along with icons for 4K, HDR, and Dolby Atmos. You can also see a list of Vudu UHD movies in the Vudu UHD collection room.
The big news was that this spring, Vudu was purchased from Walmart by Fandango. So far, though, it continues to operate as a separate entity.
There's a decent amount of 4K content with HDR on YouTube, though a lot of it is user-generated videos, promotional movie trailers, and nature, landscape, and space documentaries. But there is a growing collection of TV shows and movies, plus a separate HDR channel. (Just type "HDR Launch" into the search bar and you'll come up with links to the content.) Currently, YouTube supports HDR10, HLG, and HDR10+ HDR formats. Note that your TV needs to support VP9, the video format YouTube uses. Most TVs and streaming players do, but Apple only recently started supporting it on Apple TV. YouTube TV, the company's cable-style streaming subscription service, doesn't yet support 4K HDR content.
Editor's Note: This article will be updated periodically with new listings and details of streaming offerings.