Everybody loves a bargain, but a cheaper TV doesn't always turn out to be a better deal.
That's what we found in our analysis of three years of Consumer Reports TV ratings. Our crack team of statisticians looked at average prices and CR test results from 2014 through 2016 for major TV brands sold in the United States. The results are shown in several charts below, broken out by screen size, the first factor consumers usually consider when shopping for a television.
As you can see, TVs from Samsung, LG, and Sony earned top scores in our testing across just about every size range. And generally, sets from these companies cost more than their competitors' TVs.
From there, prices and average brand scores tend to drop off in step with each other, according to our analysis. Some brands, notably Haier and Westinghouse, tended to trail the others in both quality and price.
The takeaway: While it's tempting to get a much cheaper TV from a lesser-known brand, especially during big sales events, you could be accepting a steep trade-off in quality.
What's Behind These Charts
First, we evaluated overall brand performance, which is how many consumers make buying decisions. But performance can vary by series and even model within a single brand. It pays to consult our ratings for the particular set you're thinking of buying.
Additionally, companies evolve over time. For instance, Panasonic scored well in the bigger screen sizes in the earlier years of our analysis, largely due to plasma sets that the company has since stopped making. Some lower-price TV makers, notably TCL, have improved in our testing recently.
Here's one more conclusion: There's often little need to settle for poor performance just because you're on a budget, especially if you're looking for a smaller TV. In some size categories there are only small price differences between the highest- and lowest-performing brands.
32-Inch TVs
As you can see in the chart below, LG and Samsung lead the pack, in terms of both price and performance, with Haier and TCL trailing other brands. The brands in the middle—Vizio, Toshiba, and Sharp—appear to offer a nice balance of price and performance, but you may not have to pay much more for an LG, which scored better. Samsung's average price is considerably higher.
39- to 43-Inch TVs
There's a pretty big spread in both price and performance in this screen size. Perhaps the lesson is that you don't always get what you pay for. While there aren't a lot of surprises—Sony, LG, and Samsung offer the best performance—we do see a few brands, including Hisense and TCL, move closer to the middle of the pack.
You could argue that Insignia offers the best bang for the buck in this size category if you don't demand top picture quality. The brand performs about as well as some better-known labels, such as Vizio, JVC, and Sharp, but its TVs cost considerably less.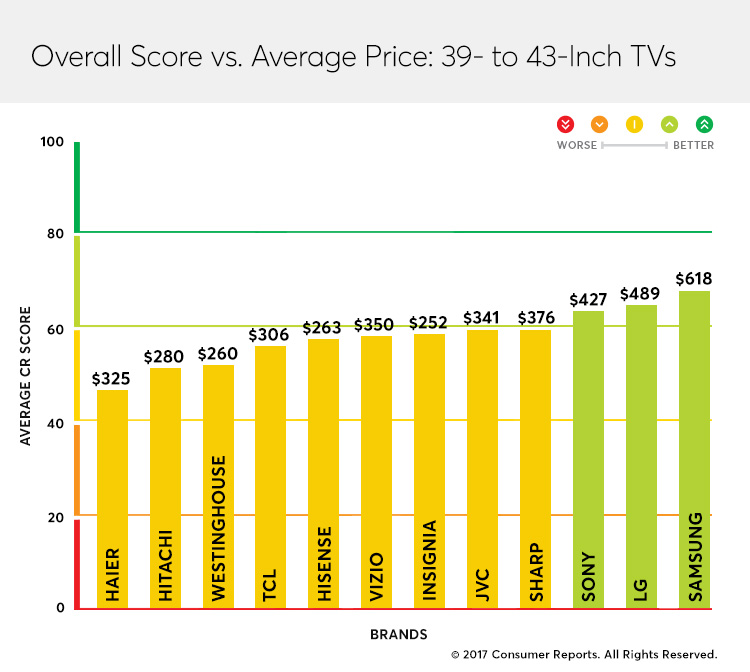 46- to 52-Inch TVs
Here's where things start to get interesting. Once again LG, Sony, and Samsung offer the best performance as brands, but we also see some others, such as Vizio, Hisense, and TCL, move up in the rankings. As they do in smaller size ranges, Haier and Westinghouse trail the pack, and Insignia drops in score while remaining among the lowest-priced choices.
Note the huge disparity in average price—from $350 to $871—developing as we move into larger screen sizes. One big reason is that TVs in this size range, bought to serve as the main sets in many homes, offer a greater range of features. For example, this is where higher-resolution 4K screens start to appear.

55- to 59-Inch TVs
An increasing array of features—4K resolution, 120Hz refresh rates, and a high percentage of smart TV models—helps push the average price spread even wider in this group, from a low of $516 (Hisense) to a high of $1,335 (LG).
Hisense and TCL don't do as well here on overall score, and Panasonic makes a strong showing, with the caveat we note above. (The company's plasma TVs often earned high scores, but they are no longer being produced.) Vizio seems to offer nice bang for the buck in this screen size.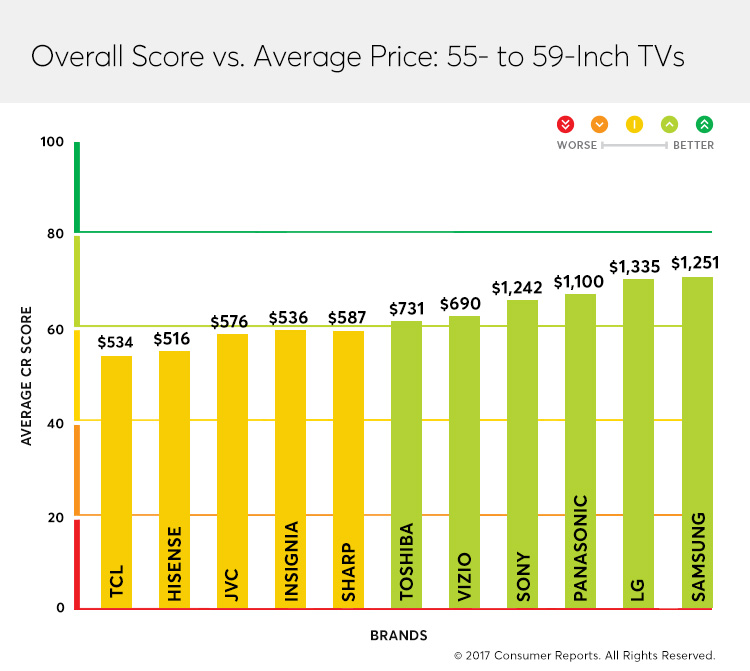 60-Inch and Larger TVs
Major brands dominate this slice of our TV ratings, which include 60-, 65-, and 70-inch TVs. That's not too surprising for a few reasons.
First, this is a key focus area for these companies, since smaller sets have largely been commoditized—manufacturers are better able to differentiate their sets in larger screen sizes. But it's also a function of CR's selection process: In larger screen sizes, we tend to purchase a lot of high-end, major-brand sets so that we can test the latest features, such as UHD performance and high dynamic range (HDR), a feature that can produce brighter, more vibrant images.
Again Samsung, LG, and Sony top the list, in terms of both average overall score and average price. Given their high average scores, sets from any of these TV brands might be worth considering.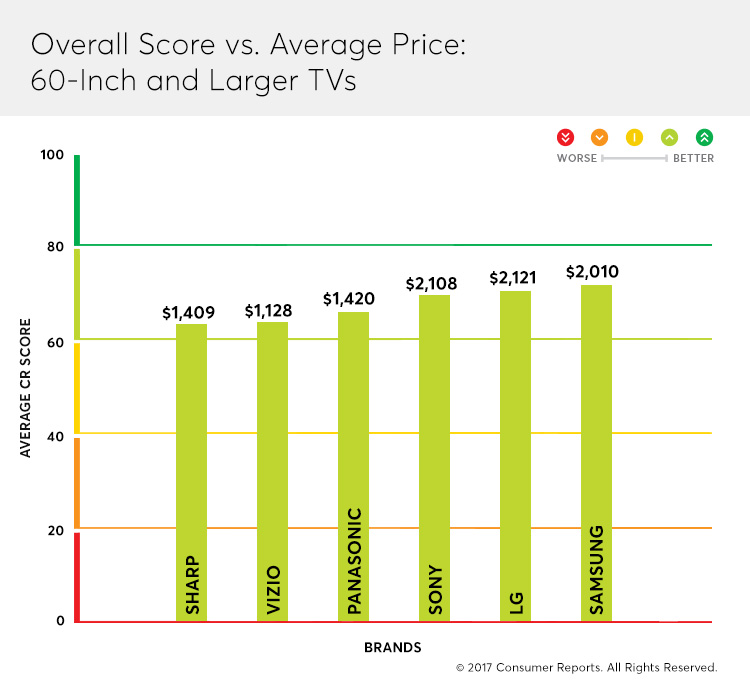 Beyond the Scores: Repairs and Reliability
In addition to TV performance, there are a few more things to consider when choosing among brands. One is how easy it is to get the TV repaired in a timely manner. Major brands typically invest in parts and service networks, so you're more likely to find an authorized repair center nearby.

Reliability appears to be less of an issue. Most major brands do well in our surveys of around 100,000 CR subscribers, with only about 5 percent experiencing problems by the third year of ownership. A number of secondary brands had reliability records comparable to the major brands, but one—Sceptre—was significantly more problem-prone. Some smaller brands simply don't sell enough TVs for us to capture them in our reliability surveys.

Finally, consider the manufacturer's warranty, which could be shorter with an off-brand TV. Most of the TVs in our Ratings carry one-year parts and labor warranties, but they can vary, so check before you buy.

Shopping links are provided by eBay Commerce Network and Amazon, which makes it easy to find the right product from a variety of online retailers. Clicking any of the links will take you to the retailer's website to shop for this product. Please note that Consumer Reports collects fees from both eBay Commerce Network and Amazon for referring users. We use 100% of these fees to fund our testing programs.