When you shop through retailer links on our site, we may earn affiliate commissions. 100% of the fees we collect are used to support our nonprofit mission.
Learn more.
BMW decided not to reinvent its midsized 5 Series for the 2017 model year. Instead, it focused on adding technology and improving the driving dynamics—no small challenge for a car known for its agility.
Just unveiled, the all-new 5 Series will go on sale this February.
The sedan is essentially the same size as before. Still, BMW says the redesigned cabin gives rear-seat passengers an extra 1.2 inches of legroom—a welcome change since the previous rear seats weren't very generous.
The trunk is larger, capable of holding four golf bags, with a lower sill for easier loading/unloading, the carmaker says.
Engines have been bolstered across the board. The base 530i (which replaces the 528i) has a 2.0-liter turbo four-cylinder with 248 hp and 258 lb.-ft. of torque. BMW claims it hits 60 mph in 6 seconds.
The 540i sees a boost of 35 horsepower, with its turbocharged inline-6 making 335 hp and 332 lb.-ft. of torque. The sprint to 60 mph takes just 4.9 seconds, or 4.7 seconds with all-wheel drive, according to BMW.
Both engines come with eight-speed automatic transmission.
The cabin is said to be quieter, with attention paid to increased sound-deadening. The seats promise added comfort, with standard 16-way adjustments. Up-level buckets offer more pampering leather, 20-way adjustability, ventilation, and a massage function.
The updated dash is available with gesture control, which was introduced in the 7 Series, to enable drivers to use hand signals to operate the infotainment system.
While this has a real gee-whiz factor, we found gesture control distracting on the 7 Series because you tend to watch intently to see if the system got your command right. It's also superfluous, given that you're twirling your finger mere inches above a normal volume knob.
Ironically, you have to take your hand off the wheel to make the high-tech gesture, rather than use steering-wheel controls. The driver can also choose to use voice commands and the iDrive rotary controller.

If the optional 600-watt Harman Kardon sound system seems too tame, a 1,400-watt, 16-speaker Bowers & Wilkins surround-sound system will be available.
And for the rear passengers, 10-inch screens can show movies from a DVD/Blu-ray player or from a mobile device. This port-installed accessory will be a late addition to the model offerings.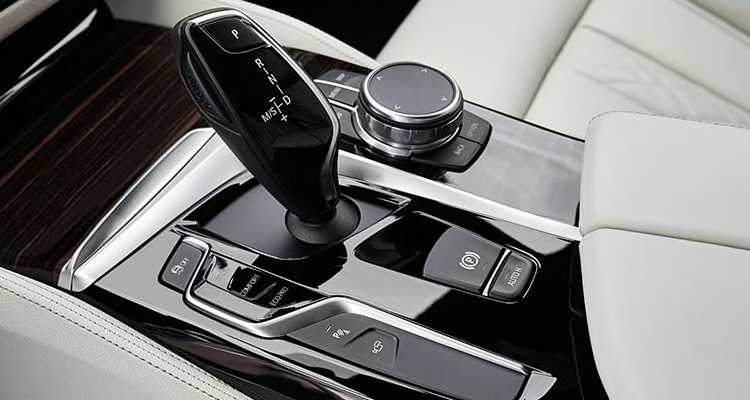 The driver will be able to dial in-road entertainment via Driving Dynamics Control, which has several traditional modes—including comfort, sport, and efficiency—to influence how the powertrain responds.
With an optional active suspension, there is an added adaptive mode to impact chassis settings and driving style.
When things get too exciting, an array of active safety features helps keep the luxury sedan under control. Notable systems include forward-collision warning, lane-keep assist, and side collision avoidance.
Plus, there is the convenience promised by the optional active cruise control that operates from 19 to 130 mph and a Stop & Go feature to ease city driving. And when the drive is over, a special-order valet function enables automated parking while you watch, giving the car the ability to fit in narrow spaces.
All told, there is an exhaustive list of available high-tech features, requiring buyer discretion to avoid a ballooning sticker price and owner diligence to learn their operation.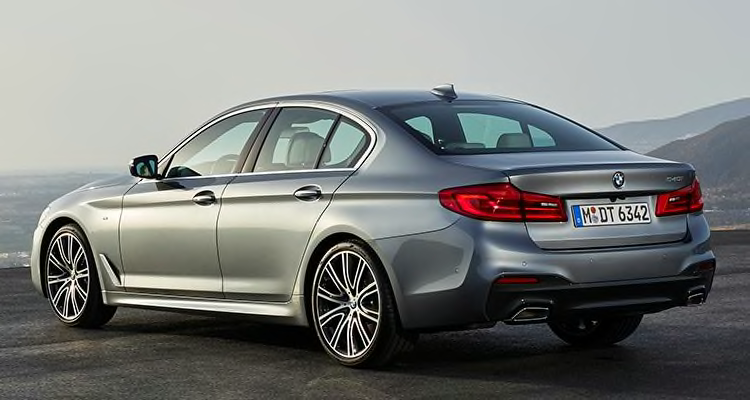 Buying the Current 5 Series
The outgoing 5 Series is an impressive car, whose Overall Score has been limited by its reliability track record.
If you can accept that risk—or lease, like many BMW "owners" do—there should be great deals as the year-end approaches. Currently, we're seeing the 5 Series sell for 3 to 7 percent off MSRP.
With the current 5, we don't think you'll be disappointed with the basic 528i, with or without all-wheel-drive.
If you can afford it, the $6,500 bump to the slick six-cylinder in the 535i is a worthy upgrade. Anything beyond that strikes us as overkill.
From there, consider the Cold Weather package, Driver Assistance, and Driver Assistance Plus.
If you're not in a hurry for a midsized German luxury sedan, wait for our report on this promising redesign when we buy one to test this winter.
Read our current BMW 5 Series road test.