When you shop through retailer links on our site, we may earn affiliate commissions. 100% of the fees we collect are used to support our nonprofit mission.
Learn more.
Update: Since this first drive was originally published in July 2018, we have purchased and evaluated our own G70.
See the complete Genesis G70 road test.
The all-new Genesis G70 is a credible challenger to German sport sedans like the BMW 3 Series and Mercedes-Benz C-Class, based on our initial experience. This third model in the prestige brand's lineup is refined, well-equipped, and engaging to drive. Plus, it promises to be a compelling value, compared against its more established rivals.
Sharing some of the same components with the Kia Stinger, which CR has tested, the compact G70 is offered with a choice of a turbocharged four-cylinder or twin-turbo V6 engine. Think of this as the option between mild-mannered and thrilling performance. As with other competitors (and the Stinger), the G70 can be had in rear- and all-wheel-drive configurations.
We rented two G70s from Genesis to sample the newest, most affordable car in the lineup. As you'll see below, we came away impressed.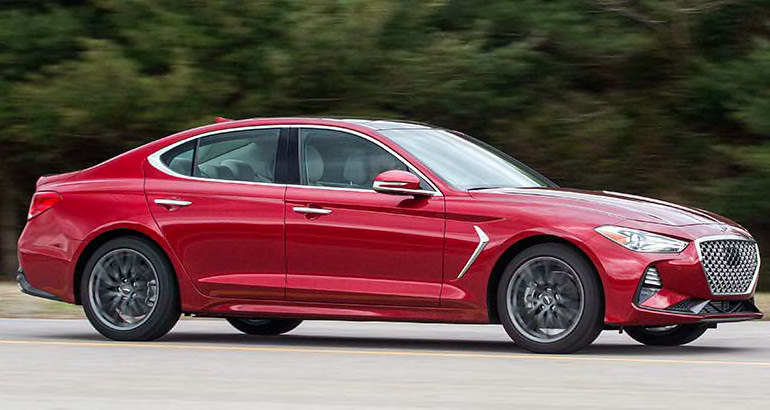 What we drove: 2019 Genesis G70 Advanced 2.0T and 3.3T
Drivetrains: 252-hp, 2.0-liter turbocharged four-cylinder engine with 8-speed automatic transmission; rear-wheel drive; 365-hp, 3.3-liter turbocharged V6 with 8-speed automatic transmission; rear-wheel drive.
MSRP: $34,900 and $52,250
Destination fee: $995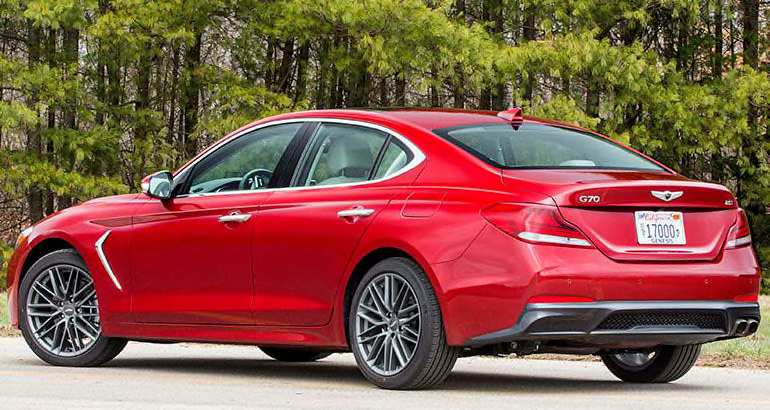 How It Drives
From the first mile, the G70 is strikingly well-tuned, with a welcomed balance of performance, ride, and handling.
The 252-hp four-cylinder has a willingness to rev, and it delivers power without delay. Our testers favored the four-cylinder version, despite it being the more affordable version, perhaps because it was less nose-heavy. On the street and our test track, we found the car nimble, with an even-keel attitude through sharp turns and a good amount of steering feedback. And yet, the ride is compliant and well-controlled. The cabin is quiet, with just slight wind noise on the highway. As we would expect, sound is more noticeable from the four-cylinder engine than the V6.
The turbocharged V6 offers more visceral thrills, adding more than 100 horsepower and a bucketload of attitude. Our rented G70 had a sport package that included an adaptive suspension and summer tires, all contributing to more brawn and grip in the corners, which elevated our enjoyment on the test track.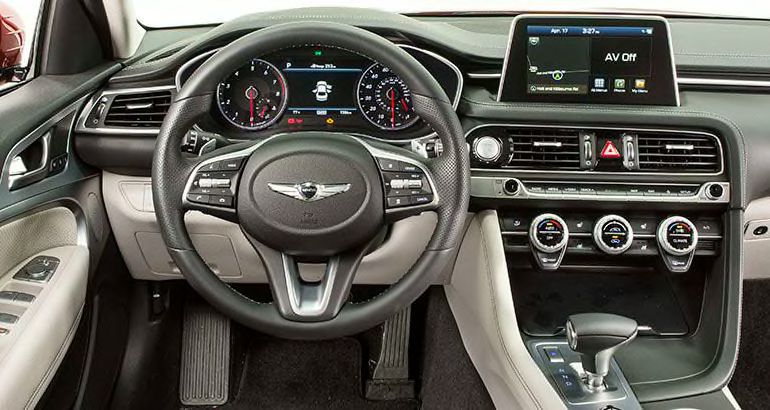 Inside
The cabin makes a good first impression, with an aesthetically pleasing design, elegant controls, and upscale materials, complete with soft surfaces, leather upholstery, and detailed stitching.
The front seat is low, wide, and shapely, with mild bolsters. A range of drivers found the seats to be comfortable, helped by the four-way lumbar adjustments. This G70 offers an interesting novelty: The torso bolsters on the V6 model become more snug when Sport mode is selected. This extra hug helps keep the driver planted during enthusiastic driving.
The controls are a model of simplicity, easy to read and operate, with the exception of the touch screen. We found it to be a far reach when drivers want to change modes, settings, and navigation—functions that aren't easily conducted using steering-wheel controls.
The infotainment system graphics are shared with entry-level Hyundai models—we think the Genesis brand deserves a more premium look and feel. Of course, this may not matter to drivers who favor using Android Auto and Apple CarPlay.
The electronic gear selector is not ideal. The Park button is on the same row as the R, N, and D, lined up ahead of the R as if to imply that when the shifter is all the way forward, it's in Park when in fact it is in Reverse. That could surprise drivers.
As with other sedans in its class, the G70's backseat compromises on space. It isn't quite roomy enough to comfortably seat average-sized adults.
Safety & Driver-Assist Systems
All G70s are equipped with automatic emergency braking with pedestrian detection, forward-collision warning, blind-spot warning, lane-keep assist, and driver-attention monitor.
CR's Take
Genesis topped CR's recent brand rankings thanks to its strong road test performance, excellent owner satisfaction, and average predicted reliability from its two tested models, the G80 and G90. The Genesis brand may not have the cachet of its decades-old rivals, but it is poised to rapidly gain ground with impressive products like the G70.
Genesis offers a concierge service to pick up a car for maintenance, while leaving a loaner for owners to drive. Touches like this should make a good impression on customers and help compensate for the relatively small dealer network.
The G70 made a good showing at our track, earning favor for its accomplished handling, ride, powertrain, and interior ambience.
See the complete Genesis G70 road test.