When you shop through retailer links on our site, we may earn affiliate commissions. 100% of the fees we collect are used to support our nonprofit mission.
Learn more.
In a world where SUVs are taking over and cars seem to be an endangered species, Mercedes-Benz is doubling down on its segment-busting CLS.
The redesigned 2019 Mercedes-Benz CLS, unveiled today at the LA Auto Show, is the German automaker's attempt to refine a car that combines elements of the two-door coupe and the four-door sedan. Since its initial introduction in 2003, Mercedes has called the CLS a "four-door coupe."
The new CLS has both "the elegance and dynamic feel of a coupe with the comfort and functionality of a sedan," according to Mercedes. The coupe styling cues mean a low roofline with high doors and small, frameless passenger windows. The 2019 model will seat five for the first time.
The biggest visual change is the front end, which now slants forward. Mercedes says this is "reminiscent of a shark's nose." What it really resembles is a more refined, more expensive version of some recent Detroit muscle cars, like the Dodge Charger.
The sedan-coupe gets more power, 362 hp in the base CLS450, compared with 329 hp in the current model. The engine will be combined with 48-volt electrical architecture and an integrated starter/generator. The electronics make driving without the combustion engine possible at times, which Mercedes describes as "sailing." An electrical boost will give the inline, six-cylinder engine performance comparable to eight cylinders, the automaker says.
The interior is elegant and refined, as you would expect of a Mercedes. Leather and wood grains abound. Ambient lighting is adjustable in 64 colors. Occupants are further pampered with programs that simultaneously adjust climate controls, seats, the steering wheel, lights, and music tailored to six different pre-set moods, including "refresh," "warmth," "vitality," "joy," "comfort," and "training."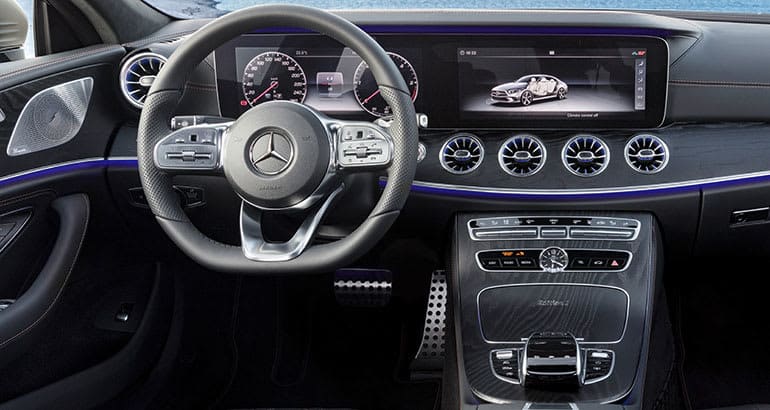 Basic driver-assist technology will be standard, including active braking and a driver-attention monitor. Consumers will have to pay more for an optional driver-assistance package that works in active steering, blind-spot detection, and adaptive cruise control. The new CLS will have improved cameras and radar, and it will make use of maps and navigation data to calculate driving behavior, Mercedes says.
The 2019 CLS goes on sale in the fall of 2018. Pricing details haven't been released. The current versions range from $74,850 for a base CLS400 to $108,900 for a top-of-the-line CLS65S.